Mount Davis, Pennsylvania
Elevation: 3,213 ft
Date: 1 day, April 2005
Group Size: 1
Miles Covered: 0.1
Difficulty: Drive-up
Scenery: Nice drive, Amish farms
One good thing about the highpoints is that they take you to parts of the country that you would not visit normally. This is especially true for Mount Davis. I have been through Pennsylvania previously on many occasions, but I have never made it to the south-western tip, where Mount Davis is located. The drive from Washington, D.C., took me through the really neat city of Cullpeper, and then through several Amish communities in PA.
The actual summit is located along a road between two small towns. It seems to be a pretty popular destination, since there was a constant flux of in and out-going parties. A short walk leads from the parking lot to a metal observation tower, from where the surrounding hills can be seen. Below the tower is a monument, including a schematic of the surrounding peaks.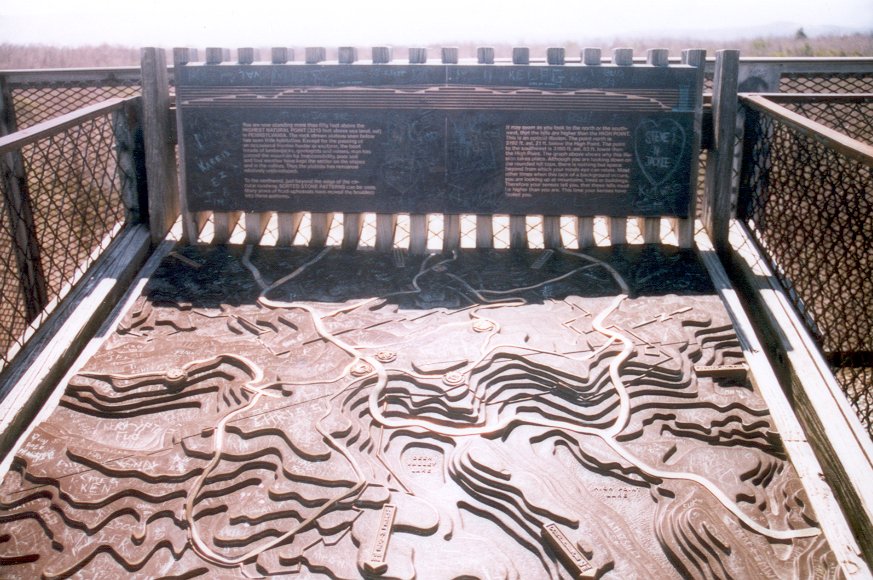 Monument at the base of the observation tower
View from the top


Unfortunately, I made a mistake of tying my recently-acquired cat to the bottom of the tower. She was wearing a harness, but somehow she slipped out of it. When I came down, she was gone. Initially, I heard some meowing, but then it stopped. The mountain top is covered in a thick brush, and I spent several hours looking for her. However, no luck. I thus decided to drive down to Backbone Mountain, and come back afterwards, just in case she would come back. Unfortunately, she wasn't there...