Guadalupe Peak (TX)
Elevation: 8749 ft
Date: Day-hike, May 4th, 2005
Group Size: 1
Miles Covered: 8.5
Difficulty: Pretty tough, but then I wasn't in the best shape...
Scenery: Amazing visibility from the top and a big variety of desert flora
I woke up in Van Horn to an overcast skies and a chilly morning. The drive to the Pine Springs park entrance took about an hour, and I passed only one car and about 3 houses on the way. The drive was very scenic though, and bits of blue skies started poking in.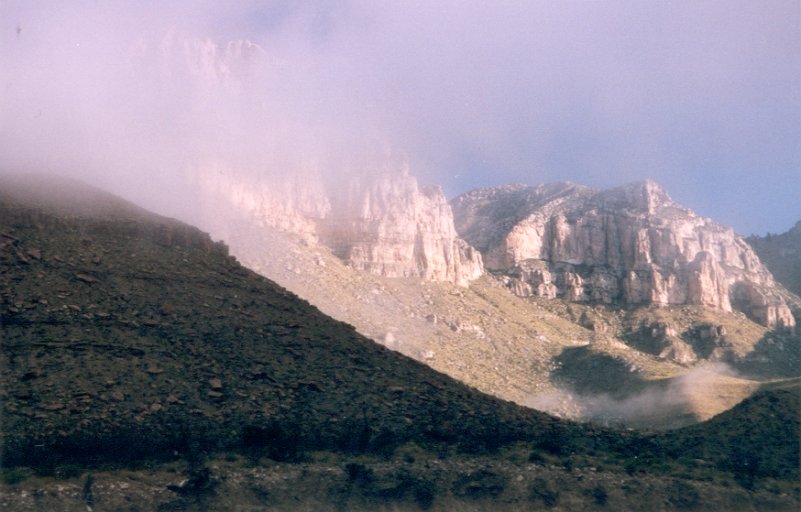 First glimpse of the mountain covered in clouds
The visitor center was still closed when I got there. I guess it was around 7:30am, since the park is in a different time zone than Van Horn. I started hiking around 8am. It was only about 60 degrees. I was the first person going up that day. The trail was very easy to follow. It starts off somewhat flat, but it is covered by a ton of lose rock, which made for a slower going.
Lower elevations of this peak are full of cactus
About 15 minutes into the trail I got above the fog layer. This was some sight. Above me: blue skies and endless canyones. Below me: thick layer of fog covering the entire valley.
Finally, blue skies!
The trail leads by several "false" summits. The peak comes into view some 2.5 hours into the trail. I was trying to see the famous metal pyramid on top, but it wasn't visible. However, the peak has a pretty imposing presence. Although some surrounding peaks seemed to be taller, they were way too far for the 8.5 mile roundtrip.
A wooden bridge near the top
A bridge over a cliff comes up some 15 minutes before reaching the top. From there, the trail is fairly flat, as it switchbacks around the actual summit. The pyramid comes to the view only right before reaching the top. The view from the top was spectacular. It seemed like I could see forever. Supposedly on clear days the visibility is limited only by the curvature of the earth; this was probably one of those days.
Summit monument, dedicated to air mail
I passed three groups on the way back. The fog layer was moving up the mountain as I was descending, so I wonder if they got just as good a view as I did. I got back at around 1pm.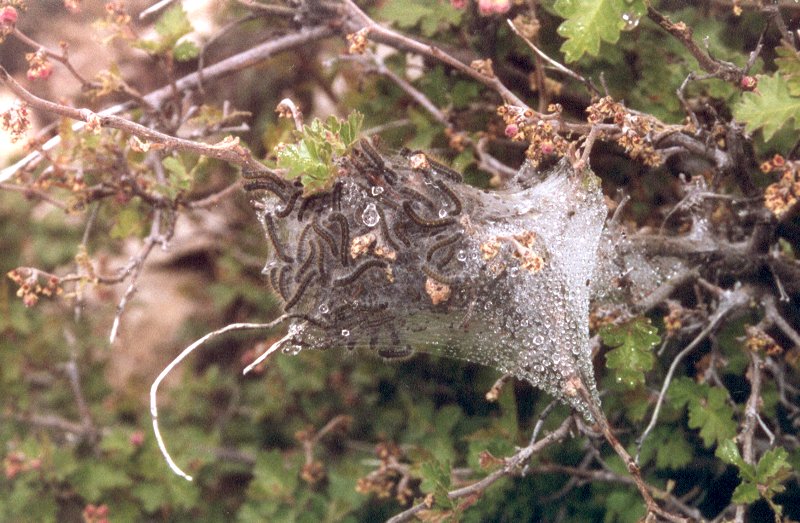 One of many cocoon/spider webs
This was a really pretty hike. It was strenuos at places, but it wasn't too difficult. The views themselves were really amazing, but coupled with the large variety of desert flora, this made for a very memorable experience. Supposedly this place is a home to mountain lions. I didn't get to see any, but I passed a herd of deer and a whole bunch of squirels.