Elevation: 11,249 ft
Date: April 30th, 2006
Group Size: Solo
Miles Covered: 6
Difficulty: Pretty steep near the summit but a great climb. Descending down from the summit cone was the most challenging part of the climb.
Scenery: Spectacular weather with views of Rainier, St. Helens and Jefferson from the top.
This was my first trip to Portland and to the state of Oregon. It turned out to be a truly fascinating experience, and I realized that Portland is exactly the kind of a city I've been looking for. I guess it could be summarized as the ideal mixture of Boston and Boulder. It has that sense of sophistication and public transportation found in Boston, while retaining the laid back feel of Boulder. And it is close to some great mountains!
I got to the Portland airport at 9am on Saturday. It was too early to check in to my hotel, and so I drove my rental car down to the Lloyd Center, where I parked and continued downtown on the free train. Soon I encountered my first street kids: a really pretty girl and a guy I assume to be her boyfriend got on the train with their sleeping bags and a BMX bike. This may sound strange, but I kind of admire these kids. Of course, there is something to be said about the whole hygiene thing, and having a steady income. But I do respect their individualism and basically the resolve to do whatever they want. Not everybody is cutout for that cookie-cutter American lifestyle of college, career and a nice house in the suburbs.
I grabbed a really tasty lox bagel in one of the many downtown cafes (I don't think I have ever seen a town with this many coffee shops), and proceeded to eat it outside while reading through couple more days in The Snow Leopard. Portland hosts a big outdoor market/fair on Saturdays (and Sundays too!) under the Burnside Bridge, appropriately named the "Saturday Market." Among the many vendors of wood carving, painting, photos and other home made goods, I came across a food shop selling Polish specialties, including placky and kielbasy. I got one of the latter. Later, as I was about to jump back on the train, I noticed a gathering near the water fountain. I was soon treated to a really great comedy show by the only remaining Lithuanian Jewish cowboy, Mr. David Lichtenstein. His show consisted of lassoing unsuspecting passerbies, playing with fire, and chasing little kids on his unicycle. Excellent!
David Lichtenstein catching tourists and playing with fire on his unicycle.
I next decided to checkout the road to Mount Hood, and to hopefully get a glimpse of the route. I forgot to mention that it was semi-cloudy in the morning, partly-cloudy by early lunch and fully-cloudy by this early afternoon. Oh, and I got lost. Portland requires a bit luck in navigating. However, it seems that all roads in Portland lead to Trader Joe's, and that is where I ended up. I stocked up on trail mix, cheese, hazelnut chocolate and pears (organic) for my hike tomorrow. I also grabbed a bottle of honey-dew white tea. I have no idea what "honey-dew" is, but it doesn't taste at all like "honey". I guess it tastes more like "dew", especially if "dew" doesn't taste very good.
The road to Government Camp, the turnoff for the Timberline Lodge took another hour or so. I was keeping my eyes open for mountaineering stores, but I didn't notice any. I was thinking of renting an AV beacon, and perhaps a helmet. I forgot my helmet back home. I got to the lodge around 3pm, but the whole mountain was covered in fog. And then it started raining! Pouring would be a better term. I got rained on the whole way back to Portland. The weather forecast for Sunday called for sunshine, but I was really worrying about the effect of this rain on the mountain. Will it increase the chance of avalanches? Will the route be completely gone?
Well, all I could do at this point was to pack my gear, and get a good dinner. The hotel I was staying in, the Airport Inn, had a restaurant and a lounge. The restaurant actually served real food, instead of that standard carbon-copy available in majority of restaurant chains. I got the special of the day: pork chops with mashed potatoes, side of applesauce and a cream of tomato soup. Very delicious! I also grabbed an order of French toast to go; this was my breakfast the next morning.
I woke up around 2:30am, ate my soggy french toast, and headed out the door by 3:15. I took the surface streets out of Portland, which prolonged my travel time a bit. I was supposed to meet some folks from SummitPost at the Cave at 4:30, but I didn't get there until 4:45. I hit the trail at 5am, just as the first rays of the sun started peaking from around the mountain. The headlamp never left my backpack...
The trail was initially sort of hard to follow. It was nothing like the foot-deep trench on Rainier. The first mile of the hike follows side of a ski slope, and the mountain has been plowed extensively by the grooming snowcats. But, the shimmering lights of climbers ahead of me provided me with good way points, at least until the sun came out. Then, the route became quite obvious.
The snowcats were releasing these nearly perfect snowballs, here I caught one of them. I also encountered several climbers heading back. That's Mt. Jefferson in the background.
I took a break at the top of the lifts. This is the end of the "Miracle Mile." Several parties camped at this point, and some of them were just getting ready to head out. The route next follows a steadily steeper snow field. The snow was excellent. It was just hard enough to get good purchase with the crampons, but not too soft to start balling.
Illumination Rock with a lonely tent at its base.
The Devil's Kitchen is an area near the first fumarole. This area would be pretty obvious, even in a total whiteout. It smells pretty much like the hot springs in Yellowstone, or any other sulphur-rich center of volcanic activity. The snow by the vent was melted, and few clouds of steam were emerging from between the rocks. Mount Hood is supposedly an inactive volcano, yet it is a bit unnerving to be walking on this crust covering all sorts of nasty geological activities. Quite a few people have died here from suffocating in the fumaroles...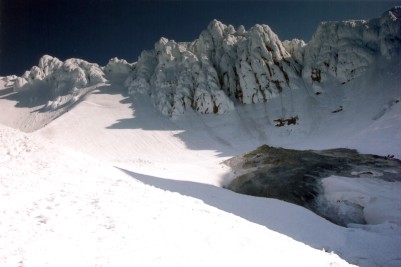 Devil's Kitchen with a view of several climbers ascending the Hogback. The bergschrund is clearly visible from here.
The route next continues on a prominent ridge, known as the Hogback, towards the only major crevasse, the bergshrund. The mountain received record snowfalls this season, and the shrund was covered with a very solid bridge, except for a spot to the left where a snowboarder fell in not too long ago. From what I gathered, he was descending down the mountain, and probably decided to turn right along the crevasse. He fell about 20 feet, but luckily a team of four doctors was climbing near by. They pulled him out and he was on his merry way.
The slope steepens considerably after the shrund. Despite the beautiful weather, there were only about 10 climbers ahead of me at this point. I heard that on busy days, this mountain is covered in an ant line, starting all the way back at the lodge. Traffic jam here is quite a cause for concern. The snow was good for cramponing, but given the slope (about 30 deg), and the relative hardness of the snow, I had doubts about being able to self arrest. Even more troublesome was the possibility of somebody above slipping and taking whole bunch of climbers with him. Few parties decided to rope up, but it was mostly for experience for new climbers. Without a running belay, I am not sure what sort of good would the rope provide, except perhaps calming someone's racing heart. I chatted for a bit with a guy from Portland, who obviously had climbed many times before. He described the combination of congestion, and the inexperienced climbers on rope as the dental floss effect.
Right below the summit cone the slope steepens even more as the route reaches an outcropping. The standard route to the top is to travel on the right side through the "Pearly Gates". Many other climbers travel on the left, through the alternate route. Basically, you choose the option which is less congested. The left route had a rope team going through, and thus I went up through the "pearlies". I got to the top, and took a picture of a climber from another party just as he was reaching the top of the chute.
Climbing up towards the Pearly Gates.
Reaching the summit from here is easy. The vies from the top were spectacular. Mount Jefferson to the South, Mount Rainier and Mount St. Helens to the North. I chatted for a bit with folks from PSU, who were out here on a three day climbing seminar. However, I never ran into the SummitPost folks I was supposed to meet up with. But anyway, I don't think I could have asked for a better weather. It was just perfect, especially given how gloomy the weather looked just a day earlier.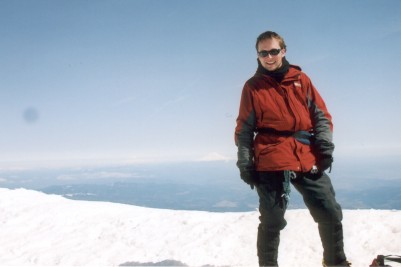 Summit shot with Mount Rainier just to my right.
For the sake of variety, I decided to head back through the alternate chute. I encountered a bit of congestion here. Couple folks were heading up carrying skis, and were going to attempt a ski run from the top, hopefully not going through these chutes. Getting down was a bit unnerving. Climbing up is always easier, partly because of the decreased visibility of exposure, and the increased closeness to the mountain. The slope was just steep enough to make a missed step possibly fatal, but not quite steep enough to warrant downclimbing. The snow was still pretty icy. If I had any doubts about self arresting heading up, basically already in-position, I could not even picture myself doing the twist had I fallen over and started sliding down on my stomach, head first.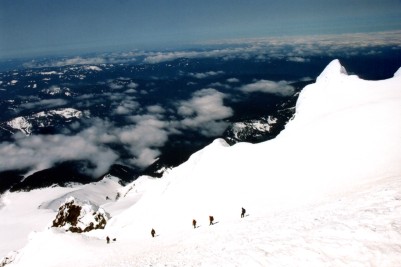 Climbers heading towards the chutes leading to below the Pearly Gates.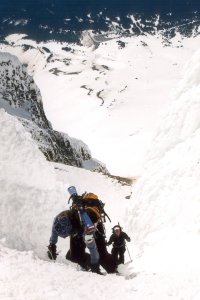 Congestion at the west chute. The lodge and parking lot is visible in the top center.
But, I got down without any incident. Several additional climbing parties were resting at the Hogback, getting ready for the summit push. These folks probably started climbing around 8am. It was getting a bit warm by now (probably around noon), so I was pretty glad that I was on my way down. I continued on downward, into the dizzying whiteness of the sunlit glacier. I really need to invest in real glacier goggles. My Target sunglasses just weren't meant for these conditions. By the time I got to the top of the lift, I started getting a mild snow blindness. For a while I walked with my eyes closed, but that didn't work too well. It took me another hour and few breaks to get back to the car.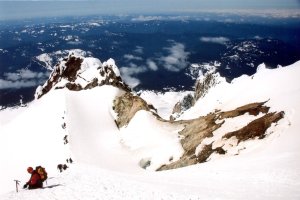 Hogback with the second fumarole on the right.
Some folks on the mountain suggested I stop at Calamity Jane's in Sandy, the home of gigantrous hamburgers. I ended up eating the biggest burger I ever had, and I only ordered the medium size! But boy, was it delicious. Oh, and if big breasted women go work at Hooters, where do one legged women go? I-Hop!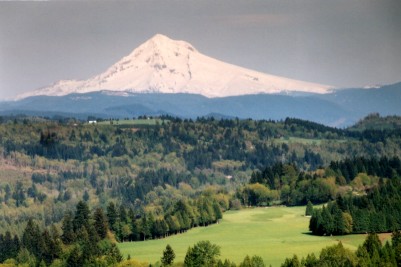 Mount Hood from Jonsrund Viewpoint in Sandy.
Folks at the restaurant also suggested that I go to Jonsrund point for a great view of Mount Hood. I filled the car up (and found out that Oregon doesn't have self-service gas stations, damn you Oregon and New Jersey!) and headed there. The view really was amazing. The viewpoint overlooks a creek, meadow and a forest, things we don't quite have here in my new home, California's Mojave Desert. I chatted for a bit with a biker who came by to visit the place where he grew up, and then I headed back to the hotel. I took a shower and zonked out. I caught an early flight back to LA, caught the AV shuttle, and got back home by noon. This was an amazing weekend. It was one of those trips that lasted only two calendar days, yet it seemed to last whole lot longer. Great city and a great climb.