Elevation: 13,528 ft
Date: June 25th, 2006
Group Size: 2
Miles Covered: 26ish
Difficulty: Really nice and flat trail is followed by a fairly steep scramble to the summit
Scenery: Mountainous amphitheater around Dollar Lake
This was part two my "80 miles in 8 days" trip to Wyoming and Utah. Kings Peak turned out to be a very pleasant backpacking trip, with an easy trail, and my backpack weighing just a fraction of what it did on Gannett. Brian Bell, friend from Virginia Tech, joined me on this trip. Brian, a biology major, started grad school at USU after graduating from Tech in 2004.
We left Logan at around 9 am on Saturday morning, an we got to the Henry's Fork trailhead around noon. First day was spent by walking on a very gentle trail through a forest, which eventually leads to a large clearing containing several lakes. Walking got a bit nasty here as we had to cross through several marshes. We camped in a big prominent clearing located about two miles past the Dollar Lake. The wind here kept the mosquitoes at bay.
Easy trail on Kings Peak. The view opens up after Elkhorn Junction.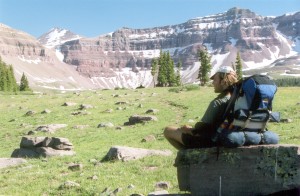 Brian taking a break near our campsite. Kings Peak and Anderson Pass is on the left.
Next morning we headed up through Gunsight Pass, where the nice trail of day 1 gives way to a large talus field leading to the summit. Some people descend down to the very scenic Painter's Basin from the pass to avoid the initial talus traverse. This option results in about 600 feet of elevation loss and few extra miles of hiking. Instead, we stayed on the ridge. The two trails join in a large flat spot right before Anderson Pass. From there, the summit is another 1000 feet of elevation gain over a tallus field. The rocks were unstable at few spots, and snow patches blocked the trail at several places, but we got to the top without a problem. For a while we were the only folks on top, but we were eventually joined by two guys who were day hiking the peak, and a large group of college students. We got back to camp around 2pm. We took a short nap, and were back on the trail by 3. Hike out was pretty uneventful, except that it seemed to go on forever. We finally reached the parking lot at 6pm.
Reaching the summit requires scrambling over talus. Brian on top of Utah, with the slightly smaller South Kings Peak in the distance.
Next day I managed to meet Aroh's advisor, and we chatted for a bit about probes and a possible collaboration. I caught the shuttle back to the airport in early afternoon, and I proceeded to a hotel in downtown Salt Lake City. I took the free tour of Temple Square at the Mormon Temple. I got to say, the Mormons do know how to advertise. All tours were given by very pretty girls, coming from all corners of the world. What guy could say "no" to a cute girl asking if he would like somebody to come visit and talk about the Book of Mormon? Well, knowing that that "somebody" would be a troop of straight-edge dudes, I did refuse the offer. However, I did enjoy the tour. The highlight was the North Visitor Center, in which a really well done walkway leads to heaven, and to a large statue of bilingual Christ. From the temple I headed down to the old Union Pacific train station, which serves as a gateway to a large shopping area. My plane left the following morning at 8am.
Reflection of the temple in a surrounding office building. One of the tour ladies; this one was from Britain.
Large statue of Christ in the North Visitor Center and a view of the temple.