Mount Rainier, Washington
Elevation: 14,411 ft
Date: 3 days, August 3-5, 2004
Group Size: RMI climb group, 20-ish people, 3 climb teams
Miles Covered: 16 miles?
Difficulty: Exhausting due to elevation and a lack of sleep, traversing the D/C is challenging
Scenery: Awesome: huge deep blue crevasses, massive rock outcroppings...
Mt. Rainier was my first real mountaineering experience. Since I didn't really know much about what to do, I signed up for a guided climb with RMI. Everywhere I looked, I saw information about how difficult climbing Rainier is, and how only half the people who try to climb it make it. Further, I read some stories about RMI leading clients on death marches. So basically, I had no clue what I was getting myself into. Looking back now, I gotta say that climbing Rainier is difficult but it is also extremely rewarding. Further, going with RMI was a really great experience. The guides were really outstanding.
I got my first look at Rainier from the airplane window. This mountain is nothing like I have ever seen in my life. It is just standing there, overlooking the plains like some giant statue. Mount Whitney is taller than Rainier, but is definitely not as spectacular. The Sierra's are surrounded by smaller mountain ranges and the peaks gradually grow taller. This gradual increase somewhat diminishes Whitney's visual impact.
I landed in Sea-Tac in the afternoon of August 2nd. I got a rental car and checked into a hotel in Fife. I could see the mountain from the hotel parking lot, and I began thinking whether climbing this huge thing was really such a smart idea. I got up next morning at around 5 am and drove on an empty forest road to Ashford. I got some trail food and a pretty nasty breakfast sandwich at a local gas station. Then I headed over to the RMI base camp. There I met the rest of my group along with the guides. A lot of the folks were pretty old, in their late 50's and 60's. I figured that if they were up to climbing Rainier, I should be fine.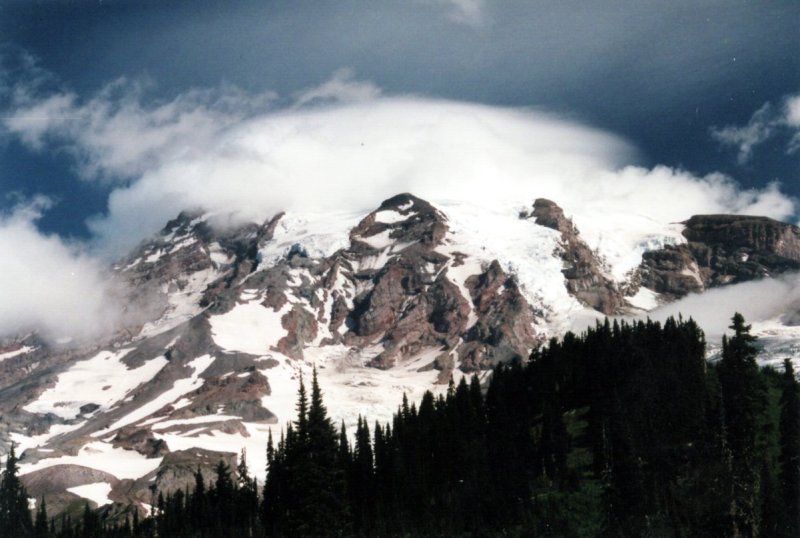 View from the Paradise parking lot
The first day of this 3 day program is the climbing school. We took off from Paradise and walked for about an hour until we got onto a big snow patch. There the guides went over things such as walking on snow, glissading, using crampons and the ice axe, and walking roped up. We also practiced self arrest, which was much more fun than I expected. This skill turned out to be pretty useful on the mountain!
We got back to Ashford in the late afternoon. Originally, I was going to camp in the park, but I don't think I was ready for another night on the Z-Rest. See, I slept on a Z-Rest all summer long since the only furniture my apartment in Lancaster had were two chairs and a cardboard box which served as a table. So I headed back to Fife. I made it back to Ashford next morning at around 7:30 am. I got some breakfast, looked over my gear, and waited anxiously to head out. I was put into the "B" climbing team. The team "A" got pretty lucky - one of their guides was Robert Link. However, my guides, Peter Anderson, Mark DeSmet and Lindsay Reither were also great. The first day was spent by hiking up to Camp Muir. We started at Paradise and first walked through mountain meadows full of wild flowers and marmots basking in the sun. Soon we got onto the Muir Snowfield. This is where the marked trail ends, however, many hikers continue to Camp Muir for a day hike. The pace going up was pretty slow and we took a lot of breaks. If I were heading up myself, I would have picked a faster pace, however, I am sure the guides know what pace works the best. The weather was much better than the day before. During the climbing school we could barely see past one rope length due to a fog and low clouds. Now the visibility was much better and we could see some of the other peaks.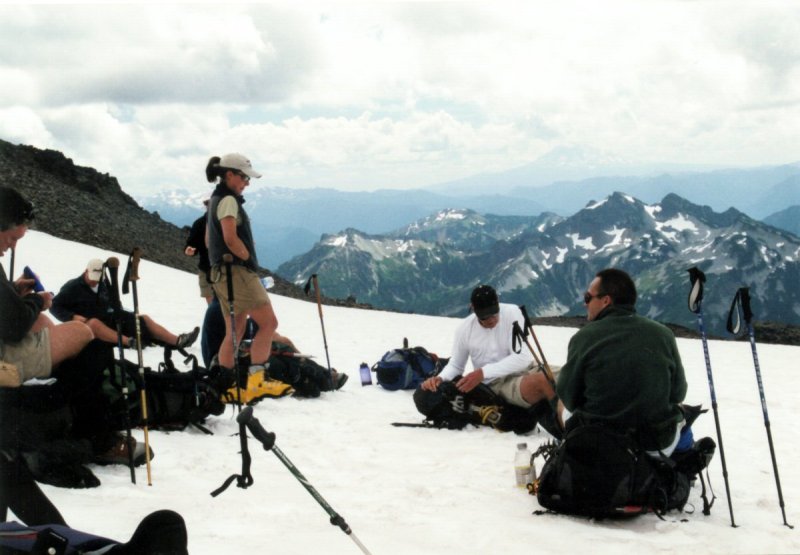 Lindsay giving us a briefing during a break on the Muir snowfield
We reached Camp Muir at around 4pm. The camp consists of an RMI and public bunkhouses, toilet and a kitchen. The RMI bunkhouse looks pretty much like a mobile home - definitely not a visually appealing structure. Supposedly it was put up several decades ago as a temporary housing, but somehow just stayed there. The guides brought out some hot water for our dinner. We went to sleep at around 6. Well, the "went" should be "tried-to". I don't think that I got more than 30 minutes of sleep. Surprisingly, nobody was snoring, which was pretty odd given there were some 20 people in the bunkhouse. However, people were constantly going to the bathroom. Yet, I think the main reason I couldn't sleep was due to the anticipation of the climb. The guides told us that they will wake us up between 11 and 2. Well, it seemed that I was lying in bed for days. I was expecting the sun to rise any minute and I figured the climb was off. But then they finally came at around 12:30 am. We had a quick breakfast, packed the crucial items (things like sleeping bags were left at Muir), put on harnesses, helmets and crampons, roped up and headed out onto the glacier at around 1:30. Going up the glacier in the dark was quite amazing. Both in front and behind us we could see these glittering dots of lights. We had to cross a narrow crevasse on a horizontal ladder. A two-by-four was put over the rungs, so the walking part wasn't all that bad. I could also make out the Cathedral Rocks against the starry sky and that was the first time I realized the scale of this mountain. Everything was so much bigger than I expected. Standing on the base of the rocks makes you feel so insignificant.
Crossing through the Cathedral Gap required walking on scree. On one particularly steep and exposed section, I put my foot down, and the mountain around me just started sliding down. I tried to step out onto a more solid section, but I started sliding down as well. I planted my axe in right away, and stopped myself in about two meters. At that point, I was pretty happy with my self-arrest, however, looking back, I realize that things could have ended up differently. There were only two other people on the rope (Lindsay and another client) and I am not sure just how well they could arrest me if I pulled them down with me down the scree slope. But anyway, we crossed through and got back onto the glacier. Having the crampons biting once again was a great feeling.
We took our first break on the Ingraham flats. Several people decided to turn back at this point, including the guy on my line. After a little rope reorganization we moved across the flats to the Dissapointment Cleaver. Going up the cleaver was by far the hardest part of the climb. It was like going across the Cathedral gap, but much worse. Scree everywhere. Then more scree. And big boulders to scramble over. The scrambling part wouldn't had been all that bad, if it wasn't for the crampons. Climbing rock in crampons is definitely not easy, especially for somebody who hasn't done it before. But we kept on moving, and after an hour or so we reached the top. The sun also started coming out. I finally got a chance to see the scenery around me. It was so spectacular. Everything was so immense. Blue crevasses few hundred feet deep were crossing through what seemed like an infinite see of ice.
Trail to the summit from the top of the Dissapointment Cleaver
The clouds/fog also lifted for a little bit, and I could see the path to the summit. To my relief I didn't see any more rocks. I figured I can deal with ice, I just didn't want to walk on scree anymore. I also wondered how the hell are we going to get down the cleaver. Going up on rock is always easier than coming down. The trail to the top was steep and full of beautiful crevasses. We took one break somewhere half-way to the summit. The altitude was slowly starting to get to me at this point, but it wasn't nearly as bad as on Whitney. This probably had to do with the fairly slow pace at which we were moving. I was getting slightly dizzy, but my pulse wasn't much higher than during regular hiking.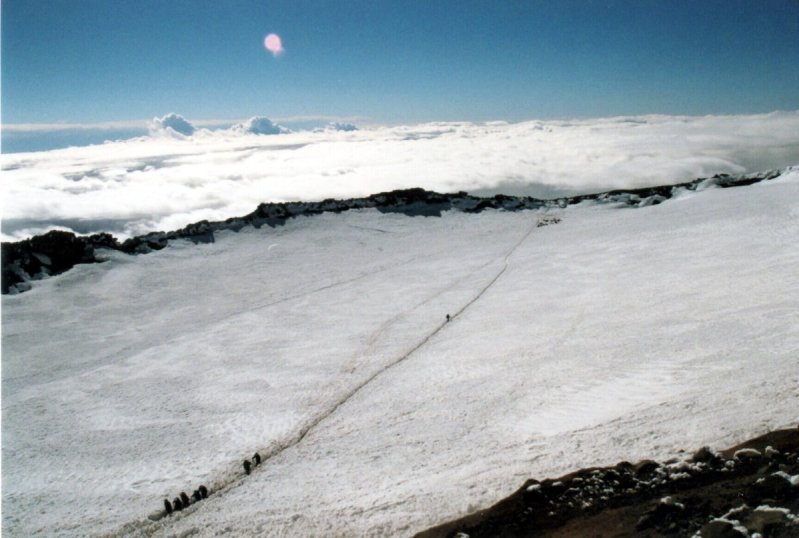 The crater rim from the Columbia Crest
And we finally reached the crater rim. Success! We had a 45 minute break at this point but I used it to go with Peter and few other guys across the crater to Columbia Crest, the "real" summit of Mount Rainier. All day long I was debating whether I should count reaching just the crater rim as summiting the mountain given bad weather prohibiting us from going across. Fortunately, the weather was great. We were now above the clouds. The temperature also went up. On the way to the rim, my goggles kept freezing up. Now, I felt comfortable wearing just my gore-tex shell, without the down jacket over it.
On the summit of Mount Rainier: me and the rest of the group
I took few pictures on the summit. I made a mistake of bringing only one set of batteries for my camera. I forgot that cold temperature affects them. The power level dropped to "flashing low" somewhere just above the DC. I worried I won't even be able to take a single picture of myself on the summit! I ended up taking the batteries out after each shot and keeping them in my pocket and just set the camera for automatic operation. The pictures turned out pretty well though.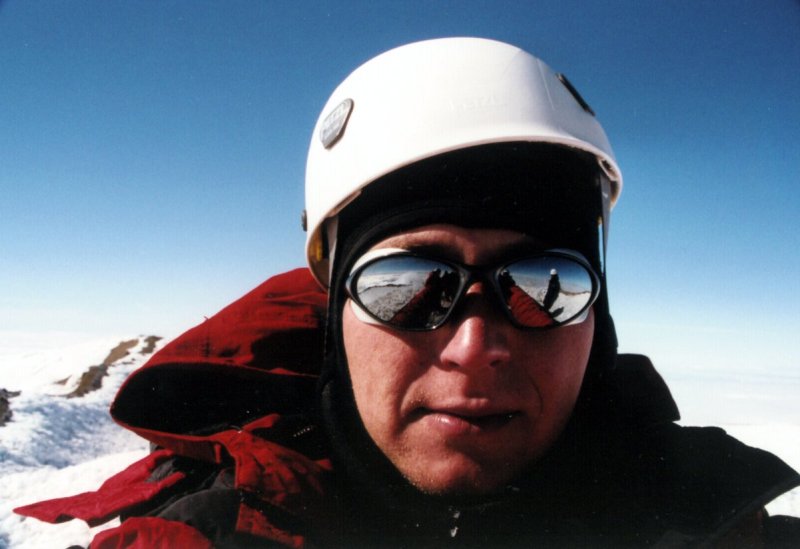 A "self-portrait" - you can see my arms and the camera in the goggles
Few more shots from the top
After signing the summit register, we headed back to the rim edge where the rest of the group was resting. Going to the crest didn't leave us with much time for a break. Basically, after getting back, we had about two minutes to gather our things, and it was time to head out. We took the first break on top of the cleaver. I took few more pictures here, grabbed some remaining food and we moved on.
Broken ice and some other climbers
Going down the cleaver really sucked. I was struggling pretty bad scrambling down the rocks in crampons. I think that taking them off would have made the descent much easier, but then, the crampons would probably help out in case I slipped. At any rate, I was really happy once we reached the ice on the flats.
We took another break on the flats. Down here, I finally got to see what it was we were walking around in the total dark some 10 hours ago. The crevasses on this lower glacier were HUGE. One had to be over 200 feet deep. The crevasse we had to cross on the ladder was also fairly deep. Most of them were blue which gave them this mysterious look. The guides got a radio call from the base saying that new crevasses were opening up, so we had to take a somewhat different route on the way back to the camp. But we reached it without a problem at around 2pm. We had about an hour to relax and pack-up our stuff. We headed out around 3, just as the next day's team was coming up from Paradise. Lindsay had to stay at Muir to lead another climb the next morning. I can't imagine that. Two climbs in a row, with not much sleep in between... These guides are in a really good shape, both physically and mentally.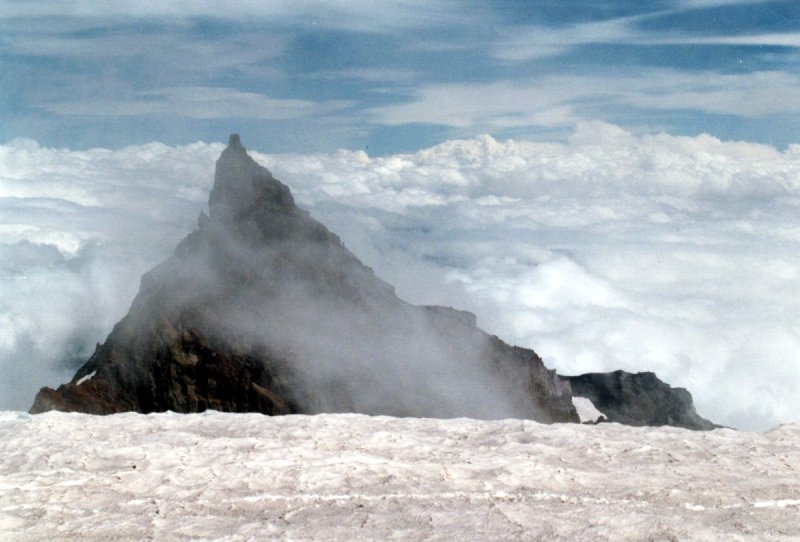 Little Tahoma
The weather got pretty bad as we started moving down the Muir snowfield. Visibility dropped down to maybe 10 feet, with no reference points to navigate by. Peter told us that the snowfield is the deadliest part of the mountain. A lot of day-hikers get lost on the way back from Muir and end up in a crevasse on one of the glaciers surrounding the snowfield. However, the guides knew the mountain pretty well, and we got down with out a problem. Well, except for being extremely exhausted and hurting. When I finally took my boots off back in Ashford I discovered blisters bigger than I have ever seen. About half of my foot turned into a giant blister. I had originally planned on going on a day-hike after the climb, but that was quickly put on hold. Somehow I made it back to Fife and scrambled into the shower. I could barely walk at this point. Not only were my feet hurting from the blisters, my muscles started locking up. When I tried walking, my legs were shaking so bad I had to hold on to the walls for support.
After coming back from Whitney, I told Shannon that I cannot understand why anybody in their right mind would want to hike Whitney more than once. Rainier is different. There is something magical about this place. I think I am pretty lucky I was able to summit it on my first try. But at no rate I consider this my last visit to this mountain.