Mount Whitney East Couloir (CA)
Date: April 7 to 9th
Elevation: Less than the summit Group Size: 3
Miles Covered: Around 10
Difficulty: Fun
Scenery: Neat lakes
Patricia, Chris and I tried climbing Mount Whitney on the Mountaineer's route in early April of 2007. This was a low snow year, and the snow coverage was incomparable to the attempt in 2006, when I ended up digging out a snow cave, and we got denied the summit by a strong blizzard. The weather was perfect this time, but I wasn't feeling all that well. This trip was my first venture to the outdoors after catching a nasty bronchitis during the LA marathon, and I wasn't back to my normal condition. We only made it to the top of the couloir, but stopped short of continuing on the class 3 section. This was still a great trip, with amazing views to the other side of the ridge.
Chris and Patricia at the parking lot
On the way up, we ran into Kurt Wedberg's parents. Kurt was coming off the mountain with SMI clients and his parents were waiting for them.
Here we are hiking up the North Fork towards the Ebersbacher Ledges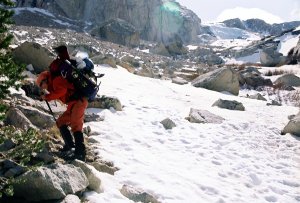 Patricia on some switchbacks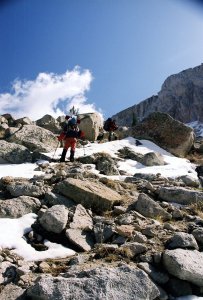 Almost at the Lower Boyscout Lake
From LBSL we headed up to the Upper Boyscout Lake. We camped at UBSL for the night before and after the summit attempt.
Here comes P.
Next morning we headed up toward the Glacier Lake. The climbing part of the route starts here. I wasn't very excited about continuing up the couloir, as I was feeling really weak by this point. Chris and Patricia went ahead, and I contemplated just hiking around and perhaps going to the Russell Pass. However, I decided to try to make the notch, and possibly belay them on the rocks. The view to the other side was quite spectacular. However, the weather started looking a bit iffy, so this, in combination with my sorry state, prompted Chris to turn back.
The view of the face from below the Glacier Lake. The snow covered couloir leads to the notch, and an exposed class 3 section that needs to be climbed before reaching the summit.
Chris with Patricia and an awesome view to the other side of the ridge.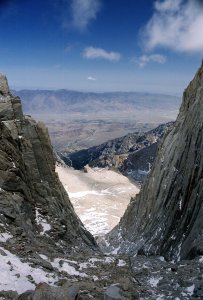 Looking down the couloir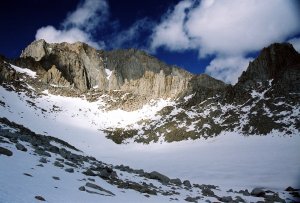 Bowl around the Glacier Lake with Mount Russell in the background
The guys glissading down the couloir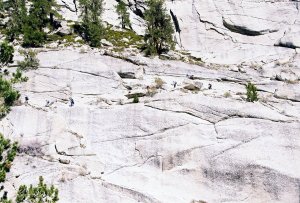 Another SMI group heading down the ledges.