Date: April 21st to 22nd
Elevation: 8,720 ft Group Size: About 20
Miles Covered: Around 10
Difficulty: Easy
Scenery: Thick pine forest and a blizzard, and this is in south California!
This report is from an overnight hike I went on with Sierra Club's Wilderness Travel Course section. I took the WTC course in spring of 2007. I didn't get a chance to participate in all the classes, but I still learned a ton and made a bunch of new friends. This trip was one of the many available experience trips, two of which are required for graduation. They are typically overnight backpacks that involve some off-trail travel segment. The trip to Red Tahquitz was led by Misha with assistance by Georgette.
Red Tahquitz is located on the same mountain range as Mount San Jacinto, a ginarmous peak towering over the town of Palm Springs. San Jacinto is commonly climbed along the Cactus to Clouds route, which starts in Palm Springs, and gains some 11,000 feet in 23 miles. I tried that route once before, but only made it to the tram. The approach from Palm Springs was completely desertous, so I was surprised that the other side of the range is covered by a thick pine forest. The trailhead is located by the town of Idyllwild. Instead of driving up in the early morning hours, Thom and I came up to the campground the night before. It was clear in the town of Banning, but as we started climbing the switchbacks, we entered a heavy blizzard. Misha already had a fire going by the time we got to the campground and the pines were covered by snow. It was quite spectacular, and very non-soCal like.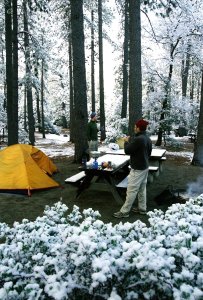 Thom and Misha at the campground
Next morning we started hiking on a snow covered path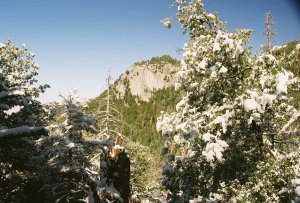 There are quite a few rocks around here and this area is frequented with rock climbers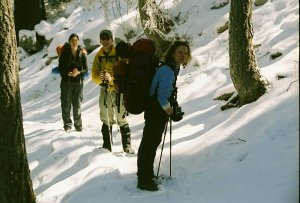 Patricia, Jeremy and Diana. I think that Patricia is making a face, but I can't quite tell.
John on a boulder we thought was the summit. We found the real summit after hiking few hundred yards in the thick fog.
Thom working diligently on melting snow for water. Also some neat lichen.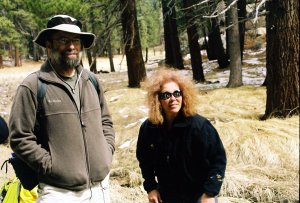 Our faerless leaders, Misha and Georgette
Next morning we tried hiking up White Tahquitz, but the trail was too icy and exposed.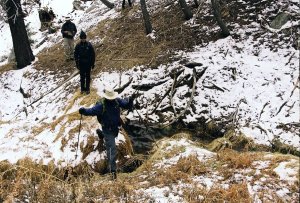 But we spiced things up by taking a cross-country route back to the campground. This gave us a chance to practice our map and orienteering skills.