North Section, Shenandoah NP (VA)
North Section, Shenandoah National Park, Virginia
Date: 8 days, August 14 - 21, 2003
Group Size: 3
Miles Covered: About 70
Difficulty: Easy
Scenery: A ton of wildlife (9 bears!), nice views from North Marshall
This trip ended up being a really scaled down version of what it was supposed to be. I originally planned to thru-hike the whole park, but then my ride fell through. Thus I instead headed out with the intention of doing over 100 miles in the park, by first walking south on the AT for 50-60 miles and then turning back. However, I had a late start, and then, about 1.5 hours into the drive, I realized I forgot my boots! I didn't get to the park until about 4 pm, and only covered about 3 miles the first day. The second day, I realized that hauling my 60 lbs backpack in the heat for 15 miles a day would majorly suck. Then I thought, I came here to take a break before school starts, so I may as well take it easy. And thats what I did. It was great! I think I discovered what I've been missing for a long time. There is more to hiking than covering a mad distance every day. Sometime it's nice just to take it easy and enjoy the outdoors. The second day I camped around 2 pm, and just laid out in the sun for couple hours. This was so much better than my usual cooking dinner by the light of my headlamp. The map of this hike, with my campsites marked, is here.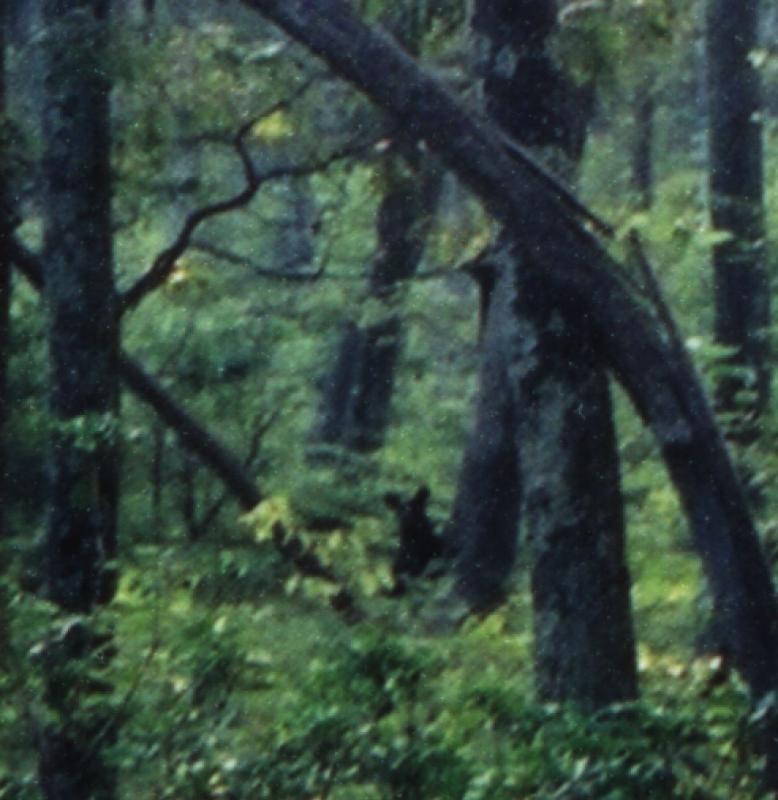 At about 6 pm at Hogwallow Flat (2nd campsite), I heard noise in the brush right by my tent. I knew that there was this other couple camped out on the other side the brush, so I figured it's them coming by to say hi. Instead, a momma bear with 2 cubs came out. They were less than 20 feet away, but hauled ass as soon as they saw me. However the next day, at Hogback Mountain, I looked over to the right while eating dinner, and I saw this big momma bear standing on her hind legs and checking me out some 200 feet away. Her cub was watching me hanging from the tree. I took couple pictures (finally!), but only this one came out. I was pretty disappointed, but oh well. Then later, after going to sleep, I heard some big animals just couple feet from my tent. I figured its those bears again, but instead of waiting for something to rip my tent open, I decided to see whats up. Instead of bears, I saw two male deer with beautiful antlers. I kept shining my light at them, checking out the antlers (they had to be at least 8 pointers), but then on of the deer started hissing at me, so I cut it out. I saw total of 9 bears on this trip, at least one a day (on full days).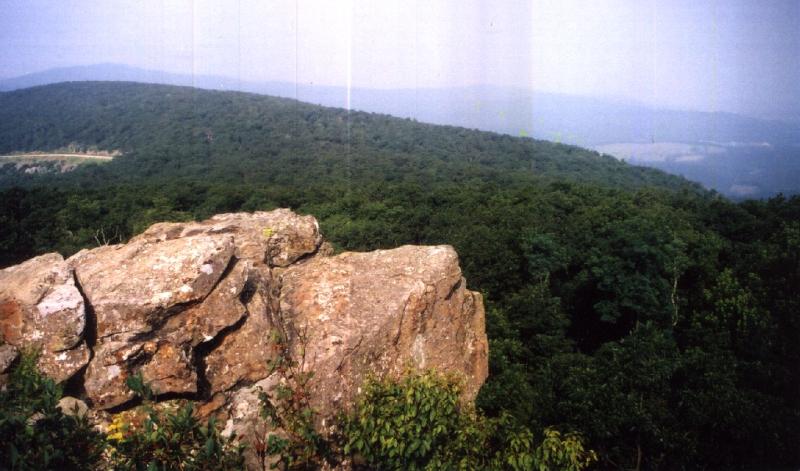 View from the North Marshall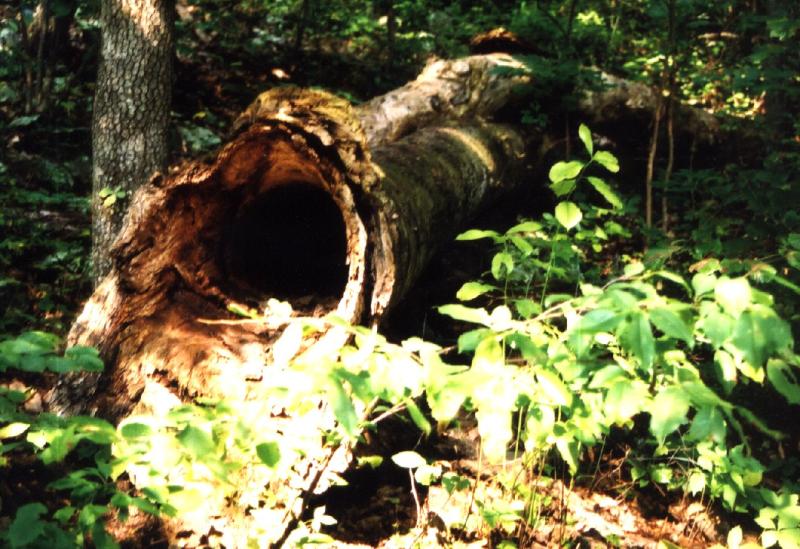 A neat tree I saw on the way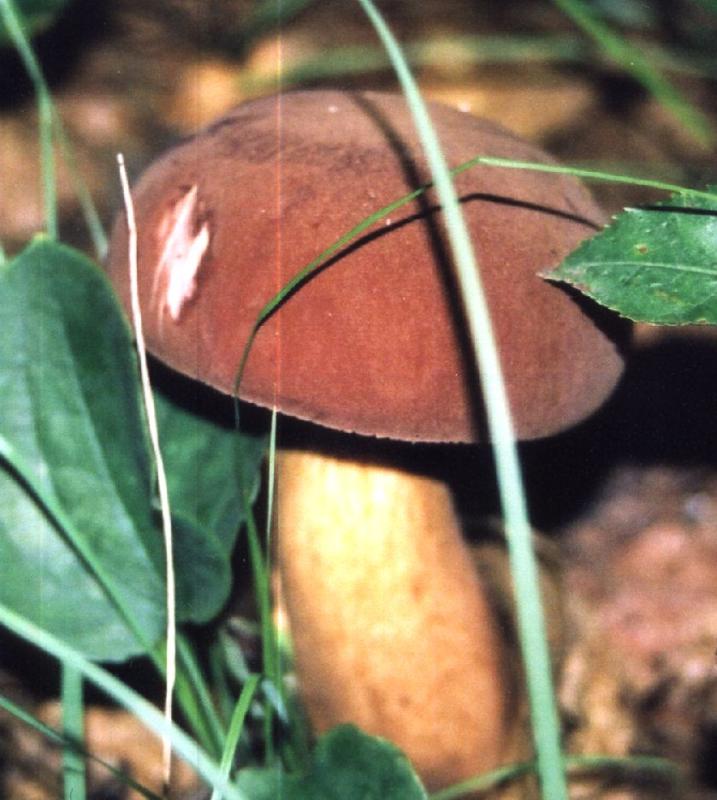 Besides mushrooms, this park was full of blueberries and blackberries. It's neat how finding a little patch of blackberries can lift up your spirits when hiking! I felt like I was on treasure hunt...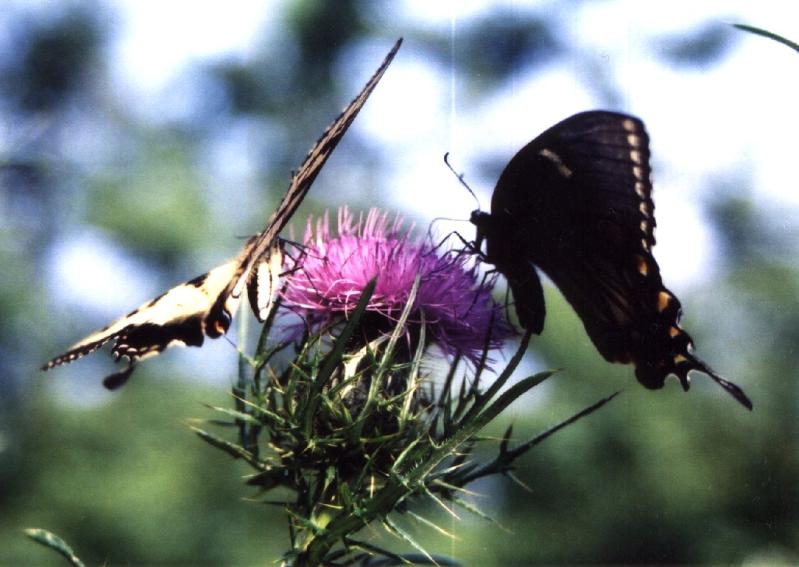 I took a little side route on my 4th day up to a day picnic area called Byrd's Nest #4. The shelter was built by this meadow, that was full of butterflies.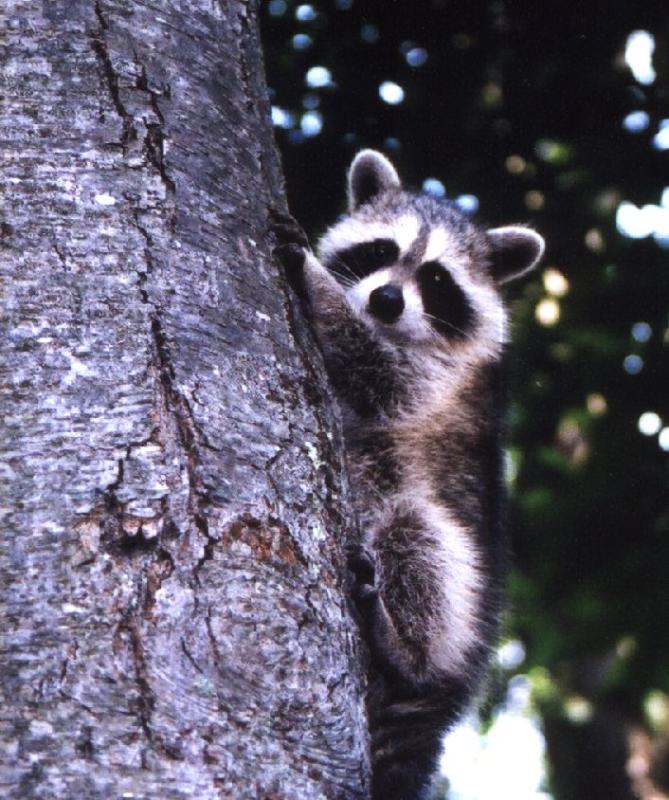 On the 6th day, right before the Gravel Spring Shelter, I saw this raccoon some 20 yards away. It spotted me as well, and jumped for a tree. This raccoon however really sucked at climbing! By the time I got to it, it only made it about a foot up. I was taking pictures of it for about 15 minutes, and in that time it only climbed about 5 feet. I think it was really scared of me...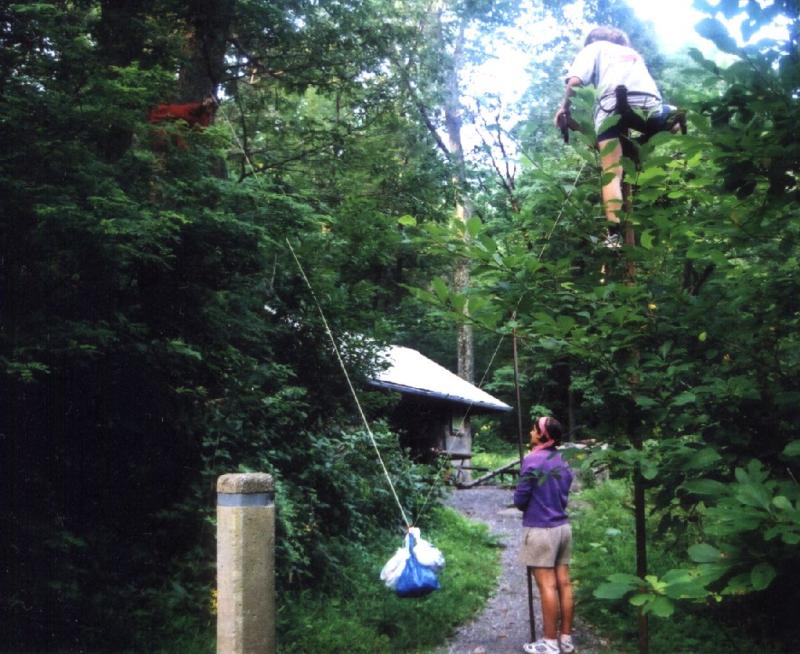 When I got to the shelter, I saw this guy named Chris sitting there and reading the log. He told me that we missed some 3 chics that stayed there the night before. After we set up our tents on the shelter ground, I went back to read the journal entries myself. As I am reading, I see these 3 girls coming to the shelter, pulling some big ass branches. Those girls were a trip! Tat, from Australia, Mercedes, from UK and Yura, from Israel, met in the States at some camp where they were working and then they decided to see US a bit. They first went to NYC, but couldn't afford a hotel room. So they decided to camp out in the Central Park! First, some peeping tom was checking them out so they relocated. The other site looked okay, until Tat realized she got robbed overnight of 1000 dollar worth of gear! The next day, they headed down for D.C., but had too much stuff. One of the girls mailed her extra things back home, but Tat decided to bury her extra clothes in the Central Park under some bush! Now they were spending a week in the park, living like bums. Awesome! Here they are trying to hang up their food. I have no idea how Merceded climbed up that metal food pole. Watching them trying to run the rope really cracked me up. This was definitely the highlight of the trip. I think I'll stick with my rope-over-the-branch system!