Date: July 8-12, 2006
Miles: 1200

The 2006 Joint Propulsion Conference was held in Sacramento, CA. I decided to ride my bike there, but I took a pretty big scenic detour. Instead of shooting up on I-5 or 99, I took 395 along the eastern side of the Sierras. It took me two days to get to Sacramento and I camped the first night in the mountains by Bridgeport, CA. I was originally planning on staying closer to Lake Tahoe, but I got caught in a huge thunderstorm. I had no desire to test my body's ability to conduct electricity!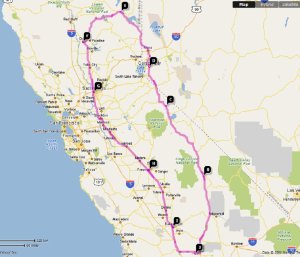 Map of my route. I camped at "C" and the conference was at "G".
US-395 north of Bishop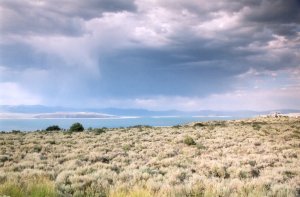 Thunderstorm is brewing over Mono Lake
Next morning I rode up a short distance past my campsite to the Twin Lakes
I stopped by Lake Tahoe, but I didn't have time to ride around as I had originally planned
I took US-36 west from Susanville, and the scenery was absolutely breathtaking. Here is a view of Lassen Peak.
I continued down on CA-32 to Chico and then to Sacramento. We stayed in the Hyatt, right next to the convention center where the conference was held. I presented my paper on Tuesday. The conference was ok, at least the location was better than last year's Tucson. Wednesday morning, Mike B. and I went to the Capitol, but Arnie was not in. Darn. I left around lunch. Some joker ran into my saddleback while I was waiting to turn into a gas station in a town of Gait, about hour south of Sacramento. The guy just drove off. I tried to go after him, but he ran a red light, and then pulled into a shopping center where I lost him. Luckily, the damage was limited to a broken buckle and a ripped stitching. My camera was in the bag, so the damage could have been much worse.
Mike and I took a break from the conference to visit the California Capitol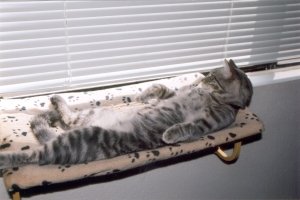 I got back to Lancaster at around 10pm. My neighbors took care of my cats, and they were still alive. Whew!