Borax Death Valley Half Marathon
Date: December 2nd, 2006

I ran in the Death Valley Half Marathon the weekend after coming back from Costa Rica. I heard about this run from Scott. Mark Santi was going to come along for the ride, so it sounded like a great idea (party!). Well, Scott hurt his foot and Mark got tied up in the office. So, I ran the race with Mike Gorrilla from work.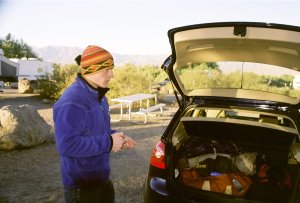 Mike packing up the camping gear
This was my second half-marathon. It was a much different experience than the first (Santa Clarita). The aid stations were located 3 miles apart and there were no spectators. The course is entirely below sea level, but there were few hills. I was pretty tired by the end. I ran the whole way, but there were few people walking the last few miles, and I swear they were moving faster than I! I finished in 2:10, about 6 minutes behind Santa Clarita.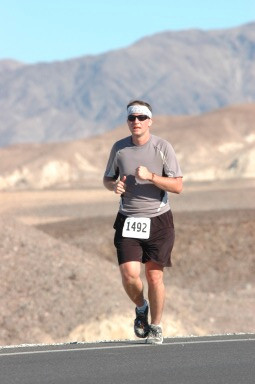 This is me running, probably near mile 10
Carbloading! I also got this nasty blood blister.
We were thinking of doing some hiking after the race, but I wasn't feeling well. We instead just walked to the salt flats at Badwater.
Some full-marathoners were still running on our drive home. Wild!