Big Sur International Marathon 2008
Date: April 27th, 2008
Time: 4:30:07

I ran in the 2007 installment of the Big Sur Marathon, and I liked it so much I decided to do it all over again. This time around I managed to put together a little following consisting of my friend from work Mike G., my roommate James, and a friend from Venice, Lauren. This being James' and Mike's first marathon, we did quite a bit of training on weekends down in Venice. Lauren joined us on few of the runs. Our typical day started on Rose Ave, from where we ran south on the boardwalk to Marine Del Ray. There we looped back along the Venice Canal and continued north to Santa Monica. Few times we took the overpass crossed the PCH and continued towards the totem pole. On other occasions we took the boardwalk to its end at the Will Rogers state park. We started the training at 10 miles, and by the time the marathon rolled around, we were up to 20 miles.
Julien was also supposed to run, but he managed to get himself deployed to Iraq. He came back in time to make the race, but not early enough to get ready. So he opted for the 5K. Julien, myself, and Leslie left for Big Sur early Friday. We took the long way along the coast, and got to our campground just before sunset. We grabbed dinner at the Redwood Grill. Later we made fire back at the campsite, drank Hoegarten and enjoyed a Kahlua enhanced hot chocolate.
The next morning we grabbed breakfast at the Big Sur Bakery, and headed north to Monterey. I picked up my race packet and met up with Mike and James on the wharf. Those two rode in with Justin, and spent the night in a hotel in Salinas. Justin used the day to bicycle to Santa Cruz, while the rest of us went wine tasting in the Carmel Valley. The first stop was Bernandus, which I guess is supposed to be a really good winery, given that their wine was served at some reception at the White House. I wasn't too impressed. Julien's castle, Chateua Julien was much better. Leslie, Mike, James and I headed back to the campground after a pasta dinner in Carmel.
Sunday morning we got up before 6 and walked up to the road. This is where a shuttle van picked us up and drove us to maybe a quarter mile from the start. We made it just in time to watch the doves being released. Mike, James and I stuck together at first, but Mike and I got soon left behind by James. Somewhere around mile 8 the first north-bound caravan caught up to us. Near the end was my Suzuki Forenza. Leslie was a sweetie, packed up the camp and took the car to the finish line.
I made it up to the Hurricane point at mile 11 without much difficulty. Mike caught to me up here, and we took few pictures. The downhill jog to the bridge was a breeze, but that was the end of the honeymoon. The second half was pretty tough, much harder than I remembered from the previous year. I like it to think this was due to the warmer temperature, but the truth is probably closer to me not training enough. I ended up walking up quite a few hills, but I held on to enough strength to run the last few miles. Leslie, Kooj and Julien cheered me on as I made it through the finish line. I finished 10 minutes later than last year. Both James and Mike finished without getting hurt, which was all I hoped for. James in fact beat me by few seconds. Mike came not too far behind. We ran into Lauren at the village, not having seen here at all during the race.
We went to Monterey where we saw this cute bulldog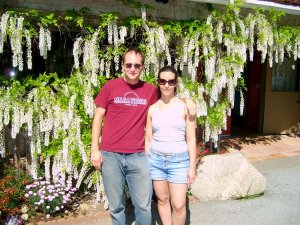 From Monterey we drove out to Carmel Valley, where we stopped by few wineries.
We also stopped by Julien's castle: Chateau Julien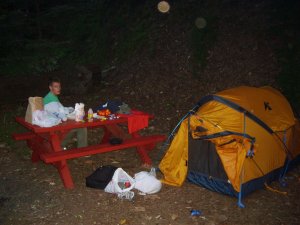 Mike G. by my tent at the Riverside campground
I, Mike and James at the start line.
My car going by. I considered catching a ride at this point.
There was plenty of musical entertainment along the way, such as these Japanese drummers
We also ran by this house built on a side of a cliff
On top of the Hurricane Point. It was a long way up!
Look back at the Hurricane Point from Bixby Bridge, the half-way point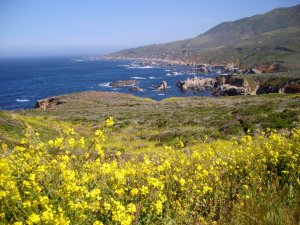 Yellow flowers along the road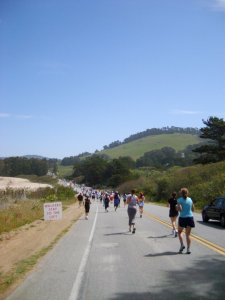 Here we are entering Carmel Highlands.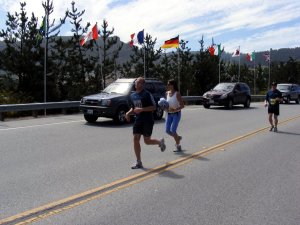 James finishing his first-ever marathon
And here come I and Mike.
Few post race group shots. We ran into Lauren at the village.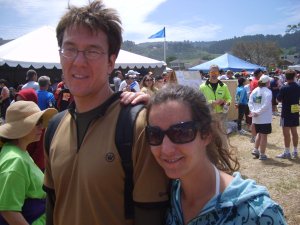 Here is Leslie and Kooj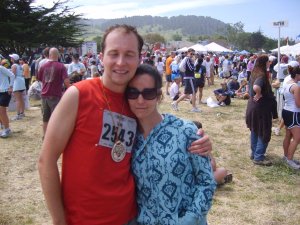 And one more picture with Leslie