Date: April 28th, 2018
Time (Lubos): 3:20:59 (7:41 pace)
Time (Sandra): 4:31:59 (10:23 pace)

Eugene marathon was my backup race of 2018, after Napa. It was also Sandra's target race of 2018. My original plan was to PR in Napa and then pace Sandra in Eugene. Well Napa didn't go as planned so I actually tried to race here. But again, it didn't quite pan out as planned for either of us. We both got a cold, once again, and then Sandra also got some bad pain in her back towards the end of the race.
We signed up for this race as it finishes on the historical Hayward Field track. Living in Southern California, it was a nice excuse to travel to the luscious Oregon. I think we have also read that the course is fast. Now after having run it, it's not a bad course, but it's not great. Writing this in 2021 (don't leave for tomorrow what you can do today as otherwise you may not do it for 3 years...), I can't quite remember all the details, but essentially, the first half is an out and back through the city, followed by another city section, and then finishing with 10 miles through a large riverfront park. While the park itself is a really nice place for a stroll, it wasn't the greatest for a marathon, especially not for the end of one. You essentially follow a fairly narrow path which contains many twists and turns. Being tired, I really wanted something straight where I can just space out. Being in a park also meant that there weren't many spectators here.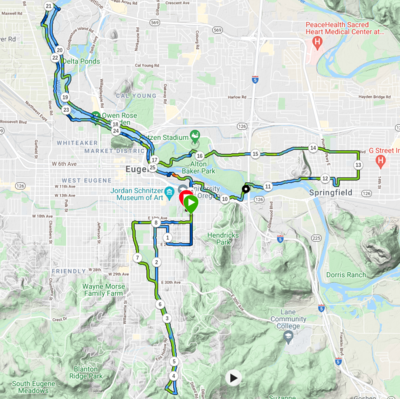 We stayed in a nice hotel in downtown Eugene called Inn at the 5th. A neat feature is that in the room you can select from a "blanket menu" to get different kinds of blankets. We had good ramen for dinner the first night in a nearby shopping area. The next day we visited the expo, which had a pancake section. This is now my second favorite expo perk after the wine and cheese at Napa. We then went to check out the course. We then rested in the room, where we also got to witness a downpour roll into town. Luckily it cleared up for the race, as running a torrential rain would not be fun at all.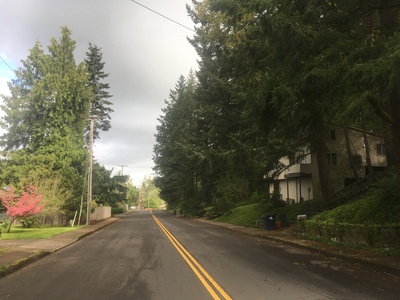 Then it was time to race. My first mile was done in 8:32, and I then sped up to about 7:24 average until mile 20, when I slowed down, unintentionally, to 8:05, finishing with 7:41 average pace. I missed a PR by about a minute. After finishing, I walked back to the course to spectate. I ran into Sandra who was doing good at first, but later started getting some bad pain in her lower back, which made the last few miles very painful. After finishing we strolled through the University of Oregon campus.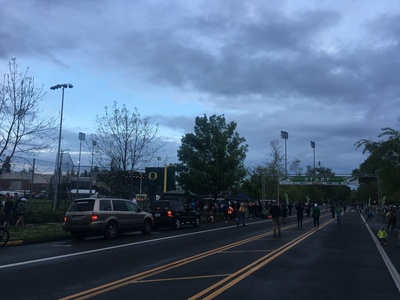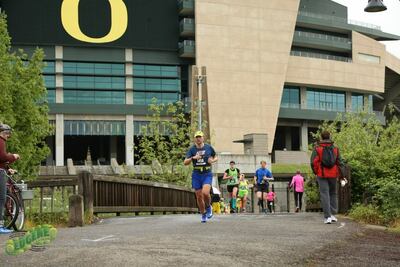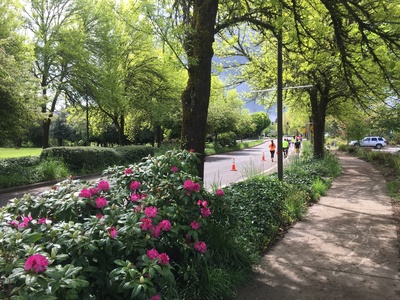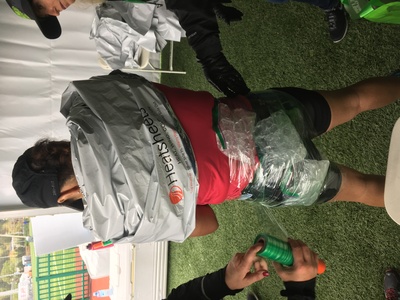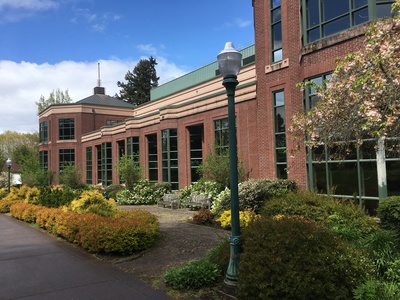 The next day, we drove out on one of the side roads (don't quite remember exactly where we went) to checkout beautiful Oregon countryside. I loved seeing all the greenery and waterfalls. I think it would be really nice to do an ultramarathon out here.
After this race, I signed up for a Plan C (I really wanted to BQ this year), but then sprained my ankle, multiple times, and later got a really bad plantar fasciitis. I didn't run a marathon, or really any proper race, again until 2021.
Comments or questions? Message me or