Kosice Peace Marathon 2007
Date: October 7th, 2007
Time: 04:08:04

My three week business / personal trip to Europe concluded with the running of the Kosice Peace Marathon. The first installment was held in 1924, making this the oldest marathon in Europe, and the second oldest in the world (after Boston). Although I lived in Slovakia for 14 years, this was also my first time to this town. Kosice is the second largest city in Slovakia, after Bratislava. It is credited with having the oldest municipal coat of arms in Europe, dating all the way back to 1369 (this is from Wikipedia).
I grew up in Banska Bystrica, which has a very nice square. The square is lined with bars and restaurants and is a great place to hang out and kick back for a bit. Some people even claim that Banska Bystrica has the nicest square in Slovakia. I would agree with them if I had not been to Kosice. While there are not as many restaurants, and the square doesn't project that casual feel of Banska Bystrica, this town has many nice architectural marvels to offer. The main attraction is the cathedral of St. Elisabeth. Underneath the main square is a series of underground passages, which form the city's archeological complex. The marathon registration was held near the main entrance to this underground maze.
The cathedral of St. Elisabeth and the city's coat of arms, dating back to 1369.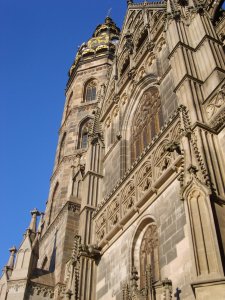 Another pictures of the cathedral.
Few pictures of me and my sister, Petra.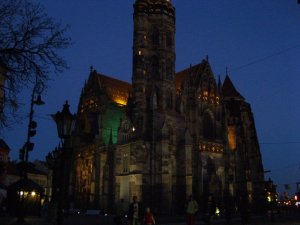 The cathedral at night.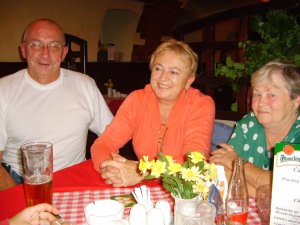 My dad, my grandma's friend Zuzka and my grandma watching me finish dinner #3: crepes with jam and walnuts.
The marathon registration included a free pasta party for participants. I went there, and although the pasta was good, the portion was not quite big enough for what I would consider carbloading. A free beer was also provided, which was a good follow up to the can that was included in the goodie bag. It seems that drinking beer is an important part of marathon running in Slovakia. I surely did not mind!
The next morning I woke up to partly cloudy skies. It was quite cold for just standing around (I am guessing it was around 50F), but it turned out to be perfect for running. This was on the same day when the Chicago marathon had to shut down early due to high heat and insufficient water at the aid stations. The marathon course follows two loops from the town's historic center to the outlying suburbs and back. There were around 3000 people participating, with about 2000 running the half marathon. The course thus emptied quite a bit after the first lap. Most of my pictures are from the second lap, so there are no orange bibs (half-marathoners) around. I also included my dad's pictures; they are the ones with the date stamp.
And it's time to get ready...
7 minutes 'til the 10am start. Here we go!
Quick "ahoj" to my family and I am off.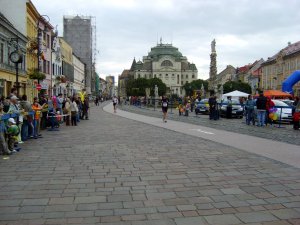 Another view of downtown.
The course continued into suburbs and a city park. The park was a great place for a quick pit stop...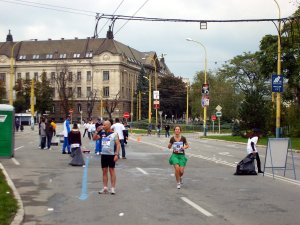 Here we are heading back towards the center.
Here is my grandma. It was great having my family cheer for me.
My dad taking pictures of me taking pictures of my dad.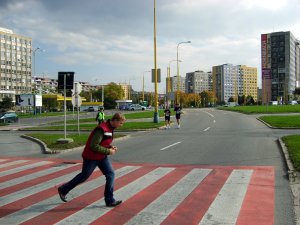 Short run by the panelaks...
...and it's back to the historic center.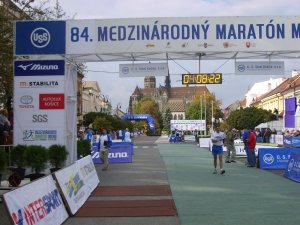 Done! Mile 26.2 - I mean, kilometer 42.16
Here are the lead Kenyans at the half marathon point. The race was won by William Biama (#9), who finished in 2:09:53, thus setting a new course record. He finished with a 2:08 lead on the second finisher, Simon Bor (#2).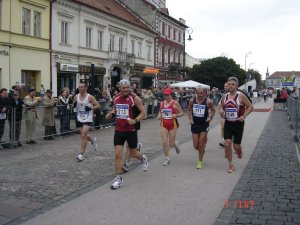 And this is Slovakia's former prime minister, Mikulas Dzurinda, in #111. He is an avid marathon runner, with over 30 marathons under his belt. His best was sub 3 hours! I was only few minutes behind him at the halfway point, but he ended up smoking me in the second half.
Few post marathon pictures. The free beer and hot tea were awesome. Thanks organizers!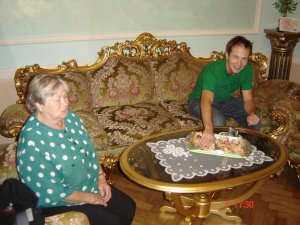 Zuzka made us sandwiches and also made us some fried steak and soup. She then took us to a traditional Slovakian restaurant, Koliba. I can honestly say I was full that night.
This was a great marathon. It was well organized and the aid stations were well stacked with sports drinks, water, bananas and cookies. Having my family cheer for me also made a big difference. Now the next step: convincing my dad to run in the next one...