Date: November 17-26, 2006

Instead of heading back east for another turkey and mashed potatoes dinner, my mom and I decided to spend Thanksgiving in Costa Rica. We took separate flights, mine originating in L.A., while she flew in from D.C. The flights were coordinated such that we arrived in Costa Rica's San Jose airport at approximately the same time, 10pm. I flew with America West, a.k.a the Airline From Hell. Shortly after take off, we were greeted by some 30 minutes of ads blasting through the plane's cabin speakers. The motive was to present travelers with ideas for future trips, but it really was just a sugar-coated advertisement for various hotels and spa resorts. And all food trays had ads printed on them as well, this time for Verizon! I do realize that airlines are having hard time staying profitable, but treating passengers like cattle with fat purses is not the way to go. However, the last straw was the food service. This was an international flight, yet the only food available were crappy snack boxes selling for five dollars. Not only were these not complimentary, there was not enough to go around! Is the airline so concerned with saving weight that it cannot pack enough food for all passengers?!
We were coming down for landing, when the pilot suddenly put the plane in a sharp climb and announced that it was too cloudy for him to land. We proceeded to Liberia, which is in the north western part of the country. We landed at this alternate airport, but there was not enough fuel left to get us back to San Jose. It took a while for the airline to negotiate a fuel deal, and to get the plane refueled. We were also notified that there was no water left on the plane. The time on the ground turned into a mini survivor episode, with people wondering what will happen if the clouds in San Jose don't lift soon. I think that we were not allowed to exit the plane, due to immigration regulations. Luckily, the weather cleared, and we landed in San Jose around 12:30am.
I wondered where I will find my mom since I was running so late, but I ran into her soon after picking up my suitcase. Turns out that her flight also got delayed, and she arrived just shortly ahead of me. We rented a small Daihatsu 4x4 SUV from Budget. It was pretty nice, and handled just fine compared to Costa Rican cars, even though it was underpowered by American standards. We had a reservation in the El Presidente in downtown San Jose. This is supposed to be a very nice hotel, but we couldn't figure out where it was. Finally, we found another luxury hotel in the general area. However, the premises of this hotel, which later turned out be the Gran, were rife with the ladies of the night (some of which were getting business from the police). We figured it would be better to head back towards the airport and to grab a room at one of the many hotels along the way. We ended up staying in Best Western, which at 130 dollars a night, was definitely overpriced. However, it was late and we needed a place to sleep.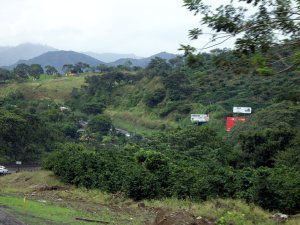 My mom's picture of the road to La Fortuna. Most of the pictures from this trip came from her digital camera.
Day 1: November 18th
The next morning we grabbed breakfast at Denny's, and headed out of town on the Pan-American Highway. In San Ramon we turned off north towards La Fortuna. Costa Rica is a wonderful country, with beautiful scenery, great food and very friendly, polite people. However, what differentiates Costa Rica from U.S. is the infrastructure. The highway is in a decent shape, but outside of cities it's limited to a single lane in each direction. This leads to massive backups as the many trucks have a tough time climbing Costa Rica's steep hills. However, things get more interesting once you get off this major artery. Secondary roads are extremely narrow, and typically there is no shoulder. Few roads terminated in a 3 foot deep gutter. Pretty scary stuff. Then there are the potholes. These are not the puny American sized potholes. I am talking about potholes a foot deep, that make you worry about losing a wheel if you don't manage to swerve in time. And finally, many roads, especially in the Guanacaste province, are not paved. All this combines for a very slow driving. If I remember correctly, we averaged some 25mph during this trip.
However, we had plenty of time, so we just kept trucking along. We got to La Fortuna just as rain started rolling in. La Fortuna is a very neat town located in the foothills of Arenal, Costa Rica's most famous volcano. It was too cloudy the first day to see much, so we just checked into La Roca Negra, a cute bungalow style hotel. This place was great. The room was very nice and clean, and cost just 30 dollars a night. The front porch of each cabin looked towards the volcano, and led to a garden full of colorful tropical flowers.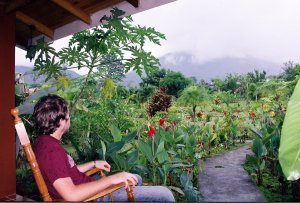 Enjoying the rain on the porch of the Roca Negra cabin. The large cloud-covered mountain is the Arenal volcano.
Our cabin and the garden
Close up on the flowers shortly after the rain stopped
Mom and I grabbed dinner (garlic bass, very delicious) in a nearby restaurant and headed back to the hotel. Our hotel neighbors turned out to be a young couple from New York. I went out with them for few drinks, and later we tried checking out the local disco. The place was completely empty until a bus full of dudes showed up. We quickly left.
Day 2: November 19th
Next morning we visited a butterfly garden. Later, we drove to the volcano, and took a canopy ride on the skytram. Many people take the zipline back, but I was too chicken for that, so I just rode the skytram back. We didn't see any animals, but it was neat to glance down into the deep jungle from above. We next hiked on a 2 mile trail to a lava field from the 1992 eruption. The clouds lifted and we got some great views of the volcano. Every few minutes we would hear a distant rumble. The magnitude of the volcanic activity became really apparent once the sun went down. We were sitting in a steak house half way back to La Fortuna, just as the sun was setting. We were sitting outside, and just as it got dark, I started seeing red hot boulders falling down the mountain shortly after each rumble. Here is a quick video of one such eruption. Seeing the lava was by far the coolest thing I saw in Costa Rica. These videos are encoded with DivX.
The owl and the blue butterfly
The owl butterfly is a master of camouflage. It makes itself look like common predators: a snake or an owl.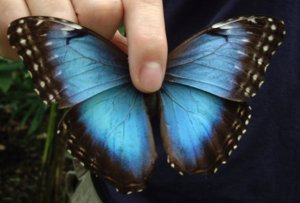 The blue morpho
Collection of chrysalis of the various butterfly species living in the garden
A caterpillar. We also saw these orchids.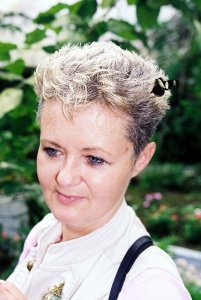 This butterfly decided to land on my mom's head.
We came back from the garden to have these dogs make a playpen out of my bed
Cloud forest canopy from the sky tram
At the skytram stop and a closeup of the Arenal lake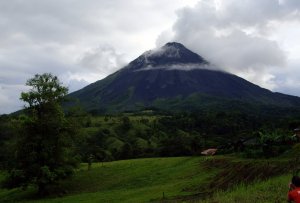 Arenal, Costa Rica's most active volcano
After dinner, I dropped mom off back in the hotel, and went to the Tabacon hot springs. This place was really neat. There are multiple hot pools, one of which has a waterfall that people can sit behind. There is also a swim up bar. I met few people here, including a girl from Portugal spending one month in the country, young couple on their honeymoon and two girls from San Diego. Tabacon is definitely a place not to be missed!