Trip Date: June 20th - July 17th, 2008
Published: March 30th, 2010

On the following 9 pages, you will find photos and stories from an amazing trip I took in the summer of 2008 with my then girlfriend Leslie. We started our journey in Lancaster, California. One month later we found ourselves half-way around the world, in a yurt in the Mongolian steppe. In the end, things between Leslie and me did not work out, but we still had an adventure that we will remember for the rest of our lives. What you will find on the following 9 pages are excerpts from the journal I kept on the trip, supplemented by interesting tidbits I learned by researching the sights.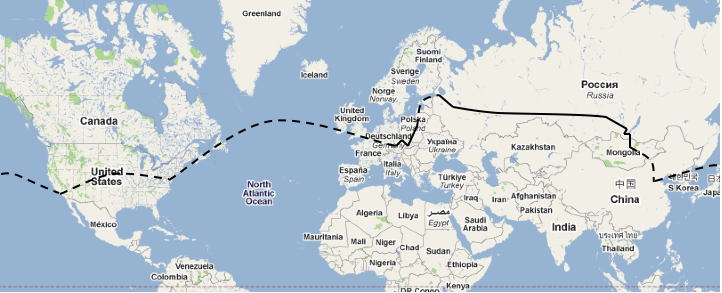 Our journey around the world. The dashed lines are the parts where we traveled by plane and solid is by train.
Contents
---
Planning
Just wanna see pictures and have no interest in going on a similar adventure? Then hop on to the next section!
So how does one get ready for a trip of this magnitude? In this age of Internet, it's quite easy to find much information online. Yet, the Internet won't answer the most important question of them all: from where to where and in how long? The Trans-Siberian railway is just a small segment of a rail network that connects most of Europe and Asia. Want to travel from London to Saigon? No problem! Barcelona to Hong Kong? Welcome aboard! Italy to Singapore? It's all possible!
For us, the choice was quite easy. I love Munich. It's a wonderful city of great food, great beer, wonderful palaces and near the one thing I love the most - mountains. Munich is also a very modern city. Leslie had never been to Europe before and Munich seemed like a great place to start. We also very much wanted to see Mongolia. Mongolia is this land shrouded in a cover of mystery. It's a magical place where time stands still, land of wide steppes where horses roam freely, where you can forget about the swings in the stock market or the latest Hollywood blockbusters. I also very much wanted to continue onto China. The Olympics were coming and attending an event seemed like an amazing way to end the journey. However, a quick look at the prices (90 bucks for a hostel bed that normally goes for 9!), the extra time added to our already long unpaid leave (we get only about 2 weeks a vacation a year) and the lack of fascination on Leslie's part for China, put this to an end.
Now comes the next step - connect the dots. Figure out what to see, how much time to spend in each city and how to travel in between. Munich, Prague, Banska Bystrica, Warsaw, St. Petersburg, Moscow, Irkutsk and Ulaan Baatar were our dots. Wikipedia and Wikitravel came in handy for learning about the sights. The rail planning was done by me using the Deutsche Bahn european railway timetable and also by using a similar rail schedule service in Slovak on the Slovak Rail site. These sites won't tell you much about the Russian component of the journey. You will find plenty of great info about the trans-siberian railway on Seat61.com. Another great source of information on the journey, Russian visas and places to see is WayToRussia.net. It has a forum where you discuss planning issues with other travelers. Leslie took care of finding out about tours in Mongolia, and booked our stay in a ger camp. This is something not be missed! We even spent a night with a real nomadic family. We also booked our hostels ahead of time online. Finally, a resource you should not leave the country without is a good guidebook. We used Lonely Planet's Trans-Siberian Railway. Another option is Thomas' Trans-Siberian Handbook. I have not seen this second book, but given the good reviews and high ratings on Amazon, I would definitely consider this alternative were I to embark on this adventure again.
What about train tickets for the Trans-Siberian journey? The Trans-Manchurian line, that is. Although there actually isn't any train that is officially known as "Trans-Siberian" or "Trans-Manchurian", these names have entered the common language to describe the lines connecting Moscow with Vladivostok and Beijing, respectively. They share the same track until Lake Baikal, where the Trans-Manchurian line takes a turn southward and continues onto Mongolia (our final destination) and China. The cheapest option is to buy the tickets in Russia. However, since this train ride is quite popular in the summer months, you may find the train you want sold out, unless you purchase several days in advance. This is true especially if you want to avoid 3rd class. Each train has several 3rd class cars, in which the individual sleeping compartments are not separated. Thus 3rd class is almost like one giant dorm. From what I heard, this is the best way to travel if you want to learn about Russian culture - and drink a lot of vodka. Since we wanted little bit more privacy, we went with the 2nd class coupes. And since our time Moscow was very limited, we decided to order the tickets online.
Ordering train tickets was supposed to be a straightforward experience. Specify the trains, pay the fare and the shipping fee, receive tickets at home. It however turned into the biggest headache of the entire planning process. WayToRussia lists several companies that provide ticket booking service. We went with "Inter Group". Or more likely a single guy running around buying tickets, Alexander Oskin. He kept promising our tickets, kept delaying the purchase due to various problems, was pretty much impossible to get a hold of. From the online forums we have discovered post fact, we were not alone! It seems that his plate got too full to properly handle all the requests. Since the company website no longer loads as I write this in 2010, it appears that he is no longer in business - or is in business under a different name. However, to give the guy credit, we did receive our tickets. In Russia, and not in California as we had originally requested.
Let's talk about Russian visas. As American citizens, we needed visas to only one country on our plate: Russia. Getting visa to Russia is no trivial task! Visas, in my opinion, are just a way for a country to exhort more money from tourists. This at least is the case for Americans traveling to just about any destination in the world. Typically, it takes very little beyond the cashiers check to get stamped. Not so much in the case of Russia. Russia really cares to get to know you. This includes your family connections, education history, last places of work, and finally - your specialized skills in the fields of medicine, chemistry, bomb making and nuclear engineering. Just in case, I suppose.
The most confusing aspect of getting the Russian visa is something called a visa support letter, but most commonly known as the invitation letter. In order to be granted visa to Russia, there must be some tourist agency in Russia willing to bear responsibility for you. If you do go on a formal tourist expedition, this is taken care of for you, as you will indeed be traveling with a tourist agency. However, for a journey on the Trans-Siberian railway, you are on your own. There is no travel agency to speak of. The invitation letter must be issued for the entire duration of your stay. The hotel in St. Petersburg where we booked a room was willing to issue the invitation - but only for the 3 days spent there. Not very useful at all!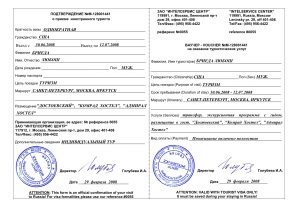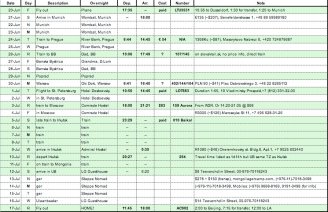 The invitation letter. Yours will have the passport number and date of birth filled out. On the right is the spreadsheet we used for planning.
However, this step of the visa process will get much easier if you think of the invitation letter in a different way: a tourist tax. Turns out, that you can easily purchase these letters on the Internet. We were quite suspicious of this, but this indeed is how the process works. Purchase your visa support letter on WayToRussia and you will receive an email with a scanned PDF of the document. Simply print out and voila! One very important thing to keep in mind when ordering your visa letter is that your visa will be issued ONLY FOR THE DURATION SPECIFIED IN THE INVITATION. Why does this matter? Well, unlike with any other country I've been to, Russian visa is not only an entry document, but also an exit one. So, if your visa expires while still in Russia, you will not be allowed to leave the country! That is, until you get your visa extended. However, this process can take a month or two to complete. This will turn a short delay in your trip into a major headache - a situation we almost found ourselves in. Our visas were issued for exactly the period specified on the invitation - just one day past our planned exit. In Moscow, we came somewhat close to missing the train as we realized only at the last minute that our train tickets were booked for a different, earlier train. All this because I figured the consulate will be lenient and tack on few extra days past the invitation letter. Not so much.
Once you have the invite, you stuff all the forms and your passport into a prepaid envelope, and mail it to the consulate, right? If you live in Los Angeles, or any other west coast locality served by the San Francisco consulate, not quite! The consulate accepts requests in person only. But this does not mean you actually have to travel to San Francisco. There are agents who will more than happily take care of this for you (see, this whole visa process is one giant business!). You will find all the info, along with the required forms on the San Francisco Consulate page. For the New York consulate, see the previous link.
So how much did this whole adventure cost? Surprisingly, it wasn't all that expensive. The Los Angeles-Munich / Ulaan Baatar - Los Angeles plane tickets cost us $1,994.39, combined. The plane tickets from Warsaw to Saint Petersburg were $666.90. Both were booked on Expedia. Travel insurance was 47.85 for me and 63.80 for Leslie (she got one with higher coverage). The three nights in the Wombat were 217.26 and the train tickets to Prague cost 169.31. Tickets to Fussen was 132.94 - however, we could have saved here. Prague to Banska Bystrica came to 72.54 and Banska Bystrica to Warsaw was 142.83. In St. Petersburg we stayed in the luxurious Dostoevsky Hotel for $461.92 - we figured it will be nice to get a little break from hostels. The visa support letters cost $30, each. Finally, between the two of us, we went through some 1800 dollars, which included the 330 cash payment for the ger camp. The Trans-Manchurian train ticket was approximately $300 a piece (we couldn't find the actual receipt). Hence, in total we spent about $3000 per person for a month of traveling good way around the world. That's just 10 bucks a day - or two Starbucks lattes.
Of course, if you prefer to save time (but not money), there are plenty of travel companies that will take you on a Trans-Siberian Railway adventure. One of them is Trans-Siberian Experience. Note, I have no experience with this company, it's just the first one that popped up in Google results.
---
June 20th
The time has come to put all the planning to a test. The cab is here and we are off to the train station. See, we decided to start the train journey around the world the right way - by taking a train to the airport. Leslie and I were residents of Lancaster and Palmdale, two sister cities collectively known as Palmcaster. These two cities with the combined population of some quarter million people, yet the soul and culture of a small town, occupy a large swath of the Mojave Desert. The desert starts north of the San Gabriel Mountains, a mountain range forming a natural border to the northerly suburban expansion of Los Angeles. Metrolink, the train on which we found ourselves this morning, is a commuter line connecting the desert with downtown Los Angeles.
The Union Station, that is. There we piled onto the Flyway bus, a line connecting the Los Angeles (LAX) airport. We were the last people to fit, which was quite good as the buses come only once every 30 minutes. Buses in the States are nothing like buses in Europe (or at least Slovakia) where as long as the door can shut, the bus goes. They Flyway will take only as many people as there are seats. I sat next to a rather large and obnoxious lady. She reminded me of a certain guy from work. She kept butting in on the conversation taking place in the row behind us and kept sharing her experiences with household mold. Our flight was fine. We took a 5:35pm flight with LTU that arrived at 10:35am in Dusseldorf. But more about Germany on the next page. We sat in a row with only two seats, so we got the aisle and the window. The food was OK - some chicken with peas. And free wine, of course!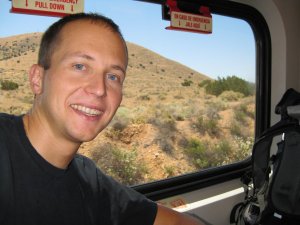 On the Metrolink to LAX with the typical Mojave desert scenery in the back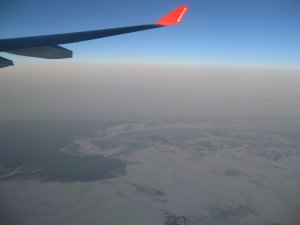 Beautiful day at 35k feet for watching ice chunks float by below
---
I want to hear from you! Leave me a comment...