Elevation: 4,975 ft
Date: November 26th, 2005
Group Size: 2
Miles Covered: 8.4
Difficulty: Pretty easy, but way too long
Scenery: Ton of cows!
Morning after climbing Wheeler Peak, Sarah and I took highway 64 east of Taos towards Raton. From there, we took a mostly dirt road to the Oklahoma border, to the town of Kenton. I was looking forward to stopping at The Merc, but according to a sign in the window, the place is up for sale. This didn't come as a great surprise; I can't quite imagine too many people passing through this tiny town.
Scenery along US-64, east of Taos, NM
Sign at the trailhead warns about rattlesnakes. It really should warn about cows. The cows were grazing right by the trail on the way down and were giving us really funny looks as we passed by. It probably didn't help much that I was wearing a bright red backpack!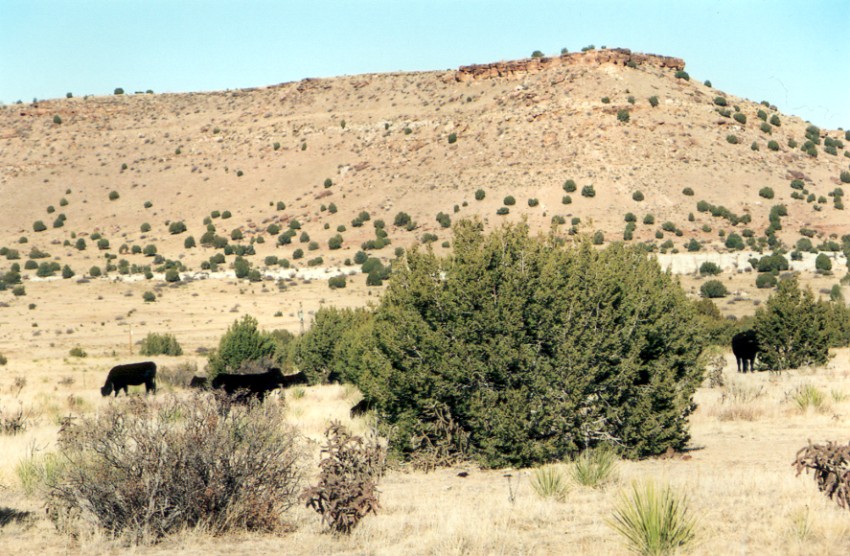 Black Mesa wildlife
Besides the cows, the hike was pretty uneventful. This was a really strange hike. Since the highpoint is on top of a mesa, the hike consists first of hiking approximately 2.5 miles through a completely flat grassland. Then, the trail climbs the mesa for about 0.5 miles. This part is fairly steep. However, it doesn't end there. Whoever surveyed the mountain came to a conclusion that the real highpoint is on the side of the mesa opposite of the trail entrance! I think this was done just to piss off the highpointers. This final part is about 1 mile long, and is again completely flat. The end of the trail is marked by a large monument. We returned back to the car around sunset, way to late to reach Mount Sunflower the same day.
Black Mesa (hill on the right) and the trail near the top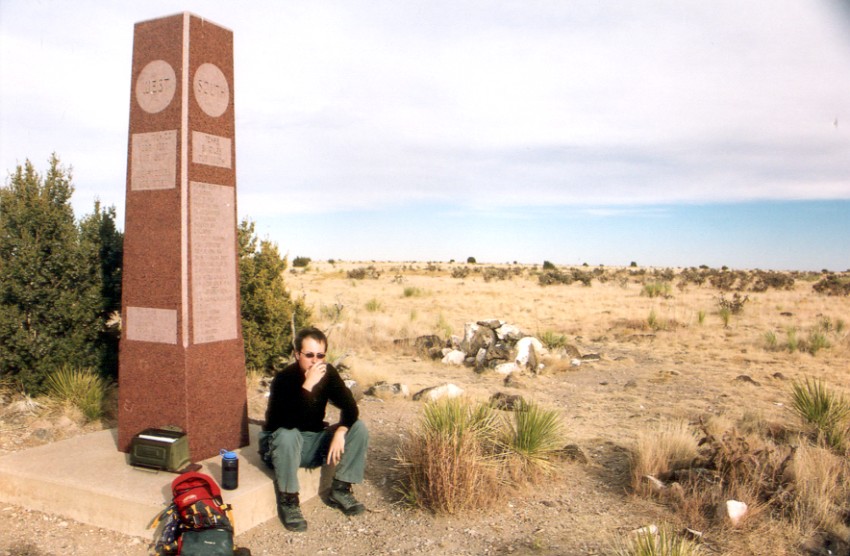 Summit monument