Elevation: 2,407 ft
Date: March 15, 2009
Group Size: 2
Miles Covered: about 5
Difficulty: Easy
Scenery: Nice views, but trash everywhere. Maybe the park fee could be used to hire a clean up crew!
We left Georgia at around lunch time and arrived in the Cheaha State Park just in time for dinner. At first, our plan was to camp the first night, and then take longer hikes around the SC and GA highpoints. The second night was supposed to be in a campground near Georgia's high point. But with the rainy weather, we opted for a hotel the first night. The extra time with Google maps gave me chance to add up some numbers, and I concluded it made more sense to spend the second night here, in Alabama. I am glad we did.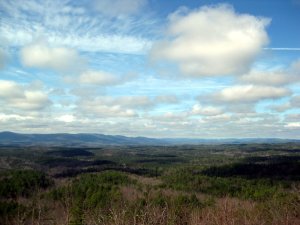 View of Alabama's hills
Stopped at an overlook off of AL-281 in Talladega NF.
The morning was wet and foggy, but patches of blue skies made their appearance by the time we reached Alabama. The state park is located right at the high point. The convenience store (sorry, no beer sales on Sunday!) doubles also as the campground reservation booth. We were given a map and vague instructions. The "semi-primitive" camp site area was a field of mud, with a drop off the paved road so deep I worried if the car will make it back. It did, and we visited the other camping area, a road leading to the summit, with campgrounds on both sides. Neither of the campgrounds had what looked like a decent pull off. Perhaps everyone in 'Bama drives a truck. I guess they don't want our city folk with our little cars and those little tires 'round here, I suppose.
Our amazing campsite
We ended up taking a large campsite overlooking a deep valley. Again, I took the car down a deep curb, and positioned the tires on carefully scattered sharp rocks. The campsite was absolutely amazing. One could see for miles from here. But, as in much of this part of Alabama, closer inspection revealed trash. Everywhere. In SC and GA, signs are placed along the highway indicating $1000-plus fines for throwing trash on the highway. In Alabama, the fine went down to an "affordable" $500. Madhu jokingly stated that if you have trash, you should bring it to Alabama. Well, it looks like many people have taken his advice. The trash was not concentrated to our campsite, or to the park. The two overlooks on the way both told the same story of families so busy rushing to the next McDonald's drive through they had no time to collect their super sized cups.
Madhu making Indian dinner, while a 10-strong herd of deer passed by.
Madhu cooked an Indian dinner. It was a tasty concoction of mustard seeds, cloves, cinnamon, nugmet, peppers and potatoes with rice and lentils, and curry and chilly powder for taste. While preparing the food, a large group of deer made a visit to our campsite. I guess they like Indian food. It was vegetarian, after all.
After dinner, we walked up to the summit, which was located just past the bathroom and a large satellite dish. The summit is marked by a large stone tower, which reminded me of a light house. We walked up to the top, but we could not see much at night through the dark windows. We then took a short off-trail hike in the woods behind the tower. We made our way to what sounded like a waterfall, but was instead just water rushing out a large storage tank. This was my third highpoint of the day, and my 40th overall. Only 10 to go!
On the summit - which was just a short walk from our campsite.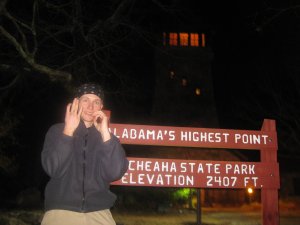 I swear I am not trying to flash gang symbols. Instead, I tried to make a 4 and 0. HP #40!
We walked up the observation tower and later took a short off-trail hike through the woods.
Part of the reason I go on these highpointing trips is to learn more about the country by visiting what lies off the highway exit gas stations. Well, on this trip I got my dose of learning, but I didn't have to travel anywhere for it. Turns out, the most interesting stories came from Madhu. Somewhere along the trip, Madhu asked whether there were giraffes or elephants living in America. I told him no, but then he inquired about lions or tigers. Again, my negative response surprised him. "But you surely have monkeys", he asked. "Nope, no monkeys". "What?! How can there be no monkeys?" Few minutes went by. Then, "OK, but you have pythons, right?" I think my negative answers made the American backcountry sound rather lame, but they also explained why he seemed a bit edgy at first about camping. I would not be excited about camping either if there were tigers and pythons lurking about.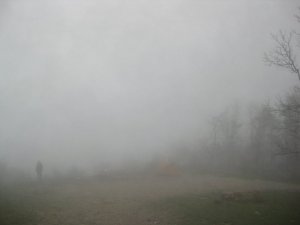 The next morning we foke up to a thick fog.
An earthworm showing off its stretching abilities.
The night came and went without any hyenas or king cobras paying us attention. The only visitor was the rain. It was still drizzling when we woke up. The entire valley was covered in a dense fog. Many earthworms crawled and twisted along the road. The breakfast: instant oatmeal and coffee. We left the tent out to dry (requires sunshine!) and took off on a hike. We walked down the road to the Cheaha lake. Not really knowing how far it was, we realized the map was not too scale when it was too late to turn back. The walk was about 4 miles long. From the lake, we took the mile long Lake Trail back up. This has to be the most overblazed trail in America. There is no need to worry about getting lost here. About every rock or tree that provided sufficient space received a splash of blue paint.
We walked down the road to the Cheaha lake.
Few shots by the lake (a puddle would be more like it)
From there we took the mile long Lake Trail back up.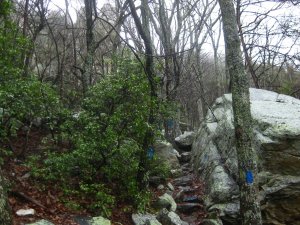 Perhaps some markers could be placed to make the trail easier to follow. Maybe blue blazes would work...
Near the top, we encountered a group of climbers. The climbers were in their late teens and were supervised by two older gentlemen. Soon after we arrived, the group of climbers and one supervisor left, presumably to hike to the top to practice rapelling. I struck up a conversation with the other one, a fairly hefty gentleman in his 40s. "This is about five-five?", I asked, pointing at the rock. "You mean the elevation or the date?", he responded. Oh-oh. Red flag! But it was too late. He started his inquires, where we were from, what were we doing here, etc... I mentioned highpointing. He was somewhat interested, but quickly asked: "Have you reached the ultimate highpoint yet?" I knew it was too late, but I tried my best to deflect. "You mean marriage?", I asked. And then there it was: "No, Jesus Christ, have you met Jesus Christ yet?" I gave him my spiel about the nature and spirituality and bees and canyons, but to each statement he had a verse waiting for me. That's one thing I never quite understood about religious people. Why do they always give you the verse number? Is it perhaps because there are so many discrepancies in the Bible, that they have to identify the statement which fits their particular point?
Foggy scenery near the top.
We reached the top around 1pm, packed up and were on the road by 2. It was later than I hoped, but not late enough to worry. Our destination for the day was Pensacola Beach. This was a staging ground for the attempt on Florida's highpoint the following day. And it being spring break time, going to the beach was not such a bad idea.