Elevation: 535 ft
Date: August 25th, 2008
Group Size: 1
Miles Covered: 0.8 each way
Difficulty: Trail gets pretty muddy in rain
Scenery: Walk through a forest
It's been a while since I added a peak to this list: one year and 27 days to be exact! The opportunity finally came with my upcoming move to the east coast. I hoped to knock off all the remaining southern states along the way (this being LA, MS, AL, FL, GA and SC). But then, poor planning on my part reduced what was supposed to be a week-long leisurely drive to a 4-day, 11-hours-a-day dash. But, all was not lost, as I at least knocked off LA and MS.
The trail up this peak is a short walk on what used to be/is a jeep road. There are few junctions along the way, but the route is well marked, plus the direction is quite obvious - simply follow the widest road. There is some downhill along the way; the biggest drop is after climbing the false summit near the second gate. The final ascent is pretty steep. In fact, I got a pretty good work out, although this is probably stating more about my lack of fitness than the peak itself. Overall, this was a very enjoyable hike. I was quite happy to get out of the car for a bit and stretch my legs. I got rained on a bit, but the sun came out along the way. By the time I got back to the car, I was more soaked from the humidity, than the rain itself.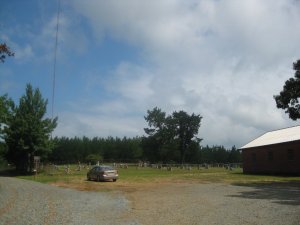 The trail starts at the parking lot next to the Mt. Zion cemetery.
From there, the trail simply follows an old jeep road. Some parts were quite muddy.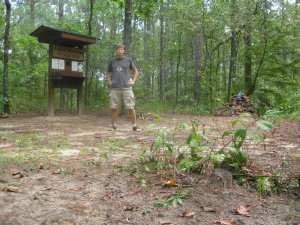 Here I am on the summit. I brought my Mongolian hat along to keep my head covered from the rain.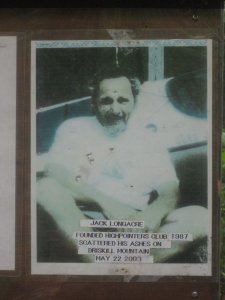 There is a nice note on the summit commemorating Jack Longacre.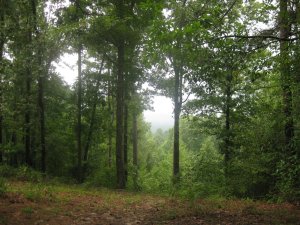 This is the view from a lookout point near the summit.