Elevation: 1951 ft
Date: May 31st, 2009
Group Size: 2
Miles Covered: 1
Difficulty: We got lost! How embarrassing. Also, ton of mosquitoes.
Scenery: Great view from the observation tower
The drive from L'Anse took me little over 5 hours. I quickly checked in to the Woodsview Best Western and proceeded to meet Mike and Joe downtown. This hotel occupies an old building, and the escalator to the 4 floors utilized thick, doll-eye like buttons. I like these old buildings since they project more character.
Mike's festivities were already way underway by the time I got into Milwaukee. They started with a tour of the Lakefront brewery and were followed by dinner in Waterstreet Brewery. I missed both of these because of my late arrival, but hoped on the first #18 bus downtown. Riding a bus in Milwaukee is a much different experience from what I am used to in D.C. To say things nicely, the passengers were not the typical creme of the crop characters. Discounting all the morbidly obese, inner-city, mentally handicapped or drugged out passengers didn't leave much behind. A lady sitting next to me, which I took to be at least 85 years old, got in a conversation with her friend. The friend: 'How's your mother?' The lady: 'Fine, she just turned 65'. About 20 minutes into the bus ride, the bus pulled over next to a bench occupied by several shady biker looking characters. The driver got up and left the bus. Soon, one of the bikers, a tall guy smoking a cigarette and flaunting a beard that made him look very much like Osama bin Laden, got behind the wheel. It was only little after 6pm, but I was happy once I was off that bus!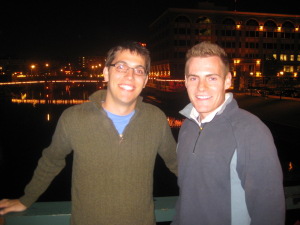 Joe with Mike in downtown Milwaukee
Milwaukee has an amazing downtown. Before my trip, I had no idea that Wisconsin was home to so many breweries. Or, that it was home to so many breweries of good, non frat-party chug beer. The downtown has several breweries and pubs and bars that clearly illustrate the town's European heritage. We started off in The Harp, an Irish bar with seating along the Milwaukee river. From there we wondered off into the Old German Beer Hall. I loved this place. It served Hofbrauhaus beer from the traditional liter Mass mugs. The seating was on long wooden benches common in Europe, which are much better suited for meeting new acquaintances than the individualized tables and booths common in American watering holes. Towards the back of the beer hall was a large log into which people (including us) drove in nails. Turns out that hammering nails is a pretty fun thing to do when hammered!
The men wedding party.
The next day, Friday the 29th, was the rehearsal and later we went out to dinner. Here I got to meet Mike and Allie's family as well as more of their friends. Through out the dinner, various family members made small toasts, and the thing that struck me was the common note commenting on Mike's curious and ingenious nature. I had no idea his creativity dated back to early childhood, somehow I figured it was a more recent trait. For dinner we had incredibly delicious lamb chops in the Lake Park Bistro, a restaurant located in a park north of downtown and overlooking the lake. We also received bottles of wine brewed by Allie's dad. After dinner, I went to the airport to pick up Sarah. She flew into Chicago, and took the hourly shuttle bus between the two airports.
The wedding day started for me with a visit to Ryan's house. Ryan, the other groomsman, is studying medicine in Mexico. The swine flu scare closed down his school for few weeks, shifting the date of his finals to the day of the wedding rehearsal. With not even a day left to get into town for the wedding, Ryan found himself on a delayed flight. After it started to look like he won't make the connection in Mexico City, Ryan stormed into the pilot cabin, and told the pilot about his need to take off right away. In Spanish. The pilot, impressed by all this, flicked on the engine, and the plane was on its way for Ryan to make the flight to the US. His bags were not so lucky. Ryan's mom made us a delicious French toast concoction. It consisted of some thick French toast (Hawaiian bread) covered in walnuts and peaches. This easily beat any stuffed French toast from IHOP. After taking pictures and climbing a tree, Ryan took Mike to the church in their family antique 1960's Pontiac. I drove in on the Suzuki. Who would have thought my Suzuki would make it into a wedding procession?
The wedding was held in St. Dominic's church in Brookfield. It (the church and the wedding) were nice and everything went without a hitch. Well, almost everything. The ring bearer totally freaked out. He was later also worried about taking pictures with the flower girl. He thought she may want to hold his hand, or even worse, kiss him! Yuck!!! After taking more pictures, I rejoined with Sarah at the reception in the Brookfield Inn & Suites. She looked really pretty in her black and white dress. We again had delicious meal, this time a thick slice of beef. After plenty of dancing, drinking and drunking, Sarah and I got back to the hotel around 3am.
Mike and Allie sharing a dance, and me with my beautiful date.
On Sunday it was finally time to scale the majestic Timm's Hill. This highpoint is located on highway 86 some 25 miles west of town of Tomahawk. Several scenic lakes dot the surrounding area, and the drive to the parking lot was on a twisty, one-lane, one-way road where I later taught Sarah how to drive stick. A large observation tower gives an amazing view of this part of the country. I bet it's beautiful here in the fall.
Start of the short hike to the highpoint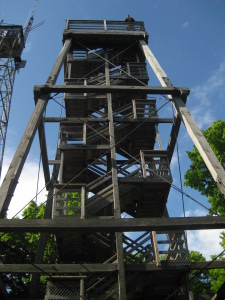 Sarah on the observation tower
Views from the top of Wisconsin
After little bit of goofing around we started for the car. Soon we arrived at a lake to a common 'I don't remember this at all'. Somehow we managed to get lost on this 15 minute stroll. Turns out, there are many trails in the area, and it's quite easy to miss the turn off leading back to the parking lot. We stumbled our way back on some other trail. I would not recommend anyone getting lost here, unless they want to become dinner to the clouds of mosquitoes that befell upon us.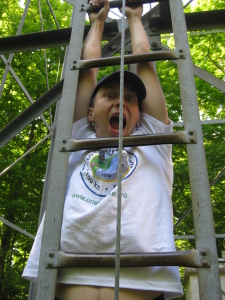 Goofing around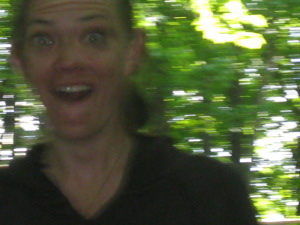 Run! It's the dreaded witch of Timm's Hill!!!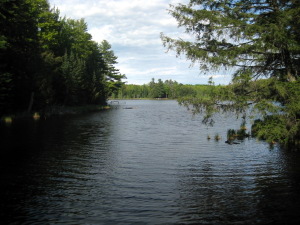 Lake where we realized we were lost
We took highways 13 and 29 on the way back. In Medford, we found a great dinner place, the Flame Family Restaurant. The deals you can get in these family non-chain places are sometimes amazing. Here, for nine dollars, I got a pork chop dinner that came with a side salad, dinner roll, and a cup of soup. We also got some fried cheese curds. Fried cheese - reminds of Slovakia. Later on, we stopped at a gas station, where Sarah pointed out (with a bit of disgust) some cheese whips. I love these things! They are very popular in Slovakia. We even also call them whips (actually the diminutive), korbáčiky. We later showed these to Sarah's family, and they were equally not interested in sharing my love for this spaghetti-shaped cheese product. The next morning, after a breakfast with her folks, I took off to the final destination of this trip, Missouri.