Elevation: 3,506 ft
Date: May 12th, 2007
Group Size: 1
Miles Covered: 2
Difficulty: Quite easy, except for a short steep scramble
Scenery: Neat red buttes north by the Teddy Roosevelt NP
Somehow I ended up chairing a session at a conference held in May in Denver, and in my constant search for additional highpoints, I decided to visit the states of ND, SD and NE on the way. After all, it's not "that" far from Denver to North Dakota! I left California early Thursday afternoon, and arrived at North Dakota's highpoint Saturday morning. In the process, I got to see Montana, my first visit to this state of green valleys and snow capped mountains.
I spent my second night in Billings, MT, where I camped in a KOA campground next to a transient looking for employment. He was living in quite a sketchy van, but he offered me a beer, so it was all right. The drive through North Dakota was equally spectacular, as the stretch along I-94 contained some neat red badlands and rolling green hills. The highpoint of North Dakota is located on a private property, and the owners request a donation for access to the highpoint. I paid, and continued down a set of tire tracks following a cattle fence. A flat meadow by an old farmhouse served as my parking lot. From here it is about a mile to the summit.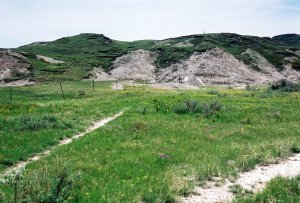 The trail follows the fence line up the steep mud slope and then heads to the summit on the left.
The well packed trail follows the fence line until a steep mud hill. Hiking up wasn't too bad, but would be about impossible were the mud wet. I tried not to slip on the descent, but that was not to be. I ended up with few unscheduled landings on my butt. From the top of the hill, the trail heads towards a drainage, from where it is a short walk to the summit. I signed the register and headed back. I did not encounter any of the advertised rattlesnakes, but that was probably a good thing. I also didn't see any other hikers, but as evident by the summit log, this peak gets a hefty visitage. It seemed that just about every day of the year brought one or two visitors to the top of North Dakota.
View from top of North Dakota.
From here, I headed south on US-85 towards the Black Hills in South Dakota.