Elevation: 7,242 ft
Date: May 13th, 2007
Group Size: 1
Miles Covered: 7
Difficulty: Wide, well marked trail with staircase leading to the summit
Scenery: Quite spectacular. A drive on the scenic bypass US-385 is a must.
I arrived in Spearfish, South Dakota about 4 hours after leaving Amidon, the town closest to North Dakota's highpoint. Spearfish sits on the northern boundary of the Black Hills. Here I hopped on the scenic bypass road US-14 to US-385, and headed south through the heart of this mountain range. Spearfish is very close to Sturgis, which is nationally famous (or infamous?) as a site of an annual motorcycle rally. After driving through the Black Hills, I understand what lures so many bikers to this area. The drive was absolutely spectacular, with the road winding through various canyons and evergreen forests.
In Keystone, I took a detour to Mount Rushmore. I tried to see this monument several years ago on my first trip out west, but a forest fire was raging through the hills at that time. I paid the 8 dollar parking fee (not to be confused with an admission fee!), and headed to the viewing terrace. This monument was never completed to the artist's original vision, but it is still quite an impressive sight.
Mount Rushmore is located just east of Harney Peak.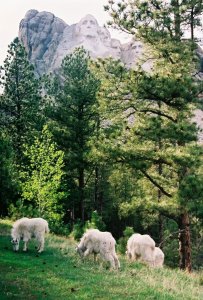 I stepped off the viewing terrace to hike the short President's loop, and the first thing I saw was a herd of goats grazing beneath the monument.
I left the KOA in Hot Springs before 7am the next morning and headed back north to Custer State Park. Multiple trails lead to the summit of Harney Peak, but I opted for the shortest, the approach from Sylvan Lake. This trail is about 3.5 miles each way, and follows a wide, well marked path through a dense forest. A clearing appears shortly after the creek crossing, from where the summit rock outcrops are clearly visible. The summit tower can also be seen from here, but it helps to have a pair of binoculars.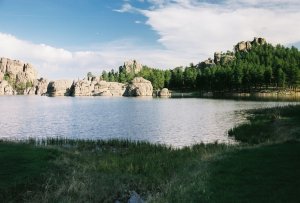 Sylvan Lake, the start of the #9 trail to the summit.
The trail next gains a ridge, and follows a set of switchbacks to the summit block. Luckily, somebody decided to build a staircase here, as otherwise reaching the summit would require a class 3-4 climbing. A massive rock structure occupies the summit. This rock tower, built in 1940, served for several decades as a lookout for forest fires. Too bad it wasn't manned today, as there was a fire burning on the horizon. The views from up here are absolutely spectacular. Green hills and rock massifs fill the view in all directions. The sun was shining and the weather was just perfect. What a great way to spend one's birthday. Happy birthday, me!
The summit tower looks over the Black Hills and their many granite rock formations.
I did not see a single person during my fast paced, one-hour ascent. I had the summit all to myself, and I spent some 30 minutes scrambling on the rocks. A small lake sits near the tower. I started to suspect the warning in Winger's book about the heavy use of this trail, until I began the descent. I passed at least 8 groups ranging in size from solo hikers to big families of 10. But, today was also mother's day, and what a better way to celebrate than taking your mom for a picnic on top of South Dakota?
I've been sustaining myself on gas station hot dogs and various other fast food junk, so I was looking forward to a nice breakfast to celebrate the successful summit after three days on the road. I arrived at a diner in Hot Springs at 11:02, 2 minutes too late. Despite my pleading, eggs and a French toast were not to be part of my meal, and I had to settle for a bowl of chili. Darn! And to spite me, the waitresses were continuously bringing out various breakfast items to the folks that arrived those precious two minutes earlier. I finished the bowl quite fast, and continued down south, toward the highpoint of Nebraska, Panorama Point.