Date: May 3rd, 2007
Group Size: 4
Miles Covered: 4
Difficulty: Nice stroll by the lake, but the south side was covered by hard snow
Scenery: Lake and a mountain pass
The weekend after the Big Sur Marathon Leslie, Garrett, Kooj, I and bunch of Lockheed people went up to Mammoth to spend the weekend. On Saturday, Kooj went telemark skiing, while most of the Lockheed crew went rock climbing in Bishop. Leslie, Garret, Jen and I went for a short hike around Convict Lake. This lake takes its name from an 1871 incident, in which bunch of escaped convicts from a Carson City prison were captured near the creek feeding this lake. This was a very leisurely hike with spectacular scenery. We started at the hiker parking lot, and followed the north side of the lake until a fork. We took the fork heading up hill towards the Mt. Morrison pass. After about 3/4 of a mile we found a place to scramble down to the creek, where we rested for few minutes. On the way back we continued around the lake, across a neat boardwalk. The traverse on the south side was pretty sketchy, as the trail was still iced over. The snow tongues extended all the way down to the lake. Luckily nobody slipped, as it would have been a pretty chilly ride down!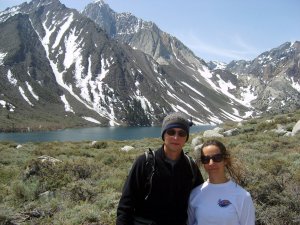 Leslie and I by the lake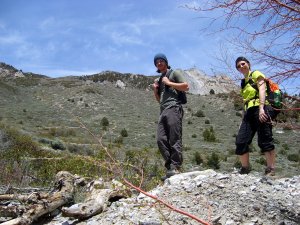 Garrett and Jen on the path leading to the pass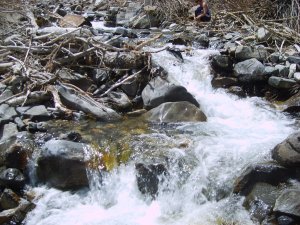 We scrambled down to the creek, where Leslie got attacked by a mutant fish egg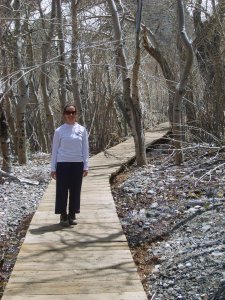 A boardwalk is built over the creek flood plain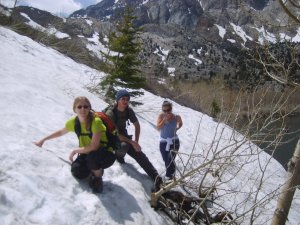 The hairy traverse on the south side of the lake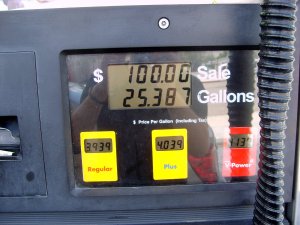 This was taken on the way back to Lancaster. It's pretty nuts to see that some people are paying over $100 to fill up their gas tank!