Day 7: Squaw Lake to Vermilion Valley Resort
Today we went over Silver Pass, which was a piece of cake, as we camped mere few hundred feet below and one mile away. The other side had many playful squirrels. They would make really great pets, if the just wouldn't chew up stuff. The descent to Pocket Meadows was on very steep switchbacks. I sure wouldn't want to ride a horse on this trail! One slip, and it's a long tumble down.
Along the trail down to Pocket Meadows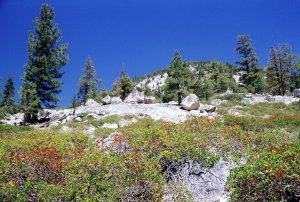 Scenery on the way to Quail Meadow, the junction for Lake Edison
We didn't need to go to Vermillion, as we shipped our second resupply to MTR instead. However, we heard from other hikers rave reviews of this place, so we figured we should check it out anyway. VVR is a resort village located on the west side of lake Thomas A. Edison. This man-made lake was completed in 1954, to supply a hydrodynamic power plant operated by the Southern California Edison power company. VVR runs a ferry, which picks up hikers on the lake's eastern shore. This ferry point is reached by hiking off the JMT for about 1.5 miles on the Mono Creek Trail. We also heard that a trip to VVR is worth it just for the vistas from the boat ride. Supposedly the rival those of the European Alps!
Maybe it was due to the build up, but I ended up quite disappointed. The water level in the lake was down to 40% due to the on-going drought. The hike along the shore to the ferry pick up point brought up images of something out of Dante's Inferno. We walked on top of a dried up lake bed, on which preserved tree stumps stood as the only remainder of a once-standing forest. The visual experience was complemented by the foul smell emanating from the lake.
The utterly desolate landscape by the lake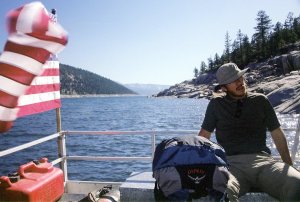 Garrett chillin' on the boat
Well, I did enjoy the boat ride, although the scenery was nothing exceptional. The ride took about 45 minutes, and the moist breeze helped me forget about the drought we have been witnessing all along the trail. But VVR itself also turned out to be quite a disappointment. Instead of arriving at some lake-side resort, we were instead transferred to an awaiting van. We piled up into the back, sat down on milk crates, and watched as the driver locked us in. I guess this is how our southern neighbors feel when they catch a ride with a "coyote". Some 15 minutes of bouncy ride later we finally arrived at VVR. The resort sits in a pine forest. Visually, it is a very nice place. But, probably due to the effort required to get here, I could not help but think I was in some amusement park. The free beer on arrival turned out to be offered only to PCT hikers.
Despite all my nagging, I was glad to grab few cold ones, and relax by the fire. The kitchen had several specials prepared, and I went for the meatloaf. We chatted for a bit with the fellow through hikers. This included two guys doing the Sierra High Route, which is a hard core version of JMT. The SHR runs north and south just like the JMT, but is all off trail. There is no official route, instead the guidebook merely provides information on which passes to aim for. Our friends made some mistakes, and ended up getting lost. They were now recuperating at the resort, waiting for their sun-baked skin to heal.
The camping area reserved for through-hikers was a large lot covered in horse crap. Despite the lot's size, there were enough hikers here to make the free space premium. We ended up camping near the Lawnchairs, the couple we met the night before at Squaw Lake. Turns out their anniversary hike wasn't going as well as planned. People seem to forget that tents are not much of a sound barrier. Those two kept arguing for hours, with the conversation including such gems as "How many anniversaries do you have to ruin?" and "That's it, we are going home tomorrow!". Sure enough, they were not on the boat the next day. Later, after all the drunks finally quieted down, a bear started running through the camp. I don't think it bothered anybody, but it made a lot of ruckus. It was eventually chased away by one of the drunks.
Day 8: VVR to Rosemarie Meadow
We failed to get breakfast today, due to freaking boy scouts. The shuttle (i.e. the coyote van) left VVR at 9 am. We finished packing by 8:30, as planned. Just as we sat down for breakfast, we were told that a troop of boy scouts just put their order in, and we will have to wait until their breakfast is cooked. This was estimated to take about 30 minutes, which would make us miss the shuttle.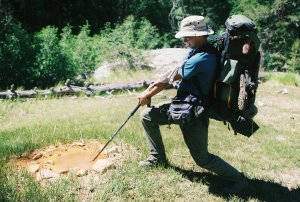 Help! The sinkhole is pulling me in!
Selden pass through an aspen foliage. And some pretty flowers
We ended up camping at Rosemarie Meadow, about 2.5 miles before Selden Pass. The original plan was to camp at Bear Creek Trail Junction, so we finished about 4 miles ahead. This was good, since the next day we had to make it to MTR before 6pm to pick up our packages. On the way to Rosemarie, we passed about 10 different groups. I had not expected there to be so many people hiking this trail. But who can blame them, the scenery is quite superb. This was another day without a single cloud in the sky. It was cold again that night, with the temperature dropping below freezing. The stars were beautiful. We camped near Ryan and Adam, two brothers from San Diego we met on the trail.
Day 9: Rosemarie Meadow to King's Canyon N.P. boundary
We woke up to what at first appeared to be a haze. However, we soon realized that this haze was actually smoke spilling over from the underlying valleys. Not knowing where the fire was, we packed up quite quickly and headed to the pass. We made it to Seldon Pass by 9:15am. From the pass we could see that the smoke was covering valleys to the south of us as well. Things looked pretty bleak from up here, but the smoke actually cleared as we descended down from the pass.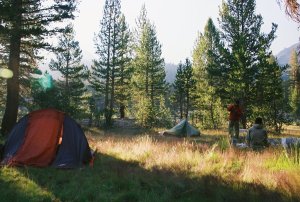 Morning at Rosemarie Meadow
Group shot at the pass, and view back at the smoked filled valley from where we came from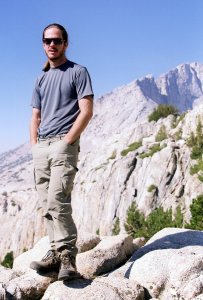 Garrett at the pass
We stopped at Sallie Keyes lakes, and went fishing. This was my first time fishing on the trail. My count: 2+1 trout (one got away); Mike: zero. This was our last chance to cook some wild trout, as starting tomorrow we were to spend all our remaining time in national parks. But we didn't feel like carrying them until the dinner time, so we just tossed them back. From the lakes we descended on bloody steep switchbacks to the turn off to Florence Lake. I was quite ahead of the other guys, and decided to use the wait time for a bathroom break. I left my backpack at the junction, but Garrett walked by it and kept going on the main trail. After Mike ran after him, we continued on our way to the Muir Trail Ranch.
MTR is quite a nice ranch. We were helped by a very friendly kid from Austria, who was working here for the summer. A buddy of mine from WTC (Sierra Club's Wilderness Travel section), Morgan, was hiking the PCT at the same time, and he saw my name on the list of received packages. He left me a note, which was pretty neat, and quite unexpected. Supplies have to be sent to MTR in 5 gallon buckets. It was pretty cool seeing a shed full of nothing but buckets. I also refilled my fuel bottle, which cost just one dollar. Mike and Garrett were instead carrying compressed gas stoves, and each canister set them back 8 dollars. Ouch! We gorged for a bit on Garret's Fritos and my new bottle of wine. While we were snacking, a horse slowly sneaked up on Mike. It looked interested in Mike's snacks, but Mike successfully defended his turf.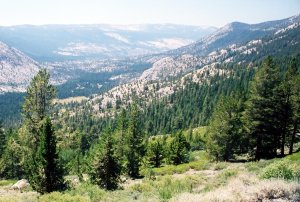 View on the way down to the John Muir Trail ranch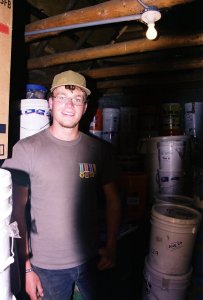 The guardian of the buckets
Mike originally wanted to retrace our steps back to the Florence trail junction, to hike the entire "official" JMT. But after seeing how much elevation there was to gain, just to lose it again, he settled on taking the cut-off trail. This flat trail met up with JMT some 1.8 miles from the boundary with Kings Canyon N.P. There was a ton of people already camping at the park boundary. So much for the wilderness experience! We managed to find probably the last flat spot. Our camp was just by the river, on the south side of the trail. I had beef stew for dinner, and cheesecake for desert.
Day 10: King's Canyon to Evolution Lake
We are now half-way done! We camped at the south end of Evolution Lake. On the way we passed the Hermit, which seems like a nice peak to climb one day in the future. Getting to Evolution Lake from McClure meadow was sure some work. Evolution lake was quite pretty, but lake Virginia is still my favorite.
An aspen forest and a neat looking swimming hole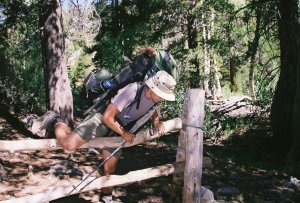 A deer fence. Kings Canyon was full of these things.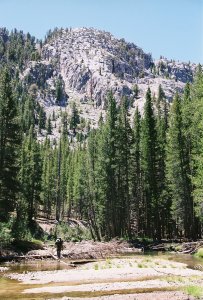 Crossing Evolution river
McClure meadow is where we encountered the endangered tree-climbing ferret
Mike by the Hermit
Evolution Lake and a single "missing-link" tent on its back side. Patricia has the same tent.
Day 11: Evolution Lake to Grouse Meadows
Today we went over Muir Pass. Getting to the pass was quite breathtaking - both in terms of scenery but also due to the difficulty. A hut made of boulders was built at the pass by the Sierra Club to honor John Muir. I kept my eyes open for the hut, and it finally came into the view above Wanda lake. This lake is named after one of John Muir's daughters. His other daughter, Helen, gave her name to the lake on the south side of the pass. From here it was another 500 vertical feet of hard work to the top.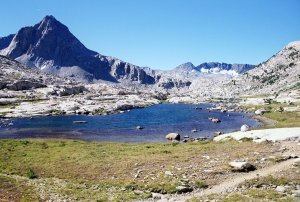 Sapphire Lake
A ferret coming out of it's hideout at Wanda Lake. Also, some bullfrog.
It was very windy at the pass. At one point, a strong gust picked up Mike's hat off his head and it took off like a Frisbee into the vast granite fields below. We couldn't see where it landed, but from the way it flew, it looked like it could have gone all the way down to Wanda lake. Mike, without telling us what he was up to, took off running after the hat. After few minutes of watching Mike disappear further and further away, I went after him, but I failed to catch up. I looked for a bit for the hat, but it was in vain. It didn't help that his hat was the color of the granite. I went back, and watched with Garret as Mike turned into a small and smaller dot, until finally disappearing from sight. We waited another 30 minutes, after which we left him and note, and went on. We caught up with Adam and Ryan little ways below the pass, and joined them for lunch. Mike showed up just as we were finishing our lunch break and obviously quite angry that we didn't wait for him. We had no idea how long he planned spending looking for the hat! Which, as expected, got away...
Muir Pass
Adam and Ryan at the pass, and a view by Helen Lake
This was the first time I truly felt to be in the Sierras. The descent from Muir Pass was spectacular. We first went through a canyon covered in alternating red, black and gray rock. Later, we descended down series of waterfalls. Through all this, we were surrounded by towering granite peaks.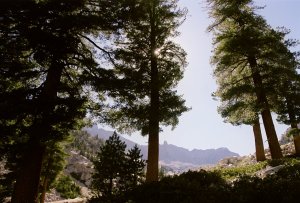 Back in the tree cover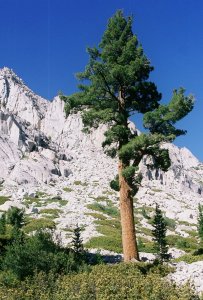 A solitary pine
We camped at Grouse Meadow. I got there first, and went looking for a dry access to water. As soon as I stepped into the meadow, I came face to face with a brown bear. Okay, the bear was about 50 feet away, but this was still the closest I have ever been to a bear (not counting the zoo, of course). Turns out, it was a mom with a single cub. I clapped my hands and they took off, quite casually, may I add. Too bad my camera was back at the camp, as these would had been amazing photos. We all heard some rustle that night, but turns out that was just Mike sorting his bag. I made fried rice for dinner.