Day 12: Grouse Meadows to tree line south of Mather Pass
I was pretty mad at Mike today. Not only he went chasing after his hat without giving us any indication of his return time, he also managed to sprain his ankle hopping on all those boulders. He could walk, but the ankle was quite swollen and hurting. We were ways away from the nearest trailhead, and our only option was to keep going. I offered to lighten Mike's load by taking his bear canister, and Garret followed the suite by taking the tent. Mike had some heavy food! Few days ago, at MTR, we compared pack weights. I had the heaviest backpack, but Mike had the heaviest bear canister. Today I had both... Today was also to be one of hardest days of the entire JMT: crossing of Mather Pass. The 10 mile, 4000 vertical foot ascent to the pass was to be followed several additional miles and at least 1000 feet of down climb. It sure wasn't easy. I spent most of the way cursing the pack. The pack had to weigh at least 65 pounds, judging from the great difficulty I had putting it on. It felt quite similar to the load I carried back on Gannett.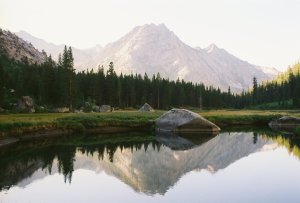 Grouse Meadows
Hike along the Palisade Creek to Deer Meadow
The hardest part of the day was definitely the climb up Golden Staircase to Palisades Lakes. I was utterly exhausted, and went for a 30-minute nap after taking a quick dip in the lower lake. The nap helped substantially and the remainder of the climb was almost enjoyable. This last stretch crossed through a pretty barren terrain. I don't envy the fools who built this trail! We reached the pass at 6:20pm, 20 minutes beyond our goal. The descent was quite easy, and we camped right above the tree line in a vast basin surrounded by brown and gray peaks. Today we also finally got some clouds. They were just few traces of high cirrus, but these were the first clouds in 10 days.
Garrett in front of the Palisades and one of the Palisade Lakes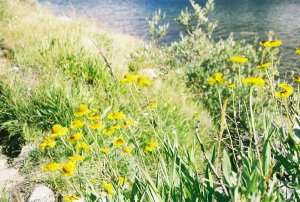 Yellow buttercups
Near elevation 11,500' and view to the Upper Basin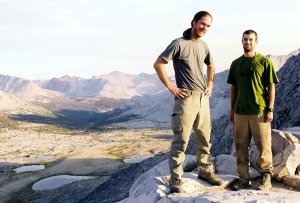 On the top of Mather Pass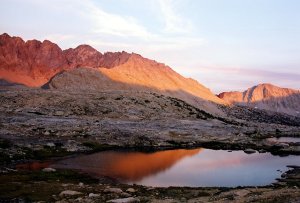 Lake on the south side of Mather Pass with Split Mountain in the background
Day 13: South of Mather to Woods Creek
Today was a pretty decent day. Mike's ankle improved overnight, and I was happy to part with his bear canister. We managed to leave before 9am (8:56!), which was pretty good for us. We went down through the forest, past few creeks and then up to Taboose junction. From there, we were again above the tree line, and made our way around few more lakes.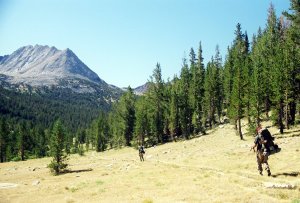 Descent to Taboose junction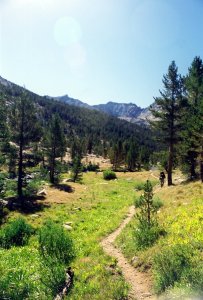 Forest scenery along the way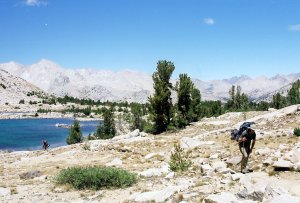 One of the many lakes on the way to the pass. Perhaps Marjorie?
Some of the flora and fauna: a marmot and purple rock fringe
From the junction it was less than 1,500 vertical feet to the pass. The hike was pretty easy compared to what we encountered at Mather, but I was still quite pooped by the time we made the top. Perhaps this had to do with having to carry the heavy pack over vertical 4000 feet the day before. We didn't see many people today besides our daily companions Ryan and Adam. It's interesting how the crowds came in waves. From the top, it was a grueling descent (mostly the last rocky mile) to Woods Creek. We camped right past the squeaking suspension bridge. Hello, we meet again! We camped under some pines. I made pasta with peanut butter for dinner.
Another pass down the drain! On the way to, and looking back from the Pinchot Pass.
Day 14: Woods Creek to Vidette Meadow
Through out this whole trip, I have been generally hiking somewhat faster than Garrett and Mike. Typically, I would go ahead for an hour or so, and then wait up on the guys to show up. I got through most of Walden this way. This system worked pretty well, as everybody has a particular speed which is the most comfortable, and most efficient. But today, instead of waiting up at the regular intervals, I told Mike and Garrett I'll just push to the Rae Lakes and wait for them at the same spot where we lunched back in May. I went for a swim there back then, and I wouldn't feel right to pass this pretty spot without jumping in again.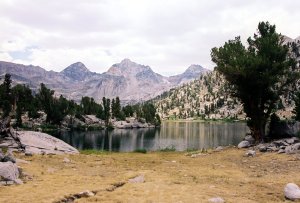 Painted Lady from Fin Dome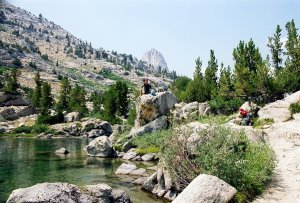 Lunch break at Rae Lakes cross-over. I went for a swim.
The water was quite chili, but it felt great. It was pretty cloudy today, with storm clouds brewing over Glenn Pass. But, as if some gift from above, the sun popped out from behind the clouds just as I was ready to get out. It worked out perfectly, and I was dry in no time. It took another hour for Mike and Garrett to show up. The dark clouds blew away in the mean time. After lunch we made it up to the pass. It looked much rougher, with the snow no longer covering the boulders. It was very hazy/smoky on the other side. This gave the canyons an interesting but intimidating look. We reached Vidette Meadow by 6:30pm. I made jambalaya for dinner.
Glenn Pass from the North Side. What a different view from what we encountered in May!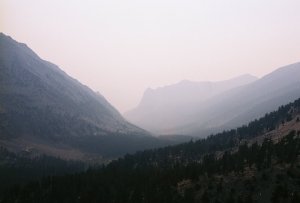 Smoke filled valley at Charlotte Lake
Day 15: Vidette Meadow to Tyndall Creek
We are now on Map #2. Only two maps to go. We used Tom Harrison's JMT packet, which uses 13 conveniently sized maps to describe the entire trail. The maps are indexed starting from the south. The map index thus turned out to be a convenient countdown indicator. Adam and Ryan hooked us up with Doritos at the pass. Man, those things tasted heavenly. They got them by raiding the ranger station at Rae Lakes. A troop of boy scouts was hiking south-to-north across Glenn Pass, when one of the scouts broke his foot on the down side. He had to be airlifted to a hospital, but the helicopter could not take his backpack. The gear was divided among the troop leaders, but they left the food at the ranger station. Adam heard about this incident from one of the scout leader, and he went on investigating this case further. That was good, because those two guys have been looking pretty hungry!
Kearsarge Pinnacles and Caltech Peak from Center Peak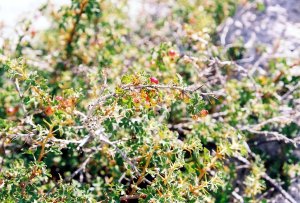 Wild currant. It disappeared shortly after into my stomach.
The trail to Forester Pass, which is home of the feared sign-climbing ferret
Here comes Mikey!
Forester is the highest pass along the entire JMT. We were not to reach the same elevation again until the climb of Mount Whitney on the final day. The pass is also the northern boundary of the Sequoia N.P. The descent was by far the most exposed. This was another marvel of trail building. We camped at Tyndall Creek by 5:30. We planned on making it to Big Horn plateau, but after re-adding the remaining distance, we realized there was no need to push that far. From Tyndall, it was just 11.6 miles to Guitar Lake, the "base camp" for the final ascent of Whitney. We shared the campground with A&R and Jessica, a girl we met at Rae Lakes. Mike called Jared on Adam's satellite phone, and left him a message with our new arrival information.
The ridiculously steep and exposed trail down Forester. I don't envy the fools who built this trail!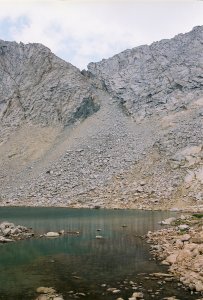 Looking back at the pass from the south side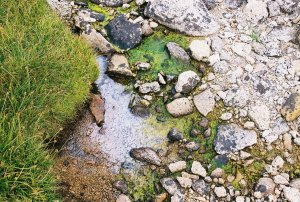 Frog eggs. Hmmm, fried frog eggs!
Day 16: Tyndall Creek to Guitar Lake
Map #1. We are now so close to the end, I can almost smell the burgers awaiting at Whitney Portal. I slept in today, and didn't get up until about an hour after Mike and Garret. Although they looked like they were all packed up by the time I crawled out of my tent, I still managed to beat them. Me: 16, M&G: 0. Today was a pretty easy day. There was a bit of up and down, but nothing substantial.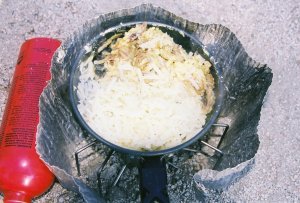 Breakfast: lightly fried hash-browns, mushrooms, scrambled eggs. The cup of cappuccino is not pictured.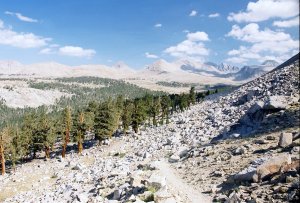 A look back at Forester from Bighorn Plateau
Garret was craving more snacks, so we took a short detour to visit the ranger station at Crabtree. Just before the station, I notice a tall red-head talking to some folks about her adventures. The redhead turned out to be no-one else but Laura, The Moose. She got that nickname because she usually wears a moose hat to her hikes. She has been bumming around the Sierras for two weeks, carrying all of her food, climbing over off-trail passes, and hanging out by secluded lakes. Quite impressive. The downside was that somebody stole her camera at one of the more popular lakes. Too bad that not even in the wilderness one can get away from crooks.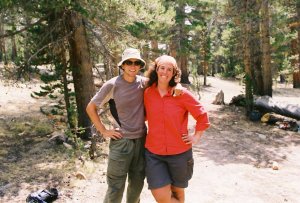 And who do I run into at the Crabtree Ranger station, but Laura, The Moose?!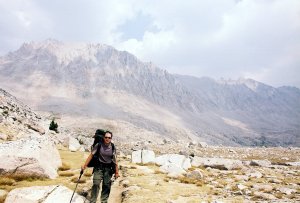 Here I come on the last stretch to the campsite
Our camp at Guitar Lake. Mike finally went for a swim. It was just about time after 16 days!
Day 16: Guitar Lake to burgers!
Well, this is it. Our final day. We left Guitar at sunrise. It was very hazy, probably the smoke from all the forest fires burning through the southern California. I had to use the wag bag on the switchbacks. Luckily there wasn't much traffic, as these switchbacks offer no privacy. Garrett got a mad summit fever today, and I had a hard time keeping up with him. We ran into R&A already coming off the summit somewhere near the 14,000 line. They left the camp at 4:45am. We made the summit by 9:30, after 17 days of hiking. Not too bad for 210 miles!
The valleys below were filled with smoke, and we could not even see Lone Pine from the top. I tried my cell phone, but no luck. This was a bummer, since we needed to get in touch with Jared to find out when he can meet us at the portal. He was our way off the mountain. We stayed on top until 11:30. Groups of hikers kept coming to and off the peak one after another. In these two hours, we must have seen at least 50 different folks make the top. The good thing was that most of them carried cell-phones, and I managed to borrow a phone that had signal. Jared didn't pick up, but at least I left him another update.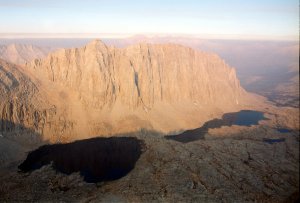 Mount Hitchcock and its lakes from the switchbacks leading to the junction with the main trail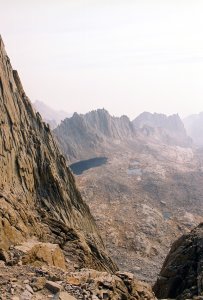 A view of Pinnacle Ridge through a gap in the tall granite walls
VICTORY! 3 hikers, 1 ferret, 17 days, 210 miles and too many achy feet!
The way down was long, steep and full of people. Trail Camp looked like a base camp for some major expedition. Family members were eagerly awaiting the return of their loved ones, the "climbers" who left that morning for the summit. I found this quite silly, but then, making it up Whitney is the life goal for many folks. What made things much worse, was that my stomach kept bothering me all day today. In other words, I had some mad shits! I didn't have any stomach problems along the trail until today. This wouldn't have been so bad if this happened anywhere else. As anyone who has hiked Whitney in the summer knows, there is almost no privacy anywhere along the main trail. The trees are sparse and there are people everywhere. The solar toilets that used to be available at Trail Camp were disbanded, and wag bags are now required. I finally found some bushes by the lower Outpost camp, and, yes, the wag bags are indeed re-usable.
Trail crest, and the view of Whitney from the 99 switchbacks
I kept trying my cell phone all the way down, and I finally got service just above the portal. The service lasted just long enough for me to get a hold of Jared. He was on his way! This was really great news. We were all looking forward to getting home and taking a hot shower. We had about 2 hours until his arrival. Perfect timing to get those well deserved burgers and beer. Garrett beat me to the end, and was already waiting with beer. What a luxury. We shared beers and stories with Miller, a 69-year old hiker from Seattle. He was another hiker with whom we kept crossing path. Jared showed up at 7. We stopped in Lone Pine for dinner #2, this time at the Pizza Factory. Good stuff. We got back to Lancaster at 11 pm. I managed to lose 16 pounds on this hike!
Oh the tasty burgers at the portal! We also stopped for dinner #2 in Bishop.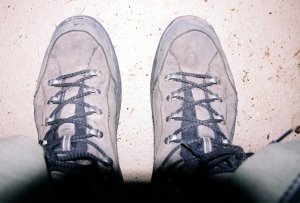 My poor boots. These were almost brand new prior to the hike.