Cross Country Skiing at White Grass
February 16th-17th, 2014
Partly because I grew up in Slovakia, and also partly due to the fact that my dad is not an adrenaline junkie, I spent much more of my childhood on cross-country than on downhill skis. And with this endless winter 2014 that we have been having in the Washington D.C. area (polar vortex!) I started getting anxious about getting in a ski trip. The beauty of cross-country skiing is that if you are good at it, you can pretty much go skiing anywhere. That is, assuming you have skis. But since I don't, I started searching on the Internet for possible parks where one could go cross country skiing near Washington D.C.
And I found the place: White Grass, located about 3 hours away, in the Dolly Sods area of West Virginia, basically a stone's throw from the Canaan Valley ski resort. Being so far away, it's best to make this into an overnight trip. Well, partly due to my procrastination and the fact that we decided to go over the Valentine's Day / President's Day long weekend, everything in the area, including our first choice, the Golden Anchor Cabins, was sold out. So I was very happy to receive an email from the owners that one of the cabins became available for the Sunday night. I reserved it right away.
Snowshoeing
We took off quite early in the morning on Sunday, day after the whole D.C. area received few inches of fresh snow. By the time we got to White Grass, the center was about to explode with people, with a line of cars parked outside the actual parking lot. And as it turned out, they were out of skis - I overheard that this was their busiest weekend in a long time. Luckily, they still had one pair of snowshoes available and combined with my own, Sandra and I spent the first day exploring the area on foot. It was really nice.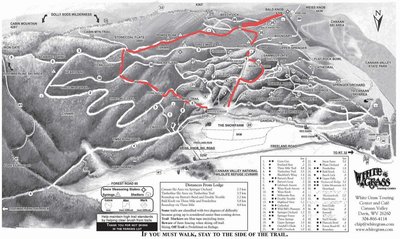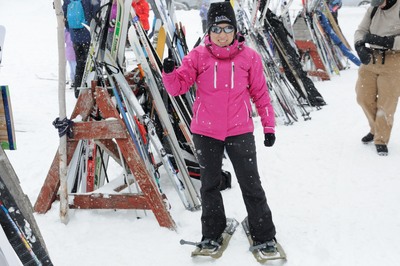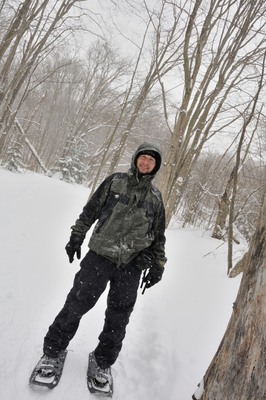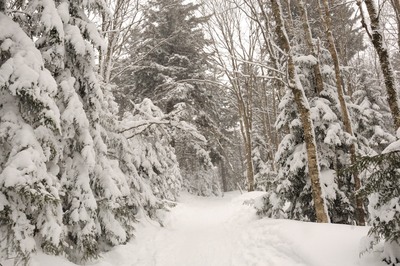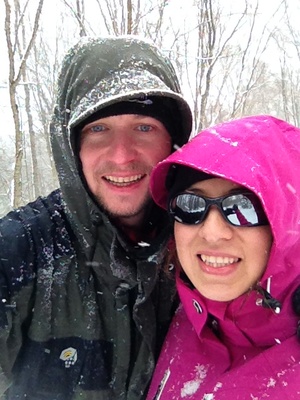 Golden Anchor Cabin
The wind started picking up in the afternoon so we made our way back, and got back to White Grass just around 4pm. The ski house must be really nice on an off day when it's less of a zoo than what we experienced. Between the parking lot and the house there was one outdoor fire pit for people to sit next to and warm up. Add to this the singing of wind chimes, and you get a place full of magical atmosphere. Inside the house was another fireplace in the entrance way, and then the main room contains the rental counter as well as a restaurant offering foods and hot drinks. There was another stove here which had a pot of free hot tea simmering. But given that there was barely enough room to stand, we dropped off the rental snowshoes and headed out.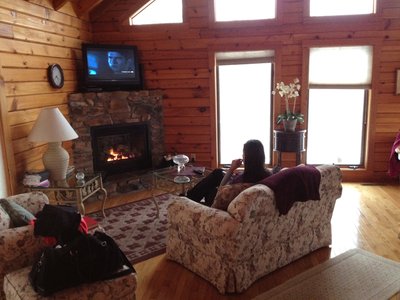 The cabins are located just a short drive from the ski place, with the restaurant serving as the office for checking in. There we met Rella, with whom I have been emailing and also her husband Ron. We were quite hungry but the restaurant wasn't yet open for dinner so we headed to the cabin. This is, by far, the nicest cabin we have ever stayed in. We were in the "classic" honeymoon cabin for two. Rella left a soft meditation music playing on the stereo and even set the table with decorated napkins. A thermostat-controlled fireplace controls the internal temperature. The back porch houses a hot tub which we tested out the next morning. The snow has been falling lightly all of afternoon, and started to pick up once we checked in. In an attempt to move the car, I managed to drive off the snow-covered drive way and got the car stuck in a ditch. Ron helped us call a tow truck while we made our way to dinner. The restaurant seems to be pride itself on a crab cake mix since many dishes include it, such as the crab cake-filled Portabella mushrooms, and the stuffed trout and tilapia - the three dishes that we ordered. All were quite delicious, especially the mushrooms.

The owner, Ron, stopped by all the tables and when he came to mine, we was very happy to hear I was from Slovakia. Turns out his family came from Serbia (hence his Slavic-sounding last name). Like a true Slav, he proceeded to pull out a bottle of a Serbian slivovica (Stará Sokolová, Old Hawk) and we had two rounds each. It was aged in oak, and surprisingly good. I need to remember to bring a bottle of a Slovak one next time we come here, and we surely will be back.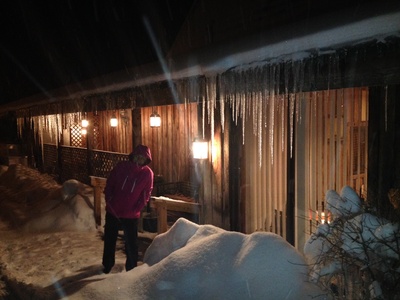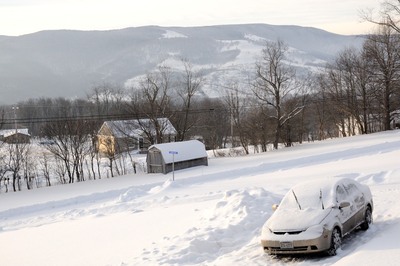 Cross Country Skiing
We arrived back to Whitegrass around 10 and had no problem getting skis, although the place was again starting to fill up. There was a big group going on a free snowshoe trip. We grabbed our skis and head up the green (beginner level) Three Mile Trail. This trail goes from the ski center to Roundtop. This was Sandra's first time cross-country skiing, besides a quick intro on wet sticky snow in Wisconsin (skiing is not a big sport in Colombia!). I think Sandra was bit concerned in the beginning but quickly got the groove of things. As Sandra mentioned, cross-country skiing is a much easier way to get into skiing than downhill. Granted, turning is somewhat more challenging since the heel is not clipped in, but is not too difficult to master. The hardest thing is having enough energy and stamina to make it up the hills.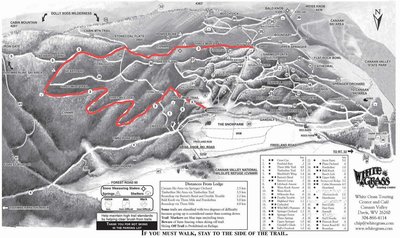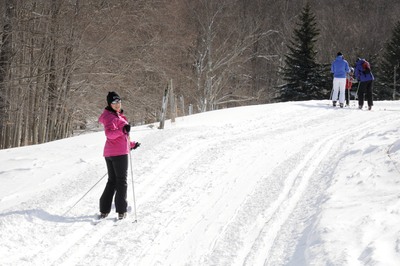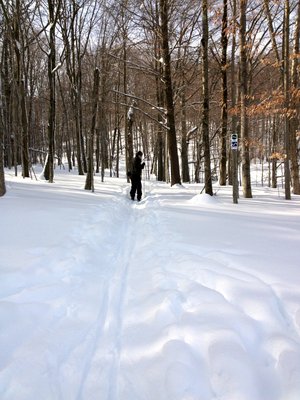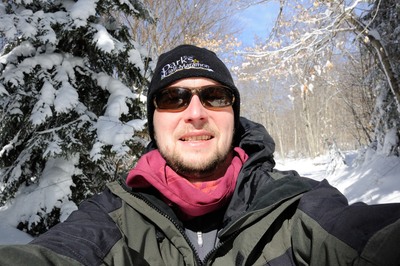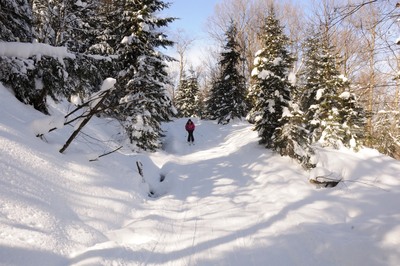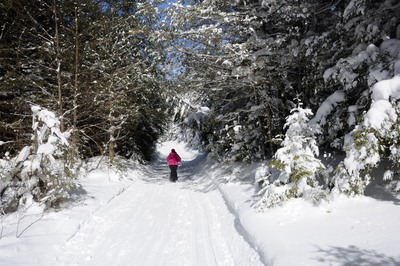 Comments or questions? Message me or