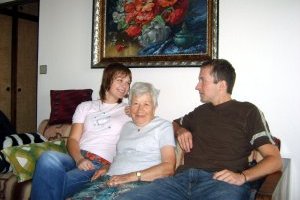 My sister and grandma
Hi there. My name is Lubos Brieda. I grew up in Banska Bystrica, Slovakia, and moved to the United States when I was fourteen. In 2005, I got my M.S. in Aerospace Engineering from Virginia Tech, and in 2012 I completed a Ph.D. in Mechanical and Aerospace Engineering at the George Washington University. My research focused on simulating electric propulsion thrusters with the PIC/DSMC method. You can read all the fun details in my thesis and dissertation. I currently work through my company, Particle In Cell Consulting LLC, supporting various space-industry projects. Besides this, I also maintain a popular cooking website dedicated to traditional Slovak cuisine, slovakcooking.com. You can find out more about me from my LinkedIn profile.
Few more things about me. Besides traveling, my biggest hobby is highpointing - trying to summit the highest point in each state. I have now climbed to the top of the highest mountain of all 48 contiguous states. I am planning a trip to Hawaii for #49 in the near future, followed by Denali at some TBD future date. I also enjoy running. These days I mainly run with New Basin Blues (NBB). Before moving to LA, I ran with Capital Area Runners (CAR). I am married to a pretty awesome Colombia girl Sandra. We got married in Cartagena, which I highly recommend as a destination wedding location.
Pictures from this website can be used freely for non-comercial purposes, given you give the proper credit, such as a link to the original page. Most of the recent photos (from 2012 or so) were taken with a Nikon D90 and 28-270mm Tamron lens. Older photos were taken using Minolta Maxxum 5 with the Tamron XR-DI 28-300mm lens on Fuji Reala ISO100 film. Some of the really old stuff (old hikes and highpointing pictures) were scanned from prints using a flatbed scanner. If you have any questions, feel free to shoot me an email using the form below or contact me on Twitter.
Thanks for stopping by!