Date: January 7th, 2023
Time: 7:03:32 (13:10 pace)

Here is my report from running the Avalon 50km ultramarathon. I was originally signed up for the 50 miler but my training did not go well. Better said, it was mainly non-existent, and consisted almost solely of a single 30 mile jog on a treadmill. That's right. But frankly I enjoyed it. I was able to catch up on some YouTube videos and podcasts. My main motivation for doing the 50 miler is that it crosses the entire island. However, because of all the rain California has been receiving in 2023, the organizers were forced to modify the 50 miler route, and eliminate the section between Little Harbor and Two Harbors. This left the 50 milers running the same course as the 50kers, with an added repeat of the ridge-line section to the airport. This made me feel much better about dropping the distance. Even then, doing the 50k was quite tough. But at least the weather cooperated. The race happened to take place in a short window between two storms. In fact, on Thursday the ferry service suspended because of rough seas. We arrived on Friday, ran on Saturday under partly sunny conditions, and left Sunday morning. Another storm rolled in that evening.
I very much enjoy visiting Avalon. It so much more relaxed than the "mainland". We checked into the Aurora Hotel (where in fact we were assigned the same room we got on our prior visit!), and picked up the race packet. Here we ran in to Alvin from Thousand Oaks Pacers who was getting ready for his 50 miler. We then noticed an advertisement for Casablanca playing at the "Casino", the large round building housing a massive 1,154 person movie theather. This was such an amazing experience. The theather is beautiful, and before the movie, it played this old band music: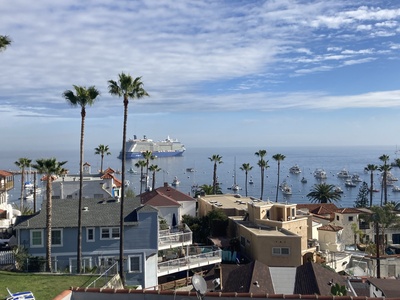 The next morning I worke up around 4 to make the 6 am (if remembering correctly) start in downton Avalon. It was just before sunrise, and as such I figured I won't need the headlamp. This was indeed the correct decision. It was dark as we were making our way out of Avalon, but the full moon and street lamps provided sufficiently plentiful illumination. I knew the first 4 miles will be hilly, so I didn't even bother running. But boy, what a hill! You can see the elevation profile in the picture below.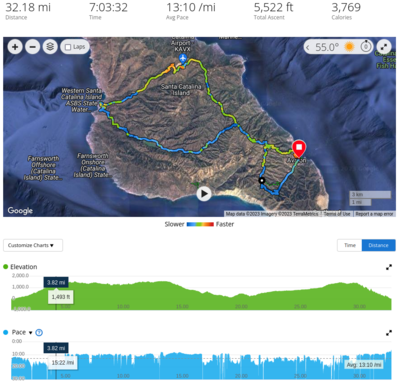 The views from the top of the hill were spectacular. Here you can see the ocean on both sides. The next section was flatter, and on a nice packed dirt road. We eventually made our way to the airport.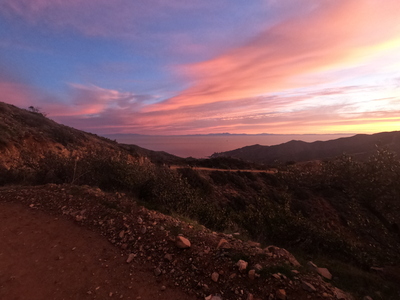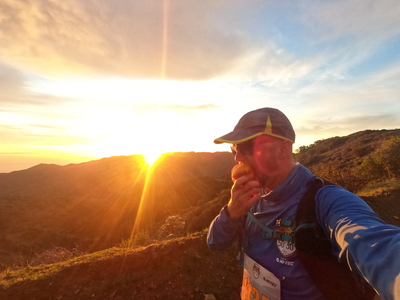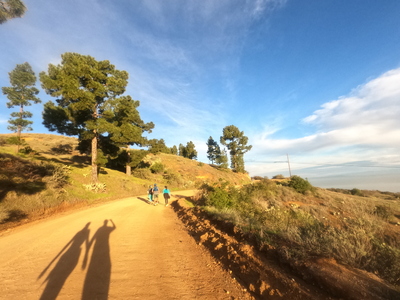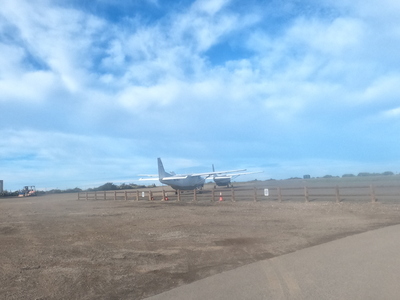 From the airport you have a long downhill descend towards Two Harbors. This was the only section where I actually ran for a noticeable period. Maybe this was not a good idea as my quads got pretty sore at the end. Then from Two Harbors, it was time to climb back up again. This climb was quite brutal and long! Here we also passed the only "real" ultra marathon aid station that was offering cooked food (and also alcohol, which makes me think it was not an official station). All the other stations only had hand food like what you find in a regular road marathon: pretzels, some candy, fruit, and so on. This one had a grill. But I did not stop. In fact, I don't think I got any food (or even water) at any of the stations, as I had a pretty full backpack.
The last 3 or so miles are downhill, but I was quite sore at this point so any running, even slow, was painful. This part definitely made me very happy to have opted for the shorter 50km option! In retrospect, this is a beautiful course. The terrain is easy as you run on a dirt path the whole way. It is also really hilly. But with more training, and being in better shape, this could be a very fast race.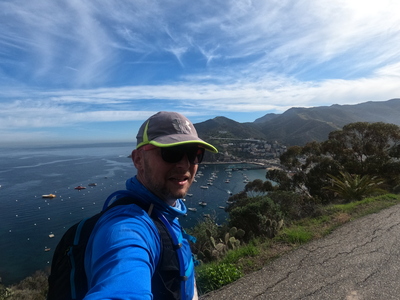 Comments or questions? message me