Avenue of the Giants Marathon 2016
Date: May 1st, 2016
Time (Lubos): 3:35:19 (8:13 pace)
Time (Sandra): 1:55:09 (8:47 pace)

The first day of May 2016, Sandra and I ran the Avenue of the Giants marathon and the half. Getting to the start line is quite an ordeal as it takes 10 hours driving from LA. However, it's worth every minute. This is now one of my favorite marathons. The course is spectacular and fairly flat (the half is totally flat). Being a small race (only 522 finishers in the full), the race day logistics are so simple. I ran Chicago eight months prior to this race. While Chicago is a great marathon that should be on everyone's list, I definitely did not miss the half-day shuttle bus trip to pick up the bib, or needing to be at the start one hour early to make it through the security checkpoint.
We left Los Angeles mid Friday afternoon and spent the first night with Dion and Liz in their fancy apartment in Redwood City near San Francisco. The next morning after a walk to a nearby cafe for breakfast we took off to continue northward. Northern California is basically one giant wilderness. I drove through this area two years ago on the way to Napa Ragnar relay so I had a vague idea of what to expect but this was Sandra's first time up here. The traffic dies down once you pass Santa Rosa, and you find yourself among green forests and eventually the giant redwoods standing alongside route 101. We live off of 101 in Los Angeles so it was interesting seeing the many faces of this road. It varied from an interstate-like highway in Los Angeles, to a regular street through downtown San Francisco, to a multi-lane country road with cross traffic, and finally a single lane road snaking between the redwoods. Some 3.5 hours north of the Golden Gate bridge, near the town of Phillipsville, is the southern entrance to the Avenue of the Giants. This 31 mile scenic alternative parallels US-101, providing many spots to park and stroll among the giant redwoods. The marathon starts near a place called Dyerville Bar and we stopped here to pick up the bibs. From there we continued northward for another 45 minutes to the town of Eureka. This is the nearest big town in the area. We first stopped at the Lost Coast brewery for some Great White and way too spicy buffalo wings before checking in to the Best Western on the southern end of town. The hotel was full of runners and the receptionist informed us that they will be starting breakfast one hour early for the occasion. This was great to hear. We then changed and headed out for dinner at Brick & Fire Bistro, the highest-rated Italian restaurant in town according to Google Maps. The earliest available reservation was not until 8pm. But we took our chances and showed up 30 minutes early. There were two spots left at the bar. Not only were we almost done with our main course by 8, sitting at the bar provided an exquisite view of the clockwork-like operation in the kitchen. It was fascinating watching the two chefs plus another pizza baker roll out elaborate dishes in almost no time. This was a huge difference from our attempt to get a post-race burger at a roadside place in Willits. There we waited for over 40 minutes for two cheeseburgers and finally gave up and asked to cancel the order as they were still some 5 orders away from getting to ours. At Brick & Fire we shared a Margherita pizza and a lasagna in which the top and bottom layers were made of baked polenta. Both were excellent. On the way to the hotel we drove by the Carson Mansion and then it was time for bed to get ready for the big day.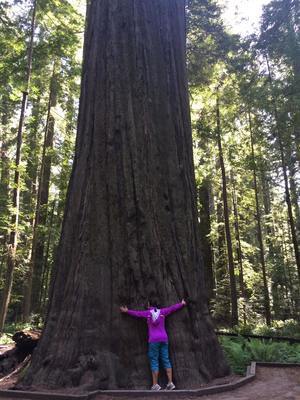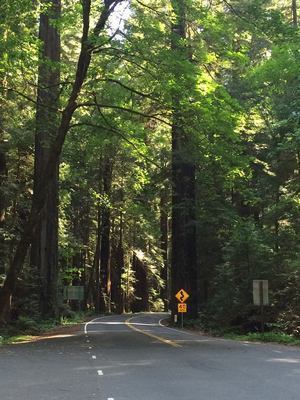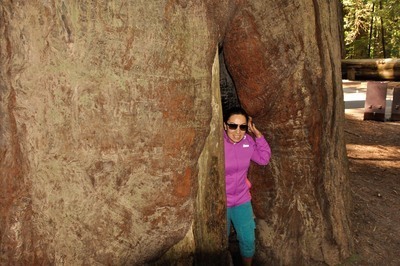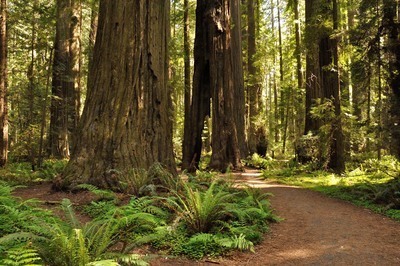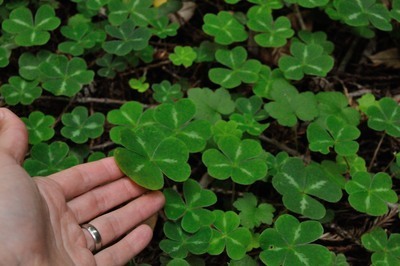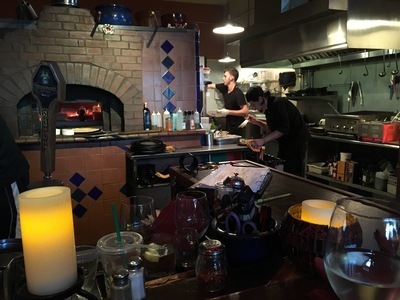 Marathon Day
We left Eureka around 6:30 which gave us just enough time to park and use the restroom before the 7:30 start. I started toward the end of the pack, so the first half mile was spent weaving past people. The marathon spread out quite quickly though. For the rest of the race I always had people around in sight, but I never felt crowded or needed to zig-zag pass others. This was really nice. The marathon first does a "half-marathon" out and back trip on Bull Creek Flats road. This section has a slight uphill. The road itself is also full of various small potholes and patches. It made for a rough surface, but it wasn't bad enough to actually affect my pace. Along the way I stopped at a port-o-potty #1.
The second half of the marathon is another half-marathon long out and back on the Avenue of the Giants. We shared this road with the half-marathoners and the 10kers. Half marathon started one hour after the full and the 10k started even later. This meant that most of half marathoners were already on their return leg as we were heading to the turn around point. This was nice as the "good job, marathoner!" from the half marathoners were basically the only cheers to find here. I didn't mind the lack of spectators but this is something to bear in mind if that is important for you. Here I stopped at yet another port-o-potty for break #2. When will be the day I don't have to use the facilities in a marathon?! Later on I spotted Sandra. She had to skip several recent races due to an injury and this was her first race in 2 years. It was great seeing her running strong, without pain, and being in good spirits! This second half of the marathon is also almost completely flat. I kept steady pace and managed to pass quite a few half marathoners and 10kers. One person that I failed to pass was another marathon lady following a walk-run technique. I would catch her during her walks but then she would take off with a sprint that put her back in her original lead. Surprisingly that walking and running strategy can be just as fast as running.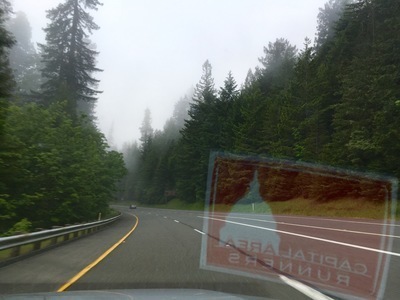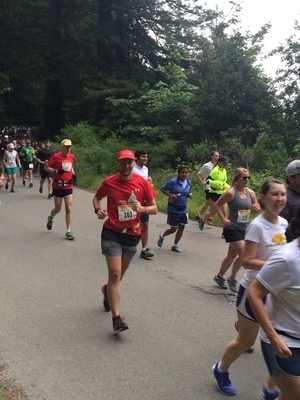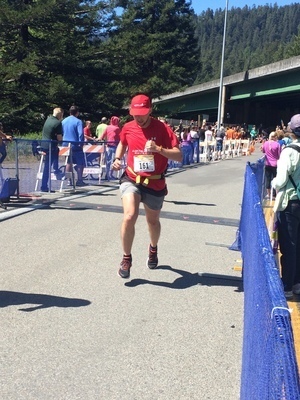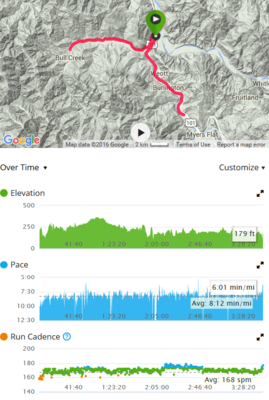 My goal for this race was to break 3:30. That didn't happen as I finished in 3:35, however, I have never before felt so good in a marathon. I found this run quite easy: there was no wall, no feeling of being tired, I basically just kept trucking along at a constant pace. I give credit to the two months of roughly 50 mile weekly mileage, and doing my long runs in the Los Angeles hills. While the big trees provide nice shade, they also do a number on the GPS watch. I had my Garmin 220 set to display instantaneous pace and the average pace over the entire marathon. The former was basically useless. As you can see in the image above, the pace fluctuated between 12 and 6 minutes per mile. In retrospect (and if I do it again next year), I should have replaced instantenuous pace with the average over each one mile split. The activity-average was fine. My plan was to start slow for the first 2 or 3 miles, but be at 8:30 minute mile average by the first turn around (mile 6.5). I more or less accomplished this. The next goal was to be down to around 8:05 by the second junction, the start-line at mile 13.1. I was making good progress but then had to divert to use port-o-potty #1 and that threw me off track. I was down to only around 8:20 by the time I reached the bridge. I tried to keep my pace to sub 8 for the rest of the race but it did not quite happen. I actually felt I was running around 7:50 so having the average split pace available would had been useful here. I also again lost bit of time by port-o-potty break #2. But anyway, I kept trucking along, and finished with 8:13 average. After the race we spent a night at Orr Hot Springs, a clothing-optional resort 11 miles out of Ukiah. This place was pretty neat. About half the people here were also runners from the Avenue. As there is no food for purchase and the nearest restaurant is 11 miles away on a gnarly twisty road, you need to bring your own food to cook in the communal kitchen. People were making some elaborate dishes! I like cooking and cook at home quite a bit so I was somewhat embarrassed just boiling water for instant noodles to have with our 5 dollar bottle of wine. But whatever. We stayed in one of the yurts. I imagine these are quiter than the standard rooms as they are stand-alone structures, but on the other hand, they lack sinks. The property has two communal hot pools, one sauna and one steam room. Next to these is a cold pool that I was not brave enough to jump in at first like Sandra, but it felt great after the steam room. The are also two single-person star-gazer tubs. The thought of getting into one at night crossed my mind, but we were so tired that we were in bed once the sun had set. The next morning we went for a hike in the Montgomery woods and then after another hot spring session took off for the drive home. We got to LA little after 9pm.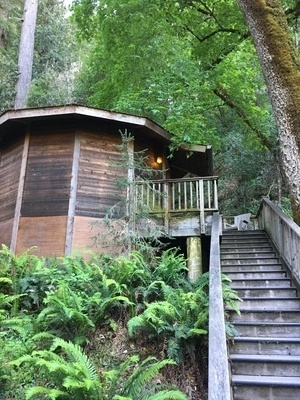 This was my fourth marathon in eight months (after Chicago, CIM, and LA), so I will be taking a much needed break for the rest of the year. While running a marathon is quite enjoyable, the training can become bit too much. I am looking forward to having free weekends that don't need to be spent on a 21 mile progression run. I am signed up for one more long race this year (Bulldog 50k) but plan to take it easy and mainly focus on shorter runs like 5k and 10ks. I managed to PR in three of the four, although these were all very small incremental PRs. Hopefully next year I finally break 3:30, which will still put me far far away from Boston. BQing is not easy!
Comments or questions? Message me or