2014 Napa Valley Ragnar Relay
Date: September 19th-20th, 2014
Time (The DC Dozen): 33:08:21.7 (9:42 pace, #214 out of 496 finishers)

I don't remember anymore whose idea it was (probably Karen or Marjorie) but somehow Sandra and I found ourselves signed up to run the Napa Valley Ragnar Relay. For those of you who are not familiar with Ragnar or similar relays, it consisted of running from downtown San Francisco to Calistoga, CA on the northern end of Napa valley. That's a 205 mile jog that you complete with 11 other teammates split into two groups of 6. The race doesn't stop until the last runner reaches the finish the line, which means that a good portion of running takes place at night. For instance, our team started at 8:15am Friday morning and finished at 5:23pm Saturday afternoon.
The relay was bit of a mixed experience. In short, it was "great team, beautiful course, poor organization". Since this was the first time running a relay for all of us, at first we thought that perhaps our expectations were too high. However, a quick glance on the event Facebook page revealed that we were far from alone in voicing similar concerns (other good TRs are here and here). Basically, we felt that you get very little in return from Ragnar for the $150 (approximately) per person registration fee. While in a marathon, you can count on water and food stops, here we were pretty much on our own. We all got a technical t-shirt, but the medals didn't arrive until about a month after the race. But swag aside, the lack of support was the most troublesome. Luckily for us, we didn't have issues getting from exchange to exchange, but we have seen multiple teams finish their leg before their van got there. There was no water available for the finishing runner. Similarly, there were multiple legs denoted as "no van support", including a 11.4 mile "very hard" leg that I ran in the middle of the day under a blazing 100F sun. The race map said that three water stops will be provided. It didn't say that the first one won't be until mile 6 or 7. I ran with a water bottle, but I encountered multiple dehydrated runners cursing the lack of water. Some vans decided to stop and provide support for their runners, trading the runners' safety for the possibility of getting a violation. On top of this, the water stations ran out of water, and were providing water only in tiny sippy cups. Compare this to a typical half-marathon, in which you can count on water and energy drinks every 2 or 3 miles, and even at least one food station. And that's for well-rested runners, not runners half-asleep after running through the previous night with only little bit of time for a shut eye.
The other thing that we found a bit disappointing was the lack of pretty much anything to do at the major exchanges. The race instructions mentioned something along the lines of "bring cash to buy stuff from vendors", but there simply was no place to spend your money. Every 6th exchange is dubbed a major exchange since this is where one van (the on van) picks up their last runner and hands the baton (strap bracelet) to the first runner from the second van. The first van then becomes off for the next 6 or so hours to resupply, relax, and get to the next major exchange some 30 miles away. We expected these exchanges to have some food trucks to buy snacks and hot food, but it wasn't so. There was absolutely nothing, except for free coffee (which ran out by the time I found out) at exchange 18. This means that logistics for this relay are crucial. You basically have to rely on the supplies you brought in, although we did have little bit of time to resupply - once by going to Whole Foods where we also had dinner, and then for a really tasty breakfast at Sunflower Caffee in Sonoma. Exchange 18 was also the place where we took a nap. This stop was at a rec center with showers, and also a bit of grass for people to layout. I decided to sleep in the van but Dave and Karen went to sleep on the grass, only to be woken up, along with others, by sprinklers going off. In all, we managed maybe about 3 or 4 hours of sleep, which was surprisingly enough (I didn't feel too tired running after this).
Sometime early on Saturday, Karen, our team leader, got a text message from Ragnar along the lines of "when life gives you lemons you make a lemonade". Probably partly due to exhaustion and also dehydration, we got really excited about the prospect of a cold lemonade waiting for us at the finish line. But as we read it in more detail, we realized that Ragnar was telling us that for whatever reason (my guess is they didn't order them in time) we won't be getting medals at the finish line, but there will be some other goodies. I joked, "maybe they'll give us stickers". Finally, after 33 hours of running, we reached the finish line. We had to park the van a good distance away and went to wait for Javier, our final runner. We all got a free glass of beer (along with a pie of pizza from Dominos for each van) but there was no water and we were all too tired to go back to the van. Once we spotted Javier, we went to meet him and then all ran together through the finish line to receive, I kid you not, stickers! Ehm, thank you very much!
Now, to give Ragnar (the organization) some credit, from the Facebook comments and also by talking to other runners it appears that this Napa event was much more disorganized than other ones. For instance, Patrick from CAR ran the D.C. Ragnar and supposedly they got pancakes for breakfast. In all, this was a good experience, a good way to spend time with friends. But there is much room for improvement on the side of the organizers. Also, one other note. There were supposed to be 12 of use (hence the name), but in the end, we ended up being a "DC Ten". Sandra's mom, my mother in law, Nubia, had been sick for several years and started getting much worse right before the race. Sandra and I planned a little road trip on the way to Ragnar, by driving down from Seattle. Tuesday morning, just as we were getting ready to leave Seattle for Oregon, Sandra got a call that Nubia was taken to the hospital. Expecting this possibility, Sandra had with her her passport, and we used our United miles to book a free one way ticket from Seattle to Bogota. My sister in law Ivonne was also supposed to run. She took a flight from D.C. Nubia passed away on Thursday. Sandra and Ivonne were planning to do the run to support their mom, and in their absence, we painted "205 miles for Nubia" on the sides of our vans. Karen and Marjorie managed to rearrange the vans, with me, Claudia, and Karen taking extra legs in our van. Khadima and Fernando (Marjorie's cousin) took the extras in van #1. Fernando flew in from Bogota just for the race and ended up taking two extra legs. What a trooper!
Ragnar Relay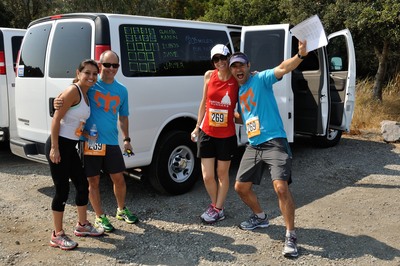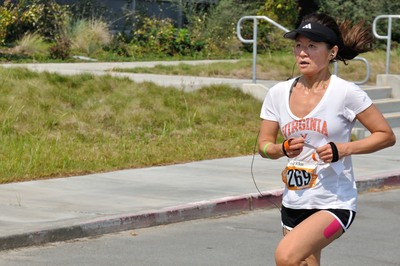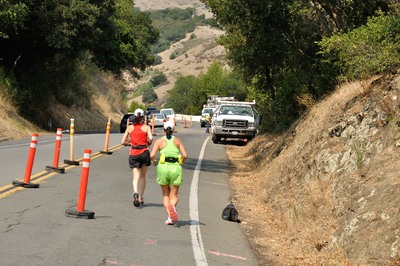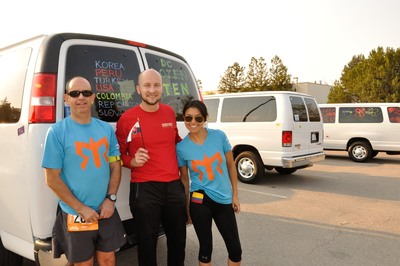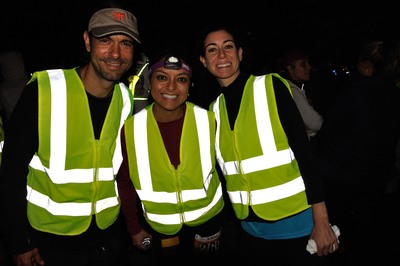 I was runner #10, and my first leg was a 6.6 uphill march. For whatever reason (sun, not being ready, starting too fast?) I tripped and fell about a mile into it and busted my knees. This has been a pretty frequent occurrence this year, so I was ready with a first aid kit at the exchange, but first I had to get there. This leg was quite difficult. It was in the middle of the day, it was really hot, and the running was on a side of a road with stretches without a shoulder, blind curves, and cars careening down a steep downhill. There were few stretches that didn't seem safe at all - there was no shoulder and the road was carved into a hill, losing even the protection of being able to jump off the road in case an oncoming truck didn't get out of the way. My next two legs were at night. I ran legs 20 and 22 at nights. They were both fine and quite enjoyable (partly due to the cooler temperature). The first leg was shrouded in a thick fog. We had to wear reflecting vests and also "tail light blinkers". These were a good idea because seeing the blinking lights ahead helped affirm that you were still on the right trail. The signage was not the best. Ragnar put signs at turns, but there were really no signs along the long and straight sections affirming you were still on the right path. Depending on your pace, you were either running with others, passing others, or running all alone. Most of the time, I was alone, but could see people in front and behind. I was lucky that both of my night sections were on a trail, but there were reports from other groups of people getting lost at night and having to ask homeless people for directions. I did not see any volunteers along the trails at night, only at the exchanges. My final leg #34 was the 11.4 mile section mentioned previously.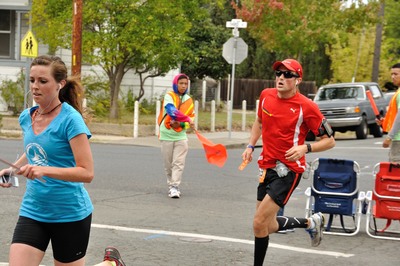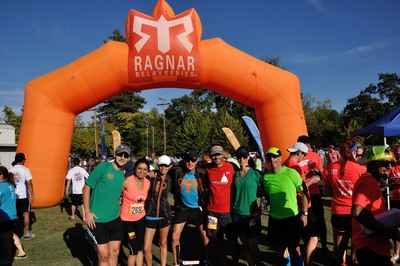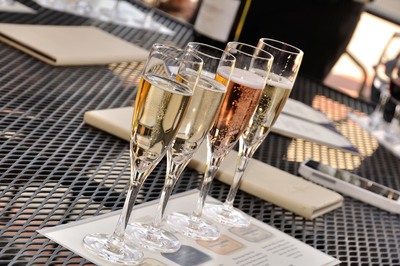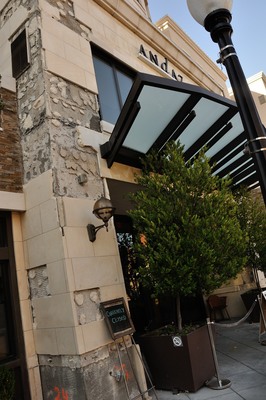 Roadtrip from Seattle: Seattle, Silver Falls, Crater Lake, and Redwoods National Park
Here are few pictures from the Seattle to San Francisco road trip. This was supposed to be a trip where I was going to show Sandra some of the pretty west coast geography, but as noted above, I had to take the drive from Seattle alone. In Seattle we met up with Shannon and Ethan. We also got a chance to drive across the Pugent sound and had a good lunch at Tide's Tavern. We then took the Bremerton ferry. I found it amazing that Google maps was able to track us along the way and even give directions along the lines of "continue on Bremerton Ferry". The next day I visited Silver Falls State Park in Oregon. Alex recommended this place after taking the Trail of 10 waterfalls hike there with Asli. It was pretty, but not really all that wow given the significant detour to get there. I guess when Alex was here the waterfalls were much fuller, as many were mere trickles on my visit.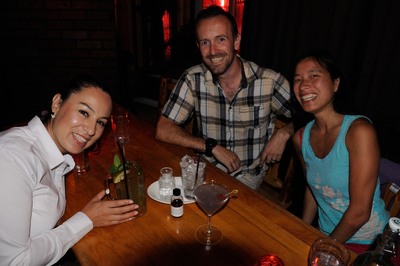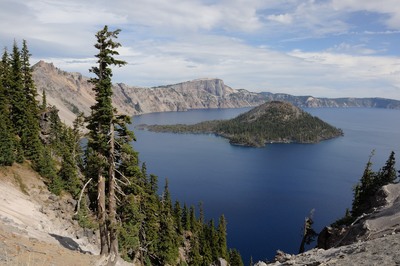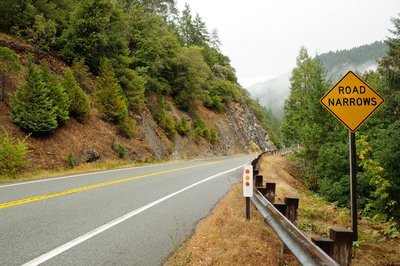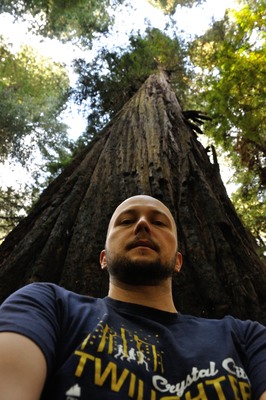 Comments or questions? Message me or