Big Sur International Marathon
Date: April 29th, 2007
Time: 04:20:20

On April 29th, 2007, I ran in the Big Sur Marathon, a "moderately-difficult" course from the town of Big Sur to Carmel, along California's pacific coast. This was a great run. I ran my first-ever marathon about two months prior to Big Sur, by running through the streets of Los Angeles. Mile 23 was tough, and I ended up walking the whole mile. Yet, I reached downtown in 4h39m, a fairly good time for my first big run. Even better, my legs felt completely fine.
My lungs did not suffer the same fate, and I woke up the next day with a very bad case of bronchitis. I spent the next week in bed popping antibiotics and was still quite ill by the time I flew to India. By the time Big Sur rolled around, I was barely back in running shape. My "long" run was a pitiful jog of 10 miles. But, there must be some truth to residual conditioning, as I breezed through Big Sur. Even better, I had a blast. There was no pain, and the hills seemed to go by on their own. Perhaps it was my hiking experience that helped with the up-hills, and I just coasted on the way down. I also carried a little digital camera, and stopped about every mile to take a photo. These 5-second breaks regenerated my muscles, and I always managed to return to my place in the pack. I finished in 4h20m, a 20 minute improvement over L.A.
I ran this marathon with Ben from Katahdin. Ben's goal is to run a marathon in every state. Hmm, perhaps I could combine that with my interest in highpointing? Run 26.2 miles to the summit of the highest peak in each state? Tempting, but I think I'll pass. Running to the top of Denali would be quite a challenge. Ben was accompanied by his father, also an avid marathoner. We met up in Monterey for dinner, where I found out that Ben was assigned a bib number consecutive to mine. Since the numbers are assigned in order, Ben must have registered just after I did. Quite a coincidence! After dinner, I drove back to Big Sur, and set up my tent in the Riverside campground.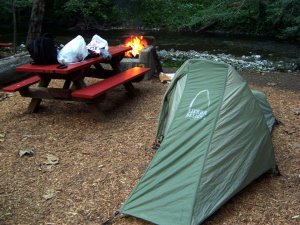 My site at Big Sur's Riverside campground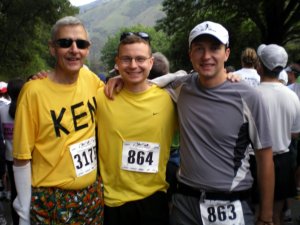 Ben and his dad. Although we registered independtly, we ended up with consecutive bib numbers.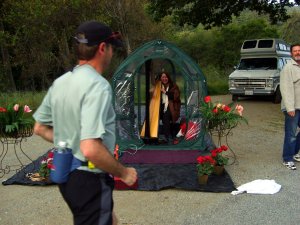 A neat feature of this run was the selection of music. The various earthly sounds blended well with Big Sur's spectacular scenery. Here a musician is playing a harp near the start.
Around mile 6, we left the redwoods of Big Sur, and entered rolling pastures.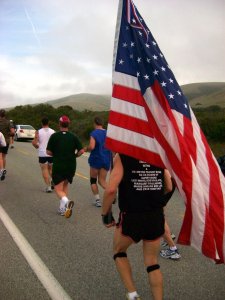 This guy was running while holding a full-size flag. Quite impressive!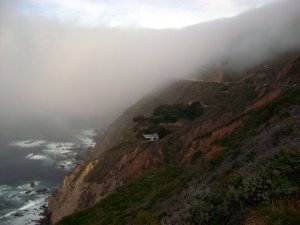 Cliff overlooking the ocean. It was pretty foggy, so we didn't get all the advertised views. Still, this was much better than being baked by the sun for four hours. The weather was quite perfect. Around 60 degrees, with only a slight breeze blowing from the north.
Runners descending from the Hurrican Point to the famous Bixby Bridge, marking the half-way point of the run. Hearing piano music penetrating through the fog, and then seeing this bridge was a pretty extraordinary experience.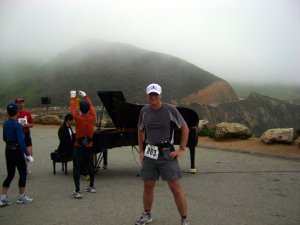 The Bixby bridge pianist
Big Sur scenery somewhere near mile 18
Oh no, they misspelled my name! Point Lobos sits at the bottom of the last hill. Although Hurricane Point at mile 12 has a fairly bad reputation, I found it quite easy. However, I was pretty tired by the time I got to mile 25. This hill hurt!
A reggae group kept us going, and soon the finish was within sight.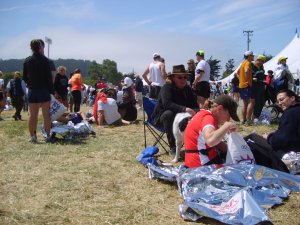 Runners relaxing in the marathon village. A nice touch was a free hot minestrone soup for all race participants.