Date: November 15th, 2014
Time (Lubos): 3:49:18 (8:45 pace)
Time (Sandra): 1:55:49 (8:50 pace)
Richmond marathon was my third marathon of the year (following Shamrock and Prague), and by far the best! Again I trained with CAR and took George's advice of starting slow, finishing fast. The first 6 miles of this race are a slow and steady uphill and I really tried to pace myself. At mile 6 was also where I dropped off my outer layer. It was below freezing at the start line, which made me quite worried. George however kept telling us that the weather will be perfect, as the forecast called for a sunny day with a high around 40F. I ran in shorts and a short-sleeve shirt, but put a cotton long sleeve (from the Army Ten Miler) over it. George was right, I felt much better after tossing the outer shirt. Many people in the race were wearing long pants, multiple upper layers, and even hats and scarves. They must have been so hot!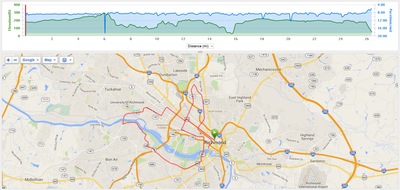 I very much enjoyed this course. It has just the right amount of small rolling hills to make the run interesting and not so bad on the calves as the flat-as-a-pancake Shamrock. After mile 6 or so, the race crosses the James river. Probably the prettiest part of the course was on that side on the Riverside Drive, where we ran among falling sunlit yellow fall foliage. Around mile 16 we crossed back to the city side of Richmond on the Lee bridge, which was the crux of the race. The next mile was a slight uphill but after that, the course remained flat for most of the way. The race finishes in a steep downhill where I was able to bring the pace down to under 6 minute mile. You can see that in the elevation profile above.
Sandra also ran, except that she did the half marathon. Her goal was to break 2 hours and she managed to do so by over 4 minutes! In fact, every person from CAR ran in under 4 or under 2 hours, which is quite amazing. What also made me happy was that for the first time, I was not the slowest guy, Dave and Chris came in after me in the marathon. After the race, Sandra, Marjorie, and I had dinner at Max's on Broad before going to see an improv at Coalition Theater. Max's is some fancy place that requires reservations before 9 but luckily there was one table left at the bar. Although I don't eat much meat, I ordered a steak, and it tasted quite wonderful. Post-marathon food is the best!
One tip if you plan to do this race: book your hotel early. Not sure if this is the case every year but this year all downtown hotels were sold out already in May. We originally had a room in the suburbs, but at the last minute, were able to grab a room from another CAR member who couldn't make it. We stayed in the Crown Plaza which was right next to the finish line.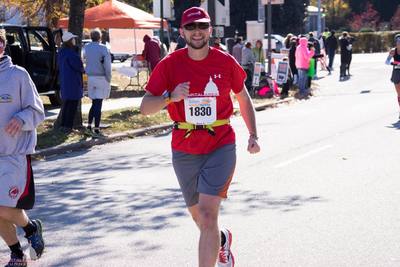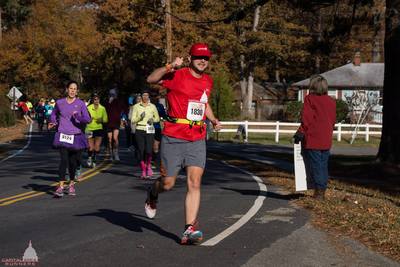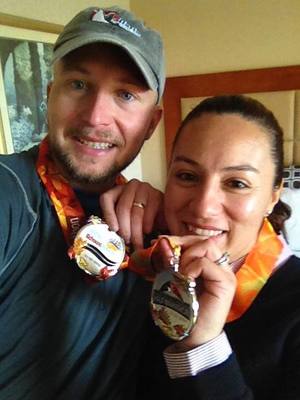 Comments or questions? Message me or