Colombia 2018: The Amazon, Medellin, and Bogota
Date: October 7 - 15th, 2018

In the fall of 2018 we took my 5th trip to Colombia. This time, we visited the Amazon and Medellin before heading to Bogota to spend few days in Sandra's home town. We originally planned to travel to Colombia in September, as I was hoping to run the Medellin Marathon. However, two things prevented it from happening. First, I continue having a bad pain in my heel (probably some form of plantar fasciitis) that is keeping me from training properly. And second, after renting for our entire lives, we finally bought a (town)house! Real estate property prices in SoCal are nuts, but after waiting for years for a market crash that never materialized, and getting sick of the annual +10% increase in rent, it was time to finally pull the trigger. The closing - and moving - happened just around the marathon time. So instead, I skipped the race and we postponed the trip by several weeks.
Leticia
We started the trip in Leticia, Colombia southern-most city, located in a small nook bordered by Peru and Brazil. It is the gateway to the Department of Amazonas. As far as I can tell, the only way to get to this region is to fly or to take a arduous trip on the river. Leticia is much more rural than the metropolitan Bogota. Most people seem to live in little huts built on stilts to avoid the seasonal flooding. Tuk Tuks, like those found in India or Cambodia, are used to get around. I imagine that most tourists only pass through Leticia on the way to their hotels. We booked a few night stay in a popular resort called On Vacation. As I realize now, the term "Amazon" can mean one of two things: the jungle and the river. I initially thought that we will be spending time in a jungle, but this trip really focused on the river part. To reach the hotel, we first dropped our luggage on a canoe that would carry them down a tributary to the main river. We then walked for about a mile through a muddy field to reach the Amazon, where we got on a boat that took us to the hotel. The ride lasted about an hour, from what I rememeber. The hotel is very popular with Colombian families. The fee includes buffet breakfast and dinner (and presumably also lunch but we took day excursions), and the hotel has a pool. The accomodation is in cabins with beds wrapped by mosquito nets. We did not see many (any) mosquitos, but definitely got our share of wildlife. This included a frog and a big centipede that decided to make the shower their home. The in-room air conditioning worked for only about two hours in the evening, making the room pretty much un-inhabitable during the day.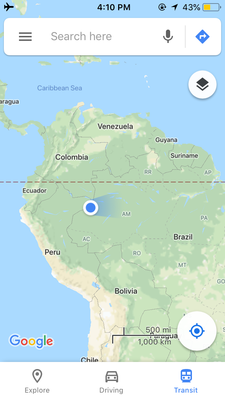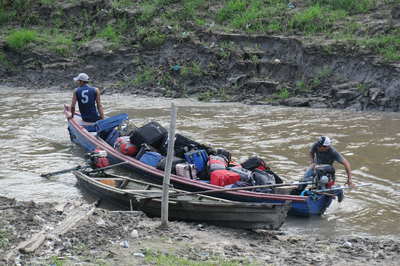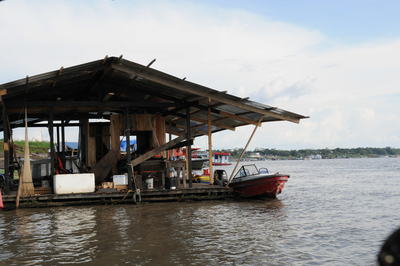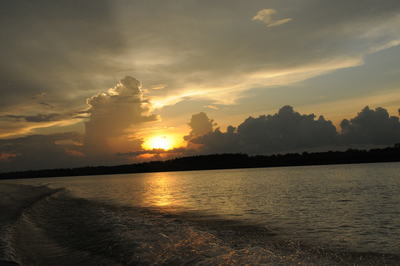 The next day, we took an excursion to Isla de los Micos (Monkey Island). This place was neat! We didn't see any monkeys at first but as soon as we got to a central clearing, we were surrounded. The monkeys are small, and they like to jump on people. Before you know it, you end up with a coat of monkeys crawling all over.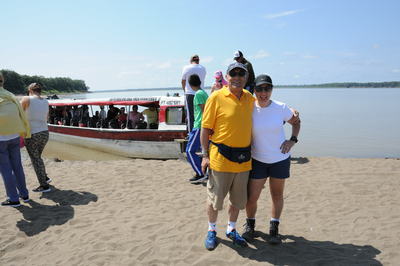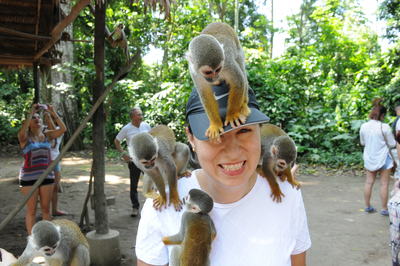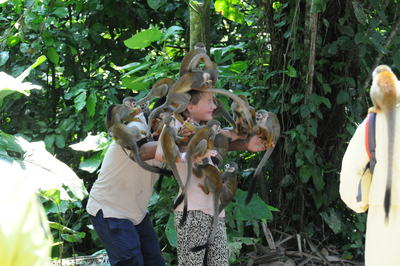 From the island, we headed to Puerto Narino. This cute little town offers alternate lodging options to those looking for regular hotels or AirBnB accomodations away from the large resorts down river. That night, back in the resort, we went on a night jungle walk. Here we saw multiple frogs and a snake hanging from a branch. The highlight was a guest dressed in an immacculate white Indiana Jones outfit falling face first into the ankle-deep mud.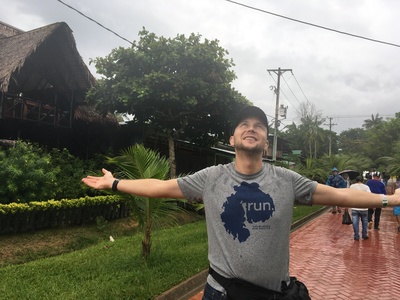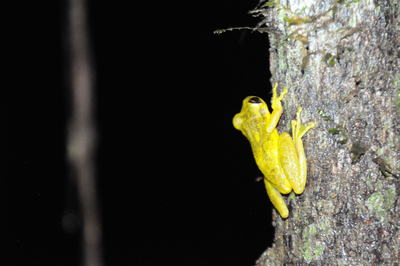 Exotic Animals Farm
The next day we went on another excursion, this time to visit what I thought will be a nature preserve, but was basically a farm housing several exotic animals. It was still nice seeing them. After walking through a muddy field, we were greeted by a black monkey that walked us in. We saw a parrot, other monkeys, and a large python. We also learned about Pirarucu, a ginormous fish that lives in the Amazon.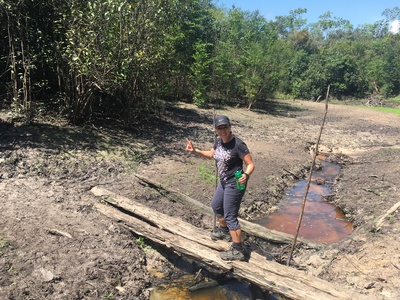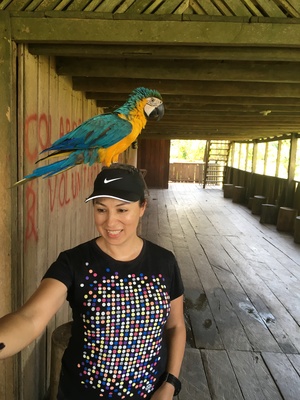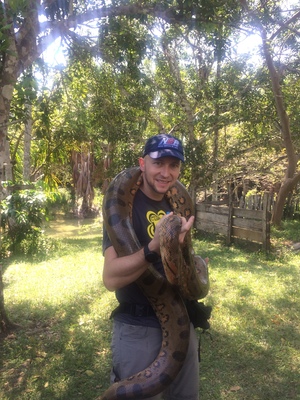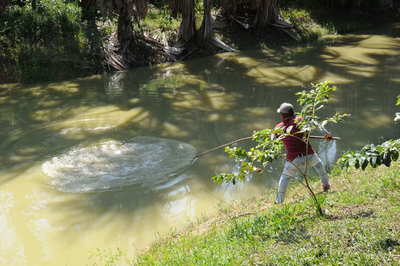 Piranha Fishing and Peru
On this excursion we also went piranha fishing. This was a lot of fun but also frustrating. You basically put a piece of chicken on a hook. As soon as it enters the water, you feel the fish nibbling on it. The problem is that they just eat the chicken without getting hooked. It took me like 20 tries to finally catch one. Of course, you then need to carefully fling the piranha out of the water keeping it away from your face in case it comes lose. We all ended up catching at least one. I think Hugo was the first, followed by Sandra, and finally me. Afterwards, just after fishing, the boat captain pulled over at a different section with a beach and told us we can go swimming. Heck, why not? I asked about piranhas, but was told not to worry. Not a single other person (there were maybe 20 of us among several boats) got in. They missed out. The water was warm - and piranha free! We also had lunch at the Zacambu Rainforest Lodge.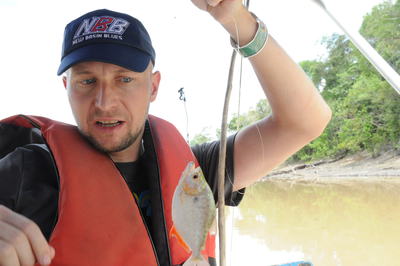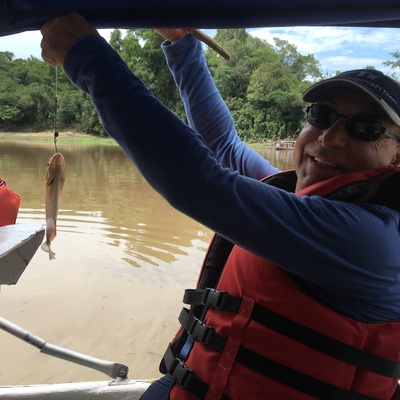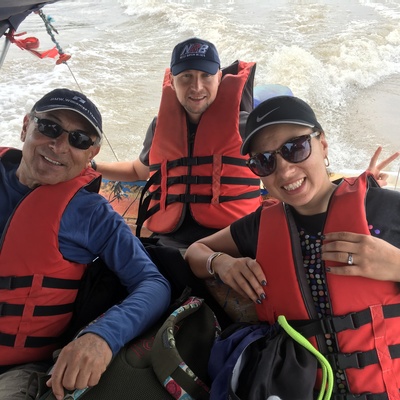 We also had a quick stop over in Peru. Technically, we also crossed into Brazil, but due to immigration regulations, it was not possible to disembark there. In Peru we walked through a small town built on stilts, and had a beer before heading back.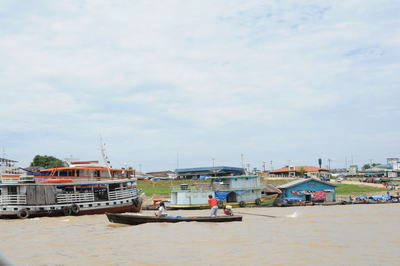 Medellin
The next day we flew back to Bogota, where he said bye to Hugo. We then hopped onto a connecting flight to Medellin, Colombia's second largest city. From what I understand, there is a bit of competition between Bogota and Medellin, and as such, Sandra hasn't visited there since she was a teenager. We both had a wonderful time. Bogota reminds me a bit of Los Angeles, in that it is a huge city in which you find anything you need. But this also comes with it share of awful traffic, and getting anywhere takes forever. Medellin is more compact and pedestrian friendly, greatly thanks to Colombia's only Metro. A unique feature of the Metro is that some lines are served by cable cars. You get out of the train and hop onto a cable car to transfer. Really neat! We also took a tour that took us to all the famous landmarks, such as Plaza Botero and Pueblito Paisa. Still, there is so much left to see, including the picturesque El Penol in the outskirts.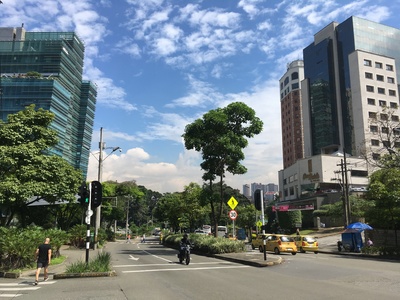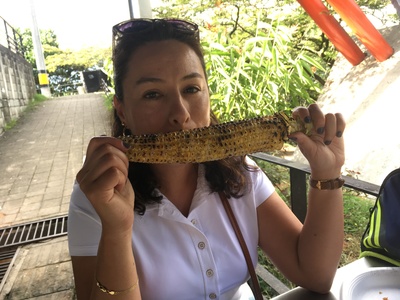 We stayed in Hotel Du Parc Royal, which is just down the street from Parque Lleras. This is Medellin's nightlife center. By this, I mainly mean American-style sports bars full of foreigners - and prostitutes. We grabbed drinks at Mi Habana on the west corner of the park. At a large table next to us was a group of about 10 attractive women and a single guy at the head of the table. They were not really talking, but were mainly focused on their phones. The women kept leaving one by one while we sipped our drinks. Basically, while we have no proof of this, it definitely appeared that the guy was the pimp, and the ladies were leaving to meet their clients. We walked around, and stubled upon another section on the east side that instead contained more upscale lounges frequented by the locals. Here we had wonderful time in El Bastardo. We then went dancing in Salon Amador, which was playing electronic dance music.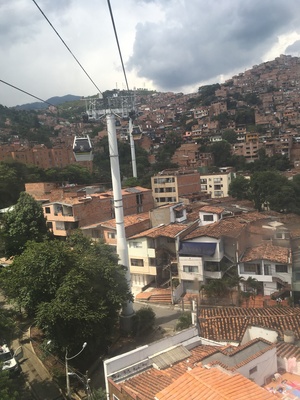 Bogota
The final stop of our trip was Bogota to again visit Hugo. Sandra's sister Ivonne also flew in from D.C. for the get-together. Here we went to a theater in the city center for a play and later had dinner in an excellent restaurant I forgot the name of. Bogota has so many really amazing restaurants. We then went to Gaira Cafe. This is now my new favorite club in Bogota (taking the crown from Plaza Mexico). It is basically a live-music restaurant. From what I understand, it was built by Carlos Vives, and hence the acoustics are amazing. We managed to grab a table just in front of the stage.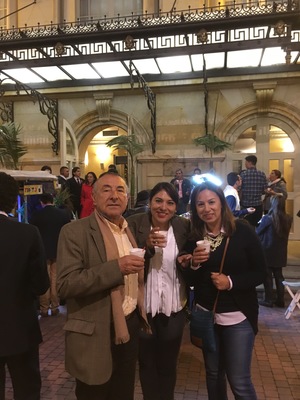 The next day we went running during Bogota's Ciclovia, a day when many streets are closed to cars so that people can enjoy them on foot or a bicycle. We also walked by a farmer's market near Sandra's apartment in Usaquen, and also went to a traditional restaurant in the outskirts called El Portico.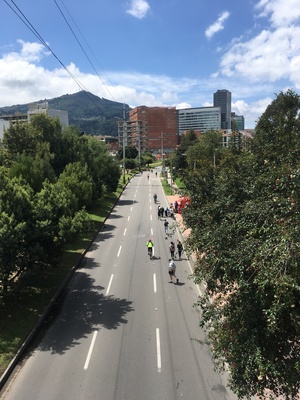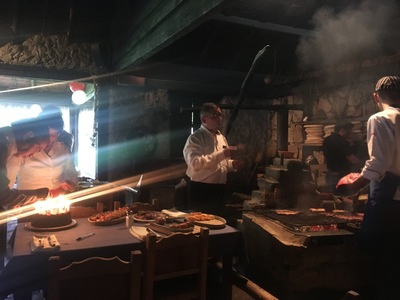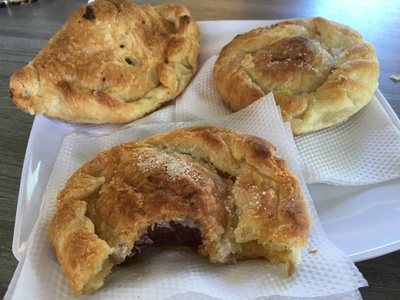 Comments or questions? message me