Day 3: November 20th
Next morning we continued north/west on 142 towards Canas. On the way we passed Lake Arenal. This spectacular lake provides majority of the country's electricity through a hydroelectric plant completed in 1979 (according to Wikipedia). Eventually we arrived in Canas, where we turned north on the Pan-American Highway towards Liberia, the site of my unscheduled landing. Here we turned off towards Filadelphia and eventually Tamarindo. The pavement soon turned into dirt, and dirt turned into mud. The contrast between La Fortuna and Tamarindo was like night and day. However, the town had few nice looking restaurants and souvenir shops, so we decided to stay. The main road in town, which is paved, was covered in an ankle-deep mud. Heavy trucks were running all day and night long hauling the mud away, so perhaps the mud was due to some recent unusually heavy rain.
Liberia and our Daihatsu SUV. We use small Daihatsu "trucks" at work for general transportation. This was the first real-car Daihatsu I have seen. These SUVs are very popular in Costa Rica.
We walked over to the beach and then stopped for dinner at a sea food restaurant. My mom ordered a soup, not expecting it to contain whole pieces of marine life...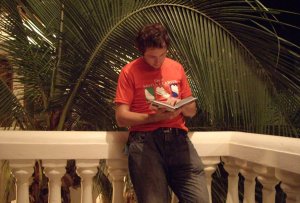 We stayed at the Hotel Zullymar. The rooms were nice and cost about 60 dollars a night. I met some California girls at the pool; they were in Costa Rica on a volunteering project.
Day 4: November 21st
Next morning, I had my "cafe con leche" and then dropped off postcards at Tamarindo's post office. We then started driving for Quepos, which is located few hours south of San Jose. We took the road through Santa Cruz and Nicoya, crossing Rio Tempisque. On the way, we had to deal with high winds and a bad traffic. We also got completely lost once we got off the highway in Esparta, but somehow we managed to find the way back on to the right road. I learned that navigation in Costa Rica consists of two main rules: follow the taxis, and follow the road with fewer potholes.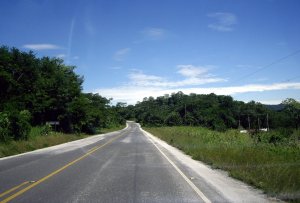 Unusually nice road somewhere in the southern Guanacaste Province
We didn't get to Quepos until after the sun went down. The sun cycle in Costa Rica is pretty screwed up; I suspect that the country got stuck in a wrong time zone. As far as I could tell, the sun came up around 4am, since by the time we got up (7am), it was already high in the sky. The sunset was before 4pm, and it was dark by 5. Quepos is an ocean town located by the Manuel Antonio National Park. Since it was late, and I had no idea that there was a small touristy town full of hotels right outside the park, we ended up staying in the Best Western in Quepos. Here I learned another lesson: don't ever stay in Best Western in Costa Rica. Not only are they exuberantly overpriced, the room in this one was barely big enough for two beds and a suitcase.
This is a view of the ocean from the restaurant in the Best Western. Quepos doesn't really have a beach, since there is a steep rock cliff separating the town from the ocean. The second picture shows the pool in our hotel.
Day 5: November 22nd
The next morning we left for a tour of the national park. This was definitely an amazing trip. Although guides are not required, we would have missed most of the animal life without our guide. His ability to pick up small animals in the thick growth was so canny, we suspected that the park service glued little plastic replicas to strategically located tree branches.
The Manuel Antonio park is located right by the ocean. It is separated from the public beach by a creek, and entering the park after high tide requires a short boat ride.
Some white birds and an iguana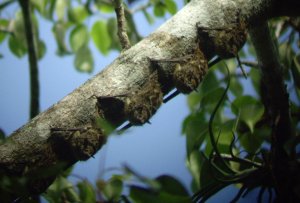 Sleeping bats. This photo was taken through the guide's telescope. In Africa, Dave and I laughed at other tourists taking photos through binoculars, but it actually works. The bats were barely visible through the naked eye.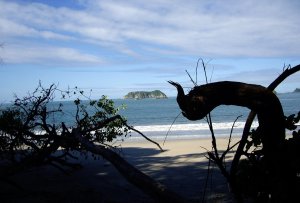 Look at the ocean from inside the park
I really hoped to see a sloth, and I got my wish fulfilled in no time. There was a ton of them. Also some other bird.
There were also many capuchin monkeys. These guys are really cute. They like to hang out by the beach and sneak into people's lunch baskets.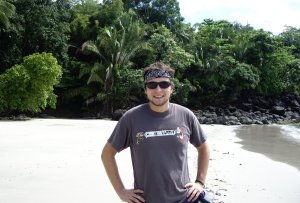 This is the beach with the monkeys. I was thinking of coming back here in the afternoon, but it didn't work out.
Later we saw this howler monkey. This fella didn't mind showing off his package!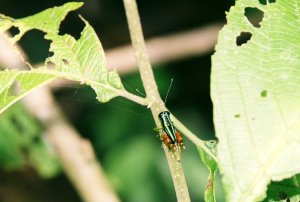 Neat colorful cricket
We also saw these land crabs and a toad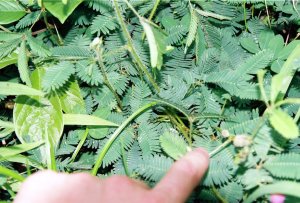 On the way out we passed by these strange plants. The leaves would "turn dead" when touched.
It took us a while to figure out what to do next. Eventually, we decided to return to the beach and grab a dinner afterwards at the El Avion restaurant. It was too late for another trip to the park, and so we stayed at the public beach. We also bought few more trinkets.
Here I am working on my farmer's tan. Beach merchants were selling these colorful towels.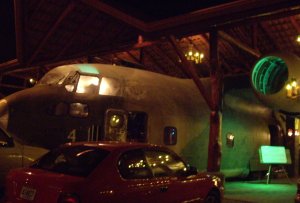 The El Avion restaurant, built around a C-123 cargo plane
Sunset from the upstairs deck