Day 6: November 23nd
The original plan had us going next to Puerto Limon on the Caribbean side, but after seeing how slow the drive went the previous day, we opted for Irazu, Costa Rica's highest volcano (at 11,260ft). We took a dirt road from from Quepos to Dominical, where we caught a paved road to San Isidro. There we headed north through Cerro de la Muerte. The drive wasn't as bad as the name would suggest. The worst we encountered was thick fog and slow trucks.
This is an awesome bridge along the way to Dominical. The road was not paved, and was quite muddy.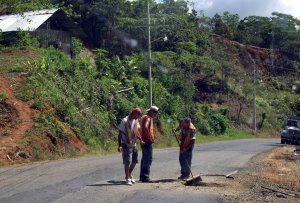 At one point we were stopped by these workers. As far as we could tell, the reason for stopping the traffic was to sweep this pothole. For twenty minutes!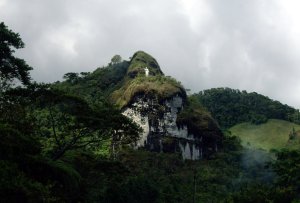 A giant statue of Christ protects motorists entering the Mountain of Death
We stopped at a restaurant somewhere near the summit. We were surprised to find a Czech flag hanging inside. The restaurant also had a great view into the valley.
Cartago was covered in clouds, and we didn't get to see the volcano. However, we got out of the clouds soon after starting the climb up the mountain. The summit park was already closed for the day, so we stayed in a hotel near the top. There was just one hotel on the way, a rustic old pink and white building located at some 9000 feet above sea level. I guess Irazu doesn't get as many overnight tourists as Arenal. The hotel lady cooked us a tasty dinner, but packed up soon afterwards. She left for the low lands, leaving my mom and I alone in the hotel with a security guard. We were the only inhabitants of this big old mansion with creaking floors and apparently no heat. I didn't sleep much that night. But the place was cheap and food was good.
This is the hotel where we stayed near Irazu summit. The room didn't have any heat, and I spent the night covered by blankets.
Day 7: November 24th
The next morning we grabbed breakfast in the hotel and drove up to the crater. Irazu is famous for its green crater lake. It was definitely an amazing sight. The summit was basking in the sun, even though the valleys below were covered by clouds.
The pea-green crater lake on Irazu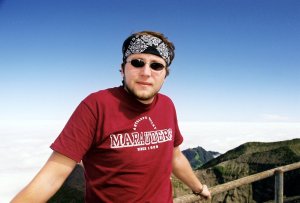 On the summit of Irazu, representing the AVC Marauders. Finest education in Lancaster since 1929!
Few more shots from Irazu
From Irazu we headed down to Cartago, where we stopped by the Basilica de Nuestra Senora de los Angeles. We left the car at a parking lot where a guard collected money for parking. I am not sure what the money was for, but as I found out later, it definitely wasn't for guarding the car! This basilica was originally built in 1639, but was later partially destroyed by an earthquake. The current incarnation is from 1939.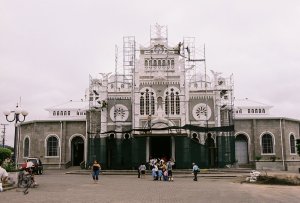 Basilica in Cartago
Few shots from inside
From Cartago we turned towards San Jose. Driving turned into a total chaos once we got into the city. The highway becomes a regular surface street in the city and at some point I missed a crucial turn off. Before I knew it, I was driving through markets, with cars and people left and right, and no clear way out. But somehow we managed to get out. We also noticed some rattling, and upon inspection I found the trunk door was not shut completely. I didn't give it much thought and just pushed it shut.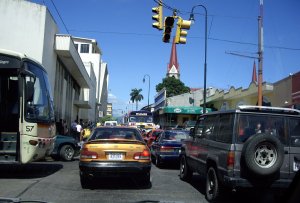 Chaos in San Jose
We stopped at the Doka Estate for a coffee tour. It was like going to a winery, except for coffee. Our guide took us around, narrating the entire process from picking to roasting. I found it funny that Costa Ricans use cheap labor from Nicaragua to do the picking. Sounds familiar, eh?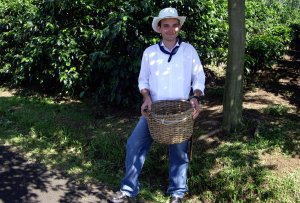 Our guide on the coffee tour
The red coffee seeds are ready for picking. The seeds are next pulped. The big guy is the seed and the little one is the bean. The beans get bigger when roasted.
The beans are next let to ferment for few days. They are then washed and left to dry out in the sun.
And finally it is time for roasting. Voila! Coffee...
Banana tree. These are used to provide shelter from the winds, and to regulate the water cycle.
From here we drove by Poas, but there wasn't time for a diversion to the summit. Maybe next time. Instead, we continued to the Peace Lodge at La Paz Waterfall Gardens. Rooms were not available, which wasn't too surprising given the place's popularity. So we kept on driving through a heavy fog towards San Miguel. There weren't many hotels on the way, but we did see a sign advertising hot springs and cabins. We followed these down a steep dirt road and found ourselves in a place called Recreo Verde. This place is a rain forest hangout for the locals. Not too many tourists venture this way, but that's what gave this place its charm. We stayed in a big cabin on the outskirts of the rain forest. I couldn't wait to jump in the hot springs!
However, there turned out to be a problem. Right after we got here, I realized why the trunk door was rattling earlier. My suitcase got stolen! This must have happened at the basilica in Cartago, under the watchful eye of the parking "guard". My mom's suitcase, which was much larger, was still in the car, but she noticed that it was unzipped. Nothing was missing from there. Luckily, my passport was not in the suitcase, and the most valuable item stolen was the airplane ticket for the return flight home. I accidentally purchased return date of January instead of November when I booked my original ticket. I caught this mistake before leaving for San Jose, but I was not able to move the date. I had to purchase a new one-way ticket back, but for some reason I was not able to get an e-ticket. Maybe this was since I purchased it over the phone. However, I didn't give it much thought at that time. Well, this was the first time in many many years that I have flown with a paper ticket, and it got stolen! That's bad luck. I had to purchase a new ticket at the counter back at the airport for 700 dollars. Combined with the 350 dollars for the stolen paper ticket and 650 for the original roundtrip, I spent almost 2000 dollars on my flight. Yikes! The suitcase also contained all my clean clothes, underwear, sock, fleece, etc.. My red GoreTex jacket and the cell phone were in it as well. The cell phone was pretty old and the jacket was not all that waterproof anymore, but losing these items was pretty inconvenient. But worst of all, I lost my bathing suite. There was no swimming in the hotsprings...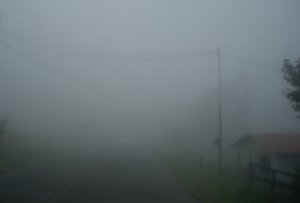 Heavy fog on the way to San Miguel
Our cabin at Recreo Verde had room for 8, and cost just 30 dollars for the night.
Day 8: November 25th
The next day we hurried back to San Jose, since I had to take care of my missing ticket. However, we did stop by the waterfall at La Paz. I bought a new fleece in the gift shop. We got back to Alajuela, town by the airport, in early afternoon. After getting a room in a hotel and returning the car, I proceeded back to the airport to investigate my options for returning back to the states. My stolen ticket had me flying to Mexico City on Mexicana, and then flying to L.A. through Phoenix on AmericaWest. The Mexicana counter was not open, and attendants at AmericaWest told me that they couldn't do anything since the ticket was purchased through Mexicana (not true as I found out once I got back). The Mexicana counter didn't reopen until next morning, but I finally caught somebody in the office. This guy was not a ticket agent, but he found my reservation in the computer. I was told that not having the ticket should not be a problem. This made me happy and I went back to the hotel. There was a casino near by, and I went out for a beer and ended up watching Georgia Tech get dominated by Georgia. Being from Virginia Tech, seeing Georgia Tech lose was a great thing, given that VT got beaten out of the ACC championship by GT.
Waterfall at Lapaz waterfall gardens
A short trail leads inside the waterfall. We later stopped by few souveneer shops in Poasito.
Day 9: November 26th
I got to the Mexicana counter shortly after 4am. The news was not good. Although my reservation was indeed in the computer, I couldn't fly without a ticket. I had to buy a new one for over 700 dollars. But at least I got a direct flight from Mexico City to LA. The ride went really fast. The service on the Mexicana flight was incomparably superior to what I experienced 9 days ago on AmericaWest. We were served good breakfast (pinto gallo), and there was plenty of water to go around. By the way, Mexico City looked very neat, at least from the plane. It is located on a giant plateau, and is surrounded by many volcanoes. One of them seemed to have steam coming off of it. Perhaps that was Popo, or maybe those were just some clouds. One my near term goals is to climb Pico de Orizaba, Mexico's tallest volcano, and North America's 3rd highest mountain.
I had some bad luck on this trip, and it ended up costing whole lot more than I had anticipated. But, it was definitely worth it. Costa Rica has a lot to offer, at least for folks interested in the outdoors. The animal and plant life is absolutely spectacular. There is supposedly also a lot of great surfing, rafting and diving out here. I'll try these when I come back.