Visit to Hawaii's Big Island
Date: May 29th to June 3rd, 2017

Sandra ran her second-ever marathon on May 28th at Ventura's Mountain2Beach so we decided ahead of time for a little post-race recovery in Hawaii. This was our first time to this state. We only had time for 5 days (mainly because I wanted to be back in time to run in Westlake's Love Run 10k on Sunday, June 4th). We ended up visiting the Big Island. Neither of us is really big on sun bathing and we heard this island had more nature sights to offer. It is also the home to Mauna Kea, Hawaii's highest mountain. This gave me an opportunity to add another peak to my list of completed state highpoints (only Alaska remains at this point!). We flew into Kona on a direct flight from LAX on Hawaiian Airlines. This flight was good, and we were even served lunch. The Kona airport is really interesting as it's "outdoors". I guess it doesn't rain much on this side of the island as much of the airport, passing security, is in an open garden court. We next rented a car and drove for about 40 minutes north to the Mauna Lani Bay Hotel where we would spend the next three nights.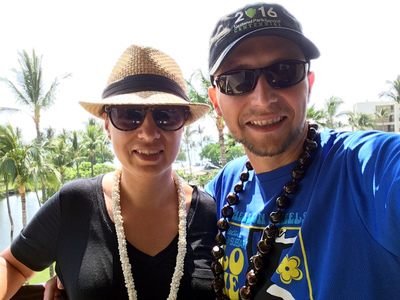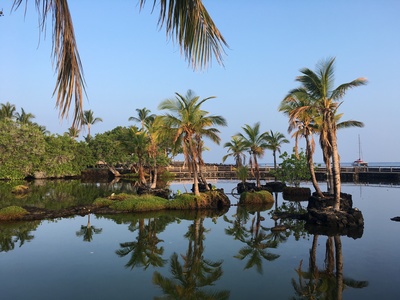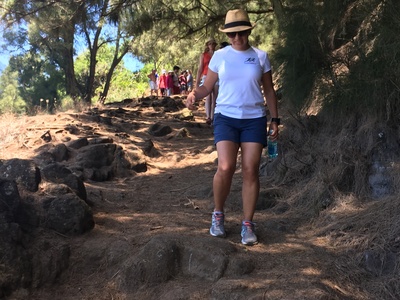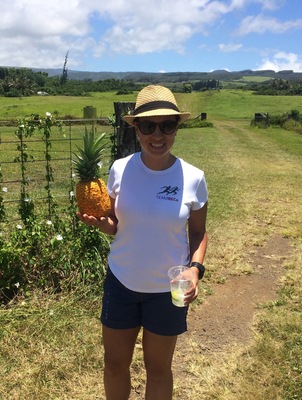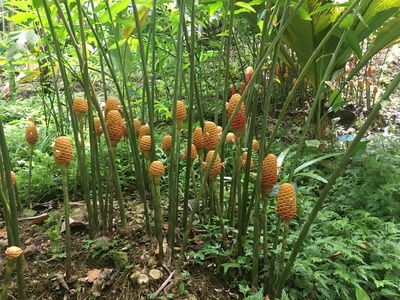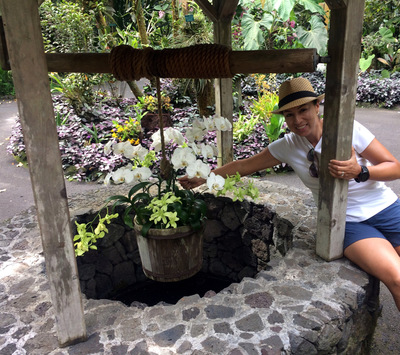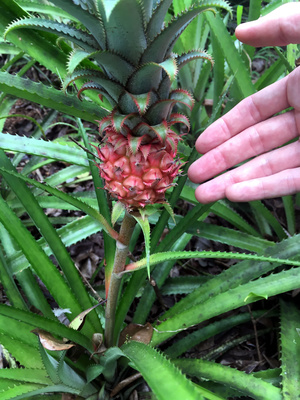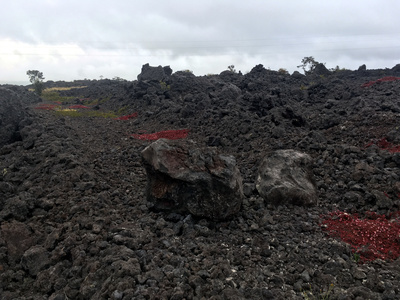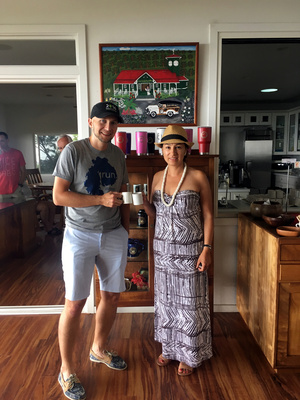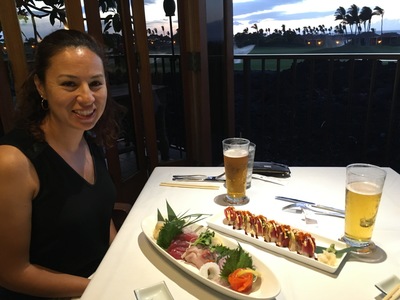 The next morning we went for a quick swim at the more remote beach located about a 15 minute walk from the hotel. The water was crystal clear and there were many colorful fishes swimming among the corals. We then packed up and left for the town of Volcano on the other side of the island. We took Saddle Road again. This time the weather was nice so Sandra got to see the two giant peaks. We then popped into the Volcanoes National Park and saw the plume of smoke from Kilauea, Hawaii's most active volcano. Next we left the park to grab lunch at a Thai food truck (probably the best Thai food I've ever had!) and then checked into Volcano Village Lodge. We then headed back to the park. We drove down to the end of the Chains of Craters road, from where you can hike to a spot from where you can see lava flowing into the ocean. This part ended up being quite a death march as it is 5.5 miles each way to to the observation area. The first 4 miles are on a dirt road and then the final part involves hiking on a lava field. That was at least somewhat fun, at least until the sun came down - make sure to bring a powerful headlamp! At the observation area you are quite far from the lava to really see much so I am not sure I would recommend doing this hike to others. This trip also took much longer than I had imagined and we ended up missing dinner in Volcano. Luckily our room came with some fruits and quiche for breakfast, and we ended up eating part of that for our dinner.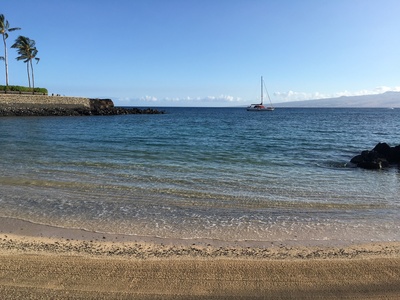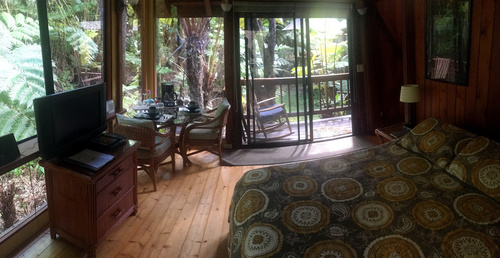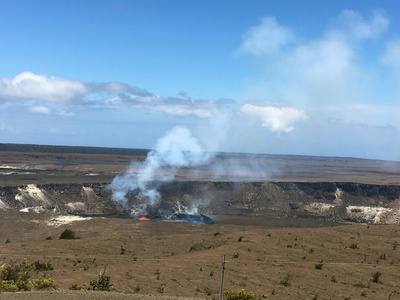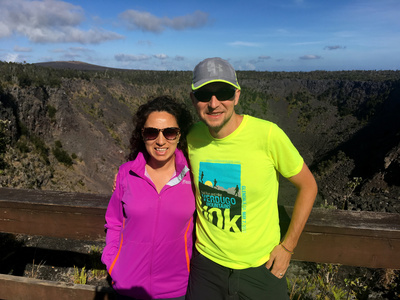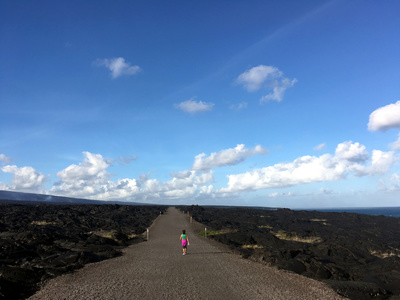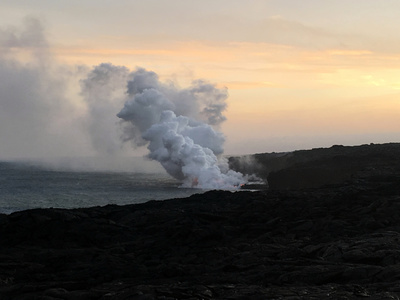 The next morning we had a rather uneventful breakfast at Kilauea Lodge and Restaurant and then drove to Kona along the southern route. We stopped in Naalehu to try the sweet portugese Malasada donuts at Punalu'u bake shop. We then arrived at Kona airport around 2pm to catch a 4pm flight to Honolulu. There we were supposed to have a 4 hour layover. Well, our 8:40 pm flight to LAX got delayed until 1:20 am which was rather annoying. It appears that Honolulu airport mainly caters to Asian tourists, with most west-bound flights leaving in the morning. Vast majority of shops were closed by 4pm, and the airport was a ghost town. There were only a handful of duty free gift shops open and just two restaurants (not counting Burger King and the like in the food court). What irritated me the most though was that the departure boards were not showing the delay. I only found out about it because of an email sent out by Hawaiian airlines around 5:30pm. Had we known earlier, we could have taken a cab to visit the town itself. Even at 8:20pm, our gate was still showing an 8:40 pm departure. When we spoke with an agent, we were told that the airline has no control over the boards, which I found quite strange. We were given $20 meal vouchers each, but as we had already eaten, these were not super useful. We still ended up using them for a greasy second dinner at Gordon Biersch, the only thing open at that time. We tried to see about buying passes for a lounge, but were told that the only lounge that sells day passes closes at 6 pm. So in the end we ended up sleeping on the floor at the gate until it was time to take off. We actually boarded before 1, but due to some maintanence issues we didn't end up leaving until 2:20 am. So while our first flight with Hawaiian Air to Kona was really nice, the flight back was quite the opposite.
Comments or questions? message me