Our wedding in Cartagena, Colombia
Date: September 22nd, 2012

Sandra and I got married in Cartagena, Colombia on September 22nd, 2012. We had so much fun. We chose this location since both of us liked Cartagena during my first visit to Colombia in 2011. Furthermore, we opted for a destination wedding since it was a much better bang for the buck. We ended up spending about the same as a standard wedding in the United States, but held the ceremony in beautiful hotel which we had all to ourselves. The ceremony lasted until 4 am, and included a live band, mojitos and bottles of rum, ceviche, "crazy hour" (hora loca) with a carnival troop, and even a delivery of late night empanadas. Plus, we had the chance to show our guests what a beautiful country Colombia truly is!
Getting Ready
We did all our wedding planning remotely from the United States with the help of a local wedding planner, Itala from Mi Boda En Cartagena. Itala was great help, highly recommended! The wedding was relatively small with only 54 guests. Everybody had to fly in. This included Sandra's friends and family, who came either from D.C. or from Bogota. My mom came with Anna from D.C., and my dad, sister Petra, and aunt Luba flew in from Slovakia. Petra brought her new boyfriend, some guy named Fero. Fero turned out to be a great guy, and is now when I am writing this in November of 2014 my newest brother in law. Welcome to the family, Fero. Fero managed to especially impress my dad. The Slovak entourage had a layover in Miami and I met them there (It's also more convenient to fly this way, by taking an internal flight to Miami and then the direct Avianca flight to Cartagana. Otherwise, you end up backtracking through a connection in Bogota.). Sandra was in Bogota organizing things with her parents. We took a cab to Hotel Chelsea in South Beach. Once the taxi left, my dad realized he left his shirt in the cab. No big deal, right? Well, except that his passport happened to be in the shirt pocket. Great! Of course, none of us remembered the number of the taxi. I tried calling the various taxi companies operating from the Miami airport, while in the meantime Fero had the great idea to go back to the airport. There, him and Petra managed to find the parking lot where the taxis wait between trips and somehow, among the hundreds of parked cars, managed to find the one we took. What happened was that the driver had to fold down the back seats in order to retrieve our bags. They found the cab with the seat still folded down and a bit of dad's shirt peaking through the fold. Disaster averted. Well, one of them. The other was that I made the hotel reservation for the following year! I am not even sure how this was possible, since I didn't think you can even make reservations over a year in advance. But at any rate, luckily there was a spare room available.
We got to Cartagena on Sunday, and stayed in Casa Gloria (the same place where Sandra and I stayed the year before). I very much love this cozy home-style hotel. On Monday, we took a tour to El Totumo mud volcano. We also went to a beach. The volcano was an amazing experience. The mud is the same density as the human body so you don't sink. Supposedly the well is thousand meters deep but I couldn't find any reference to confirm this claim. But at any rate, there is no bottom you can feel. You simply float in the mud. Trying to straighten up is hilarious to watch - when not involving you - since there is nothing to push against. Sandra flew in on Tuesday. We stayed for the next two nights in Hotel Almirante in Boca Grande (the modern part of Cartagena). That night we had dinner in El Carbon de Palo, where Fero got a chance to try the national dish of Colombia, bandeja paisa. The next day we went with Itala for food and drink tasting. It was pretty fun, especially tuning the mojitos. We also packed the welcome bags, which consisted of various assorted Slovak and Colombian snacks and juices, and embroidered beach towels.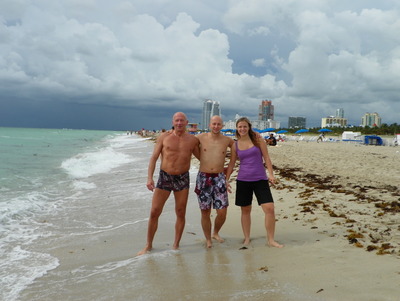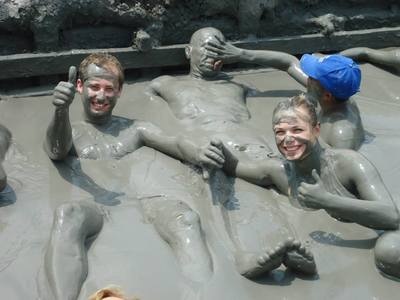 Welcome Events
The Thursday before the big day we moved to El Marques, a boutique hotel in old town Cartagena. This was our wedding venue. This hotel is quite pretty and has a large open courtyard where the wedding was held. The only downside to this was that it's been raining in Cartagena a lot - basically every other day, and we didn't really have a plan B in case of rain. But we lucked out. It rained really hard the night before and we stayed dry for the wedding. We had to rent out the entire hotel for the weekend, and this allowed the two families to stay together. My friend and best man Mike G. and Allie, his wife, also stayed with us. I especially enjoyed relaxing by the pool or lounging in the hammock before the wedding. On Wednesday Sandra and I went out to deliver the goodie bags, which turned out to be bit of an Adventure Race event. We had a map with circles denoting the hotels where our guests were staying and did a lot of running around trying to find them. Some people also stayed outside the old town in Boca Grande. Then on Thursday the first guests starting trickling in. Our first social event was a happy hour Thursday night at Cafe Del Mar, an open air restaurant on the wall of the old city. It's an especially pretty place to watch the sunset. After drinks there a smaller group of us walked to a mexican restaurant, where we got a chance to see some older gentleman dance with various younger ladies who kept coming in from the outside. Hmm, perhaps shopping around?

The next day we took a day trip to Majagua, one of the many of Islas de Rosario. After lounging on the beach and a fairly mediocre dish of the typical fried fish and platanos maduros (we had much better on the trip to El Totumo at Playa Victoria) we came back, just in time to get changed. We met that evening for a chiva rumba bus. This old fashioned party bus took us on a night tour of the city, while a group of vallenato musicians played in the front row, and the tour guide kept passing back bottles of rum and cola for cuba libres. There was a bit of dancing on the bus, but to get more, we stopped first in a club outside the old town. Sandra's grandma was the life of the party. She was rocking out even at over 80 years of age! Later on, few of us went for more partying in Tu Candela.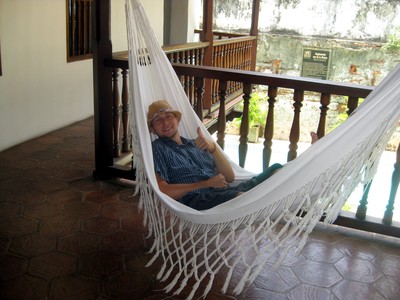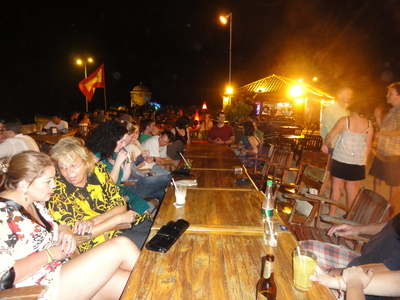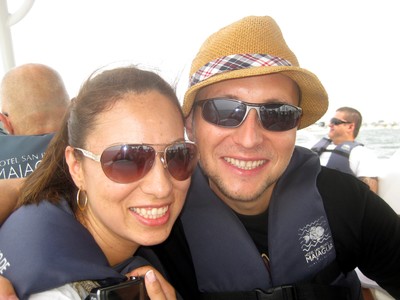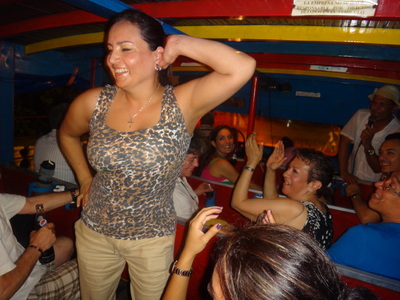 The Wedding Day
Our wedding started at 6pm on Saturday. Our wedding photographer was Julian Castro. We didn't have any bridesmaids/groomsmen as is typical in the United States, instead we just had one best man (Mike) and bridesmaid (Ivonne). The ceremony was bit of an confusion for me, since my Spanish is not the best and was even worse back then, and the officiant was improvising as she went along. The ceremony concluded with our kiss under fireworks (something we probably couldn't do in the United States due to some obscure fire hazard regulation). We then went to the streets for pictures and happened to stumble upon a horse drawn carriage conveniently parked near by. The horse drawn carriage ride was definitely worth it. Then upon coming back, it was time for our first dance. We had a routine to the tune of Frank Sinatra's "Fly me to the moon", with mixes of swing, waltz, and foxtrot.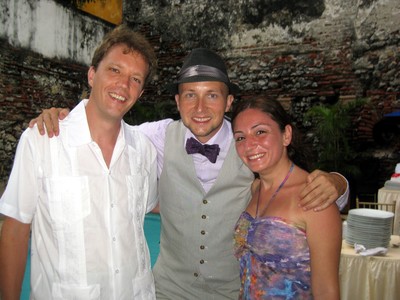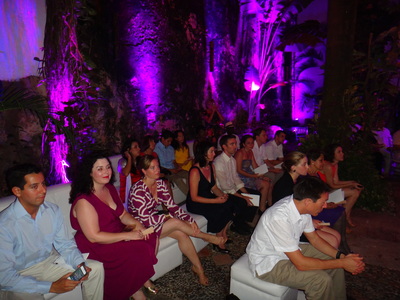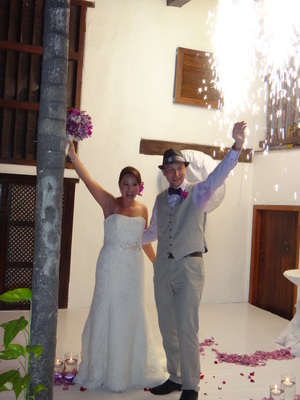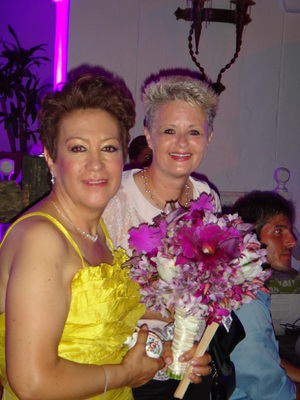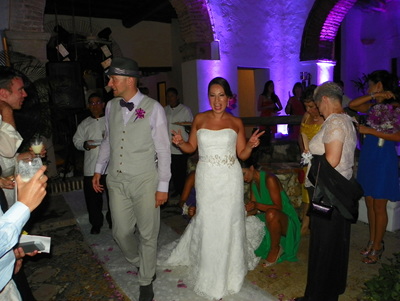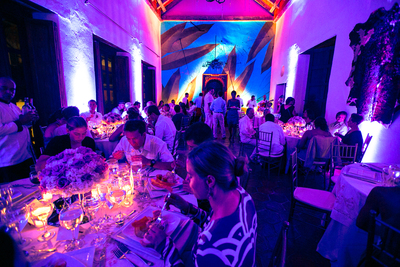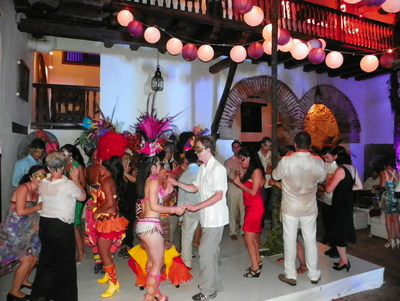 Getaway to Decameron Baru
The wedding went until about 4am. Probably due to the humidity and the fact everyone was dancing, nobody got really drunk despite quite a lot of alcohol getting consumed. The next morning we all got together for brunch at Crepes & Waffle where we said our good byes. Some people were leaving that day, while others were staying for another week. Justin and Nakles ended up going on a hike to the Lost City (Ciudad Perdida), which is sort of like the Colombian version of Machu Picchu. For us, we spent the next few days with our families (except my mom who had to leave early) in Decameron Baru. This was my first time ever to an all-inclusive resort. I read on the website that it includes free alcohol, but I figured this included only some watered down local beer, with everything else extra. I was quite pleasantly surprised that in fact anything is totally complimentary.It was nice spending the next three days sipping on mojitos. The food was also not bad, with a buffet style restaurant along with 3 ala-carte restaurants that were also free, but required an advance (in the morning or night before) reservation. The last night, Sandra and I had a romantic dinner in one of them, where we got served a delicious lobster and a special cake. The resort had a beach but my, by far, favorite part were the pools. I have never in my life seen pools with crystal clear water like that.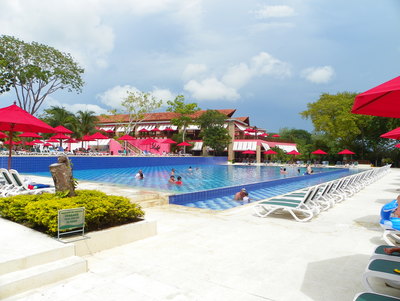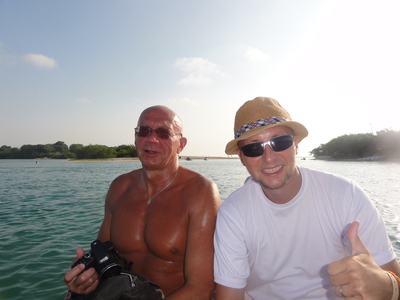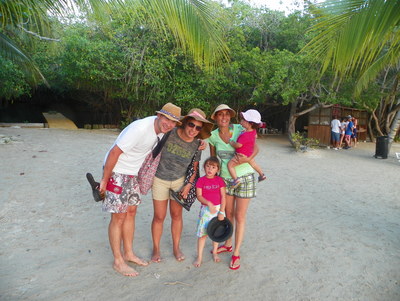 For our honeymoon, we traveled to Vietnam and Cambodia. Don't miss that report, it was an amazing trip!
Comments or questions? message me