Date: December 12-21, 2021

In August of 2021 I traveled to Bulgaria to go apartment shopping with my mom. Well specifically, we went to look at an apartment she found in the seaside resort village of Lozenets. Well, the apartment was nice, and we liked the area, and as such, went ahead with the purchase. Over the next few months, I dealt with notary, and transferring around 35,000 euro over to the Bulgarian realtor. In the USA, real estate transaction are done with the help of an escrow account, so that the receiving party can't just take your money and not transfer over the title. Seems that in Bulgaria things are done more on the honor system. However, given that this was not such a huge amount (I mean, try buying an apartment for 35,000 USD in the states!), I went with it. Everything went through as expected, and come December, my mom, along with her two cats, was ready to make her move from Prague to Bulgaria.
Lozenets is south of Burgas. Most of the direct flights to Burgas are seasonal, and in the off-season, it is much simpler to fly to Varna. Varna is the large city marking the northern end of Bulgaria's Black sea "riviera". My mom's flight had a layover in Sofia. Mine came with more. I left Los Angeles on December 12 at 8:15 am. At 4:20 pm (eastern time), I was in Newark, New Jersey. There I had 1:40 layover. The next flight was supposed to take off at 6:00 pm, and reach Rome, Italy at 8:05 am the next morning. While we left the gate on time, something happened that left us on the taxiway for about hour and half. This was rather problematic since this delay was exactly the length of my scheduled layover in Italy. My next flight was supposed to take off at 9:35 am and get me into Vienna, Austria at 11:15 AM. I spent much of that flight chatting with United representatives about finding a different routing but it seemed that if I miss the flight, I won't be able to leave until two days later, on Wednesday. This would still be ok, as my mom was not supposed to arrive until Thursday (I was quite glad to be flying early!) but at the same time, I was not looking forward to having to deal with looking for a last minute accommodation. Well, we landed at around 9, and I was out of the plane by 9:05. This is just about when boarding ends for a 9:30 flight. I don't know how, but I managed to run through the passport control, up the stairs, across the long duty free shop, and to the end of a long corridor (of course) to reach the gate just as they were announcing the last call for the bus that takes you to the plane itself. I was so relieved to be on board! Since I only had a carry on, I did not need to concern myself with the luggage making it. I ordered a beer on the flight to Vienna as that was really needed. Then in Vienna it was another short connection, but at 12:25 pm I was finally on my way to Bulgaria. I reached Varna at 3:10 pm, 19 hours after my departure. One upside was that I once again got to fly in Premium Economy for the trans-Atlantic section. The round trip cost $1,202 USD.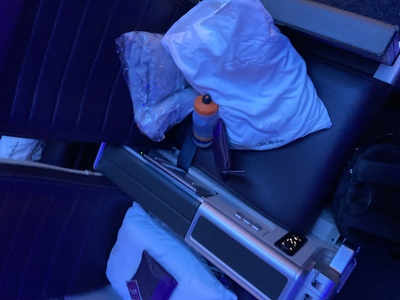 Varna
I booked a room in Hotel Hugo which for some reason shows up as Best Western on Google Maps. I chose this hotel as they allowed cats. I was so glad to be in the room as I was truly exhausted by all the excitement in Rome. After check in, I walked to the corner to "Bar Calmar", where they had, as the name suggested, excellent calamari.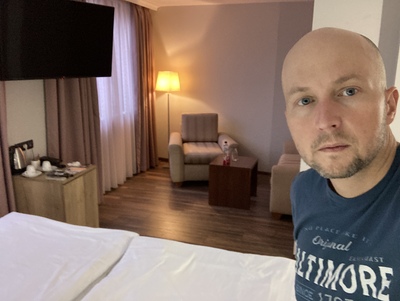 The next morning I went for a run. One advantage of flying to Europe is that because of jet lag, I always end up waking up super early over the first few days, which makes it easy to hit the paths before they got busy. Varna is famous for its hot mineral springs (in Slovak, the word ``varit'' means to cook). One of the neatest things was seeing a hot spring lap pool. It was freezing out, but I could totally see myself going for a swim here. The path in the beach side park also passes a naval museum, which exhibits various military equipment, including a submarine. I then ran to the pier. From there I ran to the opposite, eastern end of the beach and then back up into the park and to the hotel.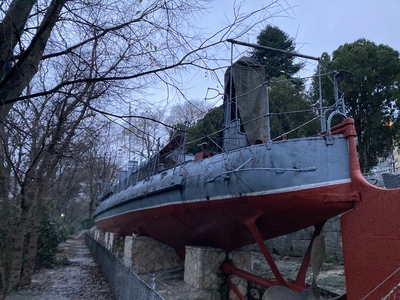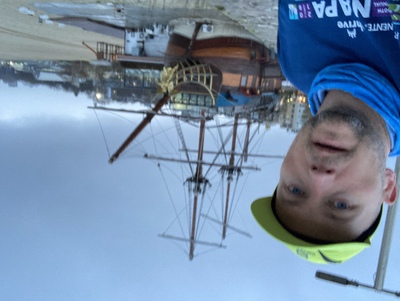 I spent the next two days doing more runs, and also exploring Varna. There are so many cute cafes and pubs here! The food is excellent. I especially learned to appreciate the banitsa, which is basically puff pastry roll with ricotta cheese on the inside. It is a very affordable option for breakfast. I also visited the ornate Theotokos Cathedral and the Roman bath ruins.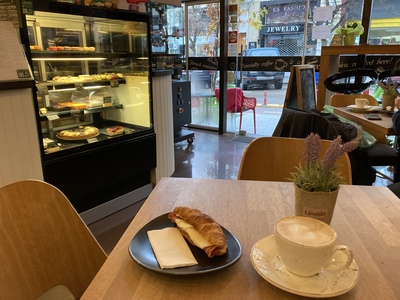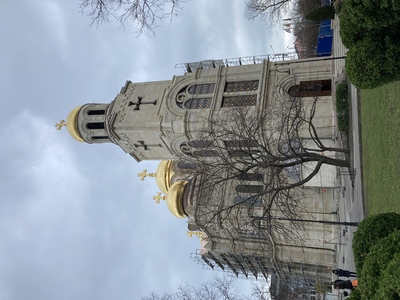 Then on Thursday I made my way to the airport using the public transport, where I first picked up a car rental. I then waited for mom to arrive. After few hours, there she was, along with the cats. We drove back to the hotel and then went for a walk through the old town. It was raining and cold so not many people were out.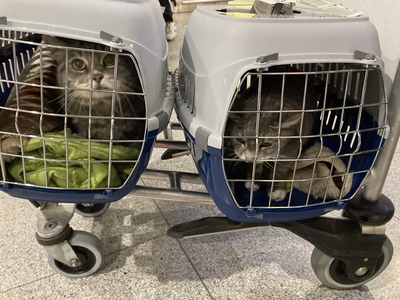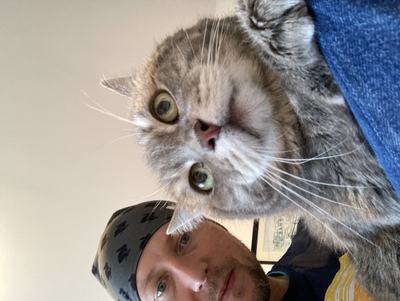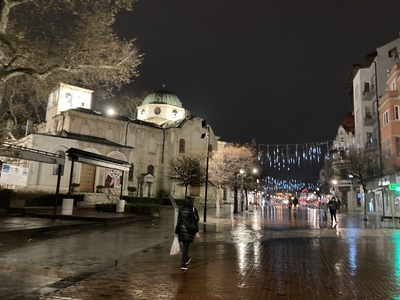 Lozenets
Then sometimes after breakfast the following day, we set off for the 3 hour drive to Lozenets. The drive was quite uneventful although we got a bit "lost" towards the end. Not really lost, but following Google's instructions, we ended up getting to Lozenets on some secondary forest road instead of the main thoroughfare connecting through Primorsko and Kitten. I later realized this is because Google Maps was reporting road closure on this route 99, despite it being completely open. We met the apartment building manager who handed mom the key. The apartment was as we remembered it from the summer, although at that time, it was rented out to a family and as such we did not get a very close look. It is small, but perfectly sufficient for my mom. It came already furnished, although of course the plan is to replace the furniture as time goes. We appreciated that the kitchen was also already stocked with plates and what not. The bedroom and the living room open up to a small balcony. The living room has a wall mounted heater and air conditioning unit, but as there was none in the bedroom, we quickly realized that a pressing purchase will be buying a portable heater. Prior to this move, we did not realize just how cold Bulgaria gets in the winter! Being by the sea, you kind of assume it is tropical, but this is not the case. The days we were here, it was sunny, but below freezing almost.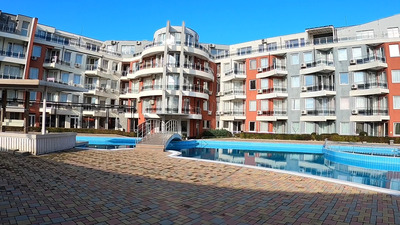 My biggest concern about my mom's move was not being sure about the feasibility of actually living here. Specifically, many Bulgarian sea-side towns are known to essentially shut down in the off season. This is especially the case with the Sunny Beach area. As such, my biggest concern was making sure there is a grocery store my mom could reach without needing a car. I was glad to find a fully stocked one, called Tegel, right in the middle of town, only a few minute walk from the apartment. On this exploration, we also stumbled upon a restaurant called Baba Jaga. This is the name of a fairy tale witch. What was so surprising was finding a sign, stating, in Czech, that this is the location of a Czech meetup. What? We just arrived in Bulgaria and there was already a sign of Czech people here? We walked into the restaurant and sure enough, the menu featured many Czech specialties. The people working there did not speak any Czech but told us that indeed some local Czech meet here. And it wasn't long after we sat down that a Czech family showed up. They have been living here for decades and like it. Score! I felt much better leaving mom here knowing she already made some local connections.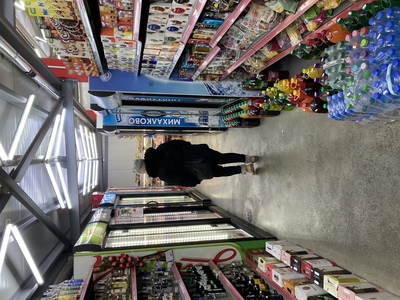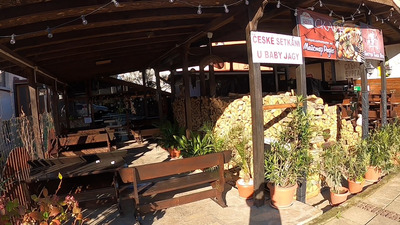 The next day we did bit more exploring of the local area, including driving to Sozopol. I really like this town. It is similar to Nessebar, in that it is an old cobble-stone village on top of a rock in the middle of the sea. Now in the off-season, it was quite empty and peaceful, but I can imagine it bustling with tourists in the summer. On the way back we also stopped by Castle Ravadinovo. This prominent castle can be easily seen from the road, and I was really curious about it. Turns out, it is a modern "castle". Or better said, a vanity project of some Bulgarian with apparently way too much money and a life long interest in the royalty.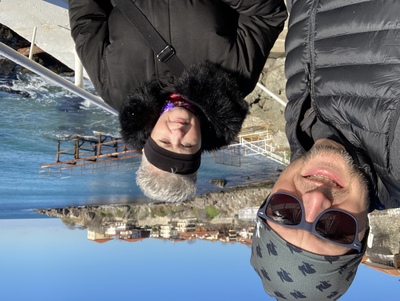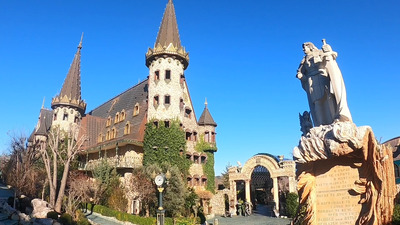 And then it was time for me to head back home. The trip back was even longer, something in excess of 40 hours door-to-door. This included driving back to Varna, early enough to make sure I have time to return the car and catch the flight. I once again routed through Vienna on a 3:55 pm flight that got me in at 4:45 pm. My next flight to Munich was not until 7:05 am. I originally thought I may have a chance to visit my sister in Bratislava but as this was still in the age of COVID lockdowns, doing this cross-border trek would be too complicated. So I just spent the night at the airport Moxy hotel. I got into Munich at 8:05 am and had until 11:55 to enjoy the lounge. The next leg, again in Premium Economy got me into San Francisco at 2:40 pm. And then finally, I had a 4:33 pm flight which got me to LAX at 6:10 pm. As much as possible, I will definitely make sure to never again take a flight with 3 layovers!
Comments or questions? message me