Pandemic / Post-Insurrection trip to D.C. for Biden/Harris Inauguration

Date: January 20-22, 2021


The 2021 Presidential Inauguration of Joe Biden and Kamala Harris was in my mind shaping up to be truly historic due to seeing the first woman ascend to the White House. I didn't want to miss it and hence bought a ticket for a quick trip to D.C. Well, this was way before there was any indication of the January 6th insurrection, which made it even more historic although for the wrong reasons. My friends and family had concerns about whether I should stick with the trip, but I figured that the probability of violence repeating was low, especially given the large military presence.

I took an overnight flight that got me to Dulles on the morning of January 20th. Given how D.C. was fully barricaded, I knew I wouldn't be able to have a "normal" inauguration experience, as was customary during prior normal presidential administrations. So I just headed to the hotel. I was staying in Hyatt Centric in Rosslyn. The hotel should have been renamed to Fort Rosslyn, as besides me, it appeared to be fully booked by a Pennsylvania National Guard platoon. I watched the TV coverage for a bit. At this point, it was still uncertain whether Trump will make an appearance, but as I expected, and with no regard to the American tradition of peaceful transfer of power, he jetted to Florida on the Air Force One refusing to accept his loss. After a shower and a quick rest, I headed to Karen's (a friend from the D.C. running club) to watch the rest of the inauguration activities.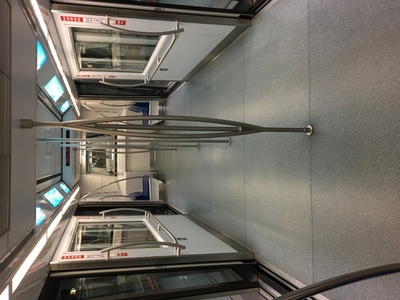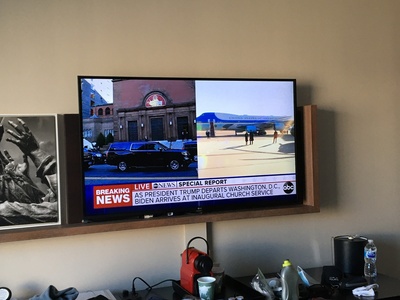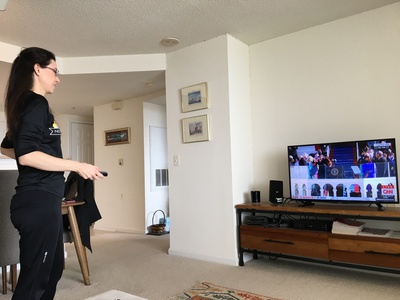 The next day (when it was also obvious that there is no Insurrection 2.0) I headed to D.C. on foot. As the map shows, I ended up covering about 11 miles. I first made it to the Washington Monument. Here I saw various military people touring the grounds and taking pictures. If there is an upside to the insurrection, it is that it gave these guardsmen/women a chance to visit D.C. Given how much Sandra and I travel, it is easy to forget that there are many Americans who rarely venture out of the town they were raised in. Then I headed to the National Mall. This is where in normal times people assemble to celebrate, but now, spectators were replaced by flags of USA and the individual states. I next ran around the fence surrounding the Capitol and then made my way to my old office at the George Washington University where I worked on my Ph.D. On the way there I passed by the Black Lives Matter plaza. This block was dedicated in June 2020 during the anti police brutality protests following the killing of George Floyd. The location just outside the White House was clearly meant to send a message. I finished the route by taking the C&O Canal towpath back to Rosslyn.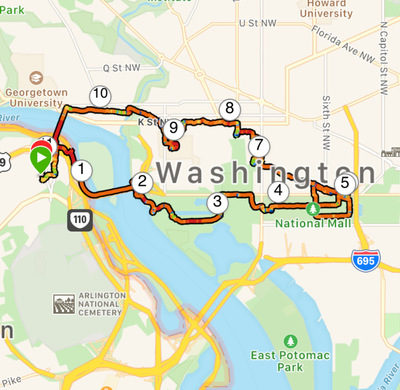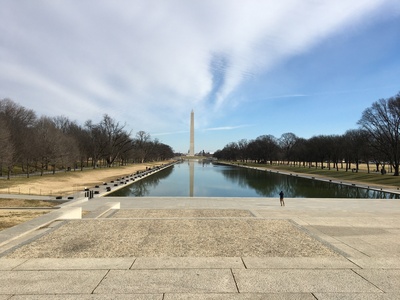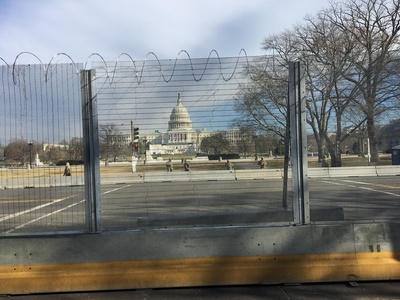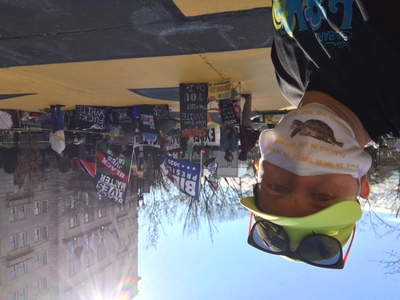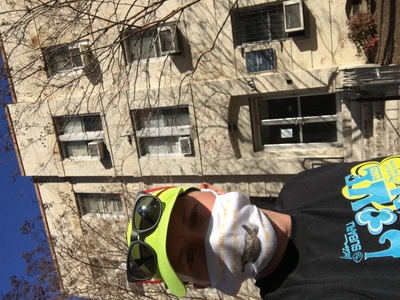 That night I had dinner with my college friend Nicole. Coming from California, where restaurants were for a while allowed to do only take-out dining, before the regulation relaxed to allow outdoor dining, it was quite surreal - and disconcerting - that the hostess at this Arlington establishment led us to a table not only indoors, but far from windows in a poorly ventilated basement. This was way before vaccines were available. But all ended up well and nobody I met on this trip got sick. I also got to visit Lucille, the land lady where I rented a room while doing my Ph.D. It is thanks to her that I got to meet my wife. Sandra was also a former tenant, and kept in touch with Lucille after moving out. We met during one of her visits. I also metup up with my sister in law Ivonne and her husband Gustavo. We met in the awesome pastry shop by Karen's house.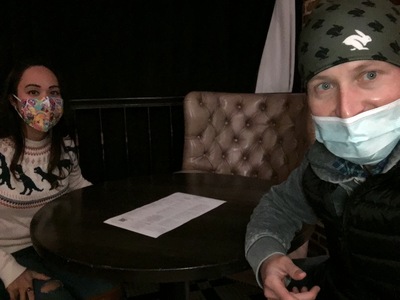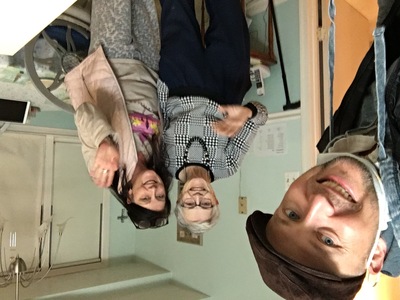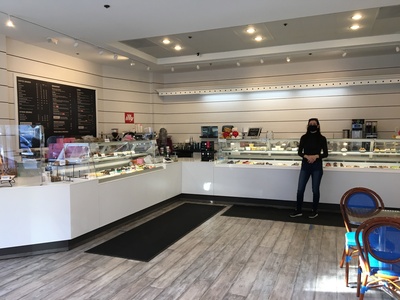 Finally, before heading back, I decided to do one more run. I planned to do the 21 mile loop on Rock Creek Parkway to Bethesda and down to Fletcher's Boat House (with detours given the Purple Line construction). Karen was going to join me near mile 7 at Pierce Mill, which is close to where my college friends Brent and Susan live (or used to). But boy, was it cold! Some volunteers had a fire going at the Pierce Mill picnic shelter and it felt great to warm up. Sitting there, I got serious doubts about continuing. Given that Karen was also not particularly excited, and me not having any races coming up, I just piled into her car and took a ride back to town. Smart decision!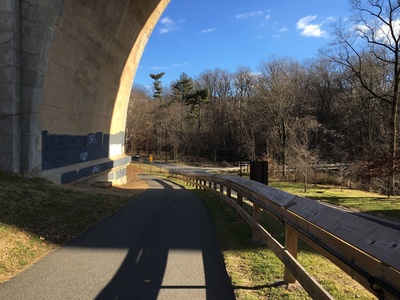 Normally, in order to get near the inauguration activities, you need a ticket that can be requested from your local House of Representatives member. Months before this trip, I reached out to Congresswoman Julia Brownley but was told that because of the pandemic, there were not going to be any public tickets. It was a pleasant surprise to receive a letter in the mail, long after returning back, containing a commemorative ticket.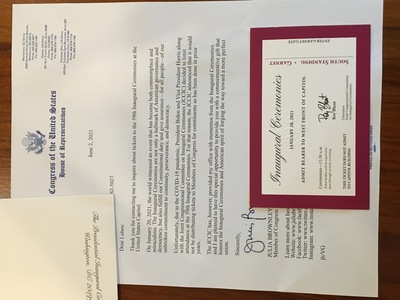 Comments or questions? message me