New Years Eve in Pereira and a visit to Cali and San Cipriano, Colombia
Date: December 30th, 2021 to January 10th, 2022

I celebrated the end of 2021 and the beginning of 2022 with my in-laws in Colombia. Specifically, we got together in Pereira, probably my favorite Colombian town so far, where my father in law has a good childhood friend, Gregorio. Not long ago, Gregorio was diagnosed with cancer so this was another opportunity to spend time together. Unfortunately, as I am writing this in 2023, Gregorio has passed almost exactly a year later on New Years day 2023. Rest in Peace, you will be missed!
I recorded bunch of GoPro clips on this trip which I then assembled into two videos posted on YouTube. You can check them out below. Many of the photos below are actually just snips from the video.
Pereira (December 30 to January 3rd)
For this trip, I traveled to Colombia alone. Sandra left for Bogota about a week prior, just as I returned from my second trip to Bulgaria. She was meeting there with the entire family, with Javier having flown in from Mexico and Ivonne coming from Washington, D.C. Given it's been decades for most of them (except for Sandra) to visit the contry's second major city, the whole family took a trip to Medellin (where I returned later this year for a marathon). We coordinated our flights such that we would both meet at the Bogota airport and then fly together to Pereira. While my Avianca flight to Bogota went without a hitch (I even got to enjoy the lie flat seats), their flight out of Medellin got delayed due to bad weather. As such, they ended up missing the connection. I thus travelled to Pereira alone.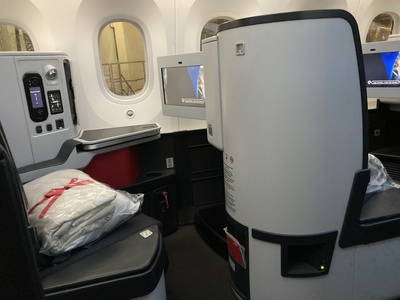 My plan was to wait at the airport (they got on the next flight, with Bogota-Pereira having a many daily flights, sort of like Los Angeles - San Francisco), but Gregorio's son, Mauricio offered to come pick me up. We first went to his new home. What an amazing property! The interior looked like something out of an architectural digest magazine. If remembering correctly, this house cost them only around $300k USD. Here in Los Angeles, you won't even find a garage for that little. I think Pereira would be an amazing destination for a relaxed, country-side retirement. In fact, many Bogotanos (aka rolos or cachacos) are moving to Pereira, driving up the real estate prices, just as is the case with in the US with Californians. Later, after Sandra and my in-laws arrived, we moved to Gregorio and Gilma's apartment.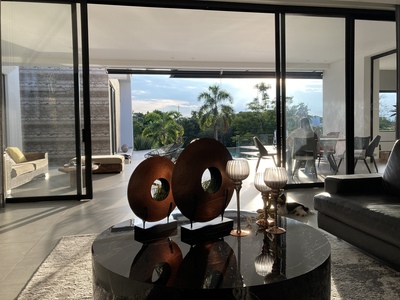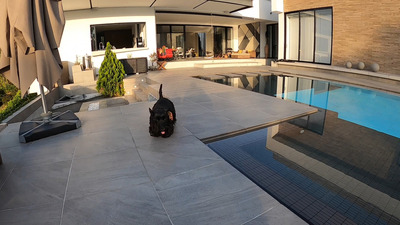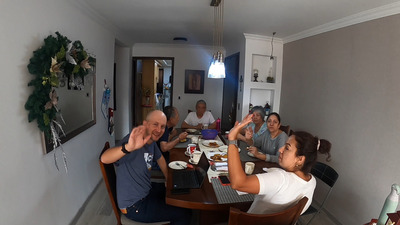 The next morning, December 31st, after breakfast, we all traveled to Mauricio's house. We basically spent most of the day hanging out in the pool while the barbecue was getting cooked. Then in the evening the party started. Some friend-of-a-family singer, and his wife and son provided the live entertainment. Javier's wife Ivonne requested Joaquin Guiller's Usted no me Olvida. I think this song has now become our new New Years tradition.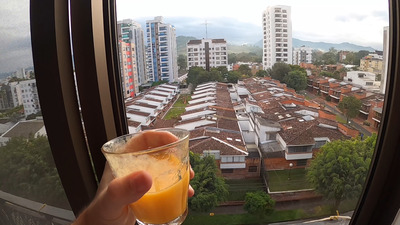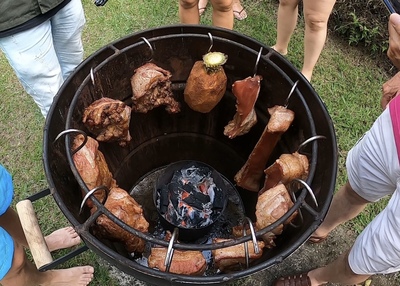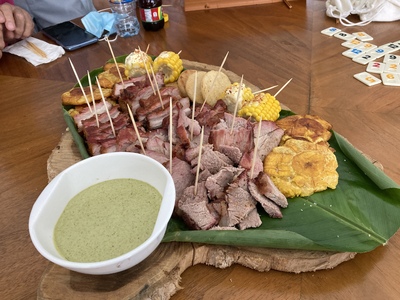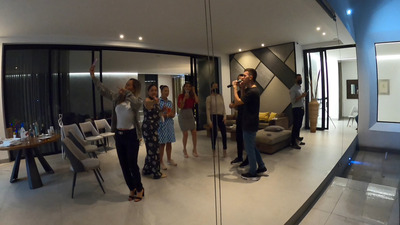 The following two days were spent with more family time. We went to some near by hilltop restaurant. We also had an amazing dinner at the Ambar Restaurant located walking distance from Gilma and Gregorio's apartment. Here I had the most amazing Boeuf Bourguignon. This restaurant also served interesting cocktails. I saw one listing "mani" as the ingredients. I figured, I try it, thinking that in this case "mani" must clearly mean something different than "peanuts". But sure enough, it was a peanut flavored cocktail. It was not bad.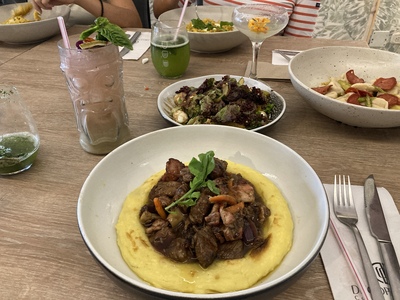 However by far the best experience was horseback riding. I don't quite remember exactly where we went, but I remember passing through the Condominio Hacienda Malabar planned community and then taking a dirt road towards the Cauca River. Most likely we were near Parque Mirador del Cauca. This place was so scenic! It reminded me of the old Windows XP background. Of course, I was given a horse that only wanted to eat and not go. This happens to me everytime. Big gringo, give him the biggest, fattest horse.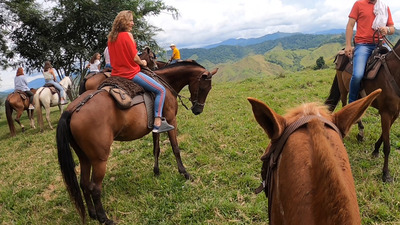 Bogota
From Pereira, we traveled back to Bogota. Here we did the usual: shopping and visiting family. We also attempted to hike up Monserrate, but saw an insanely huge line for both the hiking trail and the teleferrico. It seemed like half of Bogota was out hiking. That was a fast no. So instead we walked around Chorro de Quevedo in La Candelaria. Here we found a cute empty restaurant, where we sat down for hot chocolate. Not long after, a massive tour group showed up. This seems to happen to us quite often that we sit down in an empty place and soon a crowd forms. But we got a free presentation on the types of different hot drinks popular in Bogota.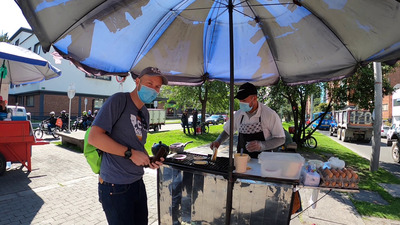 We also visited Mary Luz for a barbecue. This was yet another amazing property. The main house is separated from a study by a small courtyard. The basement got converted into a movie room, which is accessible only via a ladder. Mary Luz is an excellent chef. The meet was prepared to perfection, which is perhaps due to the years spent living in Argentina.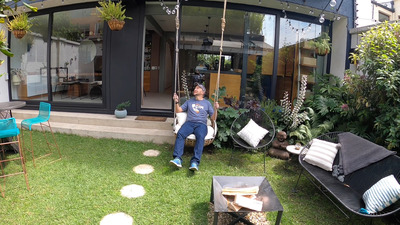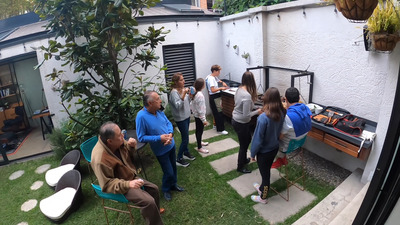 Of course, we had to make the traditional pilgramage to Chia for Andres Carne de Res. I believe this was Stefanie and Nicole's first time there. This popular restaurant is a big tourist trap, but it is still something that everyone has to do at least once. The parking lot was packed as usual. Furthermore, I think the restaurant has grown since my last time about 10 years ago. That time, I remember it consisting of just the restaurant building. However now, there is a whole secondary outdoor play area across the street. Here kids can keep themselves busy with various activities. There is even a merry go round.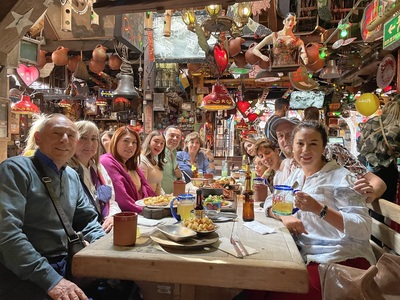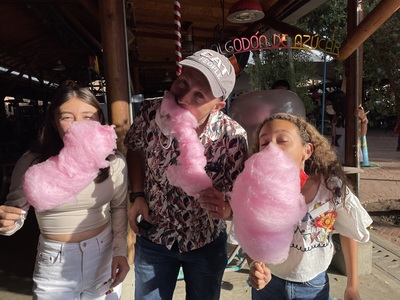 Cali (January 6th to 8th)
The highlight of this trip was however the short excursion to Cali. This is Colombia's third largest city, but until this visit, was a place I have not yet visited. Cali is famous for salsa dancing. It is also near some beautiful country side. We were staying in Hotel Spirito across the street from the Chipichape shopping mall. As we found out later from our tour guide Diana, this name comes from the sound made by a steam locomotive. There is in fact one such train inside the mall. After checking in, we popped into the mall where I tried my first ever lulada. This drink is basically a mix of the juice and pulp of the lulo fruit, is a specialty of Cali and a must to try (another popular drink is an ice cream fruit cocktail called cholado). The next day we went on a city tour with a Diana, a tour guide we somehow found and booked online. This was a great tour. Diana was so energetic. I don't this she stopped talking once over the 6 or so hours she was with us. We got to see the highlights, including Plazoleta Jairo Varela, Iglesia la Ermita, and the El Gato del Rio park with its neat cat statues. We also visited the San Antonio neighborhood.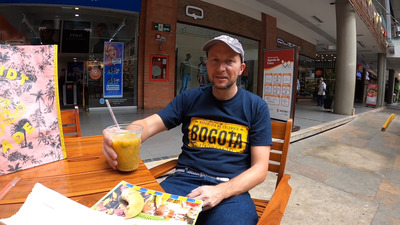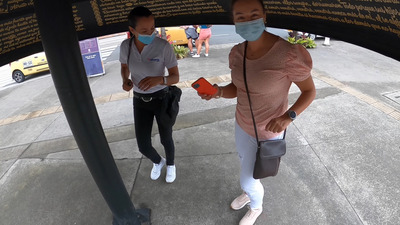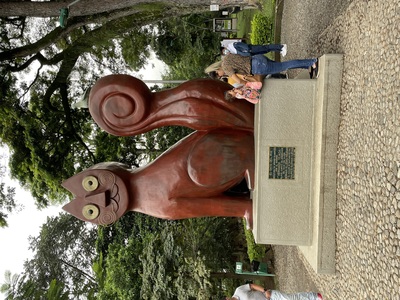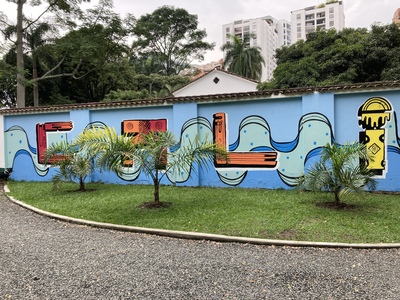 Here I got to try a chontaduro. This fruit (from a palm tree) is apparently supposed to increase fertility. Well, no idea if it does that, but what it does is taste really awful. The taste is a mix between a potato and a piece of wood (from imagination, I don't actually have practical experience eating wood). Mainly the taste lingers on and on. From San Antonio we drove up to the Cristo Rey statue. This drive took at least 30 minutes, and I could still keep tasting the fruit. Luckily outside the massive statue were various food vendors so I was able to exchange the chontaduro for a taste of sausage. The statue is quite massive. I have yet to visit Brazil but I imagine the experience is similar. We then went for a short stroll on the red earth covered hill from where we got nice views of the city.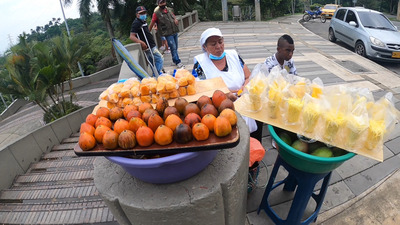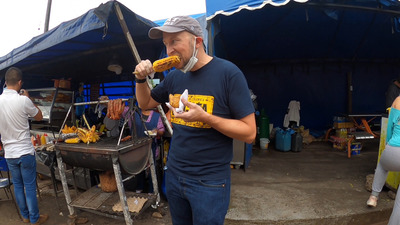 Of course, when in Cali, you need to go salsa dancing. We visited the famous La Topa Tolondra. We then switched salsa for modern music along the Carrera 6 night club district. On our last day, I also enjoyed the rooftop pool in our hotel.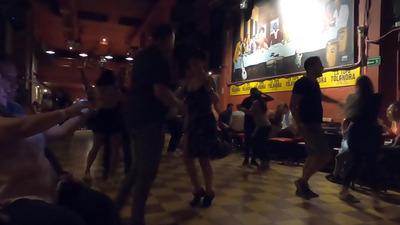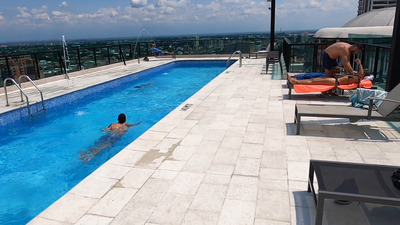 San Cipriano
However, by far, the best part of this entire visit to Colombia was a day trip to San Cipriano. This is a small town about two hours by car from Cali. Actually, take this back. San Cipriano itself cannot be reached by a car. Instead, the only way to get in, as far as I could tell, was aboard brujitas, which are essentially motorocycles placed on a train track and connected to a trolley with benches to sit on. The back wheel of the bike touches the rail, so that when the person siting on the bike rolls the throttle, the whole contraption moves down the track. The trip to San Cipriano lasts about 10 minutes. This is a wild ride due non-stop banging noises coming from the track, as well as the jerking of the engine. Yet despite the lack of seatbelts, I never felt like I was going to fall out. In San Cipriano we picked up inner tubes and then set off on a hike through the jungle to a hidden waterfall. From there we floated down the river through very mild rapids. Upon reaching the town, we enjoyed traditional lunch from one of the local inhabitants. Pretty much everyone living here is of African descent, which makes the local population very different from lets say Bogota. We were back to Cali by the evening. Visiting San Cipriano is a definite must when in Cali.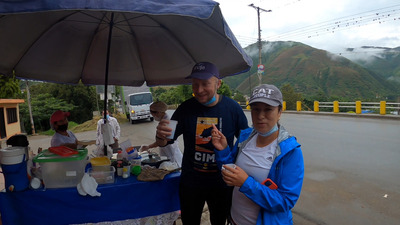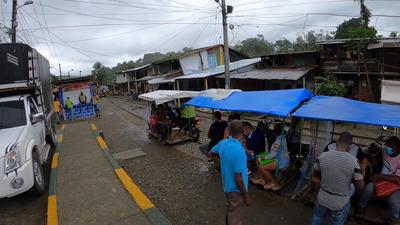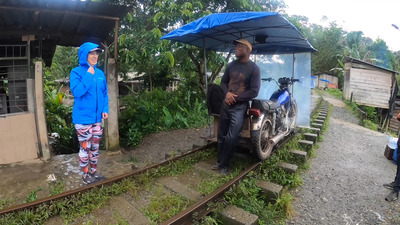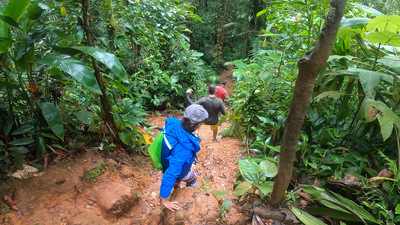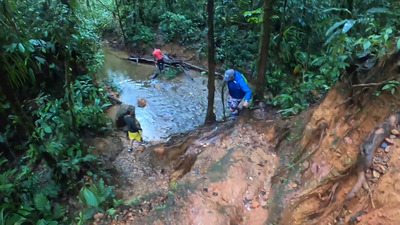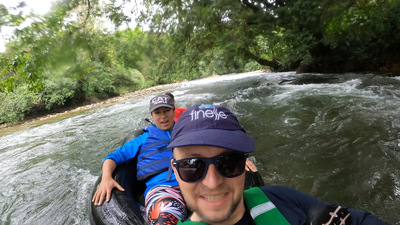 And that's it. From Cali we returned back to Bogota for another day or so before heading back home to LA.
Comments or questions? message me