Carnival Cruise to Ensenada
Date: December 19-22nd, 2022

Christmas 2022 was shaping up to be a busy time in our townhouse. My dad, along with my sister, brother in law, and their two kids, were supposed to be visiting us in Los Angeles. My dad was supposed to arrive about a week before the rest of the folks, and I figured two nice experiences for him would be to see a football game at the new SoFi stadium and a visit to Mexico (albeit briefly) on a cruise. In the end, the plans changed, and Sandra and I spent the holidays alone. But the bookings didn't get wasted! Our neighbor Bruce joined us for the game. And then, Sandra joined me instead of my dad on the cruise. It was my first time cruising and I very much enjoyed the experience. Turns out, cruising is a really economical and relaxing way to travel! We went on a 3 night ride with Carnival, and these trips have a reputation for being "booze cruises". But our experience wasn't like that. Maybe as we were cruising mid-week, the crowd was less rowdy than on a weekend excursion. There were bunch of kids running around, but I actually enjoyed this. Here in USA, it is unusual seeing kids just playing on their own in the public, without a constant adult supervision. I think such play is crucial for growing imagination and creativity. Well on the cruise the kids definitely got their chance to be kids. Its a confined environment (I guess technically one could fall off but that would require actual effort) and the ship is quite massive so the kids can easily burn off their energy going from one end to another.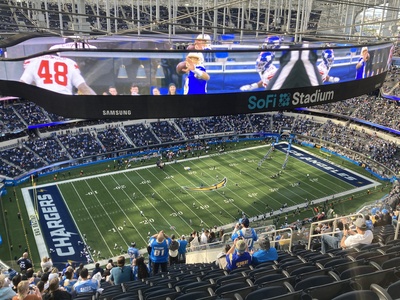 The game was Sunday the 18th. We were all the way in the nosebleeds, but this stadium is really awesome. Even from this high up, you can easily follow the game. In a way, I liked these seats better than the low rows, behind the end zone, we got for a USC Trojans game recently. It was essentially impossible to see anything from that angle. Here, you have a birds eye view and the giant high resolution TV monitors provide the closeup view. This is a really nice stadium, and I hope it gets an extended use during the upcoming World Cup. Then the next day (Monday) we headed to Long Beach around mid-day. We were schedule for a 1:30 pm boarding for a 5 pm (or so) departure of the Carnival Radiance. The whole process including parking took maybe 30 minutes. After entering the pavilion you make your way through a fairly long line to see an agent who checks your documentation. You then pass through security control similar to the boarding an airplane. There were various prominent signs that plastic bottles are not allowed and hence we didn't bring any. We brought one bottle of wine in our carry on luggage. You can actually drop of your bags, but given we had just small carry-ons, we wheeled them in ourselves. This turned out being a good choice, as later we met a couple that had one of their bags go missing for two whole days! Apparently the bag got delivered to a wrong room, and the people in that room "never noticed" (or maybe purposely decided not to do so...). It was returned only after the housekeeping staff noticed the missing bag.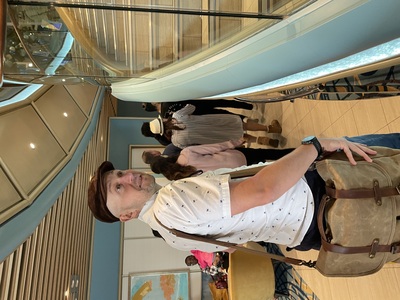 We were in room 8202. I didn't pick the room, and just let the algorithm assign it to us randomly. But we were really happy with this room. It was all the way at the end of a long corridor, all the way in the front of the ship. As such, we only had a neighbor on one side. However, the rooms were actually really well insulated. The couple next to us had a kid but we never heard any sound from there. In front of us was the bridge. The balcony room we were staying in cost $765.72 for the 3 night trip, including taxes and port expenses. That's basically comparable to a hotel room, but you also get all your meals included - and you get to go places. Not bad at all! I very much enjoyed the balcony. I saw somebody mention on Reddit's r/cruise that "balcony>inside>>>>ocean view". While I have nothing to compare from an actual experience, I agree with this sentiment. The benefit of an inside cabin is that it is super cheap. But then, you are sleeping in a dark closet. This would be too claustrophobic, I think. The ocean view gives you some daylight, but I don't think it is really worth the extra cost. However, with a balcony, which at least on this trip was not a substantial step up from an ocean view, you can open the door to let in fresh air and bird sounds. We slept almost every night with the door open and it was amazing. I loved hearing the various seabirds go about their business all night long. For me this is a game changer, even I don't plan to spend much time sitting on the balcony.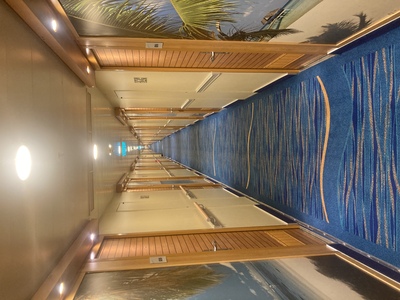 After checking in we started a tour of the ship. We got to watch the sunset as we slowly departed Long Beach. We then visited the Main Dining Room (MDR as I learned it is called on cruise blogs) for our early dinner seating. This ship actually has two rooms: Sunset and Sunrise. We were in the latter one. The waiter led us to our seats, which was in the middle of a long communal table. The entire table was filled with people our age, or even younger. This ended up being a great way to meet people. I can definitely see how you can leave a long cruise with new friends (or maybe enemies, depending how you get along!).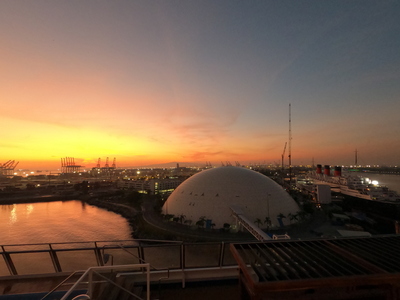 We "sailed" over night at about 17 mph. I woke up before sunrise, and went for a jog on the track behind the giant TV screen, by the outdoor basketball court and a ropes obstacle course. I was curious how Garmin will track the run. I expected it to be a helix, but it ended up looking more like a straight line. Despite the slower speed as we were arriving at the port, the boat was still moving faster than my running speed. I ended up getting my 4 miles in, which involved 44 laps. We then grabbed some chicken and fries from Shaq's Big Chicken. Despite so much free food, we actually ate quite little. We never made it to the MDR for breakfast, and I in fact only had a salad, soup, and a cake from the buffet. As long as you stay active (such as using the staircases, walking the ship from one end to the other, and visiting the gym), you may even end up losing weight on a cruise, despite all the free food.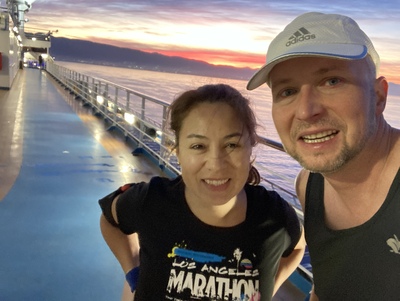 We then headed out into Ensenada. I have been here before many times so knew what to expect. We started by walking along the seaside promenade towards the fish market area, and then walked the maind drag in town towards Papas & Beer. We then made our way back towards Hotel Mision Santa Isabel (located in this old mission building). Across from it we wandered into a fascinating curiosity shop. It apparently used to be one of the original hotels in Ensenada, but now it houses an antique shop. I managed to sneak in a photo despite numerous "No Photo" signs. We then walked to the Catedral de Ensenada. It was a rather long walk but the cathedral domes were quite prominent from the ship, so we wanted to check it out. On the way back we stopped for fresh sea food. Yes, that is a cutout of the owner. We headed back to the ship at around 2 pm, which was 2 hours before the scheduled final boarding time. The line for the security was about 30 minutes long, which we did not expect. There were actually two security scans. One on the ground, and then another one once you got on the ship.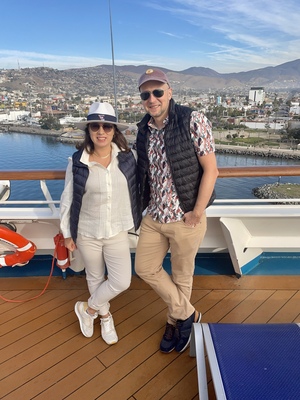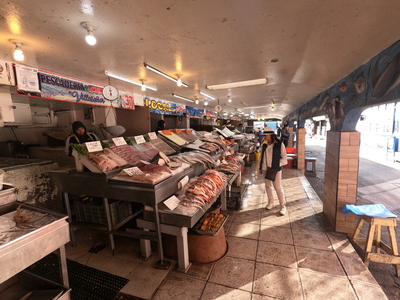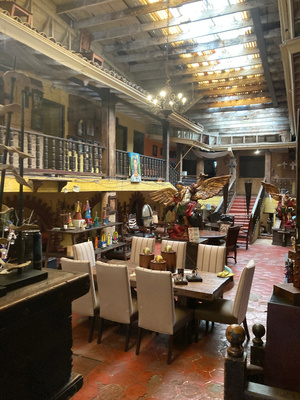 That night we had dinner at the MDR once again. I had a great meal consisting of a pork and pineapple topped pie crust appetizer and some vegetable-based main dish (I can't recollect the details now). Many of our table mates went for a steak which did not look particularly appetizing - or cooked - so I was happy with my choice. Later that night, we checked out the Bonsai Sushi restaurant. This was one of the "specialty dining" options that requires payment. However, the prices were quite affordable. I had a poke bowl for around $8 dollars. Later we stopped to see a comedian at the smaller Limelight Lounge. We also had cocktails at the Alchemy Bar. That bar was my favorite. We ended up chatting with a Colombian lady and a Hungarian guy working there. They seemed to be a couple, as they were planning to travel together to Colombia as soon as their current tour ended. As an aside, there were actually quite a few Hungarians working on this ship. I could tell, as they all pronounced my name correctly!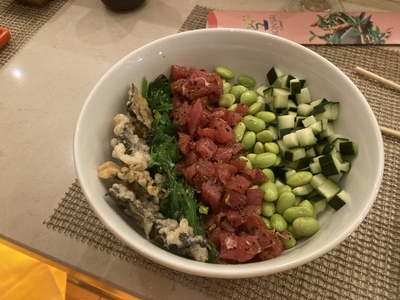 The next day was a "sea day". The comedian from the night before joked that the point is to park us sufficiently far enough so that we don't get cell signal from the shore, and that is exactly what happened. Both Sandra and I ended up working. I caught up on some writing while she dealt with various meetings. The internet cost $20 for 24 hours, which wasn't bad for the single day use (the prior day we just used our T-Mobile cell service, which has free data roaming). In the afternoon, we opted for the afternoon tea at the Sunset Restaurant. This restaurant is located in the aft of the ship and you get very nice views from here. It seemed like a more elegant option compared to Sunrise, where we were placed. This may be good to know for next time. Given that everyone was on board today, the ship was quite busy, but we managed to sneak into the Piano Bar while it was being cleaned. The curtains were down, and from the outside, you could not see in. The cleaning crew did not seem to mind us being there, working on our laptops. The coffee shop located by the main lobby was also a nice place to work. There I bought a Carnival-branded tumbler for around $10. It came with a free espresso drink, so it really cost only around $6. It also made it easier for us to later bring coffee or tea back into our room.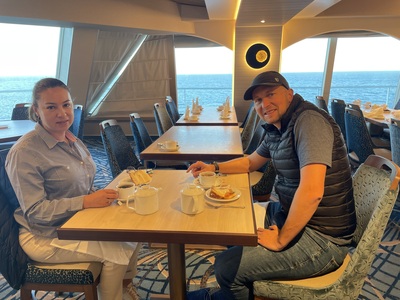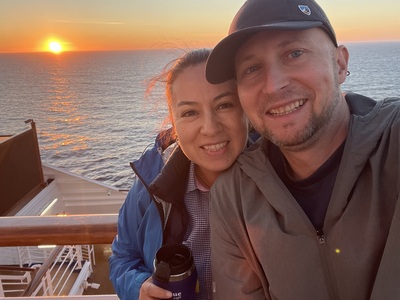 That evening we opted to dine in the Fahrenheit 555 Steakhouse specialty restaurant. This again required payment (and a reservation) but at something like $45 per person for a 3 course meal, it was a steal! In fact, I also opted for a wine pairing and Sandra had an excellent cocktail, yet we paid $132 total, with all taxes and tips included. The wine pairing was supposed to consist of three half-pours, but they were really mostly full pours. We found out the night before that our MDR mates Alex and Ashley were also planning on dining at the steakhouse this night, and already happened to be seated, with an empty table next to them. So we asked to be seated next to them, which led to a fun conversation-filled meal. They were visiting from Colorado Springs. Actually pretty much everyone we met on board was from outside of Los Angeles. This made me realize how lucky we are that we can literally just drive down to port and hop on a last-minute deal cruise anytime we want, if we want. Some of those deals can in fact make it almost more expensive to stay at home than go on a cruise, when you take into account the cost of food.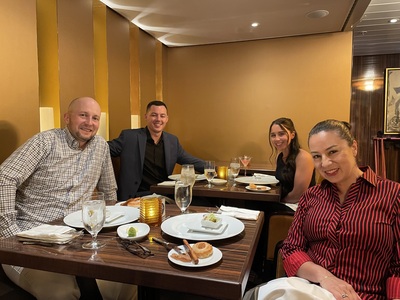 We closed the night with a visit to the Piano Bar and later to the Limelight Lounge, which converts to a night club. We arrived back in Long Beach early next morning. Getting off wasn't too bad. We left the room little after 8. We encountered a short line at the lobby to get off. Then there was another line to pass through passport control. There was no Global Entry option here, but the line moved quickly. There were actually two lines, one for passport holders and one for folks without a passport who were using documentation such as a birth certificate. That second line was substantially longer, so it definitely makes sense to travel with a passport. In fact, I did not even know traveling without a passport was possible. Online reviews for the parking lot ($8 per day, I believe) complained of a long line to get out, but this was not the case. We were home before 10 am. Since then, I have done my fair share of searching for future cruises. There are some amazing deals out there, including, $500 per person for a 15 day Panama Canal crossing from Los Angeles to Miami. You get to visit Los Cabos, Cartagena, and even some Carribean islands for $33 per person per day. That's almost ridiculuous. Of course, that price is for an inside cabin so balcony will be more. You also need to take into account the air fare from Miami (but that could be booked with credit card points). Still, I can't wait to take my next cruise. In fact, I have already booked one for the summer I will be taking my mom on. That particular trip will see us do a roundrip from Istanbul to the Greek Islands on MSC. Stay tuned for the trip report.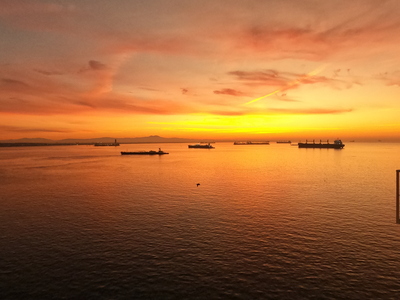 Comments or questions? message me