Brussels, Prague, and Barcelona
Date: May 8-16th, 2014

This May, Sandra and I traveled to Prague to run in the Prague Marathon. On the way there, we took a nine hour layover in Brussels. And then, after the weekend stay in Prague, the two of us, plus my dad and his friend Alena, went off to visit Barcelona for few more days. It was great spending some time with my dad!
Layover in Brussels
May 9th, 2014
Our first stop was in Brussels. Sandra and I had a quick stop over here in 2011, part of our "Eurotrip'11", but this was our first real visit to the downtown. We landed at 7 in the morning, and took the train from the airport to the city. I envisioned relaxingly enjoying a breakfast of Belgian waffles and coffee, but the reality was quite different. This town wakes up late! We arrived in the central station on a cold and rainy morning to find all the shops closed, and the city deserted. Turns out, visitors have their breakfast in their hotels, and the shops don't open until 10 am. Well, we walked about, trying to fight off our goose bumps, until we found what looked like a restaurant. Turns out, it was attached to a hotel, and the two cups of tea we had there ended up costing us 5 euro.
As the hours passed by, the weather improved and sun eventually came out, burning off the rain, and mainly pushing off the frigid air. People also popped out like mushrooms after a rain. The previously deserted streets were now beaming with life. We walked around downtown and then made our way to the Royal Gardens. Of course, we also stopped for the obligatory waffle, frites (Belgian fries served in a paper cup), and some ales. We grabbed some chocolates, and looked over the many Smurf puppets. At 1pm we hopped back on the train to catch our connecting flight to Prague.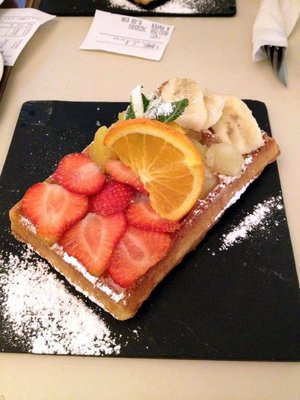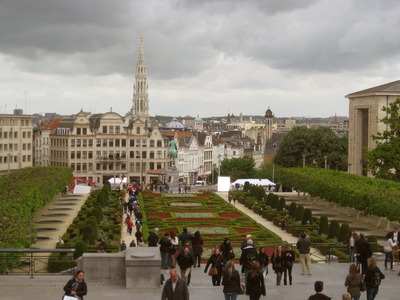 Prague
May 9-12th, 2014
Landing in Prague was quite scenic. We flew over fields full of brilliant yellow flowers, surrounding little villages. We took a shared shuttle van to the city. This van cost 150 Czech Crowns (about $7.50) per person. It's not expensive, but later we found that there is a very convenient bus and metro combination that serves the airport. The bus dropped us off on Namestí Republiky (Republic Square), near the old town Hilton. We were staying at the main Hilton near Florenc and the Vltava river. I had bunch of Hilton points so the three nights in a family-style room (containing a double bed plus a sofa bed to sleep four) ended up costing us only $89 total. In addition, I was pleasantly surprised to receive an email from Hilton inviting us to check in at their "executive reception" located on the top floor. We got upgraded to this top floor, which besides giving us great views, also gave us free breakfast, and free afternoon reception. Nice! This evening, we walked over to the nearby Gate Restaurant, where we had a delicious mushroom risotto and cheese-stuffed chicken. Great food, and even Tripadvisor agrees.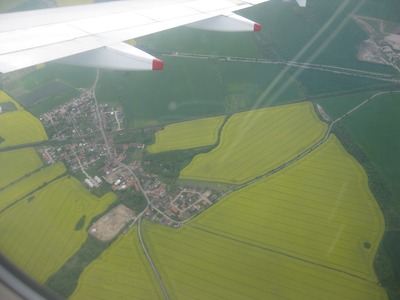 This Hilton was also where the elite Marathon runners were staying. We ran into a group of (presumably) Kenyan girls in the elevator, trying to figure out how to get back to their floor (the floors were keycard locked). The mezzanine floor housed the press reception. The following morning we met up with Radek, who came to pick up some of his stuff that he left in the U.S. on his last visit. We then walked over to the Expo center, where the marathon expo was being held. We picked up our bibs and t-shirts. This was by far the largest Sports expo I have ever been to. The vendors spanned 3 large rooms, and represented everything from clothes, shoes, through world-wide marathon venues, to even a Tampax booth. Barefoot Ted from the Born to Run fame was one of the speakers, and later on I grabbed a pair of his sandals, which ended up coming in handy on the Barcelona beach.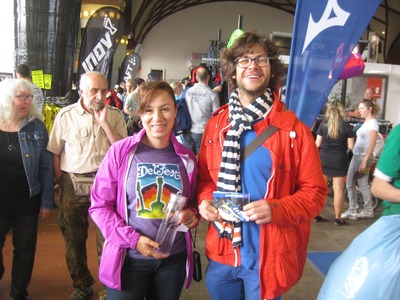 My mom and aunt Luba and her grandson Davidek were waiting for us in the Hilton when we returned. After a coffee and a snack of fries, Luba and Davidek departed. My mom was staying with us that night. Later that evening, we met up with the rest of family: my dad, Alena, Petra and Fero, and even cousin Katka and her boyfriend Juraj, in the Vytopná Restaurant on the Wenceslas Square. This restaurant is famous for a rather non-traditional way to serve the drinks. Train tracks connect all the tables, and your drinks are brought in by a locomotive. This is a neat idea, but prone to problems! Our order was sent to a wrong table, who didn't question the unexpected arrival and drank our beers. On the way to the restaurant, Sandra, myself, and my mom took the Metro. Mom got onto a different car from us, and while there, she had her purse stolen from her backpack. She realized this within about 20 minutes (the time it took to get to the restaurant), but by then, the thieves already managed to withdraw about 150 Euro from her bank account. What was supposed to be a fun evening, instead turned for her into filing police reports. Prague, although safe, is quite infamous for its pickpockets. This is a good remainder for anyone visiting this beautiful city to keep an eye on your belongings, and to not keep your wallet in a backpack, where it is out of sight.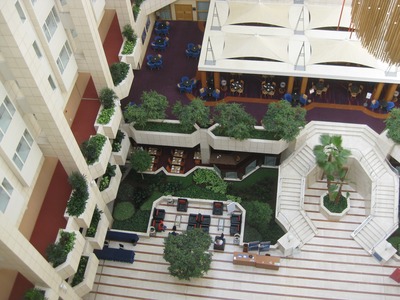 Next day, it was time to run the Prague Marathon. Don't forget to check out the report. After the race, we spent a bit of time relaxing in the hotel spa. Later on, we were joined by Sandra's high school friend Andrea and her husband, who currently live in Switzerland but happened to be in Prague this weekend. Sandra and Andrea haven't seen each other in almost 20 years. What a coincidence in meeting like this. Petra, Fero, Radek, and mom left around 5pm. Dad and Alena stayed with us, and I took them to Gate restaurant. My dad second my opinion on the delicious mushroom risotto.
Barcelona
May 12-16th, 2014
The next morning, we said our farewells as we took separate flights to Barcelona. Dad found out that a number 119 bus leaving from the final station on the B line connects to the airport. The entire trip requires just one 90 minute ticket, costing under $2. Not only was this cheaper than the shared bus, it was also more convenient for us, since the Florenc metro stop was a shorter walk from the hotel than the bus pickup. The flight to Barcelona on Czech Airlines was nice, and we were even served a cucumber sandwich, something Sandra thought was my crazy invention.
Barcelona is an awesome city! It's a lively mixture of cafes, shops, museum, biking and running trails, beaches, and mountains. The best part is, you can pretty much walk anywhere. Prague is also a walkable city, but it lacks the life of Barcelona. Barcelona seems like a place where you can just pop in to any random cafe and leave 30 minutes later with a handful of new friends. In Barcelona we were staying in MH Apartments, a chain of apartment style hotels. We booked a one-bedroom apartment but were given one with two bedrooms. The apartment contained two full baths, a fully functioning kitchen, and even a washer and drier. This came in quite handy to take care of the post-marathon laundry.
That night we took a stroll down La Rambla, the famous boulevard connecting Plaza Catalunya with the ocean front. There we had dinner in one of the restaurants in an area known as Maremagnum. These restaurants were quite overpriced - a trap we as the freshly arrived tourists fell right into. Barcelona is a funny place. Some stuff is quite expensive - namely the restaurants along the tourist routes, but much of stuff is quite cheap. Fruits and basic groceries like bread were actually cheaper than even in Slovakia!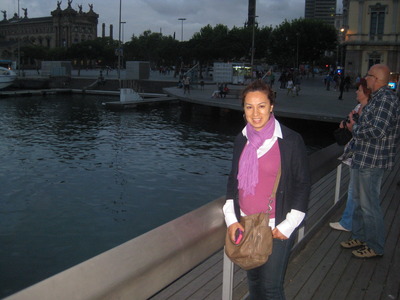 The next morning we walked over to Sagrada Familia, Barcelona's most famous landmark. There we took a ride on the Gray Line red hop-on hop-off tourist bus. This was a great way to see the city. We stopped at lunch at the Gothic Cathedral. I liked this place. Although Sagrada Familia is an impressive structure, I could not escape the feeling that I was in a casino. The Gothic Cathedral on the other hand is an impressive historical structure dating back to the 1300s. The view from the top is not to be missed. From there, we continued up to Olympic hill Montjuic, and even made it to the FCB Barcelona stadium.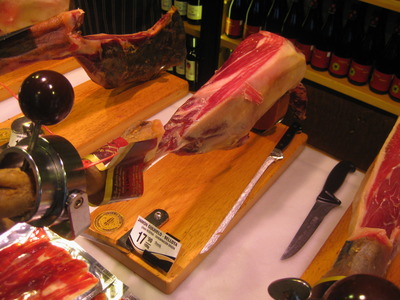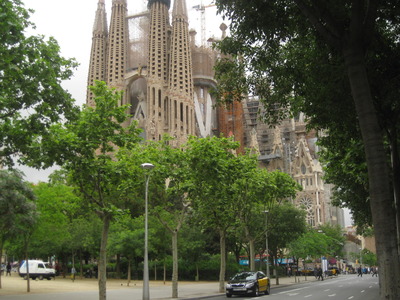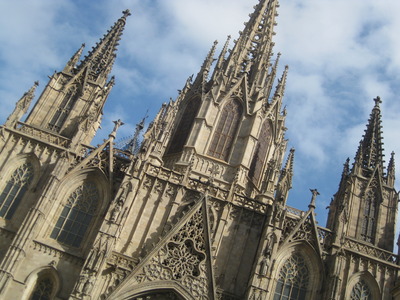 The next morning we took the R4 train from Plaza Catalunya towards St. Vincenc de Calders. After about 40 minutes we arrived in Sant Sadurni d'Anoia. Cavas Freixent is located right next to the train station. We had a 12:30 appointment for a tour. The tour took us through four underground levels where we learned about the process of making bubbly wine. From the historical cellar we next proceeded to the modern facility, where automated robots stacked the wine bottles (20Mb avi). The tour then ended in the tasting room, where we received complimentary glass of Cordon Negro Brut. Additional glasses were about 2 euro each. After the tasting, we walked through the town, to find it shut down because of the afternoon siesta. I however remembered a restaurant recommended on Tripadvisor, but could not remember the exact location. However, by luck we did find it, Ticus, where we had lunch menu with grilled eggplant. And of course, cafe cortado. I really got into drinking these small mixes of espresso and steamed milk. To me it's quite amazing that in the United States, at least in the Washington D.C. region, it's impossible to find something like this, or even coffee served in a mug instead of paper. The one time I tried to get an espresso in Starbucks, I was served it in a paper cup to large for the small amount of coffee. A macchiato in Panera on the other hand also came in the small coffee paper cup, with the empty volume filled with foam. More of a cappuccino than what I was looking for! That evening, after coming back to town, Sandra and I visited her friend Eve.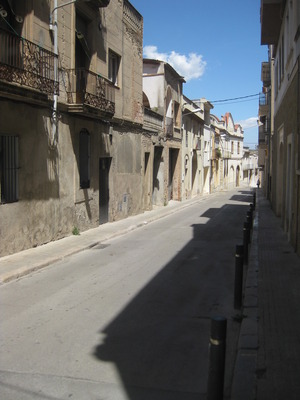 The morning of our last day in Barcelona was spent on the Barceloneta beach. I was aware of the "casual clothing" policy on Spanish beaches, but it was still interested to see the myriad of topless sunbathers, and later on butt-naked guys parading about the nudist area. We spent about 4 hours here, during which time Alena managed to get a nice sunburn around her sunglasses. That afternoon Sandra took off to do shopping, while dad, Alena, and I went up to the Montjuic castle in a gondola. The view of the city from here is quite spectacular.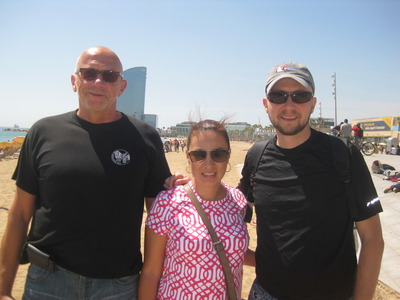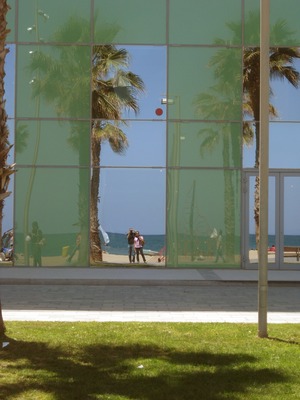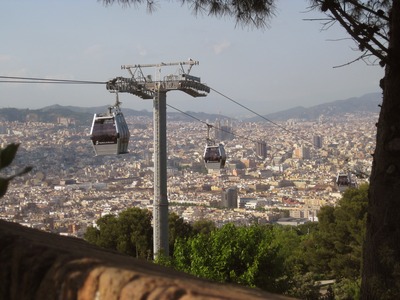 Comments or questions? message me