IEPC19, Slovakia, and Paris
Date: September 11th to October 2nd, 2019

The 2019 International Electric Propulsion Conference (IEPC19) took place at University of Austria in Vienna. This is the premier conference in my field of plasma (electric) spacecraft propulsion. This year's conference turned out to be a fiasco for me. I was totally swamped with work, including working on my "Plasma Simulations by Example" book, so I couldn't finish the papers in time. But I still went to catch up with colleagues and to present a poster. Given that Vienna is just next door to my native Slovakia, I also took this opportunity to visit my family. On top of it, bunch of IEPC colleagues planned to visit Slovakia so I got to play a tour guide - three times! I enjoy taking people around, as Slovakia is not exactly on the beaten path for most tourists (although the numbers keep increasing). Finally, I met up with my mom in Paris for a belated 60th birthday celebration.
Slovakia Sightseeing
The first part of my trip was spending time with David, Sarah, and Anna in the High Tatras. They are all avid hikers, and Slovakia has a ton of hiking to offer. They spent the day I flew in touring the Slovak Paradise National Park, which I last time visited in 2012 with my friend Alex. Due to David's knee problems, they opted for the flatter Prielom Hornadu hike instead of the more technical Sucha Bela, which involves scaling slippery ladders along waterfalls. The next day we drove up to the High Tatras, where we first walked around Strbske Pleso. We then took the funicular to Hrebienok. From there you can hike to Skalnate Pleso, which gives you an amazing view of Lomnicky Stit, at least on a clear day. But we kept the hike short and turned back at Skalnata (Rocky) Chata, a mountain chateau where backpackers spend the night, and day hikers get lunch and beers (as we did). The next day, we visited the Spis Castle, which is one of the largest castle ruins in Europe. I also took them to a traditional salas restaurant near Poprad (where their AirBnB was located), but I was quite disapointed with it. The food was ok, but it lacked the decorations I am used to. The following day, my friends headed to Bratislava for their next stop. On the way, I asked them to stop by my hometown of Banska Bystrica, where we briefly visited the Slovak National Uprising Museum. I forgot how impressive the exhibits are. It's full of weapons and uniforms from the Second World War, as well as videos depicting the historical events.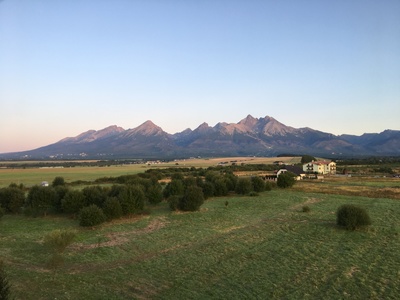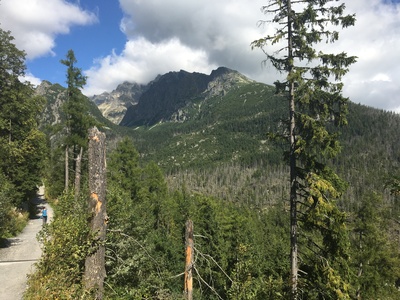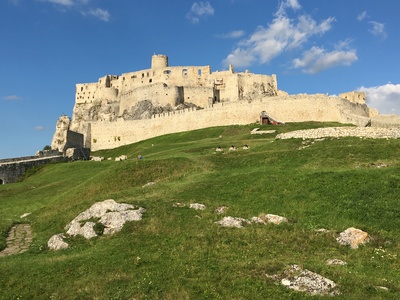 28 mile / 49 km Non Stop Beh Route "Run"
I then spent the next three days with my dad in Banska Bystrica. At this point, I was still planning to run the 2019 Philadelphia Marathon, so I wanted to get in a long run. This was meant to be both training and also a test of how my foot will hold up. I have been suffering with some plantar fasciitis - like issue in my heel ever since the 2018 Eugene Marathon. Some six months ago, I couldn't run more than 3 miles before I had to stop from the pain. I would then limp around the house for days. This distance has slowly increased, but a recent 20 mile run was still painful after about 14 miles. Therefore, I wanted to do an experiment to see if I could actually cover the marathon distance. I was looking for running routes, and found the website for Nonstop Beh (Run), a 28 mile race from Trangoska (the bottom station of a tram to Chopok) to Donovaly, the western end of the Low Tatras. The first 2.5 miles is a climb to "Stefanicka" (Chateua of M.R.Stefanik). From there, the route follows the ridge of the Low Tatras. This is basically the reverse of the first two days of a Low Tatras through hiking trip I did with Alex in 2012.
Checking the website, I saw that winners finish the race in 4.5 hours, with the median time being under 7 hours. I consider myself about an average runner, so I figured it will take me some 6.5 to 7 hours to do this. Uhm no! It took me 8.5. Slovaks must be so much more fit than your average American. Part of this was that the terrain was quite unforgiving. The route is generally downhill from Chopok (the highest point along the red-blazed ridge trail), but it was not very runnable. The trail is very rocky, and also very steep on the downhills. People in Europe simply do not believe in switchbacks. I ended up slipping on gravel near the bottom of the sharp descent from Prasiva. This was then followed by an insanely steep (49% grade) climb up Kozi Chrbat. It was awesome seeing my dad near the end. We stopped by Koliba u Kristofa on the way back where I tried to refuel as I kept shaking uncontrollably from the exhaustion.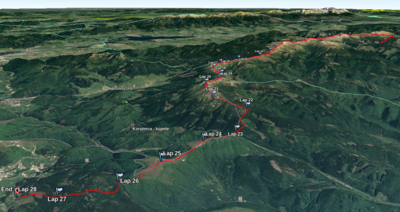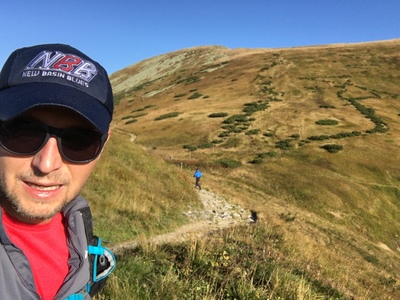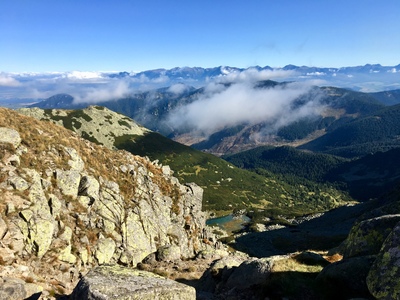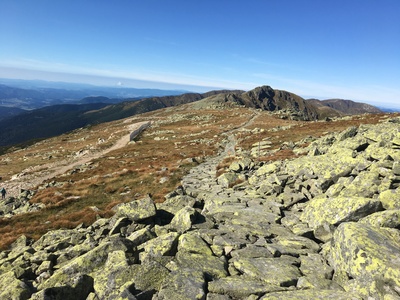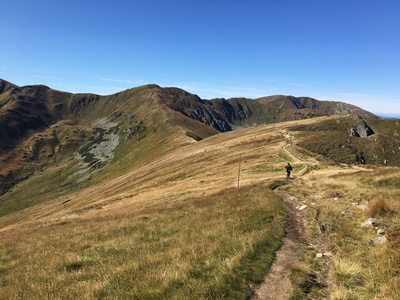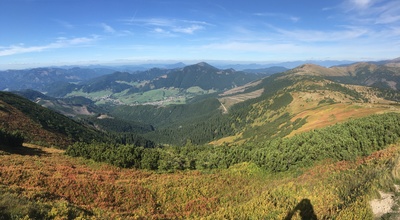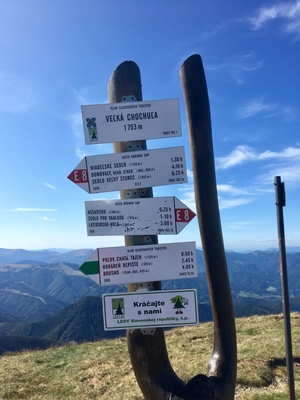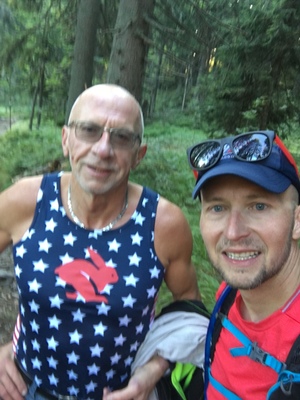 IEPC 2019
I spent the next week mainly attending the IEPC. I ended up staying with my sister in Bratislava so that I could spend time with them and the kids (and to also save money). Commuting from Bratislava to Vienna is not bad at all. There is a train leaving every hour, and the whole trip, door-to-door (with the public transport in Bratislava and Vienna) took only hour and half. The train had nice seats so I managed to get some work done on the way. The ~Euro 20 total round trip was much cheaper than paying for a hotel. The only night I spent in Vienna was after the Gala Dinner at Vienna Rathaus. This event was quite elaborate. After the appetizer course, we were treated to a performance starting with a traditional waltz, before moving on to astronaut-like marchers to a Star Wars theme, black-clad masked dancers performing to E Nomine Vater Unser, before closing with Falco's Rock Me Amadeus.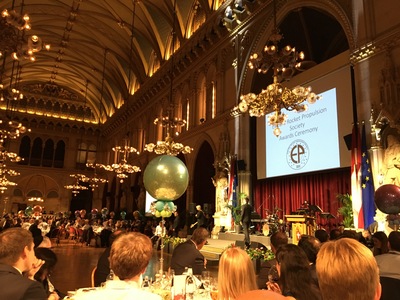 After the conference ended, I got to play a tour guide again. On Friday, the last day of the conference, I took my master's advisor Joe Wang, and EP modeling colleagues Dan, Jun, and Rob on a day tour of Bratislava. We basically took the train back at noon, walked a bit around the old town, and had lunch at Mestiansky Pivovar (Town Brewery). The guys really liked the food and beer there. Then the next day, another friend, Elaine (who is finishing her postdoc and soon will become a professor), came. I took her to Bojnice, which is a nice castle about two hours from Bratislava. We also visited a thermal aquapark in Turcianske Teplica, but I was disappointed with this one. The spa was quite old and the water was not hot enough.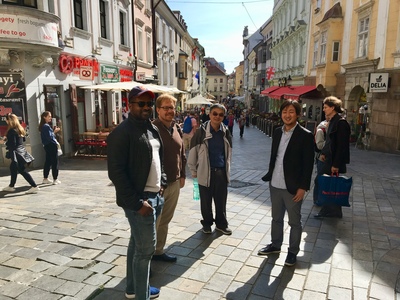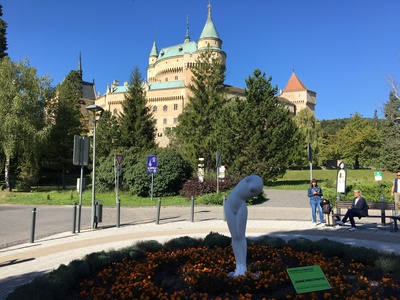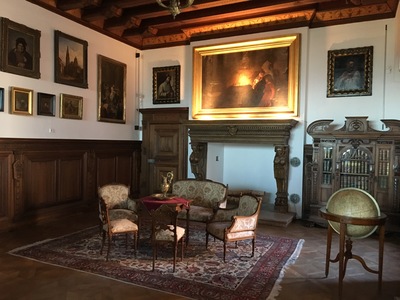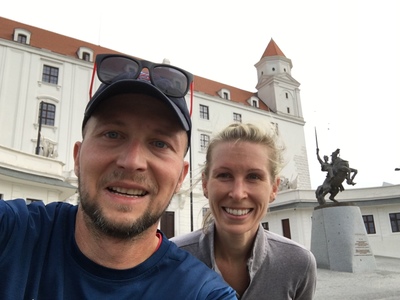 Bratislava
And here are few pictures from my family visit. I had a lot of fun playing with Sofia. She is growing up so fast. I also got to finally "meet" me nephew Ferko. The last time I saw him, he was just a baby. Now he is running the house, asking everyone "Where is Lubo"? Besides that, I managed to go on few more runs (including with a local adidas runners group), and eat bunch of delicious food.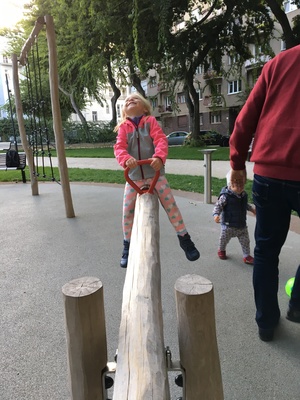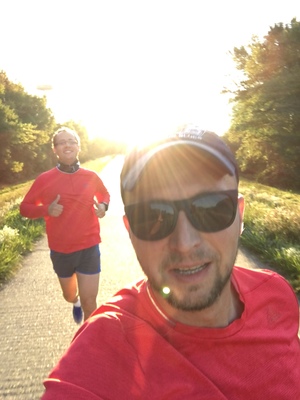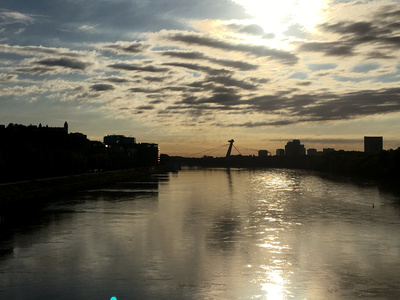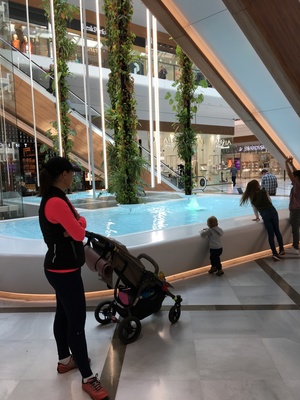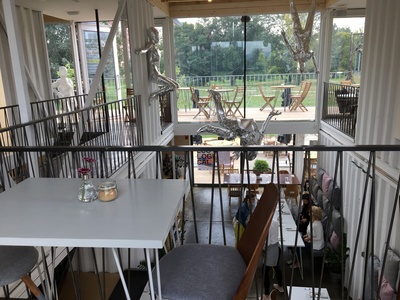 Paris and Versailles
On this trip, I also went to Paris and Versailles with my mom, who currently lives in Prague. This was the first time to Paris for both of us. Paris is very different from what I thought. I imagined some romanticized version with cafes and people passing by on foot or bicycles, but in reality, Paris is a busy metropolis full of honking cars and wide roadways. There is no pedestrian center similar to what you may find in Prague, Vienna, or Bratislava. However, the buildings are absolutely mesmerizing. I have never seen such massive palaces anywhere else. You could easily spend two months sightseeing here. We only had three days here, and that was just barely enough time to see the Eiffel Tower, and to take a day trip to the Versailles. We also took a sightseeing bus and walked around the Sacre Coeur church overlooking the city from a hill. There was no time for the Louvre, the Invallides, the catacombs, or even a Seine river cruise. But it was still a great introduction to the city so the next time, I come better prepared. We ended up staying in the Porte de Vanves Novotel. We were both very happy with it. From my understanding, the hotels in Paris are super tiny. This room was huge, and even had a pull out sofa bed.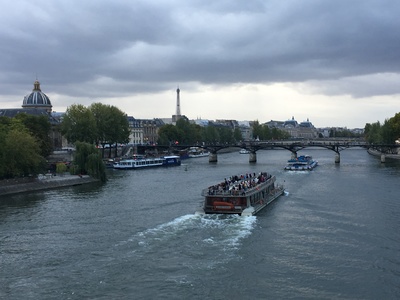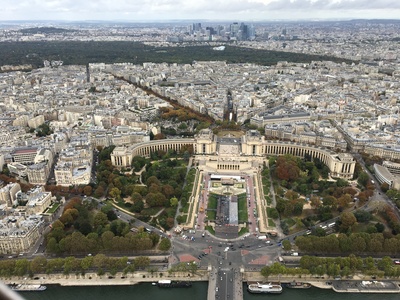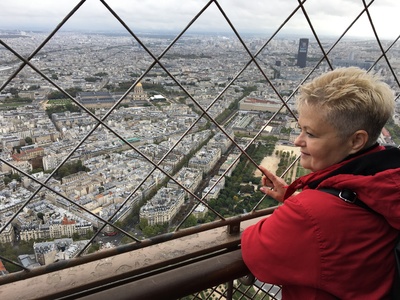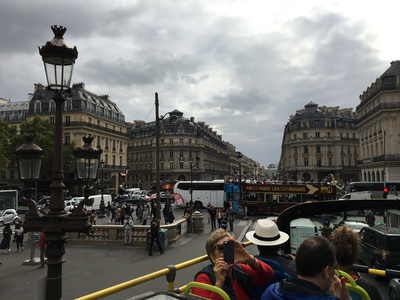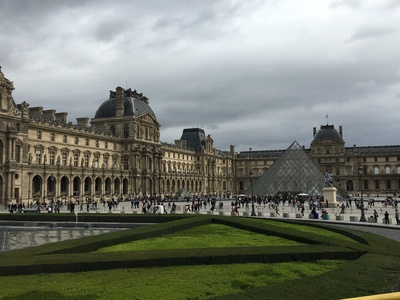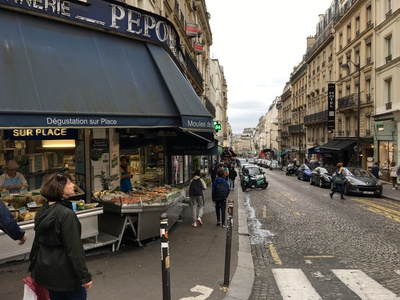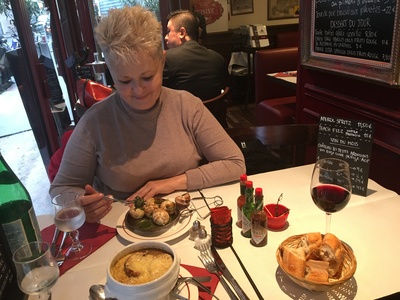 The following day we took the train to the Versailles. I was completely awestruck by this palace. I have new respect for the French grandeur. While I have seen large castles and palaces in other places on my travels, I have never seen anything quite as lavish as the Versailles.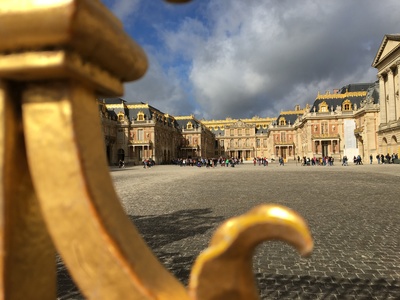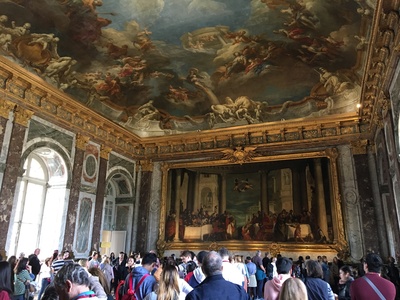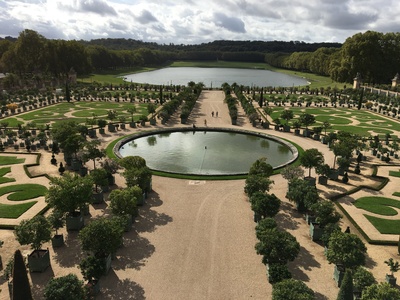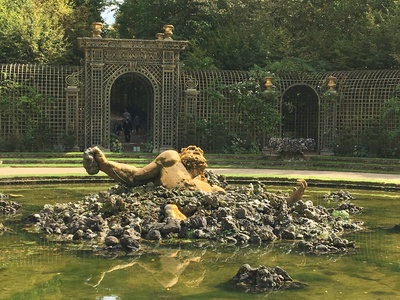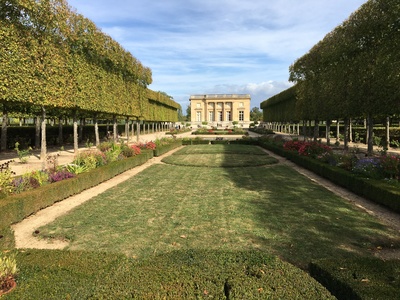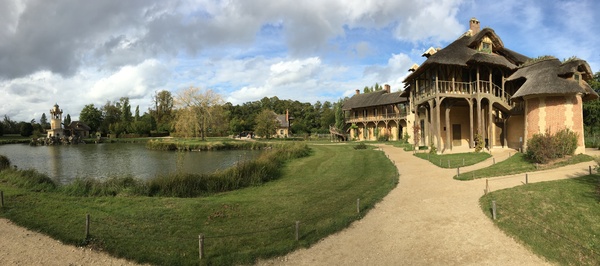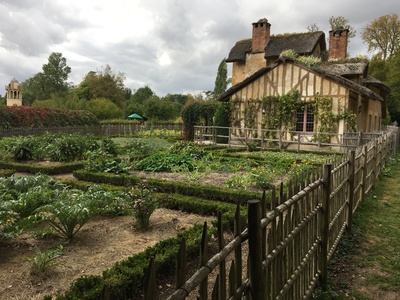 The last day we checked out of the hotel before heading out again for more sightseeing. We had an evening flight to Prague so had most of the day, but by now we were also quite tired (we walked some 13 miles over the past two days). I was considering visiting the catacombs but heard that the line is very long so we decided to just check out the area. We also went to the Luxembourg Gardens, where we saw a copy of the original Statue of Liberty. We then did a bit of shopping, and visited the Hermes and Le Bon Marche department stores. I spent that night in Prague, before taking a bus back to Bratislava. This was much cheaper (and more convenient) than flying back to Vienna. Then few days later (after one more visit to my dad), it was time to head back across the Atlantic. The flight back was fine, and I even ended up with an empty aisle seat (one of the few) next to me.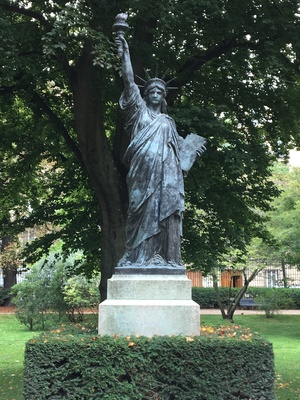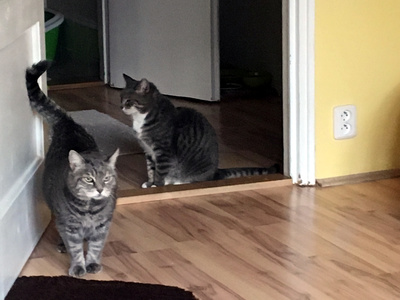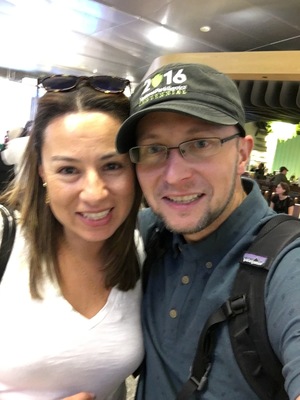 Comments or questions? message me