Safari: Manyara, Serengeti and Ngorongoro Crater
Date: September 6-9th, 2005

We took a day to recover (and shower) after coming back from Kiliminjaro, during which we paid another visit to town. Then, the next morning we left for a 4-day Safari tour, once again organized by ZARA.
Day 1: Lake Manyara
The first stop on our trip was Lake Manyara. This also turned out to be my favorite destination. It was very lush and full of various animals. Although we got to see many more animals later (including massive herds in Ngorongoro Crater), Manyara was the location of many of our first sightings.
We saw a lot of baboons on the way to the lush Lake Manyara
Soon we got to see giraffes, zebras and hippos,
as well as various antelopes, boars, ...
elephants and eagles.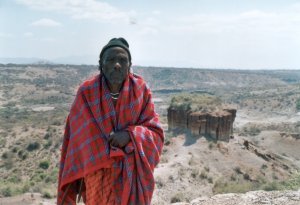 On they way in we stopped by the Olduvai Gorge, a site of prehistoric archeological findings. I asked this Maasai elder for a photo; he is still clinching the bill I paid for the permission.
Day 2 and 3: Serengeti
We spent the night in what could be considered an RV camp: basically a fenced off dirt lot with tents located in a town outside the park. Next morning we left for Serengeti, Tanzania's first national park. Unlike Manyara, Serengeti is a large, dry plain. Exploring this park requires a substantial amount of driving, often without seeing any animals. However, it provides a much more natural way to explore the various types of habitat occupied by East Africa's fauna.
We got to see several fascinating birds near the park entrance,
including the secretary.
Soon after we spotted our first lions.
The lions didn't mind our presence (which was a bit disconcerning) and thus we got to take a ton of pictures.
We also found cheetahs and a leopard. The leopard was hiding in a tree, next to an antelope carcass. Unfortunately, the photo didn't turn out.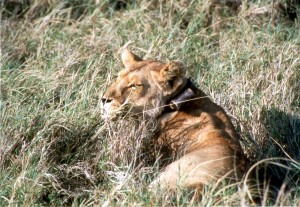 Pride's alpha female. The collar is used to track the pride's movement.
More baboons and gazelles
And ostriches and some wild turkeys
We spent two nights in Serengeti. The first night we had an elephant come by our camp. Ellie almost ran into it on her way to the bathroom. There were also some other animals patrolling around our army-style tents; I suspect they were hyenas. Although I didn't get much sleep, choosing the tent option let us be closer to the wildlife than ever possible staying in a cabin. Next on my list: walking safari with the Maasai...
An attentive guard at our second campsite. This site is frequented by fairly large pelicans.
Spectacular Serengeti sunset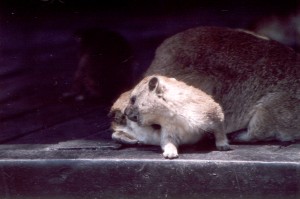 At some point we stopped by the visitor center, which was full of these little critters. The hyrax, although looking like a marmot, is actually related to the elephant.
We saw quite a few folks taking photos through binoculars. We found this pretty ridiculous, but, as I found out few years later in Costa Rica, it actually works.
The park encloses multiple environs, including plains, kopjes and patches of densely vegetated flora. But, it is the lone acacia tree shading a lion that best exemplifies the Serengeti landscape.
Near the park's exit we came accross a pack of lions, panting and cooling off in a puddle. Our guess was that they just came back from a hunt.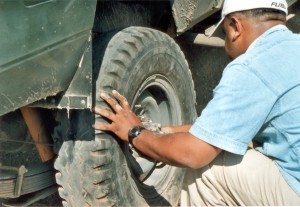 We had an unscheduled stop soon after leaving the park in the form of a flat tire. Here is our driver and guide. Soon after we pulled over, we got surrounded by Maasai villagers, who seemed to poppup from nowhere.
Day 4: Ngorongore Crater
Our next and last destination was the Ngorongoro Crater, world's largest unbroken caldera. This was a great place to see massive herds of wildebeests, water buffalos, as well as zebras, elephants, and even a rhino.
View across the crater, with a pack of stampeding elephants.
Jackal and a boar.
A guy with a giant lens photographing a rhino.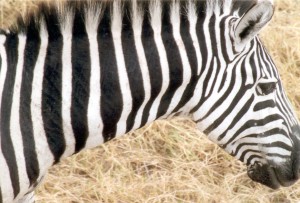 One of the many many zebras.
It was absolutely spectacular to see a giant herd of wildebeest move across the plain in a single file. That is, until some jokers from a different safari group decided to drive their jeeps into the pack.
A safari is a must-do experience for anyone visiting east Africa. Although there are multiple options available, I am very happy with our choice: a 4-day trip to Manyara, Serengeti and Ngorongoro, with tent accommodation. Four days was plenty of time to get a feel for these vast savannahs, and to see a large variety of wildlife. My only recommendation: bring your own food. Although ZARA cooked great on the mountain, we were being fed the same boxed lunch for the entire safari excursion.