Elevation: 14,433 ft
Date: February 16th-20th, 2006, with climb on the 18th
Group Size: 4 with two reaching the top
Miles Covered: 10
Difficulty: Gusts at around 40mph and very deep powder on lower mountain
Scenery: It was pretty cloudy but we still got excellent views of Mount Massive and other Rocky Mountains peaks
Since my trip up Colorado didn't materialize over my Thanksgiving highpointing trip , I decided to come back over the long President's day weekend and attempt a winter climb of Mount Elbert. This time, I couldn't suck anyone into joining me on the 15 hour car journey. And this was despite posting the trip on OutdoorsClub.org. No big deal. I left my apartment at 4pm on Thursday, February the 16th. I was planning on leaving much earlier; I even took a vacation that day. Somehow, I didn't get ready till 4. I have absolutely no idea what took me so long. And then, about half an hour into the trip I realized I forgot my camera. Yikes!
Five hours later, I was in Utah's Saint George. I was planning on camping at the Quail Creek State Park, but since it was way after dark, the gate was closed, and there was no place to leave the car. So, I ended up driving towards Hurricane, where I almost gave in and got a room. Luckily, the attendant at the Travelodge was completely asleep. I then started driving back, and found a sign for some other state park. I drove for about 20 minutes through a complete nothingness, without ever getting to the park itself. I pulled over on the side of a road, in a little clearing near a cow pasture, and pitched my tent there. Hobo style!
The next day wasn't too eventful. I made it through the empty, yet very beautiful eastern Utah, and got to Colorado around lunch time. I stopped at Edwards, CO to pick up avalanche beacons from Alpine Quest. I got to Leadville at around 4pm. At 10,200ft, Leadville is the highest city in the country. I was expecting a total dump (from the stories I heard), but I was pleasantly surprised. Leadville definitely has a bit of the hippie influence: there were bunch of coffee shops (organic!) and pubs. Shannon and a her friend Dave made it to town about 30 minutes later. Dave is a former MIT student, who now lives in Boulder. We grabbed dinner at the local brewpub. Wes Lloyd, buddy of mine from OCVT days, drove in from Fort Collins, and joined us in the Silver King hotel after midnight.
Shannon, Wes and Dave, still very excited about reaching the top.
I didn't get much sleep that night, partly due to the high altitude. I wonder what are the long-term effects of living at Leadville elevation. We reached the South Elbert trailhead around 8:30am, and started heading up through a thicket of aspens. Later we crossed into a pine forest, and eventually we reached the treeline at around 11,800ft. The trail up here was very nicely packed down. This was great news, because there were at least five feet of powder on the mountain. Snowshoes are not much help in conditions like that!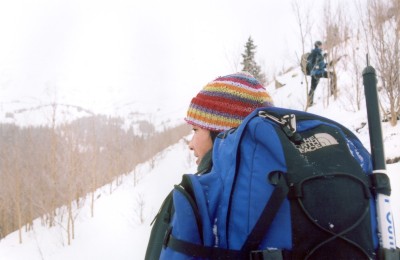 Approaching the treeline.
Dave waiting for Shannon and me, before the two of them turned back down.
The weather wasn't getting any better as we kept ascending upward. Somewhere between the treeline and the bottom of the east ridge we got hit by a strong wind gust, and the clouds started rolling in. This deteriorating weather, combined with not feeling well, prompted Dave to turn back. After some consideration, Shannon decided to go back down with him. The elevation at their turn around point was around 12,300 ft.
Up I went. This is the last glimpse I got of Wes, until I saw him again on his way down.
Wes was long gone before I got started again. That guy hasn't changed at all. I remember hiking with him on Mount Mitchell, where he left all of us in the dust. Well, trail finding on this mountain is very straightforward: just go up. So that's what I did. However, the wind just kept getting worse and worse. It was around 10F at this point, and the wind had to be gusting at least 40mph. Couple times I got tossed to the ground by the wind. Worse, my goggles froze over so I had to take them off. I kept getting the snow blown into my eyes, and soon my eyelids started freezing together. Yet, after a while, I got into the pattern of things. With wind approaching, I would brace myself, cover my eyes, and resume walking in the following lull. Still, this was definitely the worst weather I have ever experienced on a mountain. I had my doubts about reaching the top. The 15 hour drive was a great motivator: I definitely didn't feel like driving back for a second attempt!
I reached the top at 4:30pm, about an hour after I saw Wes heading down. The last 500 vertical feet took almost an hour, due to both the bad weather and the effects of altitude. I dropped my pack below the summit cone and snapped couple self portraits on the top. Strangely, the wind died down for about 15 minutes after my summit. I am not a religious person, but it was pretty surreal. On the way down I used my compass to verify that I stayed on trail. The South Elbert trail ridge is not visible from the summit. Instead, a very prominent ridge follows the North Elbert trail, and taking that ridge would bring me back nowhere near our cars.
Highpoint #25. Halfway done!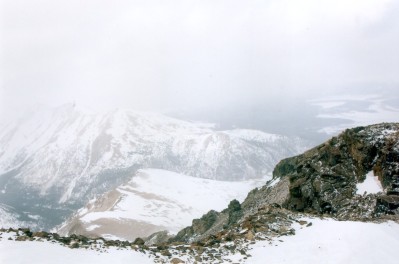 View from the top.
I reached the treeline at 6:30pm. Wes waited up for me, and thought it would be a good idea to take a shortcut back. Yeah... All I have to say is that I learned a lesson not to ever take a shortcut, especially when the trail is covered in excess of five feet of powder. With every step I kept sinking in to my waist. Two hours, and half of mile of postholing later, I finally got back on the trail. This descent was almost more exhausting than climbing the mountain itself.
Next day we went to A-basin. The guy in the right corner of the second picture cracks me up.
We spent that night in Wes's house in Dillon. The next day, Shannon, Dave and I went to A-Basin, but I decided to head out early instead of going skiing. The weather on the way back was completely different from few days ago. The entire I-70 was covered in snow. Worse, my windshield spray nozzles froze up, and I couldn't keep my windshield from freezing. For a while, I followed a semi, and used the water sprayed from under its wheels to clean my windshield. Few more times I had to pull over on the side and pour water onto the windshield. I spent that night in a state park in Green River. I got to the CA/NV state line at around 1pm the next day and hit the holiday traffic. Of course, some morons trying to cut few minutes of driving ended up causing traffic accidents, and the entire stretch of highway between Baker and Yermo was backed up. We averaged about 20mph for this entire 60 mile stretch. Outside of Yermo, we passed a pile up involving two semis and two cars. I though I was home free after getting on CA-58, but I ended up hitting another stop-and-go patch some seven miles before Kramer Junction. I didn't get back to Lancaster until after 7pm.
So anyway, this was a super awesome trip. I got my 25th highpoint, and I got to hang out with Shannon. It was great seeing Wes as well, after about 3 or 4 years. Hopefully I'll run into Dave on some future hikes in Colorado. Now, I need to start thinking about my next western highpoint, which will most likely be Oregon's Mount Hood. Before I go there, I may be adding few Midwestern states, on my upcoming drive to the east coast.