2021 California International Marathon (CIM)
Date: December 5th, 2021
Time (Lubos): 3:47:25 (8:41 pace)
Time (Sandra): 4:03:02 (9:17 pace)

I don't quite remember why I didn't run any races in 2019 but it's possible I was still injured with my plantar fasciitis so was taking it easy. Then we all know what happened to 2020 with the lockdowns, social distancing, and canceled events. In 2021, I wasn't really excited to get back into marathoning, but then Sandra and various local running friends like Chris, Wendy, Abby, and Michelle signed up for CIM. Matus, another friend and a fellow Slovak, was also coming up from Monterey. So, I figured I may as well join them. I ran CIM back in 2015, and had a pretty miserable time. I told myself back then that I will never run this race again. Well I am glad I gave it another chance as I had a fabulous experience this time around. It was not a PR, not even close to it, but I knew that going in. Essentially I wasn't trying to hit any pace and as such really enjoyed the course. But in the end, I ended up running only about 40 seconds slower than 2015.
But that wasn't the original plan. Once I signed up, I figured I will do the proper training. I like to follow the training plan of Capital Area Runners, the team we used to run with when we lived in D.C. It consists of gradually longer progression runs (start slow, finish fast) culminating in 6 weeks of alternating 21 mile long runs, and 17 mile 4-3-2-1 pickups (the numbers correspond to distances ran at marathon pace, with a recovery mile in between). There are also interval and tempo workouts on Tuesdays and Thursdays. Ideally I also like to get in 60 miles a week over those last 6 weeks. Well, none of these really happened. Surely I managed to get in some long runs (including my favorite, a 19 mile run around Bora Bora!) and a 21 miler from Manhattan Beach, but my overall training was all over the place due to being really busy with work. I was averaging only about 30 miles a week throughout the training cycle, and towards the end was hitting only low 40s. In my opinion, that's not sufficient for a BQ-level effort. I also really struggled with finding places to do speedwork. All the high school tracks around us closed because of COVID. I was teaching at USC in the Fall semester so I signed up for the gym pass. But then I found out that the USC track only opens starting at 6 pm which didn't work too great with my commute (I started off the semester by taking a commuter bus, with the last one leaving USC at 6 pm). I ended up driving in few times towards the end so managed to get in couple track workouts. Those were fun, but they probably came too late to make a difference. I also finally discovered a place to do tempos here in our hilly Conejo Valley at the Arroyo Vista park by Moorkpark High School. But this also happened only about a month prior to the race.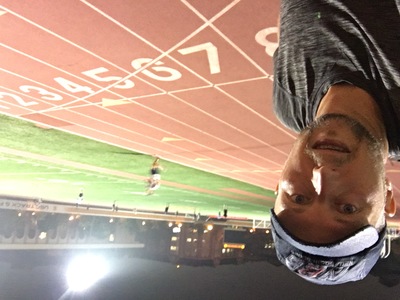 Long Beach 5k
Adding to this the fact I gained at least 15 lbs, I knew I won't have a PR race. But I figured I should at least test my fitness so I signed up for the Long Beach 5k on October 9. This was my first race in two years, and it was actually really fun. I finished in 23:51 (7:40 pace). The race is a bit hilly as you go over a bridge around mile 1 which kills your heart rate, but still, I knew that with a time like that there was no hope in pretending I will be able to run a 7:15 marathon (the pace I would need for a BQ). So it was a good reality check.
After the 5k, I popped in the hotel room (free reward night at Hyatt Regency) for a bit to refresh, and then continued running first through the city and then on the bike path to get 18 miles for the day. Sandra left for her long run after waving me off for the 5k, but I ended up meeting up with her on the path. Long Beach is really nice! It's a mix between a modern city and ocean-side living. That evening we met up with Darren and Michael, a couple we met in Huahine, French Polynesia. Small world! The next day we spectated on Chris and his running group racing the half. Chris did amazing, finishing in 1:24:59, or 6:29 pace. Spectating we ran into Jennifer and Victor. They also turned up at CIM, so seems like they are everywhere we go!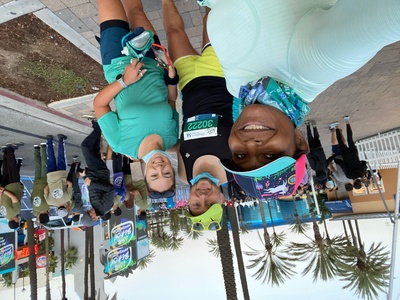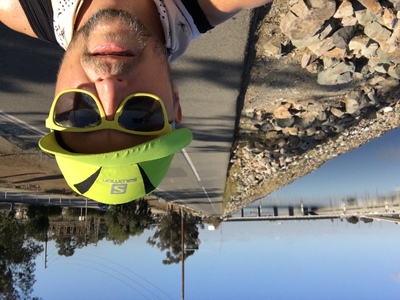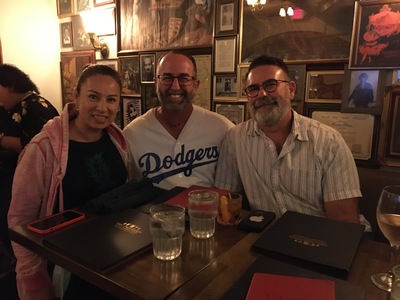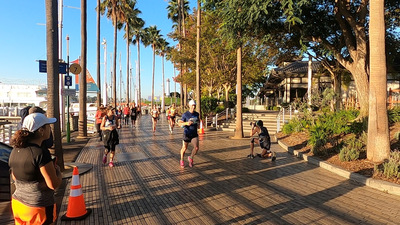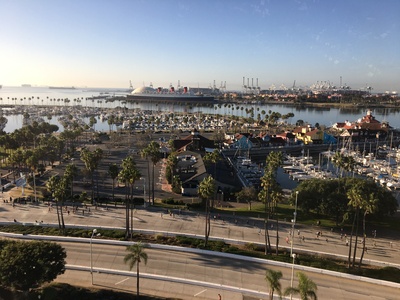 Marathon
Then about 2 months later, it was time for the marathon. We flew to Sacramento Friday afternoon. After arriving, we grabbed Lyft to Hyatt Regency downtown. We used our annual credit card rewards for two free nights. While checking in, we heard the receptionist tell a caller that rooms were going for $500 because of the marathon so the $100 credit card fee definitely paid for itself. This hotel is right next to the state capitol, which is where the buses leave from in the morning and also where the race finishes. The location is unbeatable and the hotel is very nice - as is typical of all Hyatts. I will likely stay here again in 2022 (already signed up for the race). That evening we had dinner at the reception lounge bar. We chatted with another runner, which the hotel was full of.
The next morning Sandra went for a shakeout run. These are a tradition among marathoners, but I honestly don't see the point. I really like to take my last week easy. I start off by doing few 5-6 mile marathon pace runs early in the week but then don't run much or at all the last two days. For me, having fresh legs seems to be more important than any possible fitness loss. Stretching can take care of any stiffness. After Sandra finished her run, we headed to the expo. Due to COVID restrictions, you were supposed to schedule a time slot, and we picked the earliest option starting at 9 am. The expo was very efficient. You could probably get through in 10 minutes if you just wanted to grab your bib, but we stayed a tad longer to buy some shirts.
We then looked for a place to have breakfast. I noticed that many restaurants in Downtown Sacramento were closed. I don't know if this is because it was a weekend, or it was because of the economic downturn from the pandemic. The few open ones had long lines to get in. We finally found ourselves in the Grange Restaurant. Next we walked to Target for groceries. I didn't have luck finding any "normal" grocery store within a walking distance but the Target was well stocked. I grabbed bananas, berries, Snickers, Vitamin Water, Goldfish, and a salad. These were to be my food for the rest of the day along with a tasty fresh beef jerky I picked up at the expo. Going against another tradition, I don't like to eat much the day before the race. My marathon arch nemesis is an upset stomach. Instead, I do my carb loading two days prior, so Friday in this case. The day prior to the race I mainly try to hydrate and eat light things like fruits. Sandra went with her girlfriends to an Italian/Czech restaurant.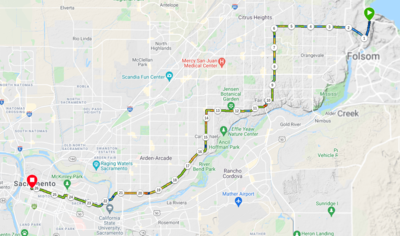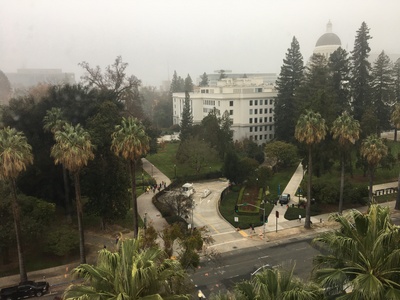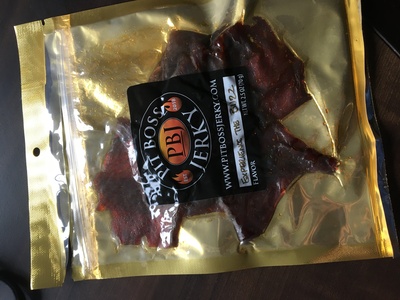 The next morning we woke up around 3 am to meet Wendy, Abby, and Michelle outside the hotel to catch the 4:45 am bus to the start line at Folsom. The ride took about an hour so we had plenty of time before the 7 am race start. Our bus driver told us, incorrectly, that we all had to get off as the bus was leaving. I failed to note exactly which bus we were on, so after visiting the portapotty, I just hoped back on a random bus with free seats to nap for the remaining hour before the race. I guess the organizers want to give themselves a cushion in case of a traffic delay or mechanical malfunctions, but I feel the buses could easily leave 30 minutes later. I got out about 15 minutes prior to race and made another visit to a portapotty. By the time I got out, it was almost race time and the faster corrals were full. So I just squeezed myself to the 4:15 corral. I actually don't mind starting towards the back, as I enjoy getting emotional boost from passing people. I was wearing a throw away t-shirt over a Rabbit singlet (with Rabbit shorts and my more-and-more deformed yellow Solomon hat) with a garbage bag over it. It was around 40F at the start line. I originally planned to toss the t-shirt after few miles but I felt comfortable so it got tossed even before starting. I also ran in On Clouds. I only recently got into these shoes but am really loving them. They seem to be a cross between the stiffness of Mizunos, which was my primary shoe brand prior to the Ons, and the cushioning of Hokas.
The reason I suffered so much in 2015 is that I was trying to stick to my goal pace without taking into regard the course itself. The issue with CIM is that it is advertised as a "fast downhill course". While this is technically true, it is not for the reason a novice may think. See, when I see a description like that, I imagine a gradual downhill like Ventura. CIM is technically downhill, but this is only because the elevation you go down on the downhills exceeds the elevation you go on the uphills. And there are many uphills. The "fast" part of this course seems to arise from the people it attracts. I don't know why, but there is probably no other US marathon, except for Boston, with such an amateur elite field. Everybody here is fit. To illustrate, Chris broke 3 hours, finishing in 2:58:26 (6:49 pace) but ended being finisher number 976 out of 7589. This placed him in the top 13%. With this same time in the Los Angeles Marathon, which is possibly an even easier course (at least used to be prior the ridiculous removal of the best part, the descent to Santa Monica) he would have been finisher number 88 out of 8700, placing him in the top 0.9%. Weight is not everything, but the extra pounds do hurt you over the marathon distance. As you can see from my video above, there are essentially no overly overweight people at CIM, period. This is very different from the crowd you may encounter at your typical big city marathon.
Back in 2015, I was coming from training in Washington, D.C., which while not totally flat, is also not particularly hilly. This time, I live in SoCal in a mountain valley where finding a flat path borders on miracle. As mentioned above, in 2015 I trained with a certain goal pace. After starting with my usual slower pace for the first two miles, I tried to hit the goal every mile after that. This meant I had to push on the uphills much harder than I should have. By mile 16, my legs were gone and I had to walk. This time, knowing how poorly my training went, I went in without any goal at all, and figured I will just run whatever pace feels comfortable. This meant I eased up on the hills and then sped up on the downs, which felt natural. I stopped at almost all aid stations (there are almost too many of them), grabbed the provided gels, and even the Hyland anticramping ointment and pills. It ended up being such a great race. And I finished not much slower than in 2015, but it was so much more enjoyable. I had essentially no pain, and felt totally fine even the next day. Possibly had I stopped at fewer stations I could have beaten my old time. I also had a little GoPro malfunction right in the finish corral, so had to stop for few seconds to reboot it. I didn't want to cross the finish line without video evidence! I feel that now between living in a place with hills, and knowing the strategy for running this race, I can get a PR in 2022. Stay tuned!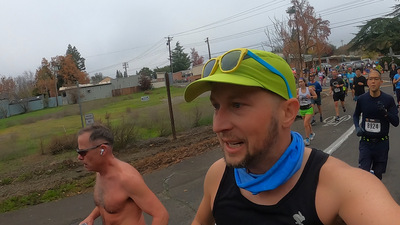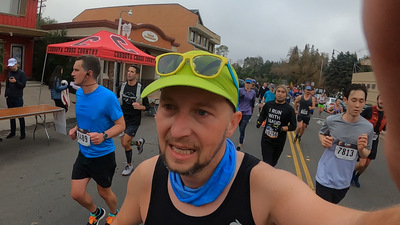 As I didn't run with my cellphone I had no idea how Sandra was doing when I finished. I was about to go ask somebody to borrow theirs (or have them look up her status) when I saw her coming in. She was a bit disappointed for not breaking 4 hours, but she came really close. She was probably on track but then got a cramp near the end. Maybe those anticramp pills really work as I felt great at the end, with zero cramping. The finish area was probably the best I have seen so far. We got CIM-branded watter bottles courtesy of Nuun, and hooded warming jackets which were much easier to work with than the typical space blankets. We also got a bag of snacks, and "warm" food, although my burrito was almost frozen cold. It was only around 40F even at the finish, so it's probably hard to keep food warm at those temperatures. There was also a beer garden courtesy of Sierra Nevada. At the finish line, we again ran into Jennifer. I had no idea she will be here but it makes total sense since her folks are from Sacramento. Actually Victor saw me finish and shouted out my name, but I didn't catch it on the camera. I think this was at the time I was trying to get it restarted. He finished in 3:05:34 (or 7:05 pace). I suspect he was pacing as that is nowhere near his PR (Victor is fast!). Then later we met up with Matus who also did amazing, BQing in 3:02:03 (6:57 pace), and Michelle and Wendy. We then grabbed an evening flight back to LA. Good stuff!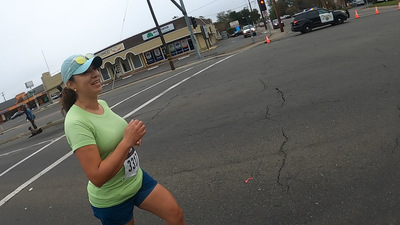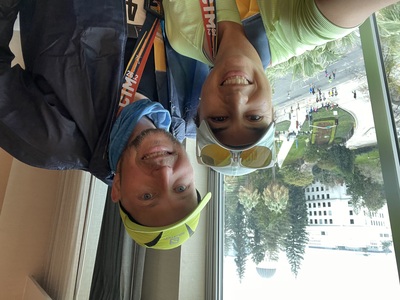 Comments or questions? Message me or