Date: October 22nd, 2017
Time: 3:19:05 (7:35 pace)
Weight: 169.4 lbs
Ventura Marathon was my second and final marathon of 2017. I started the year by running Los Angeles, where I managed to break 3:30 by a hair. In Ventura, I shaved off almost 11 additional minutes, finishing in 3:19:05. Ventura is a net downhill race, droping about 900 feet from start to finish. While this dowhill probably helped a bit, I think I was also in a much better shape - and about 10 lbs lighter.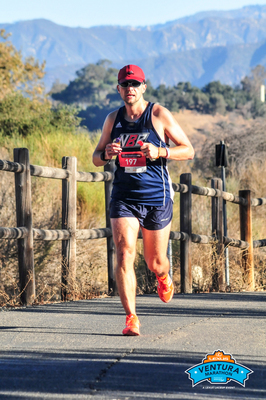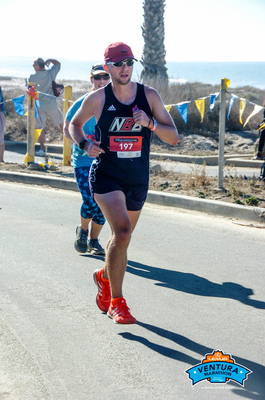 I enjoyed this race, despite the temperature shooting up to like 75F for the last 6 miles. Normally it's cool in Ventura in October, but we got hit by a freak heat wave just in time for the marathon. This was the first time for this race on this new course from Ojai to Ventura. I am guessing the new organizers, Lexus Laceup Series, saw the popularity of the Mountains2Beach marathon and decided to offer an alternative in the fall. My understanding is that Ventura used to be a flat out and back race along the beach. I am not a big fan of beach marathons as they can be boring and miserable on a windy day (ugh, Shamrock!) so this was a welcome change. But being the first year, there are few kinks to iron out. Our friend Dan from Future Track Running Pack dropped us off at the start. There we met up with some other runners from New Basin Blues. My plan was to quickly use the bathroom and warm up. This plan was quickly quashed once I saw the enormous line stretching for probably a good quarter mile! There were only about 20 portapotties for the field of over 1000 runners. It was also pitch black. The start is off a dirt field, and I almost tripped on some ditch I couldn't see. They really need to get some lights here. The upside of the near total darkness was that I could go pee in the middle of the field without worrying to find a tree to hide behind. There was also a similarly long line for the bag drop, with only a single person loading the truck. We arrived about 45 minutes before the race but this was simply not sufficient to make it through the lines. I ended up cutting the bag line, otherwise I would have missed the start. This was such a difference from Avenue of the Giants, which had a similar sized field, yet no lines. Besides this, my only other complaint was with the lack of the advertised food in the first part of the course. According to the course map, there were supposed to be gels at the mile 3.5/8 aid station (the same station you hit twice). This however wasn't the case. I carried four gels on me, pinned to my pocketless shorts, but knew this won't be sufficient for the entire race. I counted on grabbing a gel at this station. I also vaguely remembered that an aid station around mile 13 was supposed to have shot blocks. Mile 13 came and went, and still no food. By then, I was getting really concerned that what if the following stations won't be stocked either? I started strategizing how to stretch my remaining gels. Luckily, there was no need as the rest of the race had sufficient food. Post-race, I rechecked the map, and saw the blocks were where they were supposed to be, at mile 16. Still, the lack of food over the first 16 miles was disapointing. The stations were mainly staffed by what looked like local school kids, so perhaps they just forgot to open and put out the box.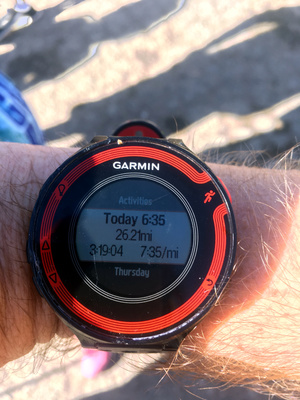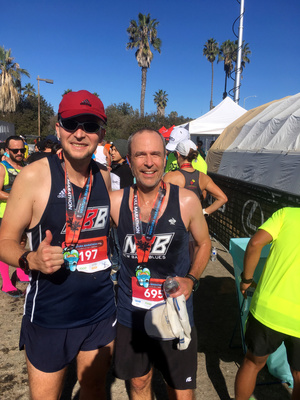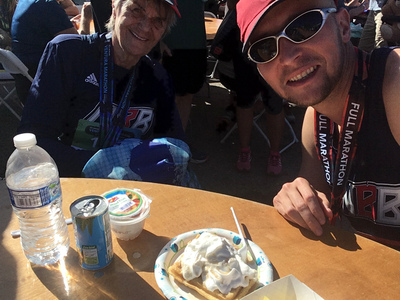 The race starts with an 8 mile loop through Ojai. Of this, miles 3-6 have about 200 feet of uphill. The downhill part doesn't begin until after mile 8. I started in the first wave, near the front. I stuck to a slow pace and was shortly passed by first the 3:32 and then the 3:37 pace groups. I was behind 3:37 at mile 3 where I saw Dan cheering. This is where the 3 mile up hill starts. Here I slowly started passing this group which was by now full of runners huffing and puffing up the hill. I honestly feel it is quite a disservice from the pacers to be starting at a pace their runners clearly won't be able to sustain for the marathon. I also passed another two guys with one telling the other who was clearly out of breath to push it up the hill and that they have 8 seconds in the bank. This is such a stupid advice. Marathon is 26.2 miles long; there is absolutely no reason to be working so hard at mile 3. I started picking up the pace after mile 6. I was still behind the 3:32 pacers at this point. The plan was to run around 7:25 for the rest of the marathon. I managed to stick to this fairly well. The rest of the race was on a bike path with a gradual downhill. It started getting quite warm around mile 20 with the sun out and not much shade. The race finishes with about 1.5 miles of uphill in Ventura which I could do without. I ended up catching up to tail end of the half marathoners here, and passed their 3:00 pacer. They were supposed to start at the same time as the marathon, but this clearly was not the case, as I was no where close to running a 3 hour marathon. In the end, despite being behind our 3:37 pacer at mile 3, I finished almost 20 minutes ahead of them in 3:19:05. This ended up being a 10:54 minute PR. I was actually very happy with my pacing. I think marathon is as much a mental challenge as a physical one, and I felt that my pacing strategy worked out really well. Sandra​ met me at mile 18 and handed me a bottle with cold water mixed with a GU electrolyte. It was nice having that kind of course support! It was also good seeing Chris​ spectating at the end. Post race, we met up with other runners, and grabbed some free post-race snacks, waffles, and beer.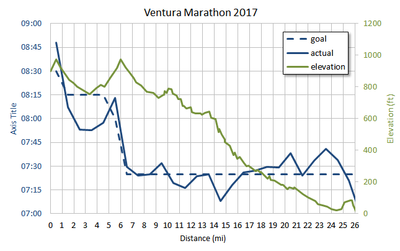 Pre-Race
On thing I did differently this time was that I avoided carbloading before the race. The standard marathon advice is to carbload carbload carbload, but, at least for me, this doesn't work. It leaves me bloated and weighing like 10 lbs more on the race day than few days before. This is also often followed by the need to stop for a bathroom break (and not just once!) during the race. Instead, over the past few months, I've been trying to cut off sugars as much as possible from my diet with the idea this teaches the body to utilize fats better. We all have plenty of fat stored to get us through more than one marathon. There is much talk these days about ketogenic diet. I am not doing anything that extreme, but simply trying to minimize simple carbs, while eating more fats, protein, and vegetables. I had some carbs in the few days leading to the race but this was much less I would normally have for a marathon: several slices of pizza on Thursday, one pot of macaroni (with chicken) on Friday, and then pretzels and one glass of beer on Saturday. My pre-marathon dinner was tuna tartare. Maybe a bit risky, but it tasted good. I also had about a pint of blended fruit smoothie and my typical oatmeal with cranberries and almonds most mornings. Instead, I focused on hydrating the week prior and then eating during the marathon. I had one gel and one shot block wrapper before the race, and ate another 6 gels and about a dozen shot blocks during. It's kind of funny, but just about every single picture of me from the race has me holding a gel or shot blocks in my hand. This race had a Nuun performance mix which I think has carbs but it didn't taste sweet so not sure. This time I also didn't carry a water belt as I have done in the past. Instead I just kept drinking at the aid stations. I completely stopped at aid stations 15, 20.7, 22.3, and 25. Especially towards the end when it got hot, I would "casually" drink two cups. This didn't cost me any time. I actually ended up easily overtaking the people I was behind before who just shuffled through without stopping. My guess is that brief pause gives your heart rate a chance to come down so you can hit the faster pace again.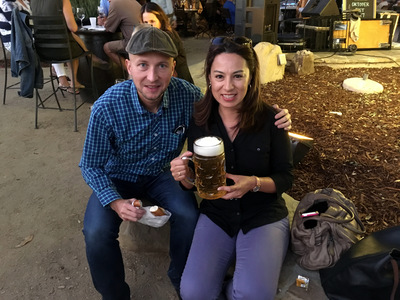 Training
I again followed George's marathon plan, culminating in three 21 mile progression runs and three 4-3-2-1 pickups on alternate weekends prior to a two week taper. I planned to average at least 50 miles per week but only managed that for 5 weeks. The peak week was 71.6 miles, which was my highest to date. My first 21 miler was bit of a disaster since it was on a route with an uphill over the entire second half and temperature in the mid 80s. For some reason I thought running to the beach and back from Newbury Park down Sycamore Canyon would be a good idea. But after that, the training runs went great. I was actually quite happy with the paces I was hitting. Sandra and I traveled to Newport Beach for our 5 year anniversary and I did my final pickups there. This was a really great run, not only was it scenic (I even got to ride a ferry!) but I hit sub 7:00 minute mile for two miles without much effort. I did those pickups in Adidas Adizero Boosts, which was my first time ever running such a long distance in those light weight shoes. But they felt great, so I decided to run the marathon in them as well. No complaints! I didn't get in a proper checkout race this time, outside the Ventura Hammer 5k, which I signed up for at the last minute. Basically bunch of friends were running the half marathon. I was already planning on being there to spectate so figured I may as well get in a 5k while I wait for them to finish. I ended up finishing 3rd overall, first AG, despite it being hot. This race was on the same bike path as the Ventura marathon, so I guess between the surface and the heat, it ended up being a great preview!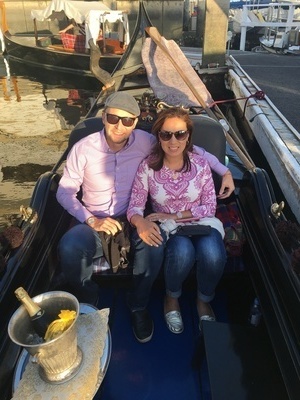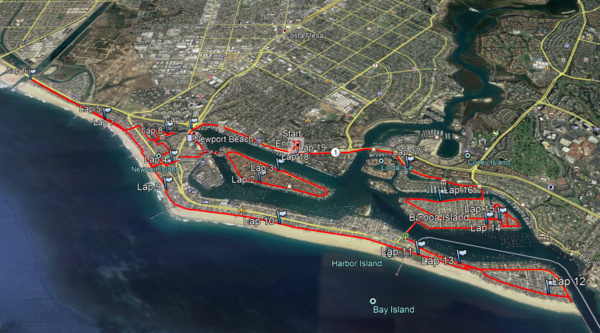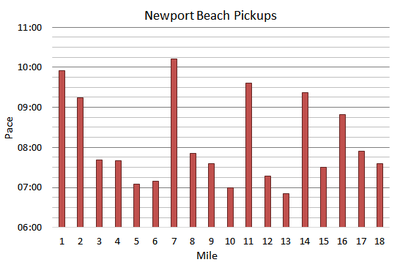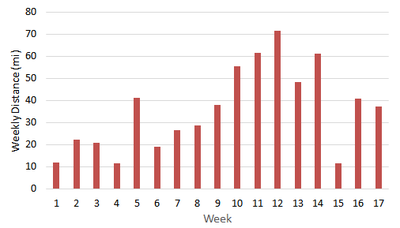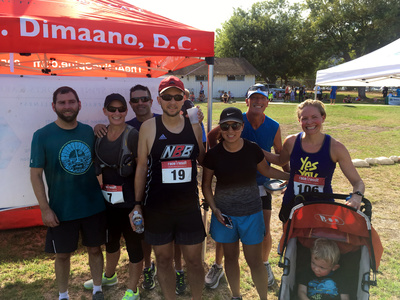 Comments or questions? message me