2016 Los Angeles Marathon
Date: February 14th, 2016
Time: 3:38:48 (8:21 pace)

Los Angeles was my first ever marathon back in 2007. I finished in 4:39:28. So after moving back to LA in the fall of 2015, I just couldn't miss the opportunity to run it again. And I am glad I did - this was one of my favorite marathons! Unless something comes up, I expect to line up at the start again next year. LA was third in the series of four marathons I (stupidly?) signed up for this "season". It started with Chicago in October and was followed by CIM in December. The final race will be Avenue of the Giants in May. I felt very fatigued after CIM so training for this race was sub-par, with only two weeks with weekly distance over 35 miles. But what made this event so special was that we had many of our former teammates in town. Fastest American marathoners descended on downtown Los Angeles this weekend to participate in the most exclusive marathon: the Olympic Qualifiers. And CAR's very own Susanna Sullivan was in! At the start line she was also joined by two CAR alums: Katie Sheedy and Sarah Bard. So needless to say, a good contingent of CARs made the trip to LA to spectate. But more on that later.
The LA marathon course winds its way from Dodgers Stadium and downtown LA, through Hollywood and Rodeo Drive to San Vicente Blvd, finishing in Santa Monica. It's actually a pretty great course. There were several significant climbs, but I prefer those over the endless rolling hills of CIM. Sandra dropped me off at the start around 5:30, over an hour before we were to go. We didn't know if the traffic at the stadium will be an issue, but this was not the case. The early arrival allowed me to walk around and use the restrooms. One nice touch of this race was that there was free water, bagels, and bananas, as well as Cliff Shot Blocks at the start. I don't think I have ever seen food offered prior to a race before. As I believe you can never eat enough for a marathon, I gladly accepted all the offerings.
This marathon was moved to February from March to accommodate the Olympic Trials and also in search of cooler temperatures. But it didn't help. We got hit with a freak heat wave, and the weather forecast for the race day called for highs in mid-80s and plenty of sun. Perhaps because of this, it seemed like every school group in town was out on the course offering water and oranges. And this was on top of the already well stocked aid stations located every mile or so. Besides getting my share of oranges, this resulted in a great spectator support. Spectators lined up pretty much the entire course. Unfortunately it also resulted in some religious nuts making an appearance. Only few miles from the start, we passed a guy standing on the course holding a cross and reciting bible versus to his megaphone. That was sort of tolerable compared to the next guy not far behind. This one was dressed in camouflage and a WW2 style helmet and was yelling into his megaphone that "his god will destroy other people's little gods." When one of the runners told him to shut up, he wished them a heart attack. Hearing this, I ran up to him and told him he was an asshole, but I am sure this only invigorated him more.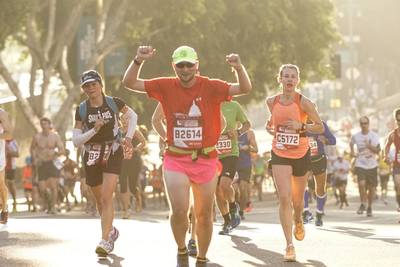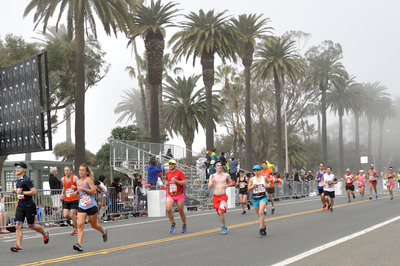 We didn't quite coordinate well with George and the rest of CAR. A winter storm was coming to D.C. and some people decided to take earlier flights to avoid possible flight cancellations. Knowing this, I had no idea if anyone besides Sandra will be out spectating. So it was great spotting our photographer Cheryl and the rest of the group in downtown around mile 5! I later saw them again, this time also joined by Sandra, in Hollywood around the half-way point. The course itself is quite scenic with many landmarks to occupy your mind. Running on Sunset Blvd with the Hollywood sign in front of us was one of my favorites. The course also goes down Rodeo Drive, which is one place I have yet to visit during normal business hours. Crossing under the 405 was bit boring as there were no spectators here, however on the other side I spotted a group from New Basin Blues. After this, the course was a breeze. The last 2.5 miles are a good downhill. It was also cooler here, with dense fog still lingering around. Booking it for the final mile, I crossed the finish line in 3:38. This was two minutes shy of a PR, but was actually better than expected. I honestly didn't have many hopes for a PR given the not-so-stellar training and the heat. Going in, I was guessing a time closer to 3:45. My only goal was beating the previous LA marathon time, and I accomplished that easily with an hour to spare.
"Start Slow Finish Fast"
The only other person from CAR running LA was Marty, who finished in a ligtning fast 2:37. Since moving to LA, we got to make some new friends and meet bunch of local runners. I knew five other people besides Marty running the race. Being the enginerd that I am, I got interested in seeing how everyone did. The online results page lists the times every 5km, allowing one to compute average paces along the course. These are all plotted below. As anyone who has trained with George Buckheit knows his mantra is "start slow, finish fast". Unfortunately, this lesson is not something that other runners typically take to heart. Vast majority of marathoners like to start fast, thinking they will end up "banking time". This then results in them bonking and their pace slowing down to a crawl. The two red lines in the chart below are the paces for Marty and me. Marty being a crazy fast runner is an outlier, but regardless, you can see that our paces held much more steady than those of the others. The first data point is the 5km split, meaning that two of my new local friends ran the first 5k at sub 8 minute pace (one actually running at 7:30)! Both of these people wanted to finish sub 3:30, but in the end barely squeaked by 4 hours. All of these five are veteran marathoners with several having completed over 15 races. Since they took off too fast, they all started bonking around the half-way mark. By km 35 (mile 22), everyone was running about 2 minutes per mile slower than they started.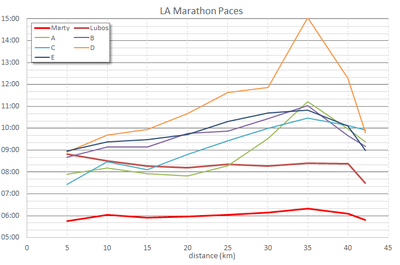 The other learning experience from this race was the importance of cadence. Jonathan from FellRNR calls cadence one of his five running breakthroughs. I started paying attention to cadence after getting a Garmin 220, and with it, a new telemetry appearing in the running stats. The accepted word of wisdom is that good runners have cadence of at least 180. Mine was a pitiful 158. Hence over the past few months, I've been trying to do running exercises to increase it. But more importantly, during the marathon, I kept my Garmin on the second page showing only cadence. For most of the race, I did not pay attention to pace at all. I tried keeping cadence around 170 (I am still not at the point where I can run at 180 comfortably). Perhaps since I didn't pay attention to pace, my body naturally selected speed that was efficient for the course length. I felt surprisingly fine after this race. I had no DOMS or any other pain. I ended-up taking the next two days off from running out of principle, but a 5 mile jog on Wednesday, 3 days after the race, felt perfectly fine. This was a very different experience from my first ever marathon, when besides being sore, I also got really sick and spent the next two weeks in bed with bronchitis.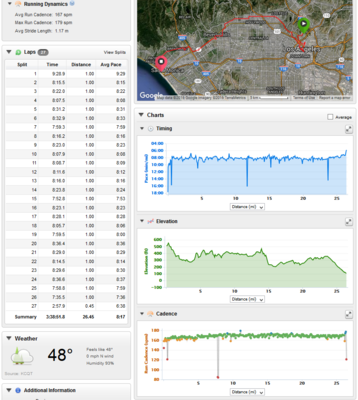 Hollywood Sign Run
We all know how important it is to take it easy in the last weeks leading to a marathon. Running a hilly 12 mile course two days before a marathon is probably not recommended. But having my former friends in town, I just could not pass on the opportunity to take them on a sightseeing trip of the local trails. Friday morning we met by the pony rides in Griffith park from where we set off on a 12 mile loop to the Hollywood sign, following the course that local runners traditionally run on New Year day. The first three miles are significantly uphill, and we walked much of this. The half-way point is the Hollywood sign. From there we made it down the north side of the park, and on the final flat stretch leading to the parking lot we literally ran into Deena Kastor. The former Olympian was originally supposed to run in the trials, but ended up dropping out due to an injury.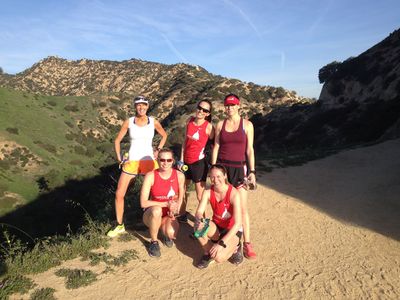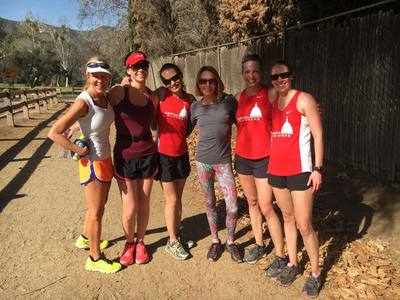 Spectating Olympic Trials
And finally here are few pictures from spectating the Olympic Trials. Susanna was going in as 32nd seed, but finished in 20th place. Quite amazing! And this despite the brutal heat (the trials took place at mid-day on Saturday in downtown LA) that resulted in some 1/3 of the entrants dropping out.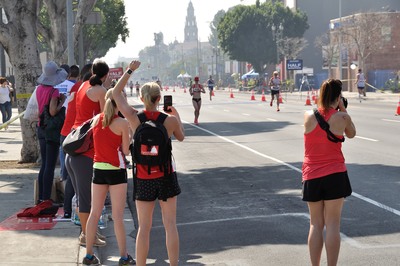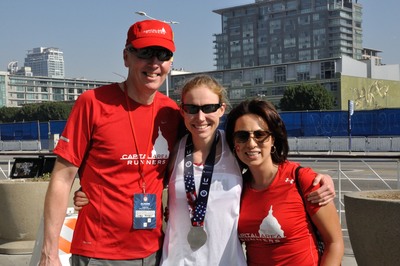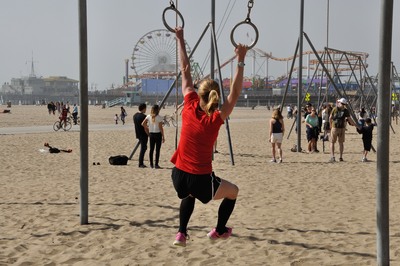 Comments or questions? Message me or