Santiago, Valparaiso, and Chilean wineries
Date: November 27th - December 2nd, 2015

In late 2015, Sandra and I visited Chile. I was about 10,000 United miles short of Gold status for another year, so this was a "mileage run" - my first ever! The Gold status is quite useful if you travel internationally as it gives you free access to Star Alliance lounges. I found a website showing cities some distance away from a specified airport. Santiago was one of the cities outside my "great circle". Our friend Marjorie recently returned from Santiago and raved about what an awesome city it was. The lure of the southern hemisphere was strong. Santiago was also one of the cheapest options at $760 round trip. And besides, it would let us to visit a friend from D.C., Stephanie. So Santiago it was!
We flew out of LAX Friday around 1pm and landed in Houston around 6pm. This flight (as well as the return leg to LAX) was on a 787. We flew on a Dreamliner to Japan, but I was surprised that United flies this large plane (it has 3x3 seating in economy) for domestic routes. The flight to Santiago left around 9pm on a smaller 757, giving us some 3 hours to relax. This leg was 9.5 hours long, but since it was overnight, it went by fast. The food in economy was very good; I had a veggie lasagna.
Casas del Bosque and Valparaiso
June 14-15th, 2014
We landed in Santiago around 9am. Next we hopped in a rental car from Hertz and set off on our 3-night Chilean adventure. Stop #1 was the picturesque city of Valparaiso on the Pacific coast. Since Chile is so skinny, it takes only about 2 hours to drive from Santiago to Valpo. On the way there, we stopped in Casas Del Bosque. This "small" (by Chilean standards I guess!) boutique winery was recommended by Stephanie. What an amazing place! Of the three wineries we visited, this was by far our favorite. Not only was the wine delicious, the guide lady really knew her stuff. Wine tasting in Chile is more structured than in the U.S. in that tastings are done as part of a tour. Typically, there are only few tours per day, and you need to sign up in advance. I don't think we registered for this one, but since it was a slow day, it didn't matter. The tour started at 1pm, and as Sandra and I were the only two interested in the "gringo" version, we had a private tour. The tour first took us to see the vines, which extend as far as the eye can see, hence my quotes around "small". But I guess this property is still much smaller than other Chilean wineries specializing in mass produced wines. From there, we toured the site where the harvested grapes are deposited. We learned that all the pickers are women, as they are "more delicate and tend to eat less of the grapes". Next we saw the steel vats used for fermentation, and later passed through the oak barrel room. Here we learned that the wine maker uses only French oak, as it results in smoother taste than the American variety. Finally, we reached the tasting room. Nice touch here was the presence of glasses containing samples such as cut grass, cinnamon, or even coffee. This allowed you to compare the aromas found in your copa de vino to these typical compounds. Casas Del Bosque is located in the Casablanca valley, region known for white wines. However, the tasting featured both whites and reds, and all were great. We got to try both the standard and the reserve varieties as we signed up for both Premium and Aromas tours.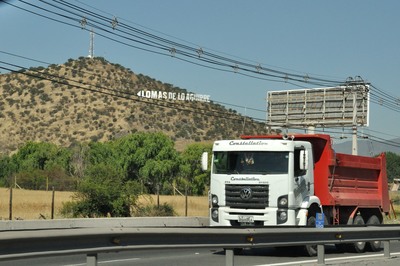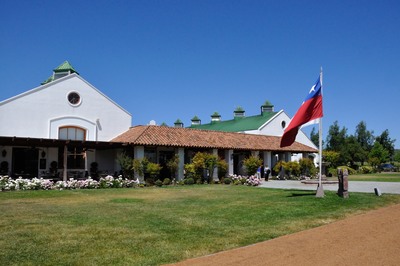 Next we arrived in Valparaiso. Here we stayed in the Sutherland House. I booked this hotel about 5 days prior to our arrival, part of our last-minute planning (the whole trip was quite last minute!). Later on, somebody told us that they always try to stay here but find it always fully booked, so I guess we got lucky. This small boutique hotel has very good reviews on Trip Advisor, which is how we found it. It was a very nice place. Valparaiso is insanely steep, and full of tiny blind streets that Google maps led us into on the way to this hotel. Sandra did a great job navigating this maze and dealing with reversing down steep streets until finding a small patch of dirt where to make a U-turn. After checking in, we set off on foot to explore the town and it's many colorful murals. That evening we had dinner in Oda Pacifico, per hotel recommendation. Nice place, with great view and delicious pisco sour.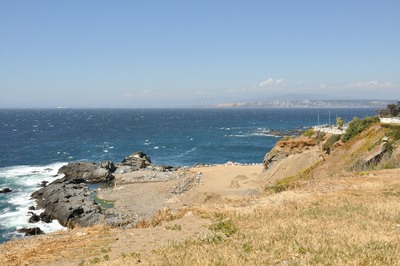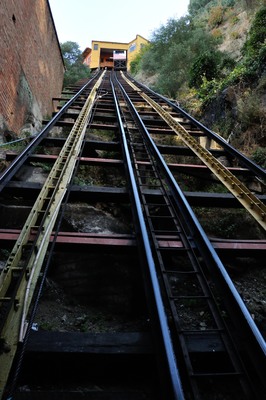 Colchagua Valley
November 29th, 2015
The next morning, after breakfast on the hotel terrace, we set off for our next destination: Colchagua valley. This is probably the most famous of the Chilean wine-growing regions. You can see the map of our route here. Our first stop was the MontGras winery near Santa Cruz. Highlight of the tour here was walking among the grapes, and learning about the different varietals. The tour guide showed us how you can differentiate grapes by the shape of their leaves. We also heard again the story of Carmenere, which we heard for the first time in Casas Del Bosque. This grape was at one point abundant in Europe, but disappeared after a fungal infection. It was thought to be extinct globally, only to be discovered in Chile by some sommelier who realized that what was thought to be Merlot, was actually Carmenere. Later we got to tour the facility. The highlight here was the guide allowing us to sample the wine directly from the steel vats. This tour was in Spanish but surprisingly I could understand most of it.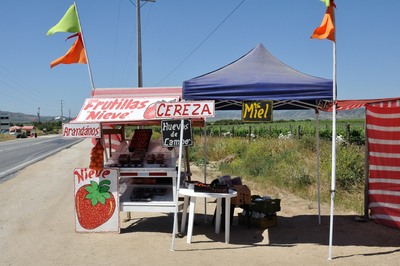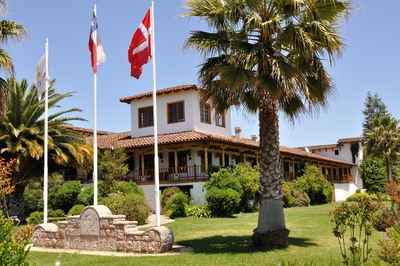 There are some dozen wineries in Colchagua, but we only had time for one more if we wanted to arrive in Santiago in time for our 6pm promised car return time. So we (meaning me) chose Casa Silva. This place was recommended by an office mate who coincidently also recently travelled to Chile. We were a bit disappointed with this one, perhaps since Casas Del Bosque and Montgras set the bar so high. It's worth stopping by to take a picture of the Andes, but the tasting experience was quite lacking. Perhaps since we were late, the "tour" consisted only of watching a movie about the winery, followed by pouring of three wines by a not very enthusiastic host.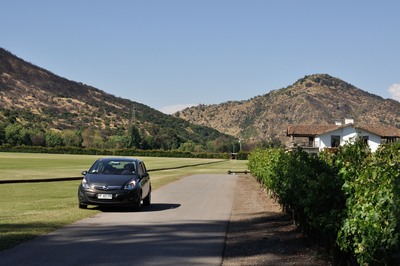 Santiago
November 29th, 2015
We made it Santiago around 6pm. We stayed the first night in the Grand Hyatt, the same hotel where Trevor and Rose stayed the prior week on their South American adventure. Trevor and Rose are who introduced me to the world of credit card sign up bonuses. My card usage is quite amateur compared to what they do, but it was because of them that I signed up for the Hyatt credit card. This card gives you two free nights in any Hyatt as a sign up bonus. We used these for the Grand Hyatt in Hong Kong, Andaz in Napa, and even the Park Hyatt in Japan (trip report coming soon). The Hyatt card has a $75 annual fee, but for this, you get a free night in any category 1-4 Hyatt. Surprisingly, the Grand Hyatt in Santiago is only Category 2, despite being probably one of the nicest hotels in the city. Not only did this annual fee give me a free night, it let me pick any room, including a king room on the 18th floor. This club-level room gave us access to a private reception area, welcome champagne, free breakfast, and free dinner cocktails. The view from the room was spectacular, treating us to the first glimpse of this beautiful city draped by the golden glow of the setting sun. No idea how much this room would cost normally but I am sure it is way more than $75. That night, being tired, we had dinner in the hotel's Matsuri Japanese restaurant. We sat outside, near the picturesque pool.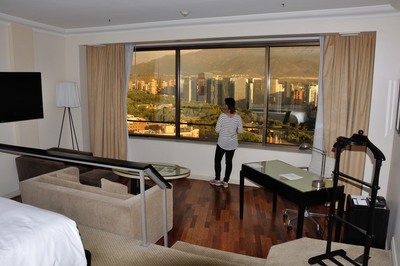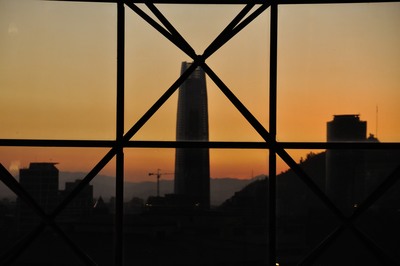 November 30th, 2015
The next morning we took Turistik's Hop On Hop Off bus. We did not actually hop off. We just rode the bus around town. The bus gave us a great glimpse of this modern city. Both Sandra and I were equally impressed. Everything here is so clean and well organized that you forget that you are, well, in South America. The route was supposed to take 2 hours, but took closer to four due to traffic. We got back to the hotel just in time to check out. We paid for the second night with Hyatt points, but at Hyatt Place, located just few blocks from the Grand, seemed like a better deal. It was cheaper, and also came with free breakfast. I wouldn't be able to afford the club king for the second night so had we stayed in the Grand, we would have to move down to the regular, lower level room that doesn't come with the club access.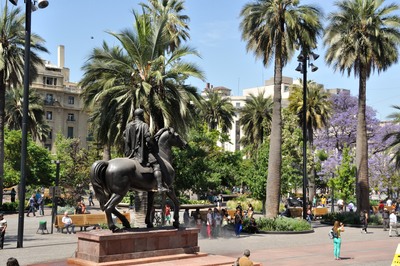 In Hyatt Place, we were joined by our friend Stephanie. We first met Stephanie running with Capital Area Runners. About six months ago, Stephanie moved to Santiago with her wife, and not long after that, Sandra and I moved to Los Angeles. So we had our mini-CAR reunion here in the southern hemisphere. We Uber-ed to Barrio Bellavista, where we had lunch. We then took the funicular to the San Cristobal hill, where a large Virgin Mary statue overlooks the city. From there, Stephanie took us on a 5 mile trek back home (we actually walked back all the way to Hyatt Place but Google Maps couldn't figure out that you can cross the highway on foot - there is a bridge). It was a long walk but totally worth it; the views of the city along the way were top notch. I worried about getting back before sunset, but forgot that it doesn't get dark here until around 9pm. That night, Sandra and I had dinner near our hotel in Santa Brasa steak house.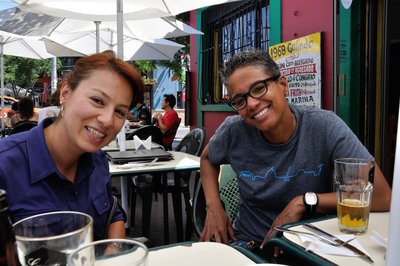 December 1st, 2015
Next morning, we donned our CAR shirts, and went off for a CAR (Chilean/California Area Runners?) 5 mile jog. This was another great way to explore the city. The infrastructure here is really quite amazing. As you can see in the Google Earth view of our route below, this city is full of parks offering miles of exercise opportunities. The city park had several large living statues, including one of Pope John Paul II, where I got my pre-CIM blessing. I guess it worked, since although I suffered immensely, I was able to knock off 2 minutes off my Chicago PR.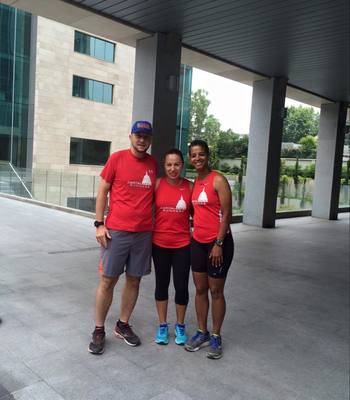 We then checked out of the hotel and moved our bags to Stephanie's vast apartment. I have seen some large apartments in Bogota, but never anything like this. The apartment has two full balconies that are about the size of our entire closet-sized apartment in Los Angeles. The apartment comes with 3.5 bathrooms and more rooms than I could count. From there we took Metro to Barrio Italia, a hipster up and coming area with cafes and restaurants. From there we took the Metro again, this time to Plaza de Armas. There we visited the cathedral and walked towards Cerro Santa Lucia. Finally it was time to head back for our bags, and to say our goodbyes. Our flight left at 11pm, getting us back in Houston around 7am the next morning, and to Los Angeles around 9am. Chile, it was great visiting you, we will be back. But next time, we'll be heading south. Patagonia here we come!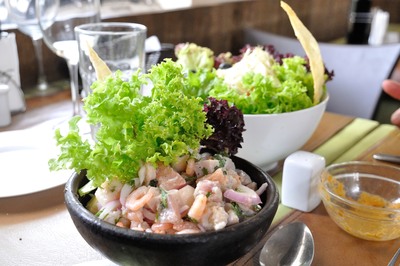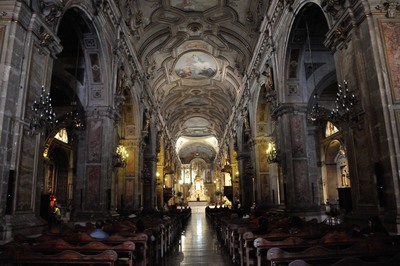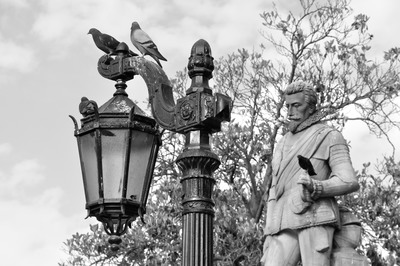 Comments or questions? message me