| | |
| --- | --- |
| Hopping around India with a brief layover in Seoul | 1 2 3 4 5 |
Stop 11: Kochi (January 9th - January 10th)
The drive to Kochi was picturesque. We drove past deep valleys and tea plantations as we made our way back down to sea level. There were also rubber trees getting milked. We saw numerous pilgrims walking alongside the road with offerings to their deity wrapped in a towel carried on their head. There were also multiple cars decorated with religious icons. I am guessing these were the support vans for the pilgrims. We also started seeing communist hammer and sickle flags. Turns out the state of Kerala has been governed by a communist party in an on-and-off fashion since 1957.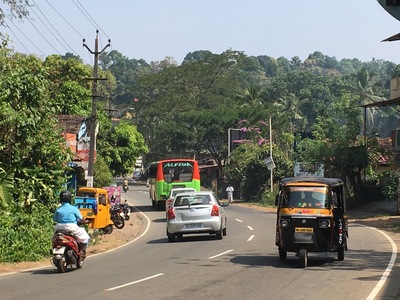 Kerala is one of the most developed Indian states with the highest literacy rate. You can sense this walking the streets. We didn't see any beggars like we did earlier on our travels in the north. Also, haggling is not as common as in the north. Our attempts to get a discount were not successful as most items were being sold at fixed price. Sightseeing here was focused on Fort Kochi as the old town is called. We started by visiting a synagogue dating to 1567 which is the oldest existing synagogue in the former British empire. On the way there, our driver mentioned that there are only 4 Jewish people remaining in Kochi. I thought he misspoke and meant 4 percent, but that is indeed the case. The synagogue is active but the way things are going, it won't be so for much longer. We also visited the Portugese-built Mattancherry "Dutch" palace museum with detailed drawings from the Hindu epic Ramayana. We then headed to the bay to checkout the famous Chinese fishing nets. These nets are giant pulleys used to lower the net into the water and then pull it up once it gets filled with fish. We ended up enjoying some tea with locals and later watched the fishermen bring in their haul into an open air fish market. Many of these fish end up getting chopped up and flash frozen for export. We then headed to the hotel. We were staying in Travancore Court. It was a nice place with a rooftop pool and Marxist posters decorating the corridor walls. For dinner we walked to a nearby Hotel Grand where Sandra tried fish grilled in a banana leaf. Then the next morning we went for our second Indian yoga session. This one was held in a martial arts studio. Among the many things we learned on our trip is that martial arts also originated on the Indian peninsula. There are references to martial arts in the Vedas written around 1700 years BCE. In Kerala, people commonly practice a style of fighting called Kalaripayattu. This yoga session was more along the lines of the western style, with a sequence of asanas. We were the only two people there besides the instructor. He helped us with a head stand. This was my first time ever doing one.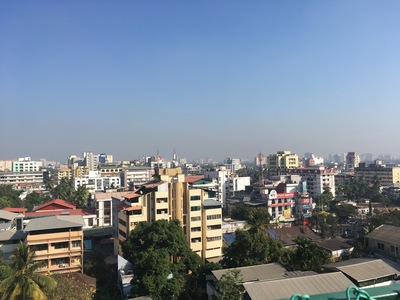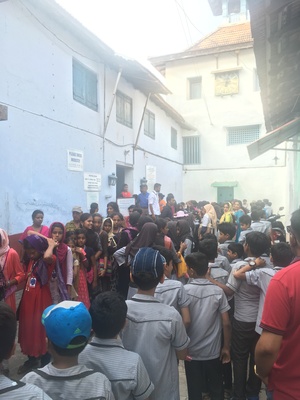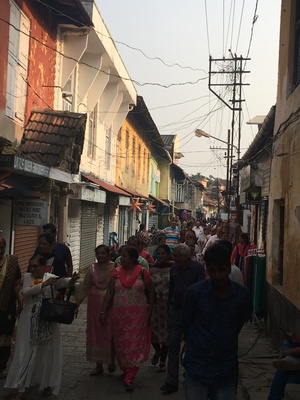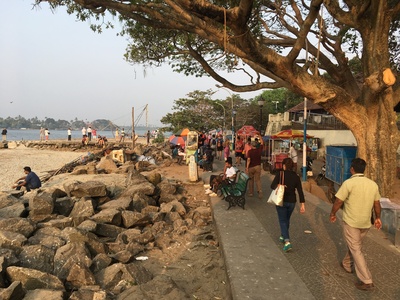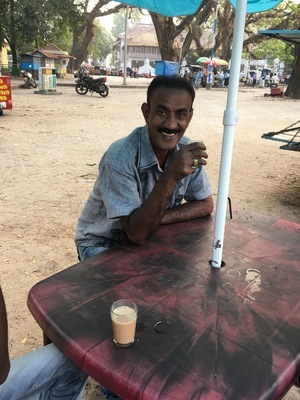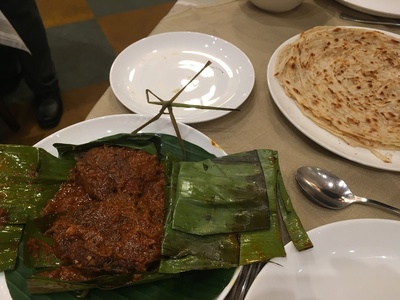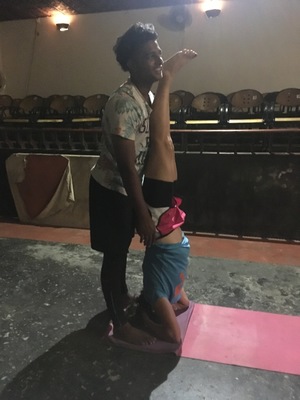 Stop 12: Alleppey (January 10th - January 11th)
After breakfast we checked out of the hotel and drove for about an hour south to the town of Alleppey. This is the entryway to Kerala's backwaters, a network of channels and slow moving river streams. Tonight our hotel was a houseboat! The company that Sheesh booked us with, Marvel Travels, operates their own fleet of houseboats and they were excellent. We boarded at around 2 pm and soon after were served a hearty lunch as we cruised the leisurly waters. After the bustle and hustle of the rest of India, this was such a welcome change. At around 5 we reached some church where we disembarked to go take a look through it. One thing that surprised me about Kerala, besides the fact that it's ruled by communists, is the high number of Christians. Churches here almost seem to outnumber Hindu temples. For the evening, we docked near a house of some locals who make extra money by allowing houseboats to plug in to their electric grid. This extra power is needed to run the air conditioning system. Because of the high number of mosquitos, it is not recommended to keep windows open at night. We opted to go for a short walk through town. When we came back, we saw that an additional boat docked next to ours. On it was a middle-aged French couple so we ended up chatting with them before having dinner on our boat. Later in the evening another boat docked, but we didn't get to talk to them. It appeared to house an Indian family. In the morning, we were the first boat to leave. We had a plane to catch to head to Mumbai. Given the size and modernity of Kochi, the airport was bit of a letdown. It was only a step up from the one in Jodhpur, and just as there, it had just a single large waiting area leading to 4 departure gates.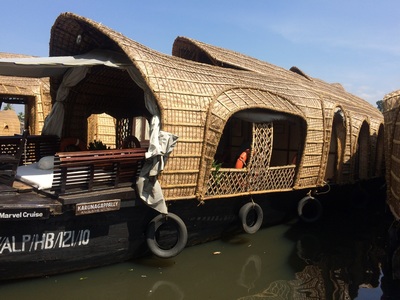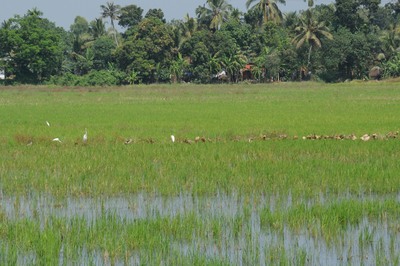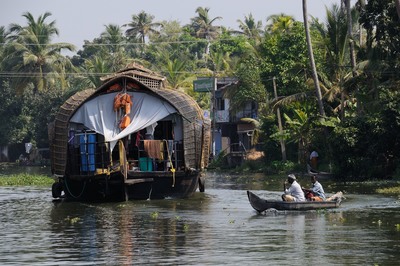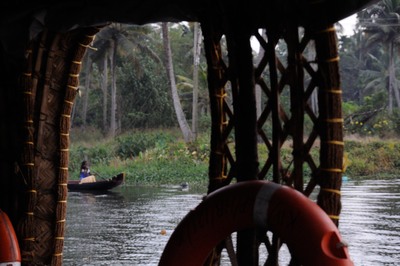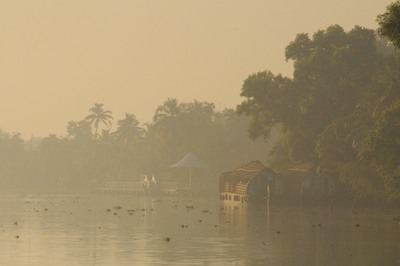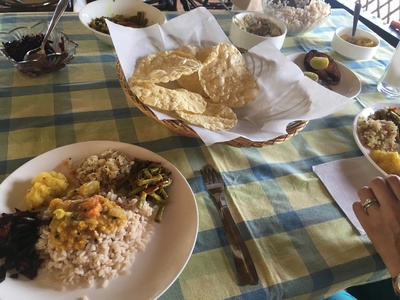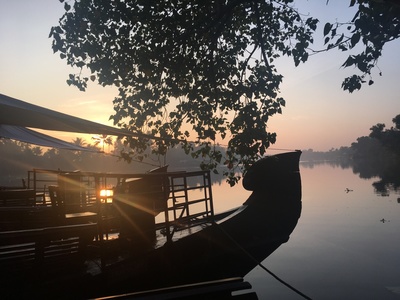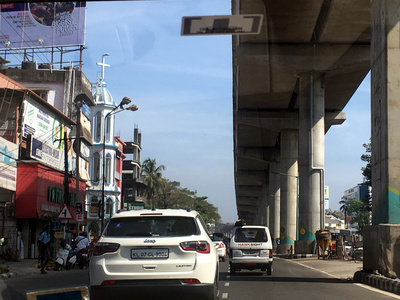 Comments or questions? message me