| | |
| --- | --- |
| Hopping around India with a brief layover in Seoul | 1 2 3 4 5 |
Stop 13: Mumbai (January 11th - January 13th)
The final stop of our 18 day stay in India was Mumbai. Previously known as Bombay, it is India's most populous and wealthiest city. Having visited Shanghai last year, we were expecting something similar. Well, although Mumbai has its share of tall buildings, it's still a very much an Indian city. We were staying in Four Seasons, as I had never stayed in one and the price was low enough to book rooms for free with Hotels.com free nights I had saved up. The hotel is located in the Worli district, which houses many of Mumbai's offices and tall residential buildings. Our room had a nice view of the bay but also of a shanty town below. It seemed somewhat perverse to be taking a bath while overlooking hordes of poor people without even access to plumbing. Yet despite being poor, these people are clearly sitting on top of money, as the real estate these shanty towns are built on must be worth millions of dollars. Right after dropping off our bags, we went to checkout the rooftop bar. This bar was one of the primary reasons I picked this hotel. Well, the waiter told us that they are no longer able to serve alcoholic beverages. Due to a recent fire that killed several people, the city has passed an ordinance banning the sale of alcohol in rooftop bars. Oh well, at least we enjoyed some tasty mocktails watching the sunset. But that didn't last very long. While we were sipping on the mocktails, we noticed a group of officials come up. Turns out they were fire inspectors, and they ordered the hotel to shut down the bar until some issues get resolved. For the rest of our visit, the bar remained closed. This was a shame, since it's supposed to be one of the hot spots. I was hoping to experience the bumping Mumbai night life but the luck wouldn't have it.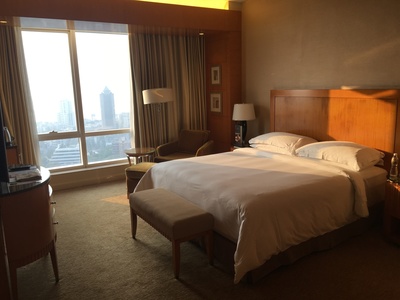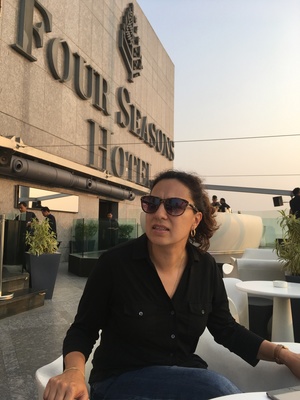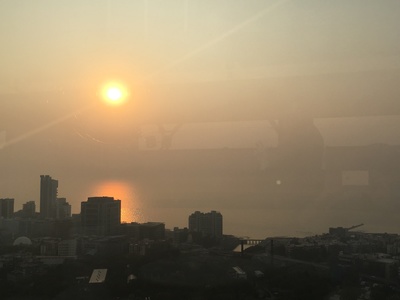 Although Mumbai has its share of cultural attractions, by now we were all templed-out. Sandra mainly wanted to do some shopping. Our hotel was a short distance from the Phoenix Mall, one of India's largest shopping malls. The next morning we decided to walk over there to check it out. The plan was to spend the morning here and then head to another shopping region called Colaba in the afternoon. Although the mall is close to the hotel as the crow flies, getting there took a long time since the streets here are still the typical Indian jumble of broken or non-existing sidewalks and dead end alleyways. The direct route to the mall that Google Maps was suggesting wasn't actually possible and instead we ended up making a large loop trying to find the entrance. The mall itself was quite nice. It's really several separate shopping areas joined together. There is an open layout section resembling the new shopping villages popping around California these days as well as a large indoor mall. We ended up having breakfast in a cafe called Delhi Heights. The food was great. I got a kick out of the massive pepper grinder. Where was this place when we were in Delhi?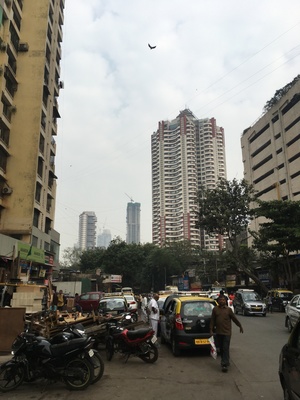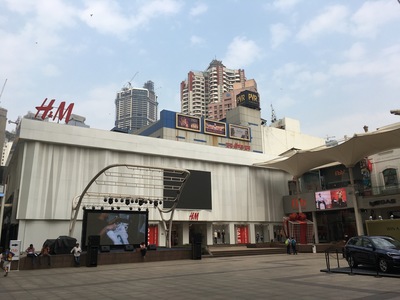 After dropping off few things back at the hotel, we caught an Uber to Colaba. Uber works here differently than in the US, in that it is requested by the hotel, and then you just pay cash to the driver like in a regular cab. On the way, we got the driver to stop by Dhobi Ghat, Mumbais infamous open air laundry. I only snapped a quick picture from the street and didn't get to see the piles of laundry getting slapped against rocks. For some reason, I imagined Colaba as an an ocean-front promenade lined with cafes similar to Fort Kochi. Not quite. Instead it's a much more traditional section of town, full of shopkeepers hawking various souvenirs and cheap shirts to tourists. It is close to the Gateway of India so we ended up walking over there to take some pictures.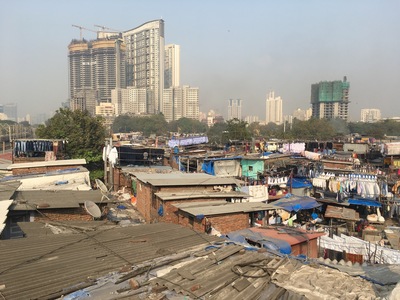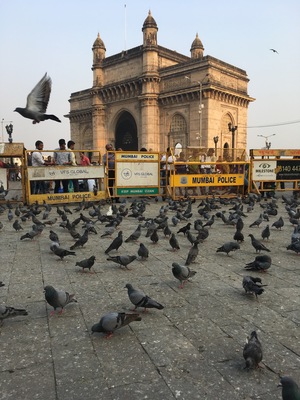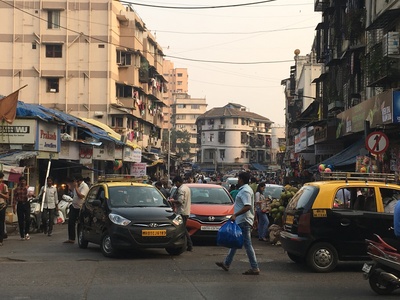 Sporting that Ben Franklin hair line, I cut my hair at home with an electric buzzer. I didn't bring it along so by now I was starting to look like a Chia pet. I am also not that good at maintaining proper symmetry during my at home trim jobs so for a long time Sandra wanted me to go to a barber. We found one here so I stopped in. I wish we had barber shops like this in the US. The whole package consisting of a head shave, beard trim, head massage, and a slap on the back (not sure what the last two things were all about but everyone was getting them) cost only $3. At one point during our stroll we were also approached by a guy from a tailor shop. Mumbai is famous for this and I know that many guys travel there to get custom-made suites. I wasn't looking for a suit, however, Sandra was interested in getting a button down shirt so we went along. I reluctantly ended up getting a shirt as well. It's a truly fascinating process. Sandra's shirts cost around $20 each with mine being slightly more expensive. We picked the fabric and design, the guy measured us, and had the shirts delivered to our hotel 4 hours later. Good luck finding that in the US. Just the fabric itself would cost more. They fit great!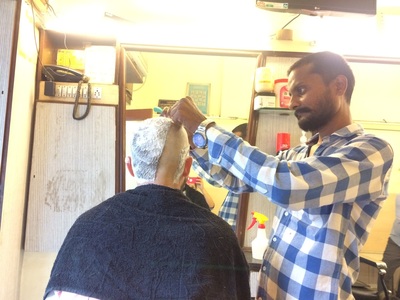 The next morning we went to the fitness room for their 6 am yoga. I was expecting the room to be full, but in fact, we again ended up getting a private lesson. I thought a hotel the size of Four Seasons and full of westerners to have more people participating. This session was a mix of Hatha and pranayama breathing exercises similar to the ones in Jaisalmer. Then after breakfast, it was time to checkout and head to the airport for the one final time.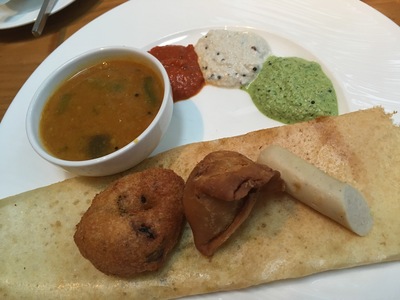 Stop 14: Seoul - and the flight home (January 14th)
Our flight home had us making two stops. The first stop was Delhi. By now we were quite familiar with this airport! From there, we had a 7 hour flight with Asiana to Seoul. From Seoul, it was 11 hours back to Los Angeles on another Asiana flight. I booked our trip with United miles and had enough miles to snag SuperSaver business class seats for the trip back. Not only did this gave us a chance to sleep on the way back, we also got access to the business lounge in the airports. I have few friends who are big aviation geeks who really enjoy checking out different business and first class "products" mainly by collecting and redeeming airline miles. I much more prefer the destination than the transport part of travel, yet it is still a very interesting experience flying business. This was my first time flying internationally in business class with an airline other than United. Honestly, we were not super impressed with the seats on the first leg. These did not fold completely flat, but they still allowed much better sleep than one could have in economy. Honestly, the seating configuration from business class should be the minimum standard for international flights. I think there are some airlines toying with business-only flights, but we are ways away (if ever) from business class becoming an affordable option for travel. I definitely wouldn't pick this option if I had to pay double or triple the cost of the economy ticket.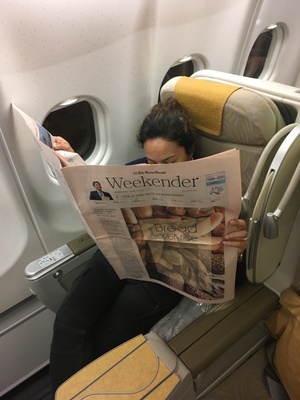 We had an eight hour layover in Seoul so this gave us just enough time to venture out and add a new city to the list of places we have visited. The weather here was so different from India! We knew it will be cold so we packed the little warm clothes we have, but it was still a shocker to go from 90F heat in Kerala to freezing temperatures. The airport is located in a town of Incheon, which is located about an hour away from Seoul downtown. There is an express train that connects the two. I saw on the internet that there is a regular train with stops that takes only 10 minutes longer and is half the price. It seems that train was sold out for the next 2 hours so we ended up taking the express. Still the price difference was quite minimal, so it's probably easier to just directly go for the express instead of trying your luck with the other train. The train comes with assigned seating. You use a single use magnetic tap card to board it. Once you leave the train there will be a collection station that gives you a refund for returning the card. Sandra's sister Ivonne recently went to Seoul, and she gave us a tip to visit the Myeongdong shopping street. This wasn't too far from the main metro station so we headed over there on foot after having breakfast in Paris Baguette, a popular local bakery chain. I really like these Asian bakeries as they have such a creative selection of items. Somebody needs to open a location in the US!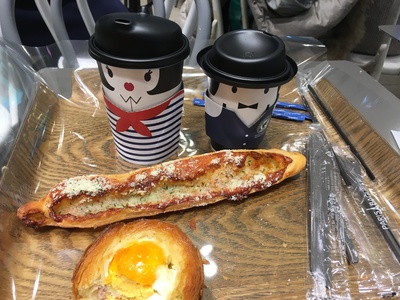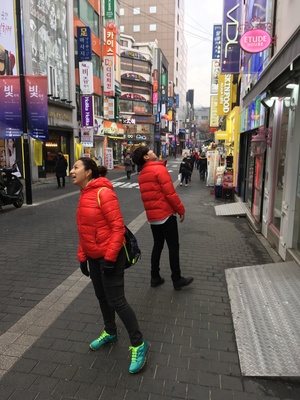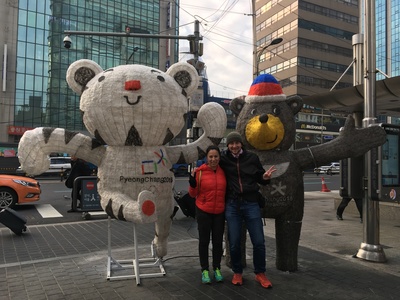 We got back to the airport around 11am to catch our 2:40pm flight. This was just in time, as the line to pass security was really slow. On the other side, we checked out the shops but I was disappointed with the selection. The whole airport is decked out with stores, but not a single one was selling anything Korean. They were all different kinds of duty-free establishments, with one specializing in western brand clothes, another one in perfumes, and another in alcohol. I wanted to buy some Korea hat or a t-shirt but there was not a single store selling such things. We then relaxed a bit in the Asiana lounge. This is by far the biggest and nicest airline lounge I have ever been in. The sitting area was decorated with a piano and walls full of books. Very classy! Then it was time to board the flight home. We were flying on the double decker Airbus A380 for the first time. Not ever having flown in the hump of a Boeing 747, we were excited to experience the second floor in an airplane. But this ended up being a big let down. Instead of using some internal staircase, the plane has a separate jet way for the second floor. From the inside, it doesn't look any different than a regular plane. There is no way to tell there is another floor of passengers below you. The seating arrangement is 1-2-1 so we were in the middle. Not having a window didn't really matter much because we could watch the pilot's view captured by an external camera from our in seat monitors. This was really neat. I have seen this option offered on flights in the past, but every time I tried to activate it, I was told that feature was not available. This was the first time I have ever seen it working. It was neat being able to watch the landing in Los Angeles. There are a lot of tire marks on that runway. Dan, a running friend from Future Track graciously offered to pick us up. This was so nice, and was made even better by his full-bar service. He brought along a cooler with ingredients for a mimosa, plus his homemade cookies and muffins. Thanks Dan! I may need to start using this Dan limo service more often.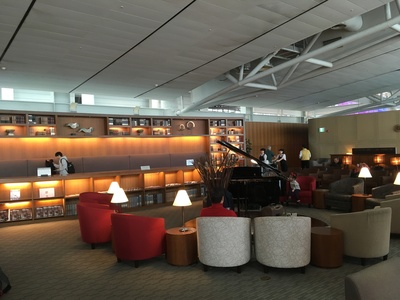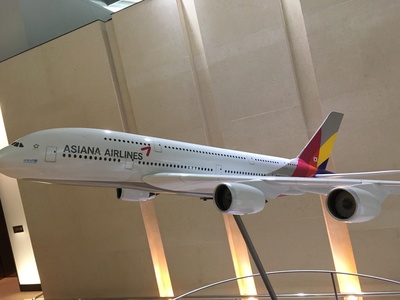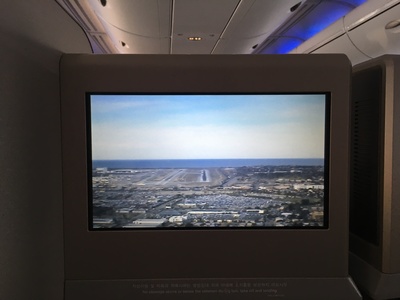 Summary
This was an amazing trip. Thank you Sheesh for helping make it happen. India is a place I think everyone should visit at least once in their life time. There is simply no other country like it. While there, you may hate the noise and pollution, but those aspects fade very quickly. Instead, you will end up remembering the wonderful experiences of learning bits and pieces about this rich and complex culture. When you go, try to visit several states as there are massive differences between regions. We found the south to be much more westernized and modern than the north, but then you need to venture north to explore the famous palaces and forts.
Comments or questions? message me